Food
Food Tech (Food Tech) Business Initiatives-NTT DoCoMo's New Challenge Centered on Membership Base | InfoCom Newsletter
Recently, the term "Food Tech" has become popular. Food Tech has begun to be used as a term that broadly refers to the area where ICT is used to solve and commercialize all food-related issues, such as production efficiency and the spread of cooking methods that preserve the nutritional value of food. Japan has built up its own unique food culture by skillfully incorporating foreign cuisine into its traditional food culture. Today, restaurants in town offer a wide variety of foreign cuisine in a way that is close to its original form. Now you can enjoy all kinds of food. Information on such restaurants and recipes abounds on the web, but NTT DoCoMo is strengthening its efforts in food culture projects to effectively provide information related to food and life using ICT. This time, we asked Mr. Junji Matsuda, chief of the Life Support Business Promotion Department, in charge of the food culture business food tech business, about this business.
– Please give us an overview of your company's food culture business.
First of all, I think that meals can be roughly divided into "eating outside the house" and "eating at home". We refer to the former as "eating out" and the latter as "eating out". Information such as coupons for more than 100,000 stores for users who are planning to eat out, and information such as more than 2.9 million recipe menus for users who are planning to eat at home. We are conducting business aiming to be able to make effective proposals via smartphones according to the generation and situation. This service has been provided under the name "d gourmet" since May 2015, and aims to enrich the daily eating habits of users. Specifically, we offer the services shown in this pamphlet (Fig. 1), which are being used by many customers. You can use it to search for restaurants, recipes, and coupons that are of high interest to customers, as well as magazine contents related to food, so that you can "easily" obtain information related to food and life.
―Please tell us about the background to starting the food culture business/food tech business.
At the beginning of the service, we started by considering the use of the aforementioned "food" information. Initially, we were thinking of a "line usage model" as a mobile phone company, providing content such as restaurant information, recipes, and coupons, and charging communication charges and monthly service charges from customers. However, in order to position "food" at the core of Docomo's smart life area, it is necessary to effectively connect restaurants and users, recipes and users via smartphones, using the content provided by d gourmet as mentioned above. I started to realize that is more important than anything else.
―What does it mean to "connect effectively"?
"d gourmet" is offered for 400 yen (excluding tax) per month, but considering the coupons such as "LUNCHPASSPORT" provided, the monthly usage fee alone is worth more than 2,000 yen. By providing an environment in which users can easily obtain information related to recipes, restaurants, and food and lifestyles that they need, DOCOMO will also attract customers to content providers that provide restaurants and recipes. I expect strength from you. The "ability to attract customers" here does not mean that "anyone can attract customers." This means that it is possible to effectively reach the optimum reach for individual customers with diverse needs, such as content providers who want people to know cooking techniques. If you visit the "d gourmet" site, I think you'll be able to feel the meaning*1.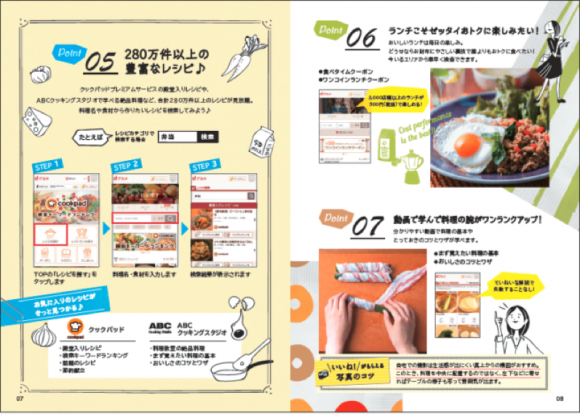 ―Why is it possible for people other than Docomo users to use it? Is it viable as a business?
I agree. From the point of view of "having customers who use NTT DoCoMo's line use the service for a long time", it may seem strange. In April of this year, a press release was issued* to the effect that "We will promote business operations centered on a 'membership base' regardless of whether or not a line contract exists."2However, NTT Docomo is changing its business form from "line to member". Not only d gourmet, but also each business considered by NTT DoCoMo will focus on providing value to the "d point club member base", and members who say that "line is just one service for members" Company-wide studies are underway based on the concept of foundation.
By expanding our membership base, we can also strengthen our marketing. In addition to conventional classifications such as generation and gender, we also use smartphone service usage history, etc., to infer the living area of ​​each user and the way of thinking that is important when taking action, sightseeing, sports, etc. The ultimate goal is to be able to provide NTT DOCOMO's services, such as news, entertainment, and gourmet food, according to the time and situation, to the extent that users do not feel resistance. NTT Docomo is developing services with a "d" such as "d travel," "d magazine," and "d healthcare" across domains. When a married woman searches for d gourmet recipes, I think that it will be possible to make effective recommendations by casually supplementing secret menus using healthy ingredients and recipes with calorie indications. I'm here. We plan and operate one service with several people in charge, but we always say, "I want to create a service that can make optimal recommendations for customers, and achieve cross-domain development." I'm here.
―What do you think about the evolution of specific services in the future?
We will continue to pay close attention to how information is presented. Currently, it is provided for a fee, but it is freemium, that is, the basic services and products are provided free of charge, and the method of displaying content, the method of presenting value, and the provision of special functions can be charged. We would like to expand the base of users. At the same time, we would like to collect and analyze various data related to food, including "eating out" and "eating out".
What I hear from people who run restaurants today is the dissatisfaction of lost opportunities, such as "only a large reservation frame is taken and canceled without notice on the day." This can be called a social issue. In addition to solving these social issues, we would like to add content that can further meet customer needs through the evolution of d gourmet when considering future service evolution.
after the interview
There are many services related to "food" in the market, but it turned out that NTT DoCoMo is considering from various perspectives to create and evolve related businesses in this area as well.
(1) Service that reaches the itchy spot
What users need is not limited to restaurant coupons and recipe information that can be used at a great value. "I went to a restaurant that had a good reputation based on word of mouth, but it didn't have the atmosphere I expected." It would be nice if you could understand the details of the adjustment." I felt that one of the important points is to pick up the minor needs of users and to be thoroughly particular about how to display text and video content other than coupons. .
(2) Cross-sectional service development centered on the membership base
Until now, for NTT Docomo, the meaning of "user" in "NTT Docomo user" was "line user", but from now on, the company will continue to use "line" as a payment function that allows various payment methods to be selected. Considering it as one of the services provided to users, along with "data management function" that allows users to safely store images and sounds taken with smartphones, etc. It turns out that you are trying to provide a service.
This can be read from the content of the press release *3 on the addition of new functions to "d gourmet" posted on NTT DoCoMo's website on June 28, 2018. The new function is a function that allows you to make a restaurant reservation online, but if you have a d account, you can make a reservation, and every time you make a reservation, you will receive 200 points for dinner and 30 points for lunch. Points accumulated through reservations, etc. can be used not only in d gourmet services, but also in services in other areas such as d travel, d magazine, and d healthcare.
By providing this mechanism, it is possible to have a new analysis axis instead of the conventional analysis axis of "Which service, such as gourmet, sightseeing, sports, etc., is used more often by line users?" For example, it asks, "When a member who shows an interest in food makes a reservation at a restaurant, do they make a reservation by phone or online? What payment method do they use? It is like grasping the degree of interest in other services starting from a certain service from point consumption trends etc.
If the membership base expands by "Softbank and au line users also have d account", it will be possible to analyze the person's own d account from more usage history etc. It may be possible to conduct a more detailed analysis than before based on the sphere of life and values. Using the results of such analysis, NTT DOCOMO will be able to provide not only gourmet food, but also tourism, sports, news, entertainment, and other services developed by NTT DoCoMo to the extent that users do not feel resistance depending on the time and situation. will lead to an increase in the value of the service.
*Part of this article is published free of charge from the member service "InfoCom T&S".