Food
Real name word-of-mouth gourmet service Retty launches "Food Data Platform", a big data linkage platform in the food field! | Retty Co., Ltd. Press Release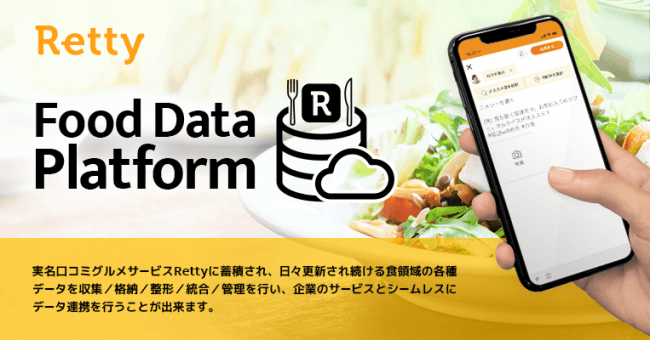 [About Food Data Platform]
It is a big data linkage platform that collects / stores / shapes / integrates / manages various data in the food area that is accumulated in the real name word-of-mouth gourmet service Retty and is continuously updated daily, and can seamlessly link data with corporate services.
By linking "Big data owned by the company" and "Food Data Platform", various companies such as creating new experiences, utilizing marketing, trend analysis, product planning and product development in the services operated by the company. It is possible to utilize the data according to the purpose of.

 

We are currently preparing a web page. For inquiries from companies, please contact the following[Contact for inquiries regarding Food Data Platform].
[Data provided via Food Data Platform]
CGM data such as food preferences and trends accumulated in Retty, which boasts 40 million users, popular store data obtained by advanced calculation processing of Retty's original technology, high value-added data calculated by machine learning and graph algorithms It is possible to provide such as.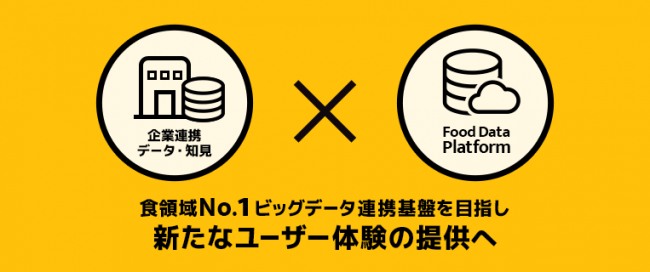 [Future development of Food Data Platform]
We will further improve the quality of big data owned by the real name word-of-mouth gourmet service Retty and expand the number of affiliated companies.
At the same time, we will strengthen cooperation with other gourmet services and aim to become the No. 1 big data cooperation platform in the food field.
[Service utilization example]
■ Travel schedule creation site "Drive Consultant"
https://www.driveconsultant.jp/index.html
By incorporating restaurant information provided by Retty into the "Drive Consultant" operated by Idemitsu Kosan Co., Ltd., it has become possible to create a one-stop travel schedule from tourist spots to restaurants. We will contribute to regional revitalization by creating a richer travel experience through food and disseminating tourism information that is closely related to the region.

 

■ About "Retty" https://retty.me/
The real name word-of-mouth gourmet service "Retty", which started in June 2011, is operated by posting information on shops that you want to "recommend" based on your real name, mainly for people who have a strong commitment to gourmet. .. As a gourmet service that "finds the best restaurant for you", it is used by men and women in their 20s and 40s, mainly in a wide range of age groups. In November 2018, the number of monthly users exceeded 40 million.
・ IPhone app: https://itunes.apple.com/jp/app/id473919569?mt=8
・ Android app: https://play.google.com/store/apps/details?id=me.retty
■ Company profile
Company name Retty Co., Ltd. https://corp.retty.me/
Representative Representative Director Kazuya Takeda
Location 1-4-1, Mita, Minato-ku, Tokyo Sumitomo Fudosan Azabu Juban Building 3F
Business description Operation of Japan's largest real name word-of-mouth gourmet service "Retty"
[Contact for inquiries regarding Food Data Platform]Retty Co., Ltd.
Advertising Content Division Shindo
MAIL: bizdev@retty.me Phone: 03-6852-7325
Source link