Business
IKEA for Business opens in Shibuya today | Press release of IKEA Japan Co., Ltd.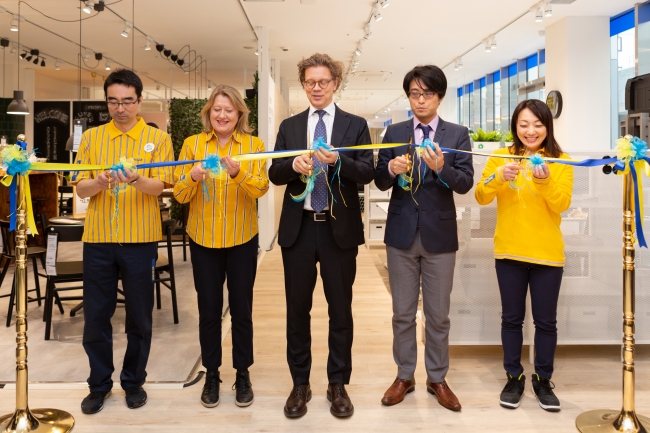 A home furnishing company originating in Sweden with a vision of "more comfortable everyday life for more people" IKEA Japan Co., Ltd., a Japanese subsidiary of IKEA (Headquarters: Funabashi City, Chiba Prefecture, President and Chief Sustainability Officer: Helen von Rice) today opened IKEA for Business, IKEA Japan's first planning space for corporations and business owners, in Shibuya.
At the press conference held on the day of the opening, IKEA Japan Co., Ltd. President and Chief Sustainability Officer Helen Von Rice and the Swedish Ambassador to Japan Per Eric Hegberg, Ministry of Internal Affairs and Communications Administrative Evaluation Bureau General Affairs Division Director Ryuichi Minoura and Taketsugu Kikuchi, IKEA for Business store manager, took the stage.
At the press conference, Helen von Rice said, "As a first step toward IKEA being loved by everyone in Tokyo, IKEA for Business will open in Shibuya and provide solutions for businesses of various business types and sizes. I am very happy.Creating a good workplace will improve the quality of life, and it will also lead to a better life at home."
Takeshi Kikuchi, who became the store manager of IKEA for Business, said, "As of today, more than 260 companies have registered as IKEA for Business members. With office rents in Tokyo soaring, we are able to offer our customers a convenient location for their business. We will deliver a solution that suits your needs at an affordable price."
Located about a 3-minute walk from Shibuya Station, we propose the optimal workspace for realizing flexible work styles and flexible business plans for customers that meet diverse customer needs in a changing era. To go.
The studio offers an individual interior planning service (reservation required, paid) that incorporates functional and creative products by IKEA business advisors for customers who are IKEA BUSINESS members (no admission fee / annual fee). I will deliver. We support the creation of comfortable workspaces and stores for a wide range of business types, such as offices, retail stores, and restaurants.
In addition, in the IKEA for Business meeting space, we plan to hold workshops and networking events related to sustainability, such as women's empowerment and healthy work styles.
IKEA is looking forward to assisting you as your business partner in Shibuya, where redevelopment is progressing as a driving force for Tokyo culture, and facilities that represent the new era are opening one after another.
IKEA for Business Overview
Name: IKEA for Business
Location: 1-9-5 Dogenzaka, Shibuya-ku, Tokyo
Transportation: JR, Tokyo Metro Ginza Line, Hanzomon Line, Fukutoshin Line, Tokyu Toyoko Line,
3-minute walk from Shibuya Station on the Den-en-toshi Line, 2-minute walk from Shibuya Station on the Keio Inokashira Line
Total area: 455㎡
Manager: Taketsugu Kikuchi
Scheduled opening date: February 20, 2020
What is IKEA for Business?
IKEA for Business is a corporate membership program that provides optimal workspaces (offices, stores, etc.) for corporations, self-employed individuals, sole proprietors, freelancers, government agencies, etc. Various services such as interior planning, delivery and furniture assembly are also available.
Please see below for details.
https://www.ikea.jp/business
Source link