Lifestyle
"New (Lifestyle) Acoustic Camp 2020" will be held with restrictions on participation | SPICE
For two days from Saturday, September 19th to Sunday, September 20th, 2020, at the Minakami Kogen Resort 200 Golf Course, Minakami-machi, Tone-gun, Gunma Prefecture, "New (Lifestyle) Acoustic Camp 2020-More relaxed and leisurely than usual. , New Acoustic. ~" was announced.
"New Acoustic Camp" was about to be held for the 11th time this year, but due to the influence of the corona disaster, the details of "New Acoustic Camp" were postponed after the announcement in February. It has been officially announced that we are looking for a way to hold the event in this situation, but this time it will be held as a "New (Lifestyle) Acoustic Camp" that incorporates a new lifestyle.
The venue will be reduced in scale, and the number of visitors will be within 2,500 people per day, including visitors, performers, and staff. In addition, when holding this event, based on the national policy, we consulted with Gunma Prefecture about infection prevention measures at the time of the event, and reached the final decision with the support and cooperation of the Minakami Town Tourism Association.
In addition, there are restrictions on participation, and it is a group that includes those who have participated in the New Acoustic Camp or those who have participated. Now, it is natural for event participants to strictly observe infectious disease countermeasures, but it is also a condition of participation that they can follow the manners that "New Acoustic Camp" and visitors have built so far. The event does not have barricades or security like rock festivals, and is held in this caring manner.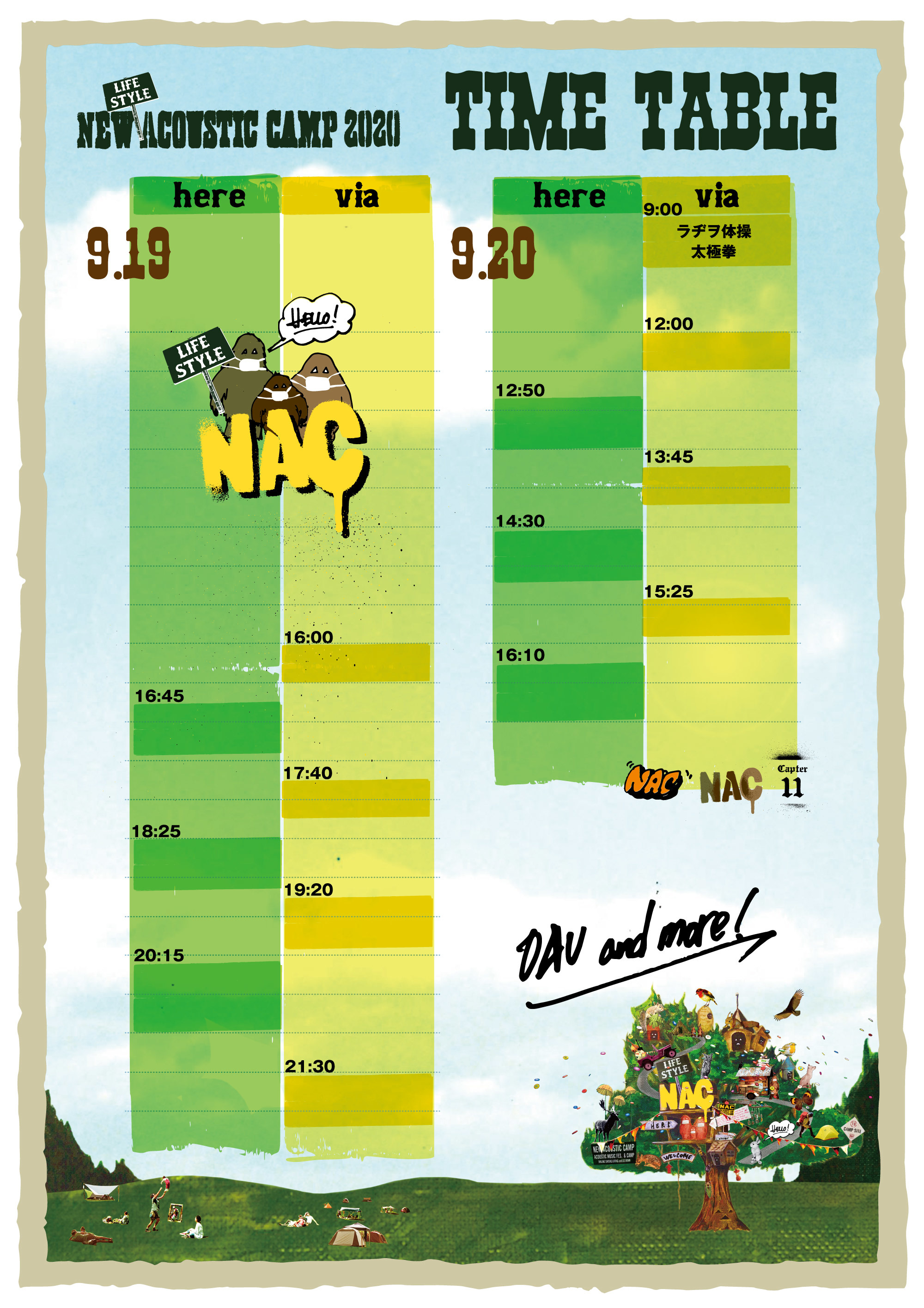 timetable
Along with the announcement of the event, the appearance of OAU, who is the organizer, has been lifted. The timetable that several other artists are expected to appear has been lifted. The live start is set to be later than usual. note that,
is from 10:00 on Saturday, August 22nd
Pre-registration for the lottery has started.
At 20:00 on Saturday, August 22nd, an emergency live stream will be held on the official YouTube "New Acco Channel", and the organizer TOSHI-LOW (OAU) will talk about his thoughts on the event. In addition, the official e-mail magazine "Ako friend" has been newly established from today. Various plans such as member benefits are prepared.
event information
New (Lifestyle) Acoustic Camp 2020
~ A new accomodation that is more relaxed and laid-back than usual. ~
Date: September 19th (Sat) to September 20th (Sun)
Venue: Minakami Kogen Resort 200 (Minakami Town, Tone District, Gunma Prefecture)
New Acoustic Camp official site
http://www.newacousticcamp.com/

Lottery advance August 22 (Sat) 10:00 to August 26 (Wed) 23:59
YouTube "New Acco Channel"
A new new acco will be held! Emergency live broadcast!!
August 22 (Sat) 20:00-
Appearance: TOSHI-LOW / Tahara "104" Hiroshi (MC)
https://www.youtube.com/user/NewAcousticCamp
event information
New (Lifestyle) Acoustic Camp 2020
~ A new accomodation that is more relaxed and laid-back than usual. ~
Date: September 19th (Sat) to September 20th (Sun)
Venue: Minakami Kogen Resort 200 (Minakami Town, Tone District, Gunma Prefecture)
New Acoustic Camp official site
http://www.newacousticcamp.com/

Lottery advance August 22 (Sat) 10:00 to August 26 (Wed) 23:59
YouTube "New Acco Channel"
A new new acco will be held! Emergency live broadcast!!
August 22 (Sat) 20:00-
Appearance: TOSHI-LOW / Tahara "104" Hiroshi (MC)
https://www.youtube.com/user/NewAcousticCamp