Entertainment
BTS, TOMORROW X TOGETHER, Lee Hyun affiliation Big Hit Entertainment "2020 NEXT NEW CREATOR in Japan" recruitment!
Big Hit Entertainment Japan (hereafter: Big Hit), which is a Japanese subsidiary of the Korean management company Big Hit Entertainment to which BTS, TOMORROW X TOGETHER, and Lee Hyun belong, is developing a wide range of artist activity businesses from live business, promotion business to management business. Japan) is looking for producers to challenge the global music market.
We are looking forward to your application for producers who are looking for a chance to open up their infinite possibilities and talents!
[Summary of recruitment for "2020 NEXT NEW CREATOR in Japan"]● Recruitment field
Track producer specializing in pop music
● Qualifications for application
・ Those who live in Japan or who can live in Japan
・ Gender, academic ability, and background are not required
・ Those over 14 years old
・ Individual or team application is possible
● Preferential treatment
Highly knowledgeable about the global music market and trends
● How to apply
Apply using the online application form on the NNC homepage

[デモガイド]i) Submit a demo of competitive music in the global music market (a level that can be ranked in the global major music charts) that maximizes your (team) talent and flair.
ii) We recommend music demos with sophisticated sound that leads the trend, with American pop style rhythms such as R & B, hip hop, EDM, and pop rock.
iii) Please refrain from music demos of stylized song structure (A: Verse –B: Pre-Chorus –C: Chorus) with clear melody and dynamic flow.
iv) Please refrain from demonstrating hybrid styles with unclear genres.

[申込ガイド]i) Tracks and tracks + melody demo file: submit at least 2 songs, up to 5 songs (mp3 recommended)
ii) PDF recommended when submitting lyrics
iii) Required demo credits in the application form (lyrics, composition, arrangement, guide recording, sample use, etc.)
iv) Cannot submit demo files worked in mobile DAW
v) When applying as a team, individual application for all team members is required
● Qualifying reception
October 1, 2020 10:00 AM-November 2, 2020 00:00 AM (JST)
● Selection method
Deadline for reception → Qualifying → Individual finals → Final winner 1 or 1 team selected
・ The qualifying round will proceed through an internal examination, and after the individual final rounds will be held for those who have passed the qualifying round, one final winner or one team will be selected.
・ Individual finals may proceed at the song camp screening.
* The examination schedule may be delayed due to internal circumstances. Please note.
● Prize money
Prize money of 500,000 yen will be presented to one final winner or one team (tax will be borne by the individual)
* If you receive the prize money from an overseas account, it will be presented in KRW or USD according to the rate on the announcement date.
* Please note that depending on the situation, there may be no winners.
● Homepage http://nnc.bighitaudition.com
● Contact creator@bighitcorp.com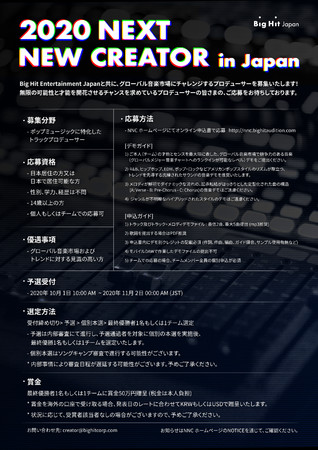 Source link