Entertainment
Super exhilarating full-scale 3D action RPG "Punising: Gray Raven" service started today | Press release of Hero Entertainment Co., Ltd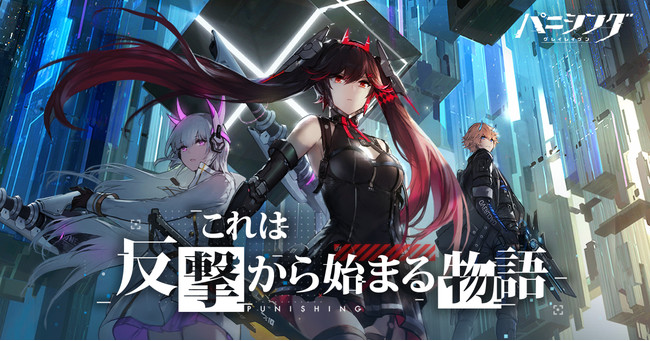 ◆ Gray Raven Sortie! Panigure official service started!There is a privilege to become a new commander
"Punising: Gray Raven" will be available from 12:00 on December 4, 2020 (Friday). We have prepared luxurious benefits such as an S-class structure that you can get without exception, so please experience the world of "Panigre".
▼ Click here to download
https://grayraven.onelink.me/gj4i/dl
Your favorite S-class structure is enlisted!
Not only will you start the game, you will also get one S-class structure for free. Please enlist your favorite structure.
[S-class structure that can be obtained for free]Attack type: Lee Random, Karenina Burning
Auxiliary type: Reef / Raiko
Armor type: Kamui dark force, Nanami wave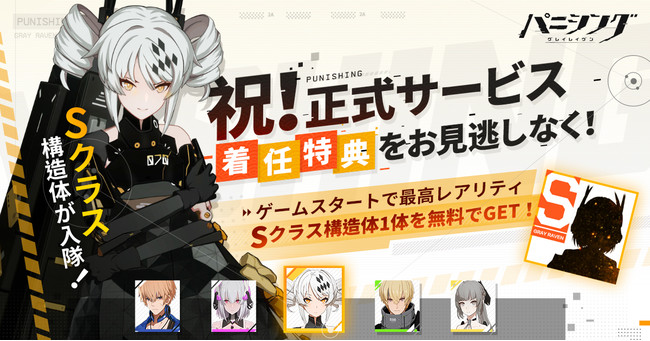 New Commander Benefits
In "Basic structure development" (Gacha system), the S-class structure is confirmed after 60 developments. However, for the first time only, the number of developments until the S-class structure is discharged will be 40 times. Please use it as it will help you to improve your strength at the beginning of the game.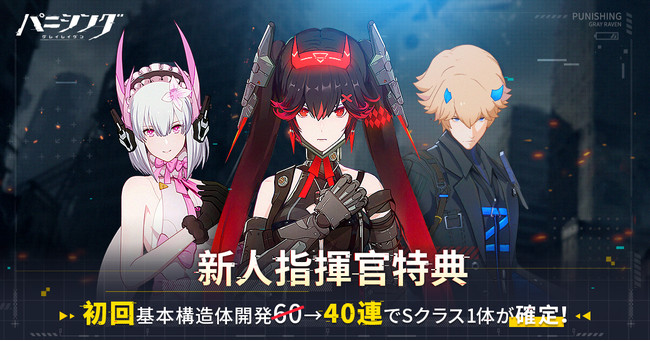 Acquire a large amount of valuable items!Login bonus event + newcomer mission implementation
A 14-day login bonus event will be held to help new commanders complete their missions and earn items such as awareness. You can get "Bianca Zero Degree" of A class structure on the 7th day of cumulative login, and you can get the special paint on the 14th day of the cumulative total.
In addition, we will carry out a "7-day rookie mission" at the same time, where you can acquire valuable items such as black passes and high rare weapons by satisfying specific conditions.
If you are uncertain about how to play at the beginning of the game, you can improve your strength by playing with the aim of clearing the "newcomer mission".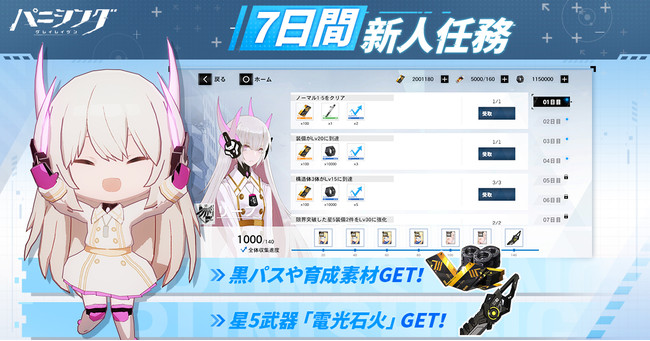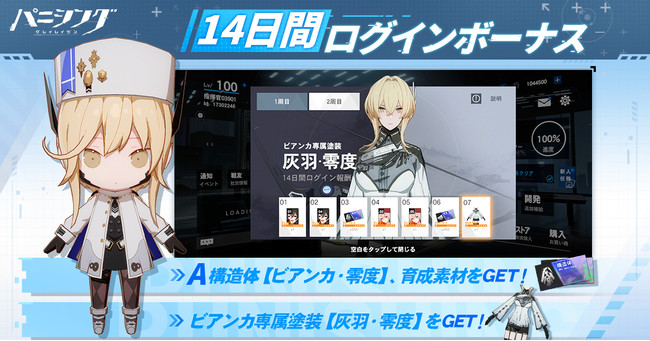 ◆ Win a gorgeous prize!Release commemorative follow & RT campaign is being held
To commemorate the release of "Punising: Gray Raven", we will hold a follow-up & RT campaign where you can win luxury prizes such as Amazon gift certificates on the spot. You can challenge this campaign every day, so please join us!
▼ How to participate
① Follow Panigre official Twitter account (@punigray_staff)
② Retweet the campaign tweet with the hashtag "#Panigre"
③ You will receive the winning result by reply on the spot
▼ Campaign period
December 4, 2020 (Friday) -December 10, 2020 (Thursday)
Please see the official Twitter account for the details of the campaign.
◆ Release commemorative animation PV release
To commemorate the release of "Puninishing: Gray Raven", the original anime PV is currently being released with great acclaim. High-quality animation depicts the fierce battle scene between Lucia and the promoted Loran, the Gray Raven Corps landing on the abandoned Earth that was invaded by Panishing. Please watch it!
Also, on the official Twitter (@punigray_staff), some of the storyboards have been released before the PV was released. Please see that as well.
▼ Click here to watch ↓
* Company names and service names mentioned are trademarks or registered trademarks of each company.
++++++++++++++++++++++
Title: "Punising: Gray Raven"
Genre: 3D action RPG
RPG compatible device: Android / iOS
Price: Free-to-play (some in-app purchases available)
Operation: HK Hero Entertainment Co., Ltd
Delivery date: December 4, 2020
Official site: https://grayraven.jp
Official Twitter account: https://twitter.com/punigray_staff
Official YouTube channel: https://www.youtube.com/channel/UC_KUFMLEn-N4_Sr9wco4tcQ
© GUANGZHOU KURO TECHNOLOGY CO., LTD. All RIGHTS RESERVED.
© HK HERO ENTERTAINMENT CO., LIMITED. ALL RIGHTS RESERVED.
++++++++++++++++++++++
[Introduction to HK Hero Entertainment]
HK Hero Entertainment is a Hong Kong corporation of Hero Entertainment Co., Ltd (Hero Entertainment), an online entertainment company headquartered in Beijing, China. Since its establishment in 2015, Hero Entertainment has expanded its business in China and around the world, focusing on the development and publishing of game apps for smartphones and the organizational management of mobile e-Sports competitions, and has been a national SME stock transfer system (National Equities). Listed on Exchange and Quotations (commonly known as NEEQ). In addition, from the beginning of its establishment, we have expanded our business with a view to expanding overseas, including "Art of War: Red Tides", which has been selected as a "recommended app" in 154 countries and regions around the world, "Crisis Action", and "Phantom". We distribute popular game apps such as "Blade2" and "Ikki Rai Adventure" all over the world, and have acquired more than 400 million users.
In August 2018, we started distributing the Japanese version of the nurturing strategy simulation game app "Shin Sangokushi" developed under the supervision of Koei Tecmo Games Co., Ltd., with a cumulative total of over 3 million downloads and the App Store download ranking. It has been very well received, with 5th place, 3rd place in the Google Play download ranking, and being listed in the "Recommended Games" of Google Play.
Hero Entertainment has established local subsidiaries in Hong Kong, Taiwan, and Japan in addition to mainland China, and will continue to deliver high-quality online content to customers around the world under the management philosophy of "Unlock your vision and mind." In order to do so, we will actively promote the overseas publishing business.