Travel
"OITA TRAVEL BOX" Crowdfunding target 300% achieved! It will be on sale for a limited time at the EC site and the actual store in Oita! | Press release of Yaseuma Honpo Taguchi Confectionery Co., Ltd.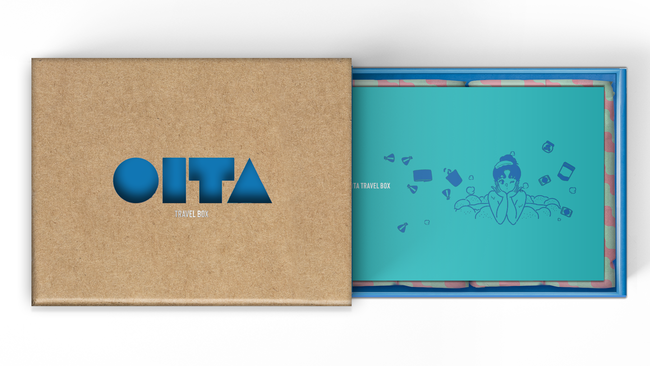 Let's travel to Oita with all five senses while staying at home! This is the charm of "OITA TRAVEL BOX"!
➊ From traditional Oita flavors to unknown gems and bath salts, this BOX is full of Oita's charm!
➋ Includes "Travel Book", an original bookmark for traveling where you can feel the atmosphere of Oita with your eyes and ears!
➌ Cute design by popular illustrator Sanremo and travel photographer Tomomi Isa!
Selected! Six kinds of souvenirs that represent Oita!
➊ Traditional taste of Oita! The special soybean flour and tactile sensation are irresistible! "Bungo Famous Confectionery Yaseuma"
Some celebrities from Oita remember Oita when they eat it, so it is a traditional Japanese sweet. A semi-namagashi with a pleasant texture, like a rice cake-like dumpling, made from carefully roasted and homemade soybean flour and wrapped in fertilizer. It is a healthy Japanese sweet that does not use any preservatives and is kind to the body.

➋ Also as a snack for sake! A gem that everyone in the know knows, "Torikawa crispy fried"
Oita's popular snacks have gained popularity in a blink of an eye after they are on sale, and have won the first place in the Rakuten Daily Ranking. It's a brand full of fresh chicken flavors, but we have narrowed down the stores that sell it, and it's a "masterpiece snack that everyone in the know knows." As a snack, of course, if you like alcohol, please enjoy the taste as a beer snack.

➌ High-quality taste of tradition and innovation "Hyakuju Hitohira Ginger x Chocolate"
"Hyakuju Hitohira Ginger x Chocolate" is a winter-only confectionery made by coating a traditional rice cracker kneaded with organic ginger from Oita prefecture with organic chocolate from France. Please enjoy the traditional and innovative gem that matches the mellow sweetness of high-quality organic chocolate with the moderate spiciness of organic ginger.

➍ "Oita Kabosu Gummy" with a refreshing sweet and sour flavor
A large gummy candy that has the sweet and sour refreshing flavor of Kabosu from Oita prefecture. It is a gem that you should enjoy the cute appearance of a small kabosu packed in a bottle.

➎ Also as a secret ingredient in cooking! The all-purpose flavor "Shiitake tea" made by the teahouse
"Shiitake tea" is a blend of 100% shiitake mushrooms from Oita prefecture, high quality domestic kelp and bonito powder. Not only can you enjoy it as tea with the feeling of plum kelp tea, but you can also use it as a secret ingredient in various dishes, such as cooked rice, pasta, and mentsuyu, which can be mixed with fried batter.

➏ Enjoy the hot springs of Oita, which has been around for 300 years, at home. "Myoban Onsen Medicinal Bath Salt Yunohana"
The source of hot springs sold by Myoban Yunosato, a historic hot spring resort that has been in Beppu City for 300 years and has the largest amount of hot springs in the world. You can enjoy a full-fledged hot spring with plenty of efficacy in your own bath.

"Travel book" where you can enjoy the atmosphere of travel

A "Travel Book" with a QR code that allows you to enjoy images by holding your mobile phone over is also included so that you can enjoy the scenery and sounds you encounter during your one-night, two-day trip.

Feel the atmosphere of the place where the main character stopped by from the video, look at the manufacturing process so that you can taste the product even more deliciously, and "enjoy" the product you received with your five senses instead of using a travel book or video as a guidebook. And you can feel the atmosphere of a live trip.
Why did you make "OITA TRAVEL BOX"?
Due to the influence of the new coronavirus, sales at Yaseuma Honpo, whose main sales channel was souvenirs for tourists, decreased by 90% from the previous year in May. Oita's product-related companies are still in a difficult situation, as long-established stores that have been loved by locals for a long time have been forced to end their long history.
If you can't see the city going away without being able to read what's going to happen in the future, a long-established confectionery store in Oita Prefecture, "Yaseuma Honpo Taguchi Confectionery Store," and local product officials have started up. I did. We launched this crowdfunding from the desire to come back to Oita someday by enjoying the charm of Oita while staying at home and having them enjoy a trip to Oita.
In the crowdfunding conducted from December 24, 2020 to February 28, 2021, we achieved 300% of the target with the support of many people. We, who have received a great deal of support, would like to support you through the "OITA TRAVEL BOX", which is filled with the charm of Oita.
For a limited time, we have prepared so that you can purchase "OITA TRAVEL BOX" on the EC site and at actual stores in Oita prefecture.
We will continue to work on the project, looking forward to experiencing the feeling of traveling to Oita with all five senses and meeting everyone in a lively manner someday. * Actual store sales will be from March 19th.
Where to purchase "OITA TRAVEL BOX"
◆ Online sales
Yaseuma Honpo EC site https://shop.yaseuma.com/items/41162431 Phone 097-569-3247
◆ Oita city
TOMOEYA AMU PLAZA Oita store Phone 097-529-7552
Oita Karaage Oita Station Phone 097-574-5522
Oita Karaage Shimogori Factory Directly Managed Store Phone 097-567-1239
◆ Beppu city
Maruniya Beppu Station B-Passage Store Phone 0977-23-2457
Nanko Bussan Headquarters Direct Sales Office Phone 0977-66-4151
Myoban Yunosato Main Building Shop Phone 0977-66-8166
◆ Usuki City
Goto Confectionery Main Store Ishibutsu Kaikan Telephone 0972-65-3555
▼ "OITA TRAVEL BOX" selling price
3780 yen (tax included) * The selling price is different from that at the time of crowdfunding because the amount is different from the shipping fee.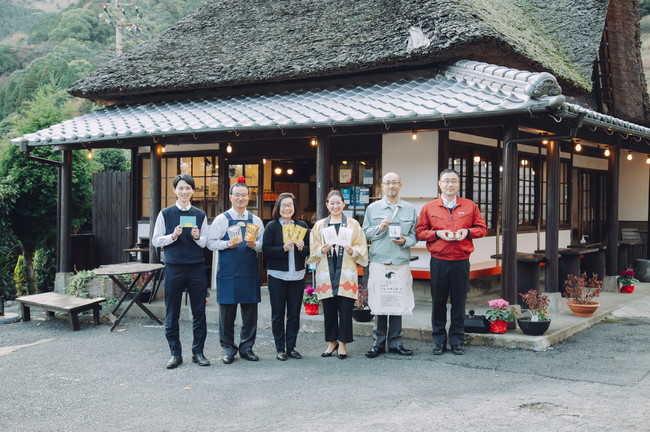 Company name: Yaseuma Honpo Taguchi Confectionery (https://yaseuma.com/)
Person in charge: Eiko Taguchi
Location: 311 Mitsuyoshi, Oita City, Oita Prefecture 870-1132 Phone: 097-569-3247
Founded: 1951
Source link