Lifestyle
Announcement of progress of ESG strategy "Kirei Lifestyle Plan" | Press release of Kao Corporation (news release)
For 130 years, Kao has been aiming to realize a rich lifestyle culture by staying close to people's lives. In 2018, we released "Our Plastic Packaging Container Declaration" that summarizes Kao's attitude regarding plastic packaging containers, which is one of the social issues. In April 2019, we set "Kirei Lifestyle" as a sustainable lifestyle for which consumers' needs are increasing, and formulated an ESG strategy "Kirei Lifestyle Plan" to realize it, and set 19 priority action themes. .. In September, we announced that we would focus on "reduce innovation" and "recycling innovation" for a plastic-cycle society. In addition, the Kao Group Medium-Term Management Plan "K25" announced in December 2020 also has a vision of "Sustainability as the only path" to create a prosperous and sustainable society. We aim to become a company that is indispensable to society in the future by achieving both contributions and business growth.
As a specific activity, we adopted 100% recycled plastic bottles of "Attack ZERO" in the priority initiative theme of "promoting a sustainable lifestyle". "Purpose-driven brand" is the launch of a brand that embodies "Kirei Lifestyle." In "Innovation that changes our lives," we have developed an environmentally friendly raw material "C-HPC" and a composite high-performance resin "LUNAFLEX", and applied protein production technology using Bacillus subtilis to infectious disease control. In "Responsible Raw Material Procurement", Indonesia's small-scale palm plantation support program started. In "decarbonization", 2040 carbon zero, 2050 carbon negative new "decarbonization" target setting, 100% renewable energy ratio of purchased electricity earlier target year, cooperation in smart logistics with Lion Co., Ltd. Start of work. "Zero Waste" promotes the main body of packaging containers made of thin film materials, starts a refill program, recycles packaging containers, marine plastic waste, and used disposable diapers, and develops chemical products made from waste PET. .. In "Water Conservation," we have been promoting water conservation campaigns in China. Many of the initiatives are carried out in collaboration with many people, including not only one Kao company, but also other companies, local governments, governments, universities, etc.
In addition, as a medium- to long-term goal of "responsible raw material procurement," we aim to make palm oil used for consumers and industrial use 100% certified oil by 2025, and by 2025, it will be small. We have announced that we are aiming to complete traceability confirmation up to the scale palm plantation. Kao has procured an amount of RSPO certified oil equivalent to the total amount of palm oil used for consumers in 2020 and has completed confirmation of traceability to the palm oil mill, but this time the target is set. We will continue to promote Kao's efforts to procure sustainable raw materials.
In recognition of these efforts, we were selected as an "A-list company", which has the highest rating in all surveys of "climate change," "forest," and "water" conducted by the international NPO CDP. In addition, the Ethisphere Institute, a US think tank, has been selected as a constituent of the Dow Jones Sustainability World Index, which is one of the world's leading socially responsible investment (SRI) indicators, for the seventh consecutive year and is the KPI for executive compensation. )'S "World's Most Ethical Companies® 2020" (the world's most ethical companies) for the 15th consecutive year.
In releasing the progress of the "Kirei Lifestyle Plan," Kao's executive officer and ESG division manager, Dave Muenz, said, "In 2020, the spread of the new coronavirus infection will have many impacts on society, and the entire company will respond to it. It was a year of united efforts. However, this did not hinder Kao's ESG activities, but rather accelerated them. In Japan, the production capacity of disinfectants increased by 30 times, and the market surged. We quickly responded to the needs for sanitary products. In our efforts to reduce plastic waste, we adopted the innovative thin "Air in Film Bottle" "MyKirei by KAO". Is still one of Kao's top priorities, but with the big goal of zero carbon by 2040 and negative carbon by 2050, the SBT initiative "1.5 ° C target" , And aiming to achieve the target value of CO2 emission reduction in line with "RE100". Kao will continue to promote the ESG strategy "Kirei Lifestyle Plan" as it enters the first year of the Kao Group medium-term management plan "K25". We will lay the foundation for becoming an indispensable partner for a sustainable society and consumers. "
The Kao Group aims to expand its business and provide better products and services to consumers and society by introducing ESG perspectives into its management. We will expand ESG activities that are unique to Kao globally, realize the joy and satisfaction of people around the world, and contribute to the sustainability of society.
"'Kirei Lifestyle Plan " Main priority initiatives Themes and activitiesCase study "Click here for details
https://www.kao.com/jp/corporate/news/sustainability/2021/20210524-001/
■Kao's ESGstrategy"Kirei Lifestyle Plan"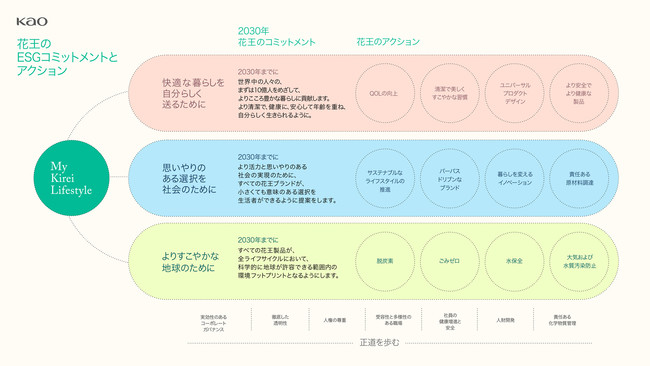 ■ Kao Sustainability Data Book Kirei Lifestyle Plan Progress Report 2021
https://www.kao.com/jp/corporate/sustainability/pdf/
■ Kao announces ESG strategy "Kirei Lifestyle Plan"
https://www.kao.com/jp/corporate/news/sustainability/2019/20190422-001/
■ "Kao Group's new challenge" for the future Make a major shift to ESG management
https://www.kao.com/jp/corporate/news/business-finance/2019/20190926-001/
■ Our Plastic Packaging Container Declaration
https://www.kao.com/jp/corporate/sustainability/topics-you-care-about/eco-friendly-products-plastic-packaging/
■ Kao> Sustainability
https://www.kao.com/jp/corporate/sustainability/
Source link