Travel
We asked the participants of the "Kyoto Umi Yozamusume Brewery Online Tour" held by BEENOS Travel with Kyoto in the Umi | BEENOS Inc. Press Release
Survey outline for participants of "Kyoto Yozamusume Brewery Online Tour of the Sea"
Participants in the online tour are a wide range of generations, from 20s to 50s, and the male-female ratio is 4: 6. Since the age and gender of the participants depend on the content, the key is to design the content with the target in mind, such as special products.

As a background of learning about the tour, 63% of customers answered "Travel bar e-mail newsletter" and "Travel bar SNS".

Regarding the content of the tour, 98% of the respondents to the questionnaire answered that they were satisfied, and all answered that they "want to visit" and "want to visit if there was an opportunity". The online tour was found to increase inbound intentions.

As for the places in Japan that I would like to visit after the corona converges, 27% are "Tohoku", 23% are "Hokkaido", and 13% are "Kyushu" and "Kanto" respectively. ..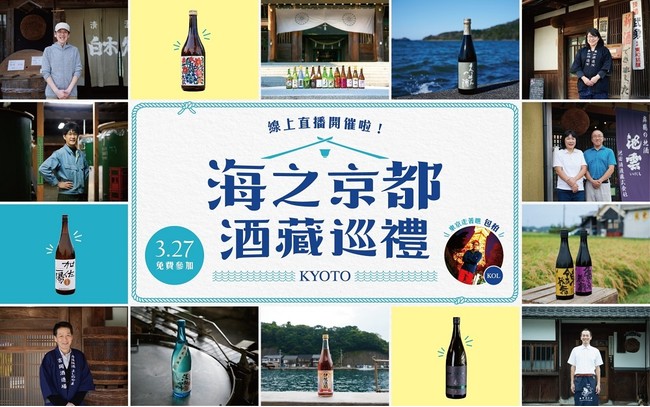 Survey method: Questionnaire survey via the Internet
Survey period: March 27, 2021 to April 12, 2021
Survey target: 56 out of 166 online tour participants answered
* When using the survey results of this release, please specify[Survey by BEENOS Travel Co., Ltd.].
Kyoto Online Tour Overview
The "Kyoto Yosamusume Brewery Online Tour of the Sea" is a Yosamusume Brewery (http://yosamusume) that has been brewing sake since 1887 (Meiji 20) by influencer Tokyo Run (Bob) arranged by BEENOS Travel. This is a hands-on tour where you can visit .com /) and tour the sake brewery. We deliver to the participants the history of sake brewing and the feelings that can be put into sake.
The first 50 customers who are planning to participate in the online tour will be presented with sake from Yosamusume Brewery, and by participating in the tour while drinking sake, we created a sense of realism. In addition, it is a project linked to the cross-border EC site, and for customers living overseas who are interested in products through online tours and archive videos, "Umi" on the cross-border purchase support service "Buyee" provided by the BEENOS Group. You can purchase and order products at the "Kyoto" store (https://buyee.jp/rakuten/shopping/store/top/uminokyoto).

 
▼ Gender and age of participants
Of the customers who participated in the Kyoto Online Tour of the Sea, 60% were women and 40% were men. In addition, not only people in their 20s and 40s, but also a certain number of participants in their 50s and above have been acquired. This time, we had a chance to experience sake brewing while enjoying sake at home, and we had a wide range of participants in the age when we could drink alcohol.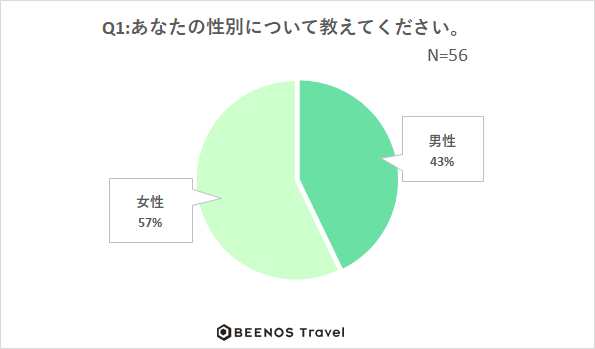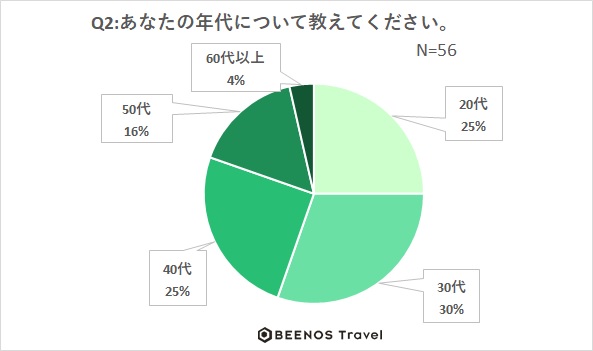 ▼ Background of learning about the tour and application results
When asked about the tour, 34% of the respondents answered "Travel bar e-mail newsletter", followed by 29% of the respondents who used Facebook, LINE, and Instagram for "Travel bar SNS" activities. rice field. In addition, the introduction of acquaintances and the recognition from other SNS and e-mail newsletters are 5 to 7%, and it is effective to provide information in the media and travel bar where customers who are highly motivated to visit Japan are gathering. understood.
As for the reason for applying, 45% of the respondents answered that they were interested in online tours, and there is demand for online tours while they cannot visit Japan. Next, the result of "because the special product was attractive" was 39%, and it was found that the content of the special product also influences the intention to participate in the online tour. In this online tour, the content was "limited quantity", and the sake was delivered to your home in Taiwan in advance, and you can enjoy the tour while drinking the sake you have.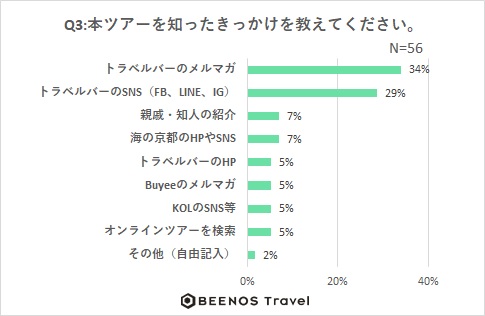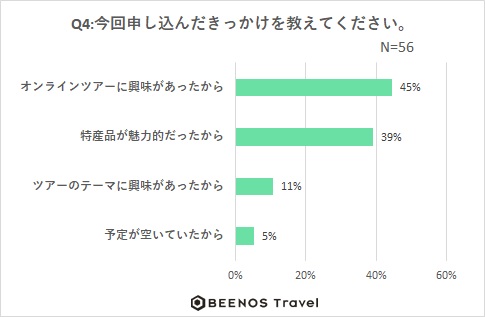 ▼ Satisfaction and future actions
As for the satisfaction level of the Kyoto online tour of the sea, 29% were "very satisfied", followed by 70% who answered "satisfied", and a total of 98% of customers were satisfied.
Customers who answered "dissatisfied" said that they wanted to increase the number of special products (limited quantity of sake that arrives at home) a little more, and they were satisfied with the content of the online tour. It turns out that the degree depends. In addition, when asked if they would like to visit Kyoto in the sea after the corona has converged, 39% answered "I definitely want to visit" and 61% answered "I want to visit if there is an opportunity". became.
As a result, it was found that holding an online tour to capture future inbound demand had a certain effect on "creating unforgettable points of contact and connecting to future visits."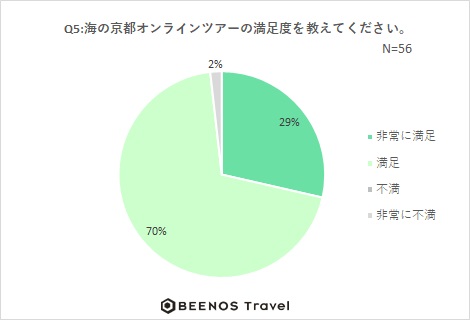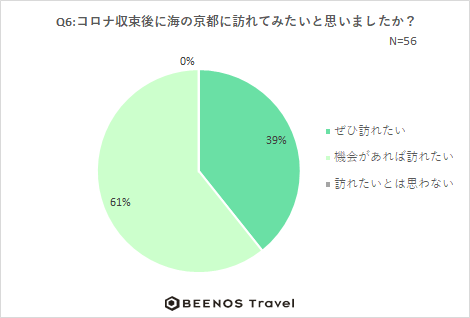 ▼ Where overseas customers want to go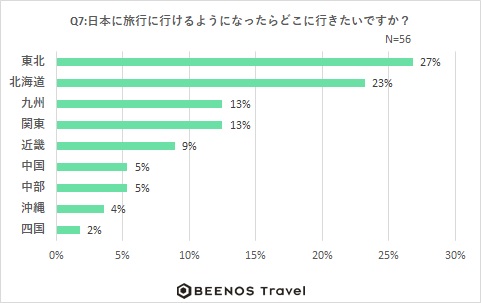 When asked where they would like to go when they could travel to Japan, "Tohoku" was the most frequently asked question at 27%. Next was "Hokkaido" with 23%, and the demand to the north side was the highest in Japan, followed by "Kyushu" and "Kanto" with 13%.
As I have seen in prefectures, in the "Questionnaire Survey on Visiting Japan" * 1 conducted in the past, 83% of the respondents answered that they would like to go to the next date and time as "a place with a lot of nature". It turned out that the opportunity to capture inbound tourists has arrived not only in urban areas but also in rural areas.
* 1 Outline of "Questionnaire Survey on Visiting Japan"
・ Survey method: Questionnaire survey via the Internet ・ Survey period: June 5, 2020-June 25, 2020
・ Survey target: 1538 travel bar members living in Taiwan responded
Examples of products sold after the online tour

Preparation and dissemination are important, about BEENOS Travel's efforts for inbound
BEENOS Travel is a service that provides support to local governments and businesses, focusing on creating points of contact while foreigners are not visiting Japan, and introducing online Japanese culture, good products, and sightseeing spots. We will continue to provide. By explaining local products and Japanese limited products in detail on the online live, we will disseminate information to overseas users as a measure to raise awareness, and maximize the possibility that it will lead to purchases on the date and time of visit and future online purchases.
Disseminating information through online tours can reduce the chances of being "forgotten" by consumers and lead to online purchases or travel spending when it becomes possible to visit Japan. increase. BEENOS Travel believes that it is important not only to think about how to respond to inbound tourists, but also to strengthen contact points with customers until the day when they arrive in Japan as an inbound measure. Therefore, we will strive to create and disseminate attractiveness that will increase the motivation to visit Japan by conducting online tours and questionnaire surveys for foreigners.
・ I want to consider an online tour
・ I want to conduct a questionnaire survey for Taiwanese users of the travel bar.
・ I want to talk about inbound measures
If you have any questions about how to deal with the above inbound tourists until you visit Japan, please contact us.

Travel Bar Division
Email address: btl_sales@beenos.com
[About Travel Bar]
As one of Taiwan's largest travel media sites for visiting Japan, which was opened in 2013, it is supported by users in Taiwan, Hong Kong, Macau and other countries. Users can collect information on Japan travel, search schedules, and create travel plans on the site. The average number of monthly PVs is 5.5 million, the number of posted blogs is 73,000, the number of user-created travel plans is 90,000, and 95% of the users who created the plans travel according to the plans created on the site. The feature is that you can complete the planning of your trip to Japan on one site, from the acquisition of information to the implementation of the created travel plan.
[Overview of BEENOS Travel Co., Ltd.]
We will increase the value as a WEB media and strengthen the function as a contact point for domestic travel operators, aiming to expand the number of high-quality contents that motivate users to visit Japan and further grow the advertising business. In addition, we plan to position the existing area as a strategic priority area and carry out promotions, etc., but in the medium to long term, we will expand the area and develop our business with a view to multilingual support.
Company Profile
Company name: BEENOS Travel Co., Ltd.
Representative: Taku Takeuchi, President and CEO
Headquarters location: 4-7-35 Kitashinagawa, Shinagawa-ku, Tokyo
Date of establishment: December 2019
Fund: 100 million yen

Source link