Entertainment
YG ENTERTAINMENT excavates "raw stones" in Japan! 2nd online audition held-Kstyle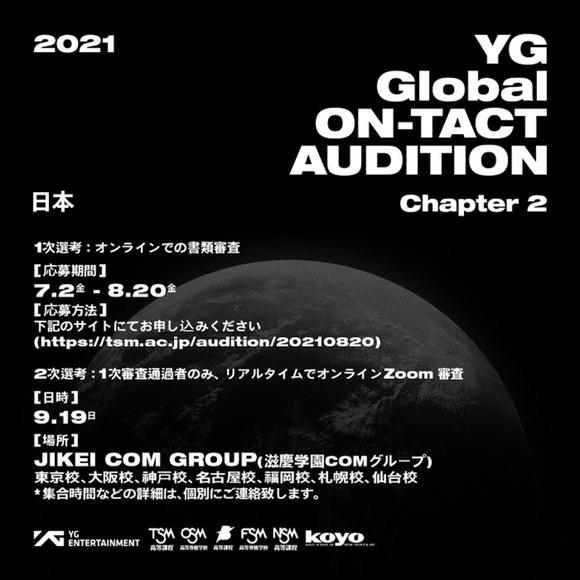 YG ENTERTAINMENT is a major Korean entertainment agency that has many artists and actors who are active worldwide, such as BIGBANG, WINNER, iKON, BLACKPINK, TREASURE, Choi Ji Woo, and Gang Dong Won. This summer, it was decided to hold the second audition with the JIKEI COM Group's Tokyo School of Music and Dance College and sister schools nationwide.
TREASURE, the fourth boy group following BIGBANG, WINNER and iKON, will debut in 2020. They are a 12-member boy group with 4 members from Japan. He made his debut in Japan in March this year and is expected to be more active in the future.
For teens who have a strong desire to become a K-POP artist and an artist who is active worldwide, this audition is a great opportunity to make their dreams come true. Since it is held online, you can take the first step while you are in Japan. This audition can be entered by both men and women born between 2002 and 2010. If you want to show off your talents and charms such as dance skills and singing ability, why not try the audition?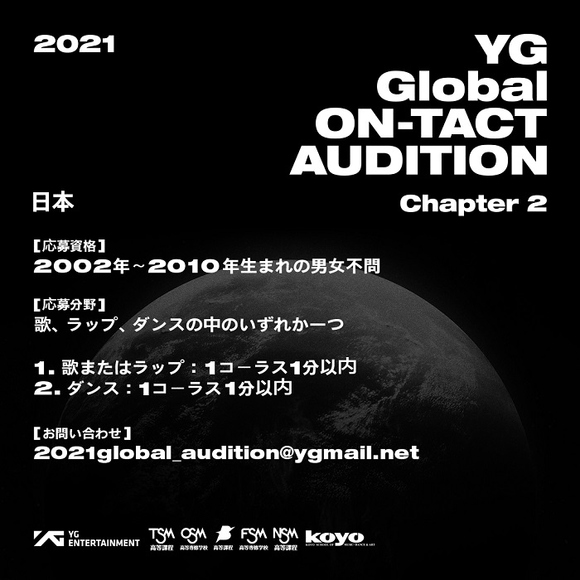 ■ Audition overview
"2021 YG Global ON-TACT AUDITION Chapter 2"

Men and women born between 2002 and 2010

○ Primary selection: Online document screening
・ Application period: July 2, 2021 (Friday) -August 20, 2021 (Friday)
・ How to apply: Apply from the entry form in the URL below.
https://www.tsm.ac.jp/audition/20210820/
○ Second screening: Only those who have passed the first screening will be screened online at designated schools (7 venues nationwide).
・ Date and time: Sunday, September 19, 2021
・ Venue: JIKEI COM GROUP
Tokyo school, Osaka school, Sapporo school, Kobe school, Fukuoka school, Nagoya school, Sendai school
* Please contact us for details such as meeting time.
In the second selection, choose either "Song & Dance" or "Rap & Dance".
Judge 1 minute of song or rap & 1 minute of dance.
■ Related links
YG AUDITION Official Website: https://www.yg-audition.com
YG JAPAN Official Website: http://www.ygfamily.jp