Entertainment
Aisley releases "ENTERTAINMENT TECH CHAOS MAP 2021"! | Press release of A3 Co., Ltd.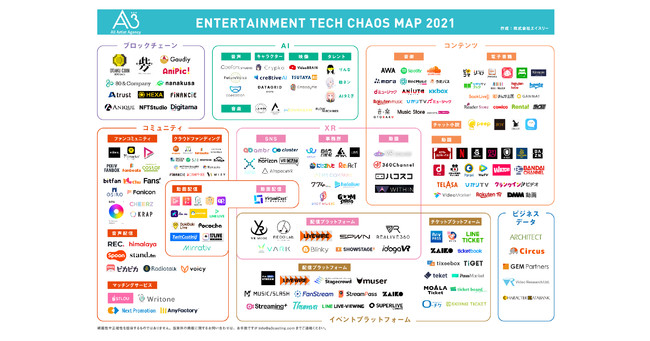 What is Entertainment Tech?
Entertainment Tech is a coined word that combines entertainment and technology. It means all businesses that combine existing technologies from the latest technologies such as XR, distribution technology, blockchain, and 5G to create new experiences or enhance the value of existing experiences.
Background of creating "ENTERTAINMENT TECH CHAOS MAP 2021"
Due to the influence of the coronavirus, the entertainment industry is under pressure to digitize businesses that mainly attracted customers in the real world, and I think that new normals will be required even in the after-corona era.
Now that the entertainment industry is entering a transformational period, we are planning to develop an entertainment tech fund in order to further support the growth of entertainment companies, and we have created a chaos map prior to the development of the fund. I did. Please use it for information gathering and service comparison for launching entertainment tech business and business promotion.

 
The categories are summarized below.
・ XR
SNS, office, video, video distribution, distribution platform centering on services that combine AR and VR.
・ Block chain
Mainly NFT (Non-Fungible Token), which is currently attracting attention, services related to the entertainment industry.
・ AI
Focusing on AI-based production services, the fields of voice, characters, video, and music. Also, the AI ​​talent field, which is expected to rise in the future.
·content
Music, ebooks, chat novels, videos, with a focus on digitally enjoyable content.
·community
Focusing on services that connect with people digitally, fan community, crowdfunding, video distribution service, audio distribution service, matching service.
・ Event platform
Delivery platform and ticket platform.
・ Business data
Companies and services that handle data from the entertainment industry.

 
If you are a person in charge of a company who is looking for "ENTERTAINMENT TECH CHAOS MAP 2021", please apply from the following document list page.
URL: https://www.a3corp.jp/document
After completing the application, the person in charge will send it by email.

 
Request to withdraw / post the logo or service name
Regarding the use of logo data of companies and services posted on the map, there are some that have not obtained the prior consent of each company. If you have any problems in use, we will promptly fix it, so please contact us at info@a3casting.com.
With the mission of "connecting the talents of the world", talents, performing arts, actors, models, VTubers, YouTubers, influencers, idols, singers, voice actors, athletes, experts, cultural figures, creators, artists, cosplayers, extras, MCs. , Character, etc., is a "super" comprehensive casting company that matches the fastest and optimally with various developments. We are also developing a comprehensive human resources business specializing in entertainment and an M & A brokerage business specializing in entertainment.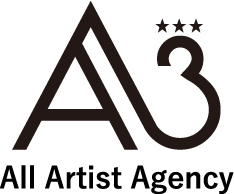 Company name: A3 Co., Ltd.
Representative: Naoki Yamamoto, Representative Director
Location: 3-35-2 Jingumae, Shibuya-ku, Tokyo Croce Jingumae Building 6F / 7F
URL: https://www.a3corp.jp/
Capital: 10 million yen
Established: October 2008
Business content: (1) Comprehensive casting business
・ Advertising / promotion / PR unit
・ Digital unit
・ CM / video / program unit
・ Event / school festival unit
・ Professional unit
・ Japan Culture Unit
・ Global unit
・ Game unit
・ Sports / athlete unit
・ Rights unit
・ Generation Z project
(2) Global agency business
(3) Entertainment support business (entertainment-specialized comprehensive human resources business, entertainment-specialized M & A intermediary business)
Source link