Travel
[Travel DX]Full service! The number of VR Trip tours has exceeded his 100 tours ~ A Twitter gift campaign is also underway to commemorate
VR Trip is a travel experience that you can enjoy as if you were in the real world by wearing VR goggles and entering the video space where you can see 360 ​​degrees. You can see the surroundings in a 360-degree space, so there is no doubt that you will feel as if you really visited the site. If you do not have VR goggles, you can also participate from your PC.
As the number of VR Trip tours increases, the range of choices for customers' travel destinations will increase and the attractiveness of the service will increase, so we will continue to increase the number of tours. We will continue to recruit free monitors until the paid service starts, so please take this opportunity to experience VR Trip. We will introduce the latest tours and popular tours in the attached sheet, so we hope that you will use it as a reference when choosing a tour.
Click here for VRTrip's free monitor: https://www.traveldx.jp/
In addition, to commemorate the release of the VR Trip 100 tour, we are currently conducting a "VR Trip 100 Tour Release Countdown Summer Festival Present Campaign" on Twitter. From those who support us on a regular basis to those who have not experienced VR Trip yet, please join us.
Click here for details of the campaign: https://www.traveldx.jp/twittercampaign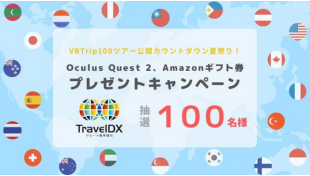 [Introduction of the latest tour]Grand Canyon National Park seen from the sky / USA
Take a helicopter view of the World Heritage Grand Canyon National Park from the sky! Take off from the Grand Canyon National Park Airport and pass through the world's largest ponderosa pine forest to reach the Grand Canyon. Various angles, such as the magnificent valleys carved by the power of nature over a long period of time, the colorful strata with billions of years of history, and the flow of the Colorado River, which was once said to have been raging. You can see the Grand Canyon from. Enjoy a full scenic flight from takeoff to landing!

[Introduction of popular tours]Santa Claus Village / Finland
Let's meet Santa in Finland, Santa's hometown! Santa Claus Village is his Christmas all year round. There is no doubt that both adults and children will feel pure if they participate. You can meet reindeer and elves, and receive a message from Santa at the end of the tour. It seems that Santa has something to tell everyone. We invite you to the still unknown Santa Claus Village.

VRTrip is a completely new service that guides tourist destinations based on images taken by local guides using a 360-degree camera. The traveler (guest) becomes one with the guide in her VR goggles, and can actually freely "travel experience" overseas in the "virtual space". It is also a big attraction to be able to easily participate in events held all over the world and travel abroad with people who have given up on going with them (people with disabilities, elderly families, etc.). ..

We are developing a service that allows you to experience sightseeing spots guided by local guides in VR. We have been conducting free monitoring since December last year, and a total of more than 1,700 people are currently participating. Travel reservations are accepted from the homepage (https://www.traveldx.jp/). You can search by date or location, so please have a look. If you have an Oculus Quest2 or PC, you can join immediately.
Source link