Food
First collaboration between DiDi Food and ORIX Buffaloes! Enliven your local Osaka together! | Press release from DiDi Food Japan Co., Ltd.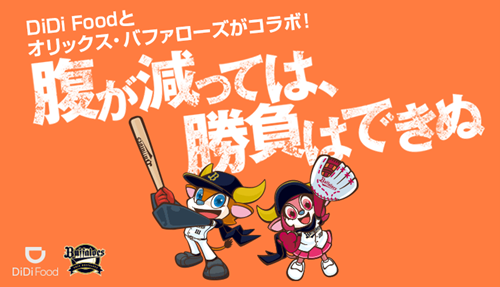 ■Let's liven up Osaka even more! "DiDi Food x ORIX Buffaloes Collaboration Campaign"
If you want to make Osaka even more exciting, follow DiDi Food's official Twitter account (@didifoodjp) and RT the campaign tweets!
26 people will be selected by lottery from those who follow & RT and will receive goods signed by Orix Buffaloes and tickets to watch the game.
【prize】
① ORIX Buffaloes autographed goods for 11 people
Details of the prizes will be announced in the video "Giving presents" Over there and Hoi! "Miyagi's 5th match!"
② ORIX Buffaloes Advanced Pair Ticket 15 people
* "Put presents and 'Look over there and Hoi!' Miyagi's 5th match!"
The video is released on the YouTube channel "BsTV – ORIX Buffaloes Official". In the video, pitcher Miyagi challenges the Orix Buffaloes players to a game with "Turn over there and hoi!" Presents will be decided according to the win or loss of pitcher Miyagi, so please watch the video.


【period】
August 16, 2021 (Monday) 13:00 to August 23, 2021 (Monday) 23:59


[Winning announcement]After August 24th (Tuesday), only winners will be contacted via Twitter DM.
* If you unfollow DiDi Food official Twitter account (@didifoodjp) and DM is not open, winning will be invalid.
*Campaign details are subject to change without notice.
DiDi Food Summer Campaign "You can't compete if you're hungry"
From August 1st (Sun) to August 31st (Tue), 2021, "DiDi Food" will run "Hungry" to support restaurant partners, delivery partners, and users who are competing this summer. We are holding the most advantageous summer campaign in the history of "DiDi Food" based on the concept of "You can't compete."
This year's summer campaign, where you can enjoy up to 50% off target menus and free delivery, will allow more customers to enjoy summer food delivery at an affordable price with the participation of a record number of restaurant partners.


"DiDi Food" started service in June 2020 in Osaka Prefecture, the first city in Japan. Since then, many local restaurants have agreed with us, and we have delivered the delicious taste of Osaka to the locals. In addition, at the same time as the start of the service, a partner hub for delivery partners was established in Chuo-ku, Osaka to strengthen cooperation with delivery partners. In April 2021, we also participated in the Osaka Prefectural Police traffic safety course, and have been actively working on traffic safety in Osaka Prefecture.
"2021 Professional Baseball Exhibition Match" held on August 3 (Tuesday), 4 (Wednesday), and 6 (Friday), 2021, "DiDi Food" as a game sponsor for the three games between Orix Buffaloes and Hanshin Tigers. Together with the people of Osaka, we cheered on the ORIX Buffaloes players as they challenged the game.
Through this collaboration between "DiDi Food" and "ORIX Buffaloes," we will further boost the appeal of Osaka.
Overview of "DiDi Food"
DiDi Food brings local specialties and food from major food chains to your home or office with just a few taps. In addition, you can use it in various scenes according to your mood of the day, such as bad weather or when you do not want to line up. "DiDi Food" aims to be the food delivery of choice for local customers, with efforts rooted in the region and a menu that is loved.
Company name: DiDi Food Japan Co., Ltd.
Head office location: 3-10-1 Harumi, Chuo-ku, Tokyo
Osaka branch office location: 5-1-60 Namba, Chuo-ku, Osaka-shi, Osaka
Official website: https://www.didi-food.com/ja-JP
Order reception hours: 8:00 to 25:00 * Available hours are based on store business hours.
Overview of DiDi Global Inc.
DiDi Global Inc. (NYSE Stock Code: DIDI) is one of the world's largest mobility technology platforms. Based on the world's most advanced technology cultivated through the mobility platform business, we are developing a wide range of services on a global scale, including our home country China, Asia Pacific, South America, Africa, and Russia. We are engaged in a wide range of businesses, including taxi dispatch, driving agency, cargo, food delivery, and financial fields. Currently, the only services available in Japan are taxi dispatch and food delivery services (in some areas).
DiDi uses efficient matching technology to provide valuable services to taxi operators and users. In addition, through our food delivery service, we provide business opportunities and flexible working styles to our restaurant partners and delivery partners.
We aim to contribute to solving the transportation, environment, and employment problems that the world is facing.In developing our business, we optimize our AI technology for each country and region, and work in cooperation with local policies and industries. . We strive to create a sustainable ecosystem to enrich people's lives and society.

Osaka area
Osaka City (excluding the Nanko area), Sakai City*, Toyonaka City, Ikeda City*, Suita City, Takatsuki City*, Moriguchi City, Hirakata City*, Ibaraki City*, Yao City*, Neyagawa City, Matsubara City*, Daito City*, Minoh City*, Kadoma City, Settsu City, Higashiosaka City*, Shijonawate City*, Katano City*
Fukuoka area
Kitakyushu City*, Fukuoka City, Kurume City, Nogata City*, Iizuka City, Nakama City*, Chikushino City, Kasuga City, Onojo City, Dazaifu City*, Koga City, Fukutsu City*, Itoshima City*, Nakagawa City, Kasuya County *
Hyogo area
Kobe City*, Himeji City*, Amagasaki City, Akashi City*, Nishinomiya City*, Ashiya City, Itami City, Kakogawa City*, Takarazuka City*, Takasago City*, Kawanishi City*, Sanda City*, Harima Town, Kako District*
Hiroshima area
Hiroshima City (Naka Ward, Higashi Ward*, Minami Ward, Nishi Ward, Asaminami Ward*, Asakita Ward*, Saeki Ward*), Fukuyama City*, Higashihiroshima City*, Hatsukaichi City*, Fuchu Town, Aki County*
Kyoto area
Kyoto City*, Uji City, Kameoka City*, Joyo City, Muko City, Nagaokakyo City*, Yawata City, Kyotanabe City, Oyamazaki Town, Kumiyama Town, Kuse District
Aichi area
Nagoya City (Chikusa Ward, Higashi Ward, Kita Ward, Nishi Ward, Nakamura Ward, Naka Ward, Showa Ward, Mizuho Ward, Atsuta Ward, Nakagawa Ward*, Minato Ward*, Minami Ward, Moriyama Ward*, Midori Ward*, Meito Ward) , Tenpaku Ward*) Nisshin City, Owariasahi City, Nagakute City, Seto City, Kitanagoya City, Iwakura City, Kiyosu City, Toyoake City
Okinawa area
Naha City
Miyagi area (scheduled to start service in early September)
Sendai City (Aoba Ward*, Miyagino Ward*, Wakabayashi Ward*, Taihaku Ward*)
*Excluding some
*Even within the above areas, it may not be available in mountainous areas or remote islands. Also, please note that you may not be able to place an order depending on the store's business conditions.
*Please check the app for detailed areas.
*The service area and start time may change depending on the status of the new coronavirus infection.
Source link