Food
36 products with 3 stars! Food contest "FOOD PROFESSIONAL AWARD 2021" results announced!The annual Grand Prix is ​​a hot topic in collaboration with popular anime, such as Kikufuku | Press release of the Food Professional Association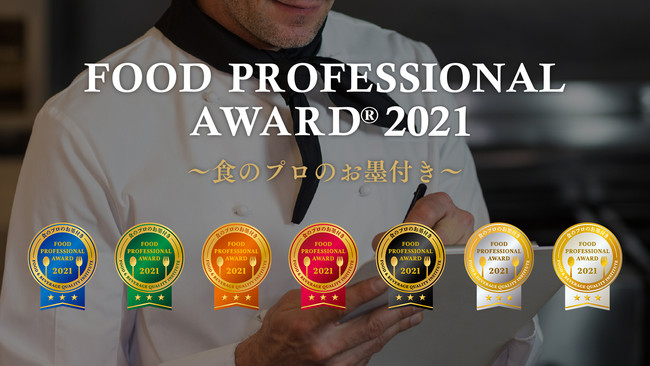 Overview of FOOD PROFESSIONAL AWARD
FOOD PROFESSIONAL AWARD is a Japanese food fair where food professionals judge the quality of food, beverages and restaurant menus.
Not only the taste, but also the cost performance, concept, raw materials, originality, nutrition, appearance, etc. are examined and evaluated from various angles.
Products that meet strict screening criteria will be awarded 1 to 3 stars as a food professional endorsement.
▼ Official HP ▼
https://food-pro-award.com/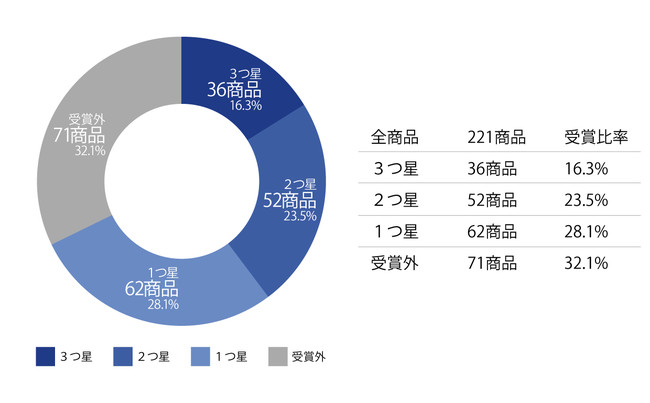 One of the features of FOOD PROFESSIONAL AWARD isHeight of award hurdleis.
Of the 221 entries, 150 have won one or more stars, and about one-third of the total have not been awarded.Strict examination criteriaWe have set up.
Highest ranked 3 starsWas awarded36 products with only 16.3%Only.
All award-winning products have cleared strict standards"Professional food approval"It can be said to be a product.

 
Annual Grand Prix Announcement
We are announcing the annual Grand Prix, which decides the No. 1 product of the year for each of the three categories of food, beverages, and eating out!

■ Food sector
Igeta Seicha Co., Ltd .: Kikufuku Matcha Cream Daifuku(Left photo)
Matcha uses high-quality matcha carefully ground with a stone mill from Uji, Kyoto, and high-quality fresh cream from Hokkaido gives Daifuku richness and creates a deep mellowness. Carefully simmered azuki beans with a refined sweetness that makes the best use of the goodness of the ingredients. ..
It is about 1 hour to eat by natural thawing, but you can enjoy it like ice cream depending on the thawing time. Half-thawed is recommended especially in summer.
Recently, it is a famous confection that Miyagi and Sendai are proud of, which is a hot topic in collaboration with the popular TV anime "Jujutsu Kaisen".
■ Beverage department

Warashibe.Dear: The ultimate lemon juice that is ripe for wintering(Center of the photo)
In the field of Iwagijima, a remote island in the Seto Inland Sea, which boasts a history of more than 40 years as a production area without convenience stores or traffic lights, we challenged to make a baton touch on the future field as "food culture". "Overwinter ripe lemon" delivers the deliciousness of lemons that you want to keep in the future.
It is a product that is fully packed with the four ingredients that make up the taste of lemon: (1) acidity, (2) umami, (3) aroma, and (4) bitterness.
■ Eating out department
Ginza Sugaya: Toro mackerel grilled salt set meal(Right photo)
It is a set meal using high-quality oily mackerel from Yamaguchi prefecture, which is so large that it sticks out of the plate.
In addition to the exquisite baking that the outer skin is crispy and the body is plump and juicy, it is a gem that is also useful for the small work of carefully pulling out the bones by hand without leaving any bones.
It is also a very nice point to be able to enjoy this quality at a price of 1,000 yen while setting up a shop in the center of Ginza, Tokyo.

 
List of award-winning products in 2021
In addition to the annual Grand Prix award-winning products, there are many wonderful products that are full of commitment, such as Japanese-style foods such as cooked rice base and soup stock, and the hottest sweets Maritozzo and unusual pudding.
Click here for a list of 2021 award-winning products.
https://food-pro-award.com/2021-products/
It will be held twice in 2022, the first half and the second half.
We are waiting for your entry with our proud products.
■ 2022 first half
└ Application acceptance: ~ December 31, 2021
└ Result announcement: End of February 2022
■ Late 2022
└ Application acceptance: January 1, 2022-June 30, 2022
└ Result announcement: End of August 2022
FOOD PROFESSIONAL AWARD enriches your eating habits"Professional food approval"We will continue to send out products, so we look forward to your continued support.
Source link