Fashion
Amazon Fashion, HYPE BEAST and design T-shirt project "HYPE T FEST" held | Press release of Amazon Japan GK
Amazon Fashion utilized HYPEBEAST (https://hypebeast.com/jp), a media that disseminates fashion and street culture, as well as the on-demand print service "Merch by Amazon" that is being developed around the world. The design T-shirt project "HYPE T FEST" (https://www.amazon.co.jp/hypet) will be held from October 24, 2021 (Sun).
In this project, a total of 21 people, including 6 popular creators and 15 notable creators, designed apparel products centered on T-shirts and sold them on "Merch by Amazon". Amazon brings you unique and creative creations that make going out fun.
In commemoration of this project, a live streaming event will be held on October 24th (Sunday) from 18:00 to 19:00 on the interactive live distribution service / community "Twitch" that is being developed around the world. At this event, four people, SWAY, a rapper, actor, and illustrator who are also participating in the project, Yuka Mizuhara, a model and DJ, AZUSA IIDA, an artist, and GUCCIMAZE, a graphic designer, will appear. We will also hold a talk session to talk about design experiences. The MC of the event will be fashion curator Motofumi Ogi, who will talk about the appeal of "Merch by Amazon" to creators and future creators.
Through this event, Amazon Fashion spreads the convenience and features of "Merch by Amazon" to as many Japanese creators as possible, and through this service, by disseminating the works of creators to the world, fashion and creators. We will continue to provide vital support.

・ Event name: "HYPE T FEST"
・ Organizer: HYPEBEAST / Amazon Fashion
・ Format: Twitch livestreaming event
・ Date and time: Sunday, October 24, 2021 18: 00-19: 00
・ Details: Announced on the Amazon HYPE T FEST special page (https://www.amazon.co.jp/hypet) from October 15th (Friday).
・ Event performers: SWAY, Yuka Mizuhara, AZUSA IIDA, GUCCIMAZE
・ Event MC: Ogi "Poggy" Motofumi
・ Product release: October 24, 2021 (Sun) 19: 00-Released at Amazon (graphic apparel store)
・ Products released: Short-sleeved T-shirts. The development of other products (long-sleeved T-shirts, sweatshirts, hoodies, zip-up hoodies, phone cases) varies depending on the creator.
・ Participating creators: BIEN, COOK ONE, ESSU, Hikaru Ichijo, iz, Keeenue, MACCIU, Masashi Ozawa, miu, noise, obak, Saki Obata, Takuya Kamioka, Toyameg, UC EAST, wackwack, ZECS (A to Z order)
Participating creators (part)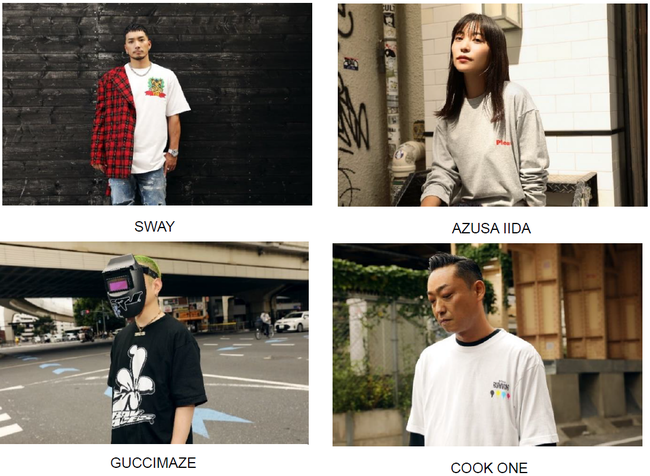 ■ "Merch by Amazon", an on-demand print service that "connects with the world" by presenting works
The on-demand print service "Merch by Amazon" developed by Amazon Fashion worldwide started in October 2020 in Japan. This service can be registered by various creators, from celebrities to amateurs. It is a service that allows you to sell apparel products with your own designed works on Amazon's site without the burden of inventory risk, initial cost, system usage fee, etc.
When a customer orders a creator's work, Amazon prints the work on apparel products such as T-shirts and trainers and smartphone cases, ships it, and pays royalties to the creator. It can also be sold from Amazon sites in the United States, United Kingdom, Germany, France, Italy, and Spain, and we can deliver works to overseas customers.
You can register and sell at home, and the on-demand printing method eliminates overproduction of products.
About Amazon Fashion
Amazon Fashion offers clothing that can be totally coordinated from head to foot. From the latest designers, brands to up-and-coming designers, brand apparel, shoes, accessories, jewelry, watches, handbags, suitcases and more, you can discover products that suit various occasions, styles and budgets. increase. Amazon Fashion also continues to offer new shopping experiences to its customers by expanding its product lineup through prime member-only programs such as Prime Try Before You Buy, which you can try on before you buy. In recent years, we have launched The Drop, a new shopping experience that offers a limited collection designed by fashion influencers around the world. Amazon Fashion strives to improve the online shopping experience by leveraging technology to provide customers with products that are highly compatible. For more information, please visit (http://www.amazon.co.jp/fashion).
About Amazon
Amazon is guided by four principles. Starting from the customer, passion for creativity, commitment to excellent management, and long-term thinking. Customer Reviews, 1-Click Orders, Personalized Featured Products Features, Amazon Prime, Fulfillment by Amazon (FBA), Amazon Web Services (AWS), Kindle Direct Publishing, Kindle, Fire Tablets, Fire TV, Amazon Echo, Alexa Etc. are the products and services that Amazon is pioneering. For more information about Amazon, visit the Amazon Newsroom (http://amazon-press.jp) and the Amazon blog (http://blog.aboutamazon.jp).
Source link