Business
MS to release new security tool "Defender for Business" –ZDNet Japan
Microsoft announced on November 2nd that it will soon release a preview version of its new security tool, Microsoft Defender for Business.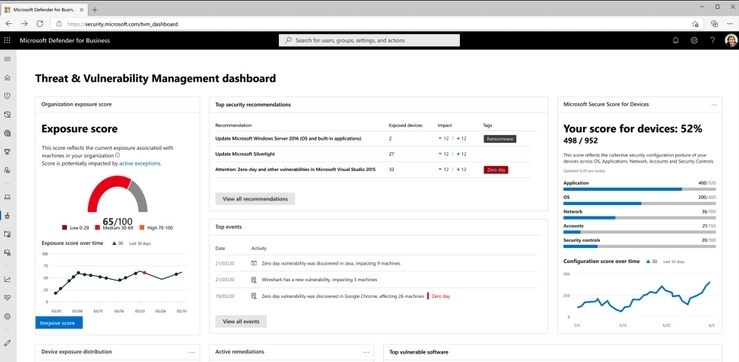 Provided by: Microsoft
In a blog post, Microsoft 365 Product Marketing Manager Jon Maunder said the tool was "easy to use and cost-effective, specifically designed to provide enterprise-level endpoint security to organizations with less than 300 employees. High solution ".
After the release date, organizations will be able to purchase a standalone version of Defender for Business directly from Microsoft. The usage fee is $ 3 per user per month (about 340 yen).
In 2020, the number of ransomware attacks tripled, which led to the development of Defender for Business, Madunder said. More than 50% of attacks could also affect small businesses, according to Microsoft data.
"Defender for Business improves organizational security from traditional antivirus to next-generation protection, endpoint detection and response, and threat / vulnerability management. It features simple configuration and management and is intelligent. It also has automated investigation and repair capabilities that can effectively protect Windows, macOS, iOS, and Android devices from cybersecurity threats such as malware and ransomware, "Munder said.
Defender for Business is equipped with a wide range of security functions, from threat / vulnerability management to fixing misconfigurations, reducing the attack surface, and protecting against malware and viruses.
In addition, it also has functions such as detection / response, manual response, and automatic investigation at the endpoint.
According to Maunder, "no specialized security knowledge is required" to install and operate Defender for Business.
"Not only is it easy to set up in a wizard format, but the recommended security policies are immediately activated to protect your device quickly. Easy-to-use management features and actionable advice save your organization time. You will be able to prioritize your tasks, "Maunder said.
"Defender for Business is designed to offer maximum security value at a price range that fits the size of your business. It's so simple that you need to deploy and manage endpoint security with a minimum of personnel. It also reduces the burden of learning complex cybersecurity to keep your business secure. "
When using Defender for Business, it doesn't matter if your email or productivity tools are used on-premises, Microsoft 365, or otherwise.
Defender for Business is included in Microsoft 365 Business Premium and can be integrated with Microsoft 365 Lighthouse.
In April, Microsoft announced that the preview version of its advanced security product, Microsoft Defender for Endpoints, is now compatible with unmanaged and network devices running Windows, Linux, macOS, iOS, and Android.
With the proliferation of charitable-targeted threats, especially state-sponsored threats worldwide, the company announced a new set of tools to protect nonprofits in October.
This article was edited by Asahi Interactive for Japan from an article from overseas Red Ventures.
Read all ZDNet Japan articles by email every morning (free registration)