Food
"DiDi Food" x Cooking Confectionery College "Hiraoka Gakuen" DiDi Food supports Korona-ka vocational school students!Delivery of school festival original sweets for one day only | Press release of DiDi Food Japan Co., Ltd.
The delivery service "DiDi Food" operated by DiDi Food Japan Co., Ltd. offers original sweets made by students of Hiraoka Gakuen (1434-3 Oho, Ogori City, Fukuoka Prefecture), a cooking and confectionery vocational school, in Fukuoka City. It was delivered for one day only on November 16, 2021 (Tuesday).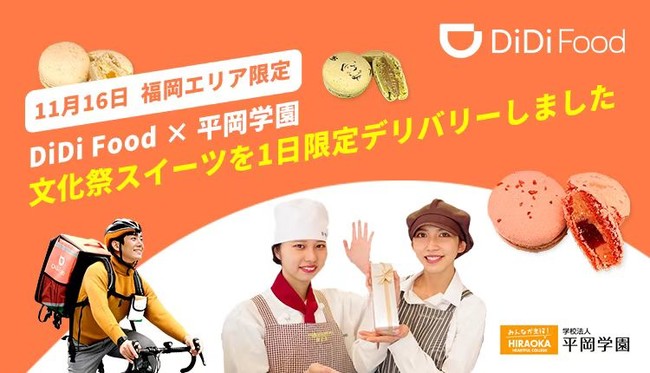 DiDi Food and Hiraoka Gakuen have implemented this project with the hope that more people, such as those who have difficulty visiting the school due to Korona-ka, will enjoy the sweets made by the students of Hiraoka Gakuen. DiDi Food will continue to support the education of pastry chef eggs that will bear the future in anticipation of increasing demand for food delivery services.
■ DiDi Food Japan Co., Ltd.

Comment by Takayuki Inoue, General Manager, Growing Region Sales Headquarters
DiDi Food Delivery Japan has made various efforts so far, but it is the first time for students to experience delivery, and I am honored to be blessed with such an opportunity this time. I hope that the delivery will become more closely related to daily life by letting the students who usually have experience in customer service at the cafe feel closer to the customer service in delivery.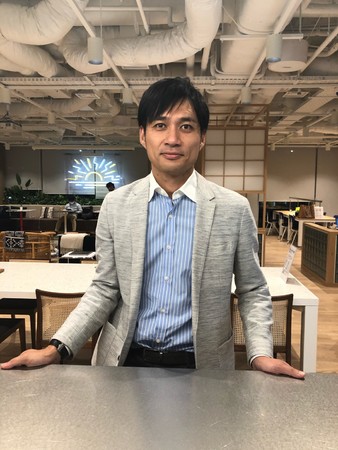 ■ Hiraoka Gakuen School Confectionery Full-time Lecturer
Shinji Suematsu's comment
Due to the Korona-ka, we are not able to hold a cultural festival that general customers can participate in as usual, but we are very pleased to be able to deliver the sweets of Hiraoka Gakuen to our customers by making such efforts. As the demand for delivery foods continues to grow, it was a very good experience for the students to be able to learn while experiencing the delivery food ordering system and how to handle it, which they usually do not have the opportunity to get involved with. .. Also, I think it was a good stimulus because I was able to take on the new challenge of making original macaroons in cooperation with the owner of the sake bar for one day only. I hope we can continue to make various efforts in the future.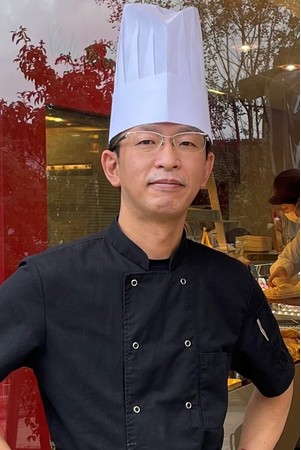 ■ Hiraoka Cooking and Confectionery College Confectionery Specialization Course
Miku Ogata's comment
Hiraoka Gakuen's sweets are usually sold at cafes, so when it comes to delivery, I sometimes feel a little uneasy because I can't see the customer's face directly as usual. However, I wondered who would like to eat it, I want you to be happy, and I want you to feel happy by eating it. I hope many people are happy.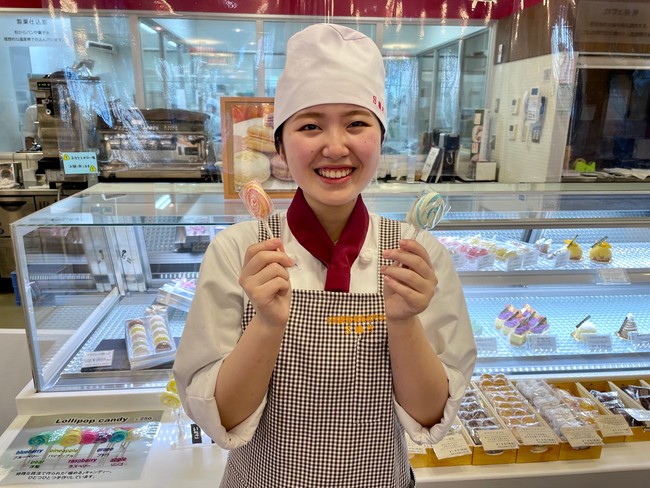 Overview of "Hiraoka Gakuen"
Hiraoka Gakuen operates three schools: Hiraoka Cooking and Confectionery College, which is 53 years old, Hiraoka Dietitian College, which is 39 years old, and Hiraoka Nursing and Welfare College, which is 30 years old. We are focusing on. The school festival is a place where students can demonstrate the results of their daily learning, and more than 20,000 people visit the festival every year.
・ Location: 1434-3 Oho, Ogori City, Fukuoka Prefecture
・ Official website: https://www.hiraoka.ac.jp/
Overview of "DiDi Food"
With just a few taps, "DiDi Food" can be used in a variety of situations to suit the mood of the day, such as at home or in the office, or when you don't want to wait in line or in bad weather. .. "DiDi Food" aims to be the food delivery of choice for local customers, with community-based initiatives and beloved menus.
・ Company name: DiDi Food Japan Co., Ltd.
・ Headquarters location: 3-10-1 Harumi, Chuo-ku, Tokyo
・ Osaka branch office location: 5-1-60 Namba, Chuo-ku, Osaka-shi, Osaka
・ Official website: https://www.didi-food.com/ja-JP
・ Order reception time: 8: 00-25: 00
* May vary depending on region and store conditions.
"DiDi Global Inc."
Overview DiDi Global Inc. (DIDI, New York Stock Exchange stock code: DIDI) is one of the world's largest mobility technology platforms. Based on the world's most advanced technology cultivated through the mobility platform business, we are developing a wide range of services on a global scale, including China, our home country, Asia Pacific, South America, Africa, and Russia. We are engaged in a wide range of businesses such as taxi dispatch, driving agency, freight, food delivery and financial fields. Currently, the only services available in Japan are taxi dispatch and food delivery services (some areas).
DiDi provides valuable services to taxi operators and users using efficient matching technology. In addition, through food delivery services, we provide restaurant partners and delivery partners with business opportunities and flexible working styles. We aim to contribute to solving the world's transportation, environment, and employment problems, and in developing our business, we optimize our AI technology for each country and region, and work in collaboration with local policies and industry. .. We will strive to form a sustainable ecosystem so that people's lives and society can be enriched.

Osaka area
Osaka City (excluding Nanko area), Sakai City *, Toyonaka City, Ikeda City *, Fukida City, Takatsuki City *, Moriguchi City, Hirakata City *, Ibaraki City *, Yao City *, Neyagawa City, Matsubara City *, Daito City *, Minoo City *, Kadoma City, Settsu City, Higashi Osaka City *, Shijonawate City *, Katano City *
Fukuoka area
Kitakyushu City *, Fukuoka City, Kurume City, Naokata City *, Iizuka City, Nakagawa City *, Chikushino City, Kasuga City, Onojo City, Dazaifu City *, Koga City, Fukutsu City *, Itoshima City *, Nakagawa City, Kasuya District * *
Hyogo area
Kobe City *, Himeji City *, Amagasaki City, Akashi City *, Nishinomiya City *, Ashiya City, Itami City, Kakogawa City *, Takarazuka City *, Takasago City *, Kawanishi City *, Mita City *, Harima Town, Kako District *
Hiroshima area
Hiroshima City (Naka Ward, Higashi Ward *, Minami Ward, Nishi Ward, Asaminami Ward *, Asakita Ward *, Saeki Ward *), Fukuyama City *, Higashi Hiroshima City *, Fuchu City *, Fuchu Town, Aki County *
Kyoto area
Kyoto City *, Uji City, Kameoka City *, Joyo City, Muko City, Nagaokakyo City *, Yawata City, Kyotanabe City, Oyamazaki Town, Kumiyama Town, Kuse District
Aichi area
Nagoya City (Senkin Ward, Higashi Ward, Kita Ward, Nishi Ward, Nakamura Ward, Naka Ward, Showa Ward, Mizuho Ward, Atsuta Ward, Nakagawa Ward *, Minato Ward *, Minami Ward, Moriyama Ward *, Midori Ward *, Meito Ward , Tempaku Ward *) Nisshin City, Owariasahi City, Nagakute City, Seto City, Kita Nagoya City, Iwakura City, Kiyosu City, Toyoake City
Okinawa area
Naha City, Urasoe City, Tomigusuku City, Haebaru Town
Miyagi area
Sendai City (Aoba Ward *, Miyagino Ward *, Wakabayashi Ward *, Taihaku Ward *)
Nara area (service scheduled to start from December 1st)
Nara City *
* Except for some
* Even within the above area, it may not be available in mountainous areas or remote islands. In addition, please note that you may not be able to place an order depending on the business conditions of the store.
* Please check the app for detailed areas.
* The service area and start time may change depending on the status of new coronavirus infection.
Source link