Fashion
"GISELe (SHUFUNOTOMO) x d fashion" first two projects posted at the same time COLLECTION! / KNIT UPDATE | Magaseek press release
■ Outline of the project
A magazine-linked project with the popular fashion magazine "GISELe" has been realized! We are delivering special contents on d fashion that allow you to purchase items introduced in magazines on the spot. We will deliver it in a serialization project such as how to dress standard items and introduction of fashion trends.
The products introduced can also be purchased at MAGASEEK (https://www.magaseek.com/).
■ Plan 1: COLLECTION! -The "next move" that clearly enhances the reason why it works-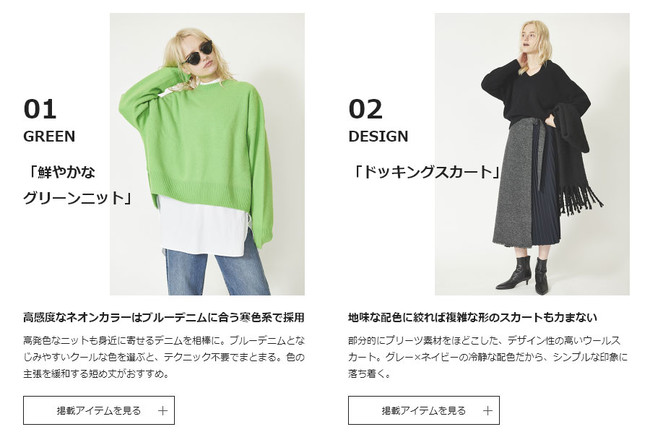 Now that we have all the simple clothes that are easy to use.
The next thing I want to look at is to improve the perfection of styling.
Clothes with a twist. Partially elaborate shapes and new colors that can be used as an extension of standard colors.
Nine selected items that are close to basic clothes are shown at once.

d fashion: https://fashion.dmkt-sp.jp/static/cont/id_lpGISEL12A
MAGASEEK: https://www.magaseek.com/static/cont/id_SPEGSL01A
■ Plan 2: KNIT UPDATE-Updated to "Knit with many roles" that requires more in one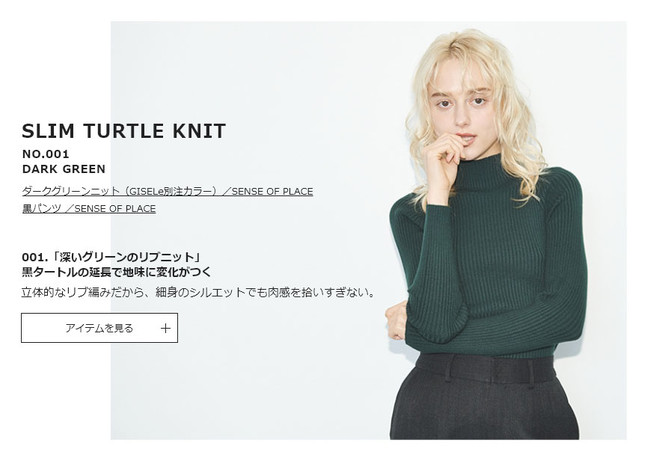 For knitwear, which plays an active role as the main wardrobe, we would like to see more effects in addition to ease of use.
You can add depth to your beautiful outfit or use it as a decoration.
Prove while wearing the ability of highly designed knitwear that has various roles.

d fashion: https://fashion.dmkt-sp.jp/static/cont/id_lpGISEL12B
MAGASEEK: https://www.magaseek.com/static/cont/id_SPEGSL01B
■ GISELe
Faithful to your "like". And established my style,
Fashion magazine "GISELe" for people who like fashion as a hobby.
With an editorial policy of "1 theme digging type" that does not focus on age, occupation, etc.
Combining the newness of the moment, rather than imposing fashion
We continue to propose our own simple style and have established the world view of "GISELe".
While specializing in fashion, we also propose beauty projects such as hair and makeup that do not match the theme of each issue.
(URL: https://giseleweb.com/)

Fashion mail order site in "dmarketⓇ" operated by DoCoMo. From popular select shops to sports brands, we handle more than 1,000 brands of clothing and fashion miscellaneous goods. You can use d POINTs, and doCoMo users can pay the product price together with the monthly mobile phone charges, which is a convenience unique to d fashion.
(URL: https://fashion.dmkt-sp.jp/)
At d fashion, we will continue to provide products and services that enable our customers to "make fashion easier."
* "D fashion" and "d market" are registered trademarks of NTT DoCoMo, Inc.
* Details and timing are subject to change without notice.
* Company names, service names and product names described in this release are trademarks or registered trademarks of their respective companies.
■ About Magaseek Corporation
We operate a comprehensive fashion e-commerce site with the aim of providing services that make tomorrow fun for our customers.
"MAGASEEK", which started with the concept of "a select shop only for you" and celebrated its 20th anniversary, "d fashion" jointly operated with NTT DoCoMo, and site management that makes the most of the individuality of each site it operates. increase. We are also focusing on the EC solution business, which entrusts the official EC sites of major department stores and manufacturers, by utilizing the know-how that we have consistently conducted the fashion EC business in-house since 2000.
Going forward, we will continue to actively develop business alliances and new products in order to deliver excitement and excitement to our customers that will make tomorrow more enjoyable.
[Fashion mail order site operated by Magaseek]・ Comprehensive fashion mail order site "MAGASEEK"
https://www.magaseek.com

・ Fashion mail order site "d fashion" jointly operated with NTT DoCoMo, Inc.
https://fashion.dmkt-sp.jp/

[EC solution service provided by Magaseek] https://un-sy.com/

〔Company Profile〕
Company name: Magaseek Corporation
Headquarters: 3F, Izumikan Sanbancho Building, 3-8 Sanbancho, Chiyoda-ku, Tokyo 102-0075
Representative: Naoya Inoue, President and CEO
Business: Sale of women's and men's clothing on the Internet
URL: https://www.magaseek.co.jp/
Source link