Food
Collaboration between FOOD LOSS BANK and vegan cafe "Trueberry" From Wednesday, December 1st, we will provide pottages and smoothies using food loss ingredients | Press release of FOOD LOSS BANK Co., Ltd.
FOOD LOSS BANK Co., Ltd. (Food Loss Bank: Minato-ku, Tokyo, President: Sakiko Yamada) is Cafe Company Co., Ltd. (Location: Shibuya-ku, Tokyo, President: Shujiro Kusumoto, hereinafter, Cafe In collaboration with the vegan cafe "Trueberry Shibuya Scramble Square Store" operated by the company), we will provide potages and smoothies (2 types) using food loss ingredients from December 1, 2021 (Wednesday).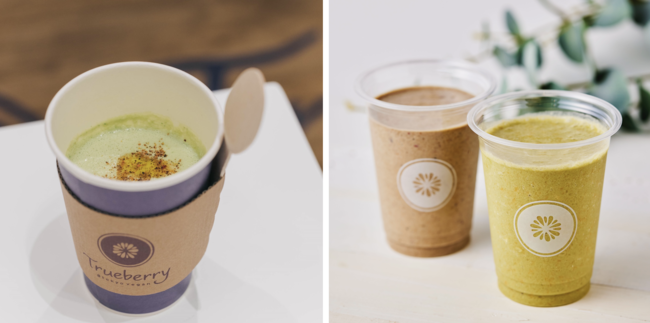 Although there is no problem with the taste and quality, it is a safe and secure 100% vegetable product by utilizing the food loss ingredients that were planned to be discarded as non-distribution standard products due to slight scratches and irregular shapes. As a vegan menu of, "Komatsuna vegan potage of Gifu prefecture, Kagamihara farm" that makes the best use of the taste of ingredients, "Ureshi no Hojicha and fig cocoa nib smoothie" that is perfect for dryness measures and cold prevention. Developed "Vegan Green Tea and Wenzhou Mikan Cardamon Smoothie". It is a product that you can enjoy as a snack for a light lunch or when you want to take a break.
menuOverview
・ Komatsuna Vegan Pottage from Kakamigahara Farm, Gifu Prefecture / ¥ 550 (tax included)
・ Happy roasted green tea and fig cacao nibs smoothie / ¥ 896 (tax included)
・ Happy green tea and Satsuma mandarin cardamom smoothie / ¥ 896 (tax included)

・ Komatsuna Gifu Prefecture / Kakamigahara Farm
・ Ureshinocha Saga Prefecture / Soejimaen
・ Satsuma mandarin Saga prefecture

From Wednesday, December 1, 2021

Trueberry Shibuya Scramble Square
Address: 2-24-12 Shibuya, Shibuya-ku, Tokyo Shibuya Scramble Square 7F
TEL: 03-4221-0244
Business hours: 10: 00-21: 00
* In order to prevent the spread of the new coronavirus infection, the hours may be changed or the business may be closed / shortened.
https://www.cafecompany.co.jp/brands/trueberry/
[Trueberry]Naoko Nishimura, who was the representative at the time of 2014, started with the desire to spread the deliciousness of smoothies that she had incorporated into her life to the world, taking advantage of her pregnancy and childbirth. People who are forced to limit themselves under the three themes of "Pure Food," "Positive Mind," and "No Border," with the mission of "Tokyo Vegan = fast food of the future that is kind to the body and mind." For those who are busy every day, those who want to live a pure life, etc., we have a lineup of vegan menus such as "smoothies" and "vegan fruit sandwiches", as well as original drinks and organic coffee. I am. In addition, we also offer additional toppings such as superfoods (* excluding chia seeds and hemp seeds) of the pioneer brand "Sunfood", which has received tremendous trust around the world, and can be personalized according to your physical condition and mood at that time. .. Please use it in various scenes of daily life such as breakfast and lunch meals and desserts for a relaxing break. [Cafe Company Co., Ltd.]In addition to planning and operating about 80 cafes (as of February 2021) including "WIRED CAFE" under the theme of "creating a community" in Japan and overseas, it also produces commercial facilities and projects for regional revitalization. Work on it. In January 2021, we entered into a business alliance agreement with NTT Docomo Co., Ltd., a stock company that aims to build a new food ecosystem. In June 2021, we signed a business alliance agreement with Leave a Nest Co., Ltd. as an "Eat Tech" partner to design the future society. In August 2021, announced a capital and business alliance with Rohto Pharmaceutical Co., Ltd. to contribute to a healthy mental and physical life through "food." [FOOD LOSS BANK]In Japan, 6 million tons of "food loss" is discarded annually when it is ready to eat and drink. This is about 1.5 times the world's food aid to hungry people around the world. FOOD LOSS BANK was established in September 2020 with the aim of improving the environment by connecting many people and starting with reducing food loss. Our activities are centered on these three pillars: "Respect for diversity," "Circularity," and "Sustainability." We aim to create a scheme in which there are no people in the circular chain who are under pressure, respect for the diversity of people, food, and living things, and at the same time solve social issues, and at the same time, companies that support the earth can grow economically.
https://www.foodlossbank.com
Source link