Sports
From readers to co-creators! The community "SfS Lab" that solves social issues is looking for 2nd gen members! ~ Up to 20 people ~ | Sports for Social
Sports for Social started the community "SfS Lab" to solve social issues in November 2021.
Ten members gathered for the first semester.
Each became a reader to a co-creator, creating multiple projects in collaboration with members of Sports for Social.
At the "SfS Lab", we will share information and discuss social issues that each member is interested in, launch a project in collaboration with Sports for Social, and actually take "actions to solve social issues". going.
▶ ︎ Click here to apply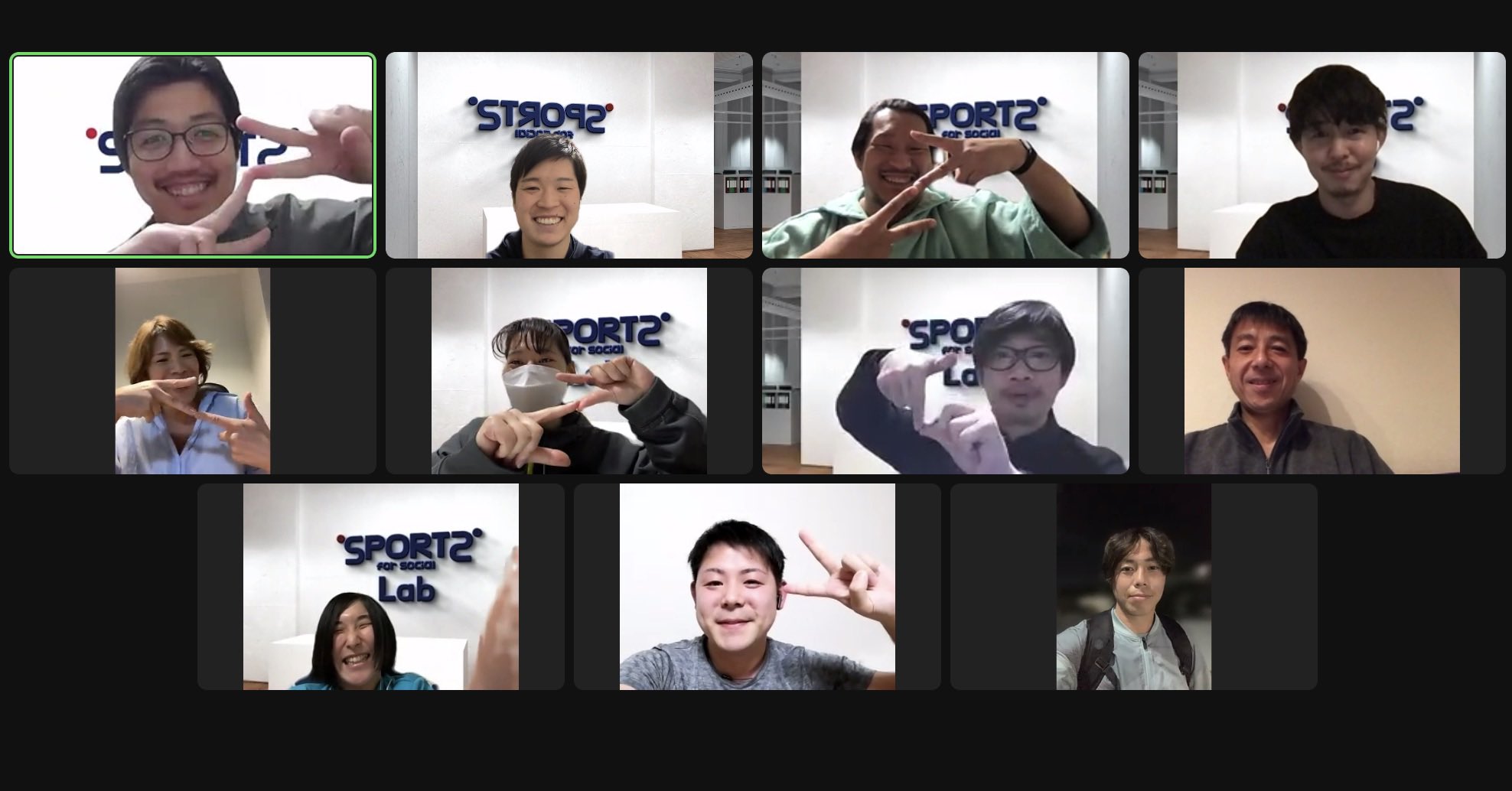 Activity content
"Sports for Social Lab" is roughly divided into four activities.
Participate in the project
New members will be asked to participate in the project that has been in progress since the first term. Use your skills and experience to actually take action. Also, if you want to acquire new skills and experience by participating in the project, please participate in each project.
○ Nagasaki Prefecture Higashisonogi Town J League Sharen Business Promotion Project
This is a project to promote a project that combines sports with Higashisonogi Town, Nagasaki Prefecture. Members working at Higashisonogi Town Hall are promoting this as a project leader.
[Recommended for people like this]・ I want to work in collaboration with local governments
・ Interested in solving local issues through sports
On February 23, 2022 (Wednesday / holiday),"Higashisonogi-cho Sports that I want to live forever x ◯◯◯ Online talk session to explore the possibilities of the area"It will be held. Members of the SfS Lab will also be on stage at the talk session.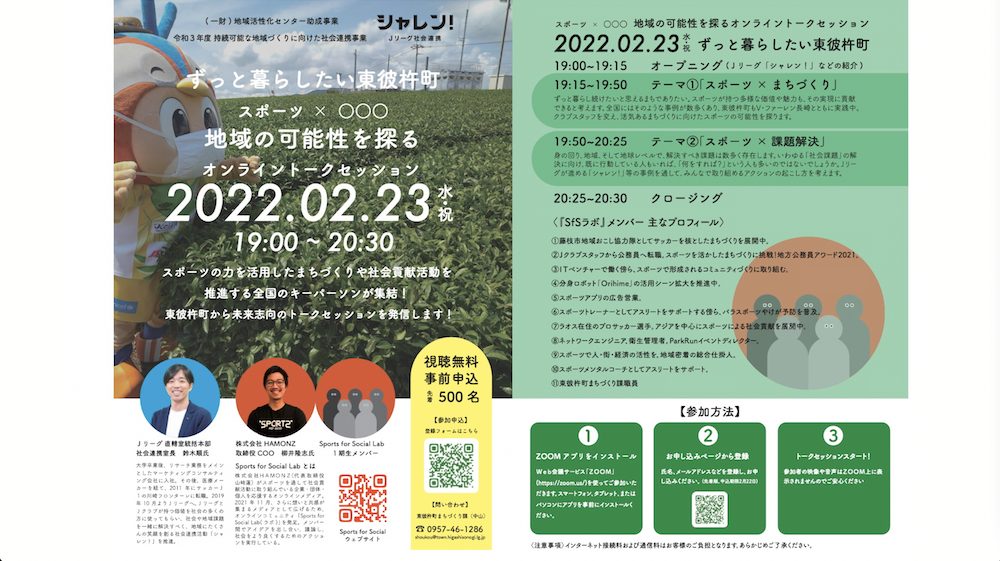 ▶ ︎ Click here to apply for the event
○ Universal Sports Tournament Steering Committee
A project to plan and manage a universal sports tournament is one in which everyone, whether they are old or disabled, adults or children, can participate and work together. This is a project that will start in earnest from the second phase.
[Recommended for people like this]・ I like or want to experience universal sports
・ I am good at coordinating events
○ Health promotion project "posimed sports" through sports injury prevention enlightenment
We will create and disseminate articles and video content together with sports medical professionals with the aim of realizing a society in which everyone can continue to play sports "strongly, long and enjoyably". In the second phase, we plan to manage the community and launch YouTube video distribution.
[Recommended for people like this]・ Interested in lifelong sports and sports medicine
・ Good at SNS operation and writing
・ Interested in content creation and community management
To interact
Through text-based communication using Slack, lunch parties and tea parties at Zoom, members can interact with each other. In the first term, by deepening the connections between members in conversation, new collaborations and chemical reactions of ideas were born.
Information sharing / discussion
On the Slack "#shere" channel, you can share your daily awareness and information, and report on your activities and consult. You can also voluntarily decide on a theme and invite community members to hold an online meeting.
Launch a project
In the first month of each term, we will hold "SfS Lab Pitch" for the purpose of launching a new project. In collaboration with Sports for Social, we propose the launch of a project to solve social issues, and the approved project will be added to the project officially recognized by "SfS Lab", recruiting new members and disseminating information on Sports for Social. can do.
SfS Lab Pitch
Scheduled date and time: Thursday, March 10, 2022 20: 00-21: 00
SfS Lab is recommended for people like this
・ People who want to do social contribution activities from now on
・ People who have a social issue of interest and want to exchange information or discuss the subject
・ People who like the media of Sports for Social and want to create together
・ People who want to make social contribution activities by utilizing their skills and experience
・ Those who are interested in social contribution activities through sports
There are such people in the first generation members of SfS Lab.
・ Local public servants who promote community development through sports
・ A company employee who works as a sports event staff in Tokyo on weekends
・ Soccer players engaged in social contribution activities in Laos
In addition, there are a wide variety of occupations of members such as sports trainers, sports mental coaches, entrepreneurs, and community revitalization cooperation teams.
The places of activity are Miyagi, Tokyo, Kanagawa, Saitama, Shizuoka, Nara, Hiroshima, Nagasaki, and Laos.
Members from all over the country and around the world are connected and active online.
Flow until SfS Lab 2nd gen member participation
Entry from the application form (until 18:00 on February 23, 2022)
↓
Document examination (primary)
↓
Interview (secondary)
↓
Offer as a participating member
All ages, students and working people are welcome if they have a passion.
▶ ︎ Click here to apply
SfS Lab Kickoff Meeting Schedule
Date and time: Thursday, March 1, 2022 20: 00 ~ 21: 00
Tool used: Zoom
Contents:
① About Sports for Social Lab (Introduction of activities and guidelines)
② Self-introduction and interaction using the breakout room
③ Introduction of the project and explanation of SfS Lab Pitch
Since the frequency of activities after that will vary depending on the project unit, we will announce it at the kickoff meeting.
Sports for Social Lab Overview
Name: Sports for Social Lab (abbreviation: SfS Lab)
Number of applicants: Up to 20 members will be recruited for the 2nd term
Activity period: March 1st-May 31st, 2022
Place of activity: Mainly online
Activity frequency: MTG once a month ~
Application deadline: February 27, 2022 18:00
Cost: Free
Tools used: Zoom / Slack (planned)
Admission examination: Document examination ⇒ Interview
▶ ︎ Click here to apply
Source link