Entertainment
[Recruitment of 1st gen members]Entertainment can be learned in Kurashiki! "Voice Entertainment Academy" will open on March 1, 2022 (Tuesday)! | Voice Entertainment Academy Press Release
Voice Co., Ltd. (Headquarters: Okayama Prefecture) held a music festival "Momotaro Fes" where various artists such as KREVA, Kyary Pamyu Pamyu, Dream Ami, Leo Ieiri, and Campanella on Wednesday gathered in Okayama on September 15, 2019. An entertainment school run by Kurashiki City, Representative Director: Shunsuke Suda) will open.
Along with that, we will hold an online briefing session and free training before the school opens.
"Live streaming on the official YouTube account of Voice Entertainment Academy !!"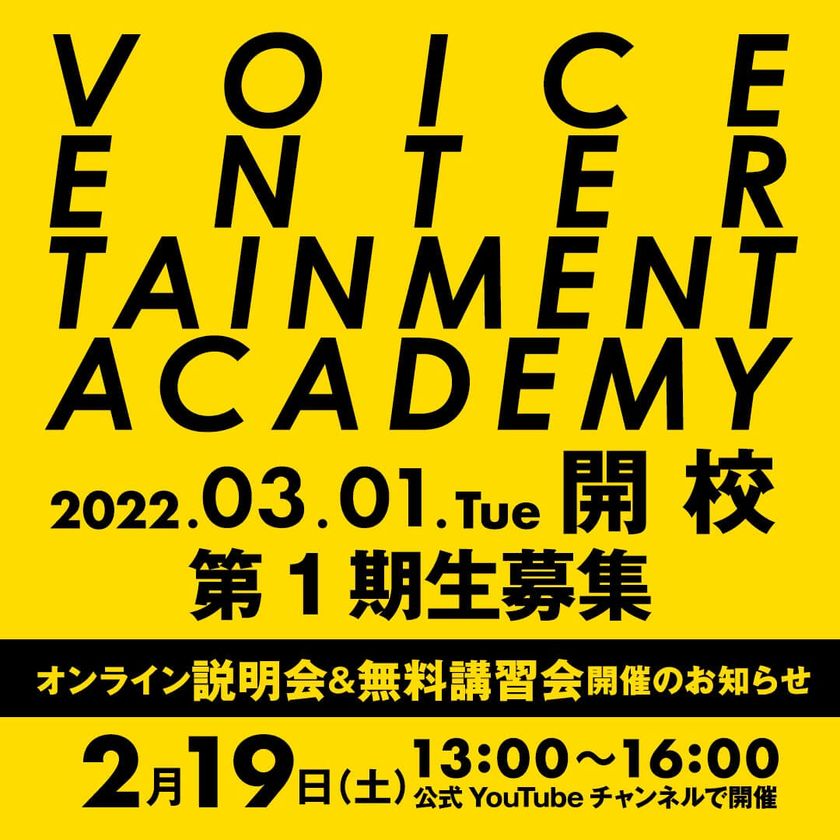 [Online briefing session / free course outline]
Learn more about the academy online.
Anyone can read it, so please take a look.
~ YouTube live distribution ~
○ Date and time Saturday, February 19, 2022 13: 00-16: 00
○ Time schedule
13: 00-13: 30 Online information session started
13: 35 ~ 13: 50 Detailed explanation of dance course (Lecturer: chinami)
14: 05-14: 50 DTM class (Lecturer: Tommy)
15: 05 ~ 15: 50 Voice training class (Lecturer: Kenshiro Watase)
* If you have any questions, please leave them in the comments section of YouTube and the person in charge will respond.
〇 How to browse
(1) YouTube channel registration
Please subscribe to the channel from the URL below.
https://www.youtube.com/channel/UCpDmJJNdpVR4Y4ezKVP3nmA/featured
Or search for "Voice Entertainment Academy".
(2) Set to receive notifications
Tap the notification bell icon.
It is OK if the icon is ringing the bell (setting to receive notifications).
(3) Participate in the delivery on the day of the briefing (2/19)
* We will also announce the delivery on official LINE and Instagram.
If you have any questions, we will respond individually. Please feel free to contact us.
* Please be assured that LINE will not disclose the exchanges by talk to other people.
↓ Click here to register as a LINE friend
https://lin.ee/vDvGgMJ
↓ Click here for the official Instagram of the Academy
http://www.instagram.com/voice_entertainment_academy
〇February limited benefits * Only for those who have completed the enrollment procedure during February
Admission fee exemption for enrollment with family and friends at the same time !! (Normally ¥ 5,500 → ¥ 0)
voice Original T-shirt will be presented ♪
* The size is limited. It will end as soon as it runs out.
What is Voice Entertainment Academy? ]
Voice Entertainment Academy was established as an educational institution that aims to develop human resources who can play an active role not only in the entertainment industry but also in the general society by learning to express through entertainment lessons, acquiring skills, improving self-producing ability and communication ability. Did.
There are three courses, dance, voice training, and DTM, and not only those who are aiming to make their debut as an artist, but also inexperienced people can join.
In addition, DTM and voice training course lessons can be taken online.
Even distant people who have difficulty attending can take lessons. Online students will also have time to watch lesson videos and ask questions to the instructor.
We will support the realization of the dreams of academy students with the aim of acquiring skills and developing human resources by having them choose the course they want to take and providing appropriate guidance according to the target age.
[Strength of Voice Entertainment Academy]
We will welcome professionals from various fields with abundant experience as instructors, and will invite lessons according to individual levels and genres, irregular and famous instructors, and hold workshops that academy students can receive for free.
In-house auditions and presentations will be held depending on the progress of the lesson. In addition to lecturers and staff, we sometimes invite people from the entertainment industry to the recital, which gives academy students a valuable opportunity.
And a lot of audition information for Korean debut, TV and commercial appearances will be gathered. Therefore, we will hold in-house auditions to discover artists and train them until their debut.
[Lecturer introduction]
■ Dance course
Lecturer: chinami
【profile】
He loved to move his body from an early age and started learning dance at the age of 15. After graduating from high school, he belonged to a major entertainment agency and learned to dance and model walking in earnest.
Currently, he is currently active as a dance course instructor at Voice Entertainment Academy, an exclusive back dancer and choreographer for singer-songwriter Chisato.
September 2019 Performed as a dancer at "Momotaro Festival" starring Kyary Pamyu Pamyu, KREVA, Leo Ieiri, Dream Ami and others.
■ Voice training course
Lecturer: Kenshiro Watase
【profile】
Learned voice training, voice technique, and vocal direction from Celine Dion's teacher Kevin Letu in Los Angeles, USA, and opened nine vocal methods by himself.
Serves as voice training and singing instruction for major artists such as AKB48, Little Glee Monster yukaDD, and TGC model Kane Dennis.
In charge of chorus arrangement and conducting of Rihwa's spring breeze. In charge of the bandmaster, backing chorus, and guitar of class Takanori Hiura, who is known for his million hits in 1993 on a summer day.
Maho Morimoto (winner of Music Champ), Aya Takashima (winner of Music Champ), Yui Kanayama (winner of Sunday Japon Vocal Grand Prix) voice training and singing instruction.
In addition, he has also worked on piano, guitar, drums, bass, lyrics, composition, arrangement, etc., as well as the theme song ESCAPE GAME for the escape game and halca (representative song Fuji TV's TV anime "Otaku ni Koi wa Difficult" ending theme. He is also active as a music producer in charge of the arrangement of Angel rose ("Kimi no Tonari").
■ DTM course
Lecturer: Tommy
【profile】
He started playing the piano and guitar when he was a child, and formed a band when he was in junior high school.
In 2016, he won the Grand Prix at the music contest "live in ASUKA".
After that, he became a writer. He arranges tie-up songs for the show and provides songs for various artists.
■ Past works
Super Break Dawn "Sweet & Steady" Composition / Arrangement
Arranged by Super Break Dawn "Bitter Whisper"
Arranged by Aya Ikeda "Hello! Hello! Namaste!"
Yomiuri TV "Mayo Naka Laughing People" Ending Theme
Arranged by LovRAVE "Naniwa Nadeshiko"
Kansai TV "Yasutomo / Tomochi no Kimetsuke!" * It's just an individual impression. "Ending theme etc …
[Introduction of Official Ambassador]
Ambassador comments are posted here.
https://voice-ent.jp/2022/02/02/
■ tasuku (belonging to prime sound studio form)
Music producer, composer, arranger, guitarist.
In addition to attending live performances as an arrange and support guitarist for Porno Graffitti and SPYAIR.
He also arranges Ketsumeishi, Sexy Zone, Ayumi Hamasaki, etc., and produces movie music.
■ Ryota Fukuoka (belonging to avex Banana Jam)
A lyricist, composer, and arranger.
[List of provided artists]
V6, Kis-My-Ft2, Busaiku, Sexy Zone, Johnny's WEST, Takizawa Enbujo, Ketsumeishi, lol-El Oel-, Naoya Urata, Hitomi Shimatani, Idling !!!, Johnny's Jr. and many others.
■ Tomoaki Kiuchi (Project Full Circle Co., Ltd.)
Active as a music producer, singer-songwriter, songwriter, arranger, and syncmaster DJ.
Artists in their teens and 20s while providing songs to artists, movies, video works, shows, etc. with a unique top line that was sung and impressed and a hybrid sound cultivated in the band and club scene. , Focusing on making works with Youtuber, the theme song of abemaTV "I love you today", which has exceeded 6 million views, "Would you like me?" I am trying to make a work that captures the heart of.
■ PIF Creative Section Co., Ltd.
Project leader
From Yuki Masada
PIF Creative Section Co., Ltd.
Project leader.
"PAY IT FORWARD spirit"
Under the spirit of "creating things that connect people", with the spirit of valuing even the smallest "connections between people", we will improve the quality of the entertainment scene that overflows all over the world, and each and every one of us will be looking forward to it. We aim to be a company that can provide a space and time where people can feel joy, joy, and excitement.
What is Voice Co., Ltd.? ]
Established Voice Co., Ltd. in May 2018.
Headquartered in Kurashiki City, Okayama Prefecture, with branch offices in Shunan City, Yamaguchi Prefecture, Sakaide City, Kagawa Prefecture, and offices in Nagoya City, Aichi Prefecture.
[Business description]
・ Music business ・ ・ ・ Artist management / production, event planning / production, sound / lighting, SHOWROOM official organizer
・ Design business ・ ・ ・ Various designs ・ Homepage production
[Main event planning and management]
Kurashiki Band Festa ('14, 15, 16)
SHARING the SOUL ('16 Yakage Town, Okayama Prefecture, '18 Himeji City, Hyogo Prefecture, '18 Takasago City, Hyogo Prefecture)
TSUTAYA In-Store Live ('12 -present)
ONE + NATION music circus ('17 Biseicho, Ibara City, Okayama Prefecture)
Momotaro Festival ('19 Kurashiki City, Okayama Prefecture Muscat Stadium)
Major performing artists
Kyary Pamyu Pamyu, KREVA, Leo Ieiri, Dream Ami, Wednesday Campanella, Very Goodman, Ai Kawashima, Funky Kato, Chay, TEE, DEEP etc
// モーダル画像の読み込み
var modal_img = []; modal_img[1] = "https://www.atpress.ne.jp/releases/296018/img_296018_1.jpg"; modal_img[2] = "https://www.atpress.ne.jp/releases/296018/img_296018_2.jpg"; modal_img[3] = "https://www.atpress.ne.jp/releases/296018/img_296018_3.jpg"; modal_img[4] = "https://www.atpress.ne.jp/releases/296018/img_296018_4.jpg"; modal_img[5] = "https://www.atpress.ne.jp/releases/296018/img_296018_5.jpg"; modal_img[6] = "https://www.atpress.ne.jp/releases/296018/img_296018_6.jpg"; modal_img[7] = "https://www.atpress.ne.jp/releases/296018/img_296018_7.jpg"; modal_img[8] = "https://www.atpress.ne.jp/releases/296018/img_296018_8.jpg"; modal_img[9] = "https://www.atpress.ne.jp/releases/296018/img_296018_9.jpeg";
$(".photo").click(function () { for (i = 1; i <= 20; i++) { if (modal_img[i]) { $('.modal_img' + i).prop('src', modal_img[i]); } } }); // ASAGAKEのhight //$(window).on('message', function(e){ // var dataset = e.originalEvent.data; // if (dataset['h'] > 0) { // $('.asagake_frame').css({'height': dataset['h'] + 'px'}); // } // // ボタンを表示する処理 // if (dataset['show_btn'] != undefined && dataset['show_btn']) { // // ここで丸いボタンを表示して、https://asagake.com/offer/ + code にリンクする // code_url="https://asagake.com/c/" + dataset['keycode']; // btn_html = dataset['btn_html'].replace(/"/g,'"') // .replace(/'/g,"'") // .replace(/</g,"<") // .replace(/>/g,">") // .replace(/&/g,"&"); // var button_html="'; // $('.news_detail_main').after(button_html); // } //}); // facebook (function(d, s, id) { var js, fjs = d.getElementsByTagName(s)[0]; if (d.getElementById(id)) return; js = d.createElement(s); js.id = id; // js.src="https://connect.facebook.net/ja_JP/sdk.js#xfbml=1&version=v2.11&appId=1323731851019247"; js.src="https://connect.facebook.net/ja_JP/sdk.js#xfbml=1&version=v2.11&appId="; js.async=true; fjs.parentNode.insertBefore(js, fjs); }(document, 'script', 'facebook-jssdk'));
// get Associated PR let associatedPRTemplate = (function () {/*
*/}).toString().match(//*([^]*)*//)[1]; $(function() { $.ajax({ url: "/API/AssociatedPr/", type: "GET", dataType: 'json', data: { pr_id: 296018 } }).done(function (data, status, xhr) { $.each(data, function(i, item) { if (data.length > 0) { $('#associated_pr_list').show(); } item.pr_publisher_name_encoded = encodeURIComponent(item.pr_publisher_name); let embedTemplate = embedObjectParametersToString(item, associatedPRTemplate); $('#associated_pr_list').append(embedTemplate); $('#associated_pr_list').css('margin', '10% 8%'); }); }) })
function embedObjectParametersToString(object, str) { Replacer = function(b,a){if(typeof a!="object"){a=Array.prototype.slice.call(arguments,1)}return b.replace(/{{(.+?)}}/g,function(d,e){return(a[e]!=null)?a[e]:d})}; return Replacer(str, object); }


Source link