Fashion
Rakuten Fashion Week TOKYO 2022 A / W SDGs measures announced
Japan Fashion Week Promotion Organization (Chairman: Masahiko Miyake, Location: Shibuya-ku, Tokyo) will hold "Rakuten Fashion Week" from March 14th (Monday) to March 19th (Saturday), 2022. In "TOKYO 2022 A / W", we have been disseminating SDGs through various measures under the theme of "SDGs that can be done through fashion" from a medium- to long-term perspective since last season.
This season, we will continue to add new SDGs initiatives to related events, etc., and send out "SDGs that can be done through fashion" from the center of the fashion industry.
■ Continuing from last season, "Neru Nagahama" appears in the SDGs reporter of Rakuten FWT 2022 A / W!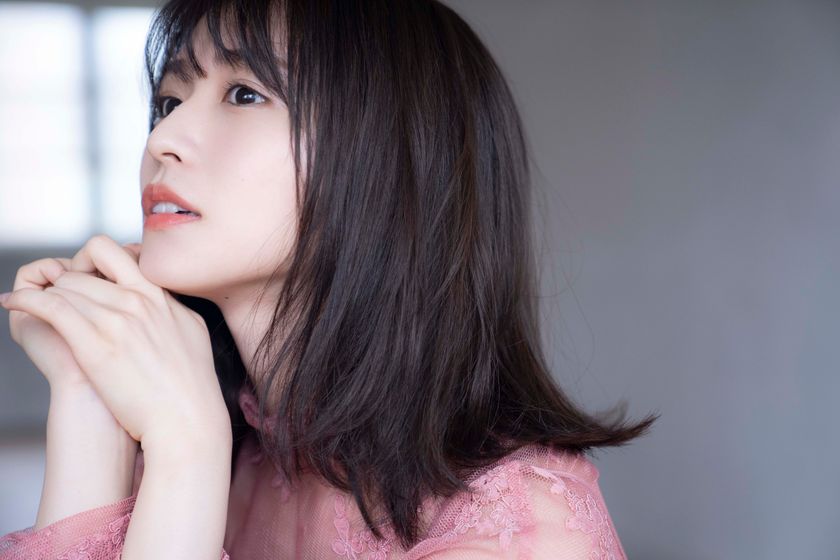 Neru Nagahama, who served as the "SDGs reporter" in the RakutenFWT 2022 S / S season, will also appear in the 2022 A / W this season as an SDGs reporter.
From March 2021, in the NHK SDGs campaign "Future 17 Actions" Twitter project "Nagahama Neru's SDGs Diary" (watching SDGs related programs and writing impressions, guest participation) and fashion magazine "with" Mr. Neru Nagahama, who is also interested in SDGs and has a high affinity with fashion, such as studying SDGs in the "HAJINERU SDGs" series, will send "Fashion x SDGs" as a reporter. She plans to interview and visit exhibitions regarding the following SDGs measures announced today.
■ Nagahama
Born September 4, 1998 in Nagasaki City, Nagasaki Prefecture. Writing an essay on TV "Seven Rules" and radio "POP OF THE WORLD" (J-WAVE) and "Da Vinci", and as a PR ambassador for the NHK SDGs campaign "17 Actions for the Future" to study SDGs. Active in a wide range of fields, such as serving. His hobbies are reading and listening to music.
Official site: https://nagahamaneru.jp/
Official Twitter: https://twitter.com/neru_and_staff
Official Instagram: https://www.instagram.com/nerunagahama_
■ Komatsu Matere holds "Sustainable Manufacturing Exhibition Challenged by Material Manufacturers"
At Rakuten FWT, which creates a new collection every season, even if you see the finished product, you often do not know what kind of background the fabric that is the basis of clothes is born. think.
This time, with the cooperation of the material maker "Komatsu Matere", which has been adopted by many participating brands as JFWO, the organizer of Rakuten FWT, and is working to reduce the amount of waste that must be discarded during the manufacturing process. , We will send out the efforts for SDGs behind fashion from the official venue (Shibuya Hikarie).
Komatsu Matere Co., Ltd., which is based in Ishikawa Prefecture and supplies fabrics to top domestic and overseas brands, is engaged in sustainable manufacturing as a related event of RakutenFWT 2022 A / W this year, which marks the 79th anniversary of its founding. We will hold a "Sustainable Manufacturing Exhibition Challenged by Material Manufacturers".
In this exhibition, with the cooperation of Shinpei Yamagishi, the designer of "BED JW FORD", a fashion brand representing Japan from the same Ishikawa prefecture, who has developed fabrics and worked on many products together, the material of the company. We will specially exhibit the collection created in.
In addition, the sludge generated in the process of processing the dyeing waste liquid and the products of the sustainable brand "mate-mono" that the company launched in June last year by utilizing the fabric that had to be scrapped or discarded. At the venue, you can see cutting-edge materials created by combining technologies, such as the water-retaining and water-permeable block "Green Biz" that utilizes the above, and the carbon fiber composite material "Cabocoma" that can be seismically reinforced without demolishing old buildings. Please take this opportunity to take a look at the sustainable efforts of the company, which is a material manufacturer.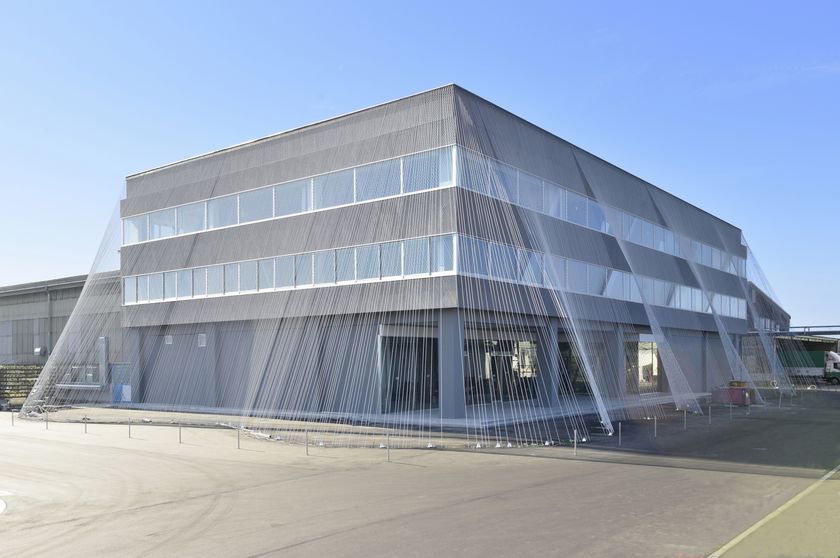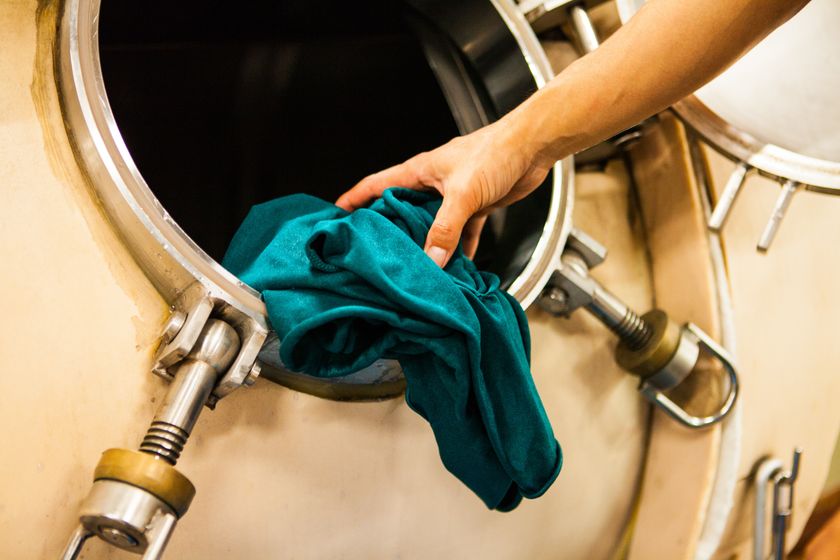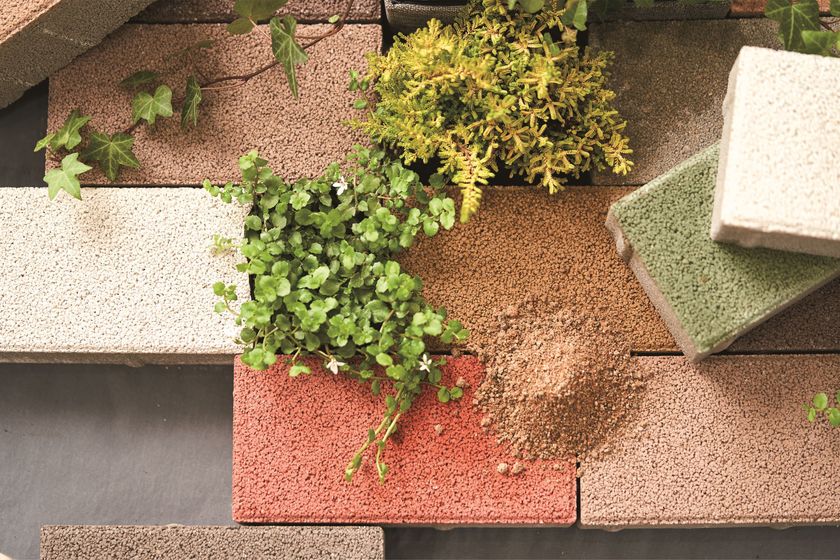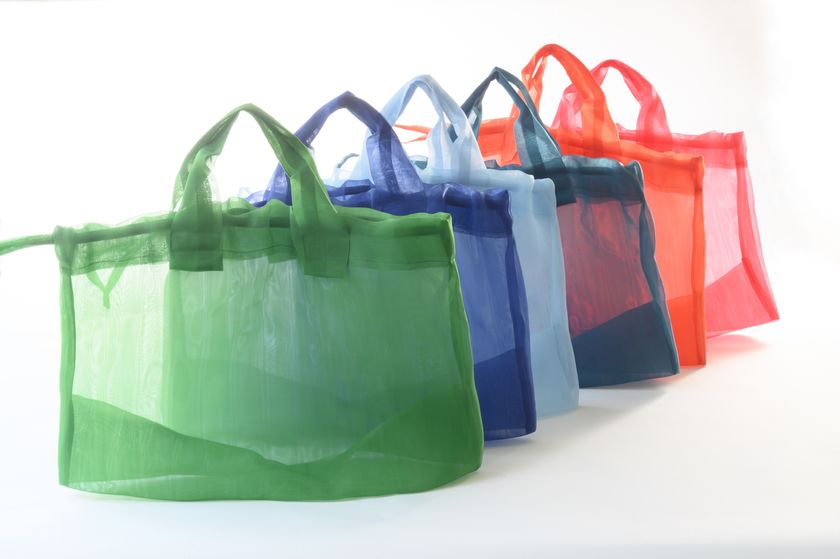 ● "Sustainable manufacturing exhibition challenged by material manufacturers"
Date: March 14th (Monday) -March 19th (Saturday), 2022 Free admission
Venue: Shibuya Hikarie 8F CUBE 1 (2-21-1, Shibuya, Shibuya-ku, Tokyo)
Business hours: Same as Shibuya Hikarie
Inquiries: Komatsu Matere Co., Ltd.
E-mail office@komatsumatere.co.jp
■ "DAIWA" starts an upcycling project with fishing nets
Participation in the collection and exhibition at RakutenFWT 2022 A / W
This season, DAIWA will make an announcement focusing on the reuse collection of "fishing nets" that are no longer used. JFWO will back up opportunities for the general public to see and know about sustainable activities and initiatives other than when the collection is announced, and will send them out from the official venue (Omotesando Hills) during the exhibition period.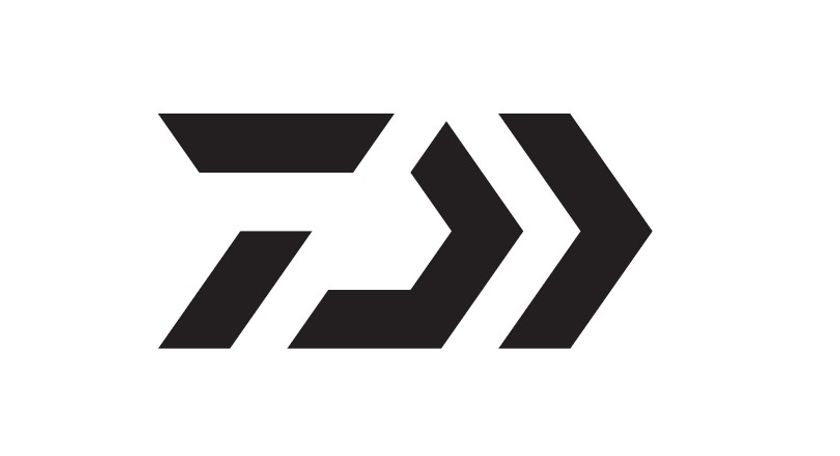 DAIWA, which develops the sea in the field, has a full-scale mechanism to provide its products to fishing sites and fashion by conducting an upcycle that clarifies the traceability of waste fishing nets, which is becoming a problem at fishing sites. Let's start. At Rakuten FWT 2022 A / W to be held from March 14th (Monday), in addition to the announcement of videos and new products related to fishing nets as "DAIWA" co-sponsored by JFWO, an exhibition introducing this project will be held at Omotesando Hills. We will do it at.
■ About the exhibition (planned)
"Fishing nets" are the source of the DAIWA Upcycling Project. Originally, "fishing nets" are indispensable for supporting our eating habits and economy, and the real thing is very delicate, powerful and beautiful. At the RakutenFWT 2022 A / W exhibition, we will provide a place for new awareness and discovery of "fishing nets," which are now an environmental problem. You can see the huge chunks of the collected net and the art objects using the compressed blocks.
● BE EARTH-FRIENDLY -Fishing Net Upcycling Project-
Session: March 14th (Monday) -March 21st (Monday), 2022
* This exhibition will continue even after the closing of Fashion Week.
Extended until 21st
Venue: Omotesando Hills Grand Staircase (4-12-10 Jingumae, Shibuya-ku, Tokyo)
Business hours: Same as Omotesando Hills
Contact: Globeride Co., Ltd.
E-mail customer@d-vec.jp
■ Japan Fashion Week Organization SDGs Corner
Denim project exhibition, JFW sustainable textile exhibition
JFWO will exhibit a corner where SDGs efforts are accumulated at PROJECT TOKYO during the RakutenFWT 2022 A / W session. This project will be realized in collaboration with JFWO and PROJECT TOKYO, and Tohgashi Engineering Service Co., Ltd., uragami Co., Ltd., and Nanasai Co., Ltd. will also provide sustainable construction and fixtures. "Denim de Mirai ~ DENIM PROJECT ~", which is a collaboration of 6 retailers including Isetan Mitsukoshi Co., Ltd. exhibited at RakutenFWT 2022 S / S, and textiles corresponding to the sustainable project of JFW JAPAN CREATION / Premium Textile Japan I will exhibit it.
■ Denim de Mirai ~ DENIM PROJECT ~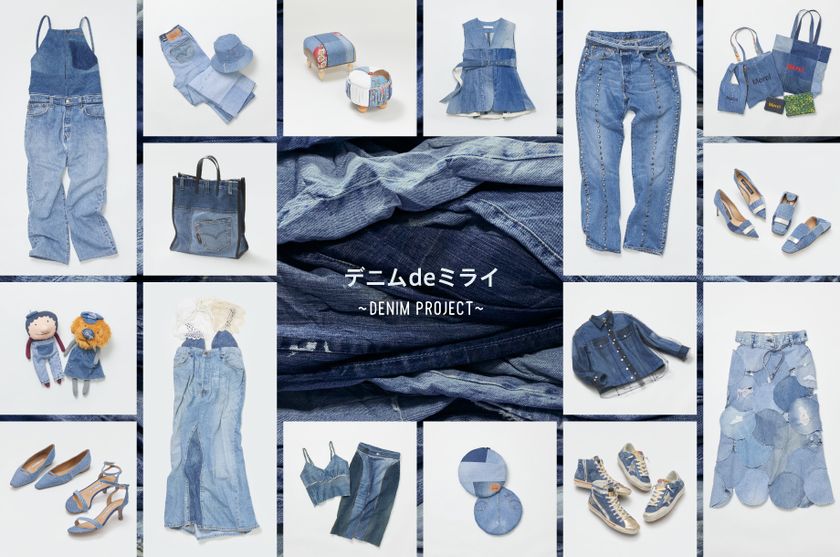 Six companies, Isetan Mitsukoshi, Hankyu Hanshin Department Store, Iwataya Mitsukoshi, Estee Company, Fashion Core Midwest, and Sato Textile (GEA), are collaborating across industry boundaries with the aim of realizing sustainable fashion.
About 20 tons of used stock of owned by Yamasawa Press is upcycled through the hands of about 50 brands, creators and artists in Japan and overseas, and fashion such as clothes, bags and shoes. We will develop more than 150 types of lifestyle items such as items and furniture, as well as art.
■ JFW JAPAN CREATION / Premium Textile Japan Sustainable Project Textile Exhibition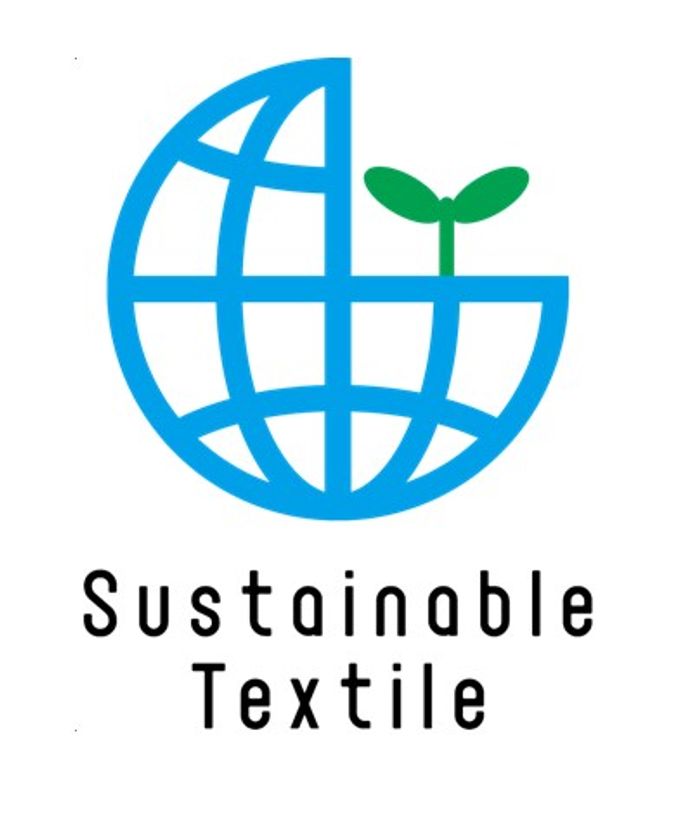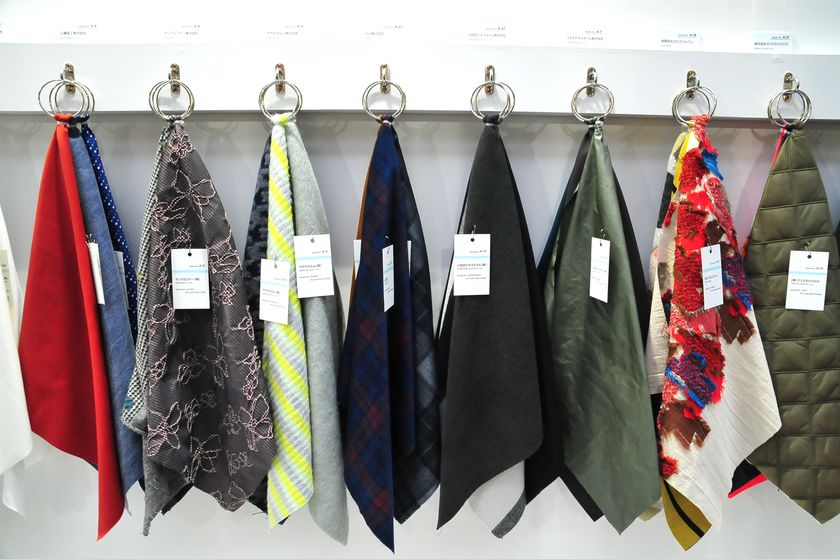 Sustainable efforts are a hot topic in order to realize a sustainable society and the global environment.
You can see Japan's sustainable textiles, which are highly evaluated in the world for their environmentally conscious efforts such as organic raw materials that fall into the "JFW Sustainable Project" category, biodegradable environment-friendly fibers, and recycled raw materials. Exhibit materials can also be viewed at "JFW Textile Online Salon (JTO)". We will develop digital and real exhibitions at the same time to meet various needs.
JTO Official Site Link: https://jfw-textile-online.com/
■ About PROJECT TOKYO
PROJECT TOKYO is a joint fashion exhibition held twice a year in Tokyo with the concept of "connecting fashion + culture". This exhibition, which will be held for the sixth time in March 2022, will bring together more than 170 carefully selected domestic and foreign brands, from emerging designers to well-established factory brands and lifestyle miscellaneous goods.
When you come to PROJECT TOKYO, please be sure to fill in the pre-registration form from the link below.
▼ PROJECT TOKYO visit pre-registration form
Application for visit | Exhibition reception.com
https://www.tenjikai-uketsuke.com/ecscripts/reqapp.dll?APPNAME=forward&PRGNAME=te_exhsystem_mem_entry&ARGUMENTS=-AINGQ8D1WK3MS9EAKSX2U
* Registration is possible on the day of the exhibition
Date: March 16th (Wednesday) and 17th (Thursday), 2022 10: 00-19: 00
Venue: Tokyo International Forum (3-5-1 Marunouchi, Chiyoda-ku, Tokyo)
・ Denim de Mirai ~ DENIM PROJECT ~ (Lobby Gallery)
・ JFW JAPAN CREATION / Premium Textile Japan Sustainable Project Textile Exhibition (Main Hall)
■ Rakuten Fashion Week TOKYO 2022 A / W
Session: March 14th (Monday) -March 19th (Saturday), 2022
Venue: Shibuya Hikarie, Omotesando Hills, and other venues
Organizer: Japan Fashion Week Promotion Organization
Official site: https://rakutenfashionweektokyo.com/jp/
// モーダル画像の読み込み
var modal_img = []; modal_img[1] = "https://www.atpress.ne.jp/releases/299307/img_299307_1.jpg"; modal_img[2] = "https://www.atpress.ne.jp/releases/299307/img_299307_2.jpg"; modal_img[3] = "https://www.atpress.ne.jp/releases/299307/img_299307_3.jpg"; modal_img[4] = "https://www.atpress.ne.jp/releases/299307/img_299307_4.jpg"; modal_img[5] = "https://www.atpress.ne.jp/releases/299307/img_299307_5.jpg"; modal_img[6] = "https://www.atpress.ne.jp/releases/299307/img_299307_6.jpg"; modal_img[7] = "https://www.atpress.ne.jp/releases/299307/img_299307_7.jpg"; modal_img[8] = "https://www.atpress.ne.jp/releases/299307/img_299307_8.jpg"; modal_img[9] = "https://www.atpress.ne.jp/releases/299307/img_299307_9.jpg";
$(".photo").click(function () { for (i = 1; i <= 20; i++) { if (modal_img[i]) { $('.modal_img' + i).prop('src', modal_img[i]); } } }); // ASAGAKEのhight //$(window).on('message', function(e){ // var dataset = e.originalEvent.data; // if (dataset['h'] > 0) { // $('.asagake_frame').css({'height': dataset['h'] + 'px'}); // } // // ボタンを表示する処理 // if (dataset['show_btn'] != undefined && dataset['show_btn']) { // // ここで丸いボタンを表示して、https://asagake.com/offer/ + code にリンクする // code_url="https://asagake.com/c/" + dataset['keycode']; // btn_html = dataset['btn_html'].replace(/"/g,'"') // .replace(/'/g,"'") // .replace(/</g,"<") // .replace(/>/g,">") // .replace(/&/g,"&"); // var button_html="'; // $('.news_detail_main').after(button_html); // } //}); // facebook (function(d, s, id) { var js, fjs = d.getElementsByTagName(s)[0]; if (d.getElementById(id)) return; js = d.createElement(s); js.id = id; // js.src="https://connect.facebook.net/ja_JP/sdk.js#xfbml=1&version=v2.11&appId=1323731851019247"; js.src="https://connect.facebook.net/ja_JP/sdk.js#xfbml=1&version=v2.11&appId="; js.async=true; fjs.parentNode.insertBefore(js, fjs); }(document, 'script', 'facebook-jssdk'));
// get Associated PR let associatedPRTemplate = (function () {/*
*/}).toString().match(//*([^]*)*//)[1]; $(function() { $.ajax({ url: "/API/AssociatedPr/", type: "GET", dataType: 'json', data: { pr_id: 299307 } }).done(function (data, status, xhr) { $.each(data, function(i, item) { if (data.length > 0) { $('#associated_pr_list').show(); } item.pr_publisher_name_encoded = encodeURIComponent(item.pr_publisher_name); let embedTemplate = embedObjectParametersToString(item, associatedPRTemplate); $('#associated_pr_list').append(embedTemplate); $('#associated_pr_list').css('margin', '10% 8%'); }); }) })
function embedObjectParametersToString(object, str) { Replacer = function(b,a){if(typeof a!="object"){a=Array.prototype.slice.call(arguments,1)}return b.replace(/{{(.+?)}}/g,function(d,e){return(a[e]!=null)?a[e]:d})}; return Replacer(str, object); }


Source link