Fashion
BRUTUS's Spring / Summer 2022 fashion feature "Fashion and Emotions Wearing clothes with emotions" The theme of this time is to enjoy fashion intuitively! Released on March 15 | Press Release of Magazine House Co., Ltd.
The culture magazine "BRUTUS" published by Magazine House Co., Ltd. (Headquarters: Chuo-ku, Tokyo, President: Takao Katagiri) will feature "Fashion and Emotions" on March 15th. Will be released.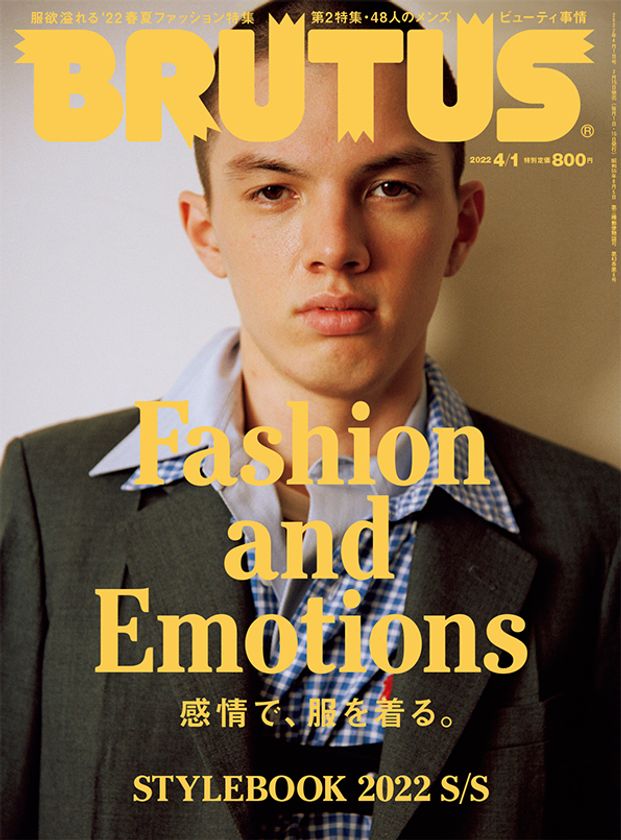 Spring / Summer 2022, when many Maisons presented a powerful and peaceful collection. Regarding the origin of the collection, Lucy & Luke Meyer of Jil Sander said, "We needed a positive color to survive the pandemic," and Dries van Noten said, "an explosion of frustration." .. A gorgeous pattern in bright colors. An explosive desire for fashion that springs up into a passionate design more than ever. Now I want to get drowned in fashion, leaving myself to the feeling of "I want to wear it!" I feel like that. For the past few years, I think that the criteria for choosing clothes, such as good materials, functionality, and sustainability, have become theoretical. Of course, all of them are important, but why not enjoy fashion more emotionally? BRUTUS's spring style book, the theme is "Fashion and Emotions, get dressed." This book is full of "Fun Fashion" mood that reminds you of the joy of dressing up.
● Special feature content
Fashion story
・ COLOR HAS POWER
Fashion page using colorful items made by many Maisons such as , , , , , . Ayumu Nakajima, an actor who is active in movies such as "Wheel of Fortune and Fantasy" and Netflix original "Asakusa Kid", is appointed as a model.
・ Patter Play
Pattern x pattern styling proposal. Even seemingly difficult combinations can be combined elegantly with matching color tones and sizing. Taken at Hatoyama Kaikan, the residence of Ichiro Hatoyama.
・ Make New Trad
Now that oversize and street style are flourishing, we have refocused on Trad, which can be said to be the origin of men's fashion. Ivy style and preppy style are modern, such as low-rise chinos with ultra-cropped navy knit of , vest of with shirt of , and for pants. Update to version!
● Interview
・ The relationship between color and emotion, as described by Lucy & Luke Mayer.
This season's incorporates brighter colors than ever before, such as pink and pastel yellow. We asked co-creative director Lucy & Luke Mayer to explain the collection. What kind of emotions did they put into the colorful colors, saying, "The long-awaited daughter was born in June of last year, and the desire for a bright future became stronger." Also, how did the pandemic affect their creation? I will introduce it with one push item.
・ What is the graphic "explosion" drawn by Dries van Noten?
Dries van Noten has created beautiful patterns using various methods. This season, we will challenge new graphics with the theme of "Antwerp" in the home town. Dries van Noten, who has been a brand for over 20 years, talked about why he chose the hometown theme at this time and his aim.
・ 8 trad thoughts.
Creative director Michael Bastian, stylist Atsushi Okubo, fashion curator Motofumi Ogi, and photographer E-WAX will talk about their encounters and charms with Trad. Introducing the brands, literature, and video works that influenced them, as well as the iconic brands of today.
・ Fun Fashion People
Interview with 4 fashionistas who are active in the world about "how to enjoy clothes". Find hints of "Fun Fashion" in their words, such as awakening to fashion, style icons, and influenced things. Introducing Spanish fashion consultant Louis Rubi, NY couple photographer Young Emperors, London pro skater Lucien Clarke, and Parisian DJ Teki Latex! Also pay attention to their original style.
・ Y2K in hot times.
The phenomenon of culture = "Y2K" in the 2000s has revived as a trend after about 20 years. It is a snap project of young people who enjoy the style of the times when various trends such as gals and modes were crowded. We will analyze their style and atmosphere at that time with the testimony of designer Masayuki Ino.
Book In Book is "a favorite skin care item that 48 people have taught me."
From the skin care situation of people who are full of cleanliness, we will approach the men's beauty situation in 2022.
In addition, you can browse some of them on brutus.jp, and you can read the special features at the following address.
https://brutus.jp/magazine/issue/958/
【Product Summary】
● Publication: BRUTUS 958
● Special feature: "Fashion and Emotions Wear clothes with emotions."
● Release date: March 15 (Tuesday)
● Special price: 800 yen (tax included)
● Publisher: Magazine House Co., Ltd.
● Available at bookstores, convenience stores, and online bookstores nationwide
For product details, please visit https://brutus.jp/
// モーダル画像の読み込み
var modal_img = []; modal_img[1] = "https://www.atpress.ne.jp/releases/302051/img_302051_1.jpg"; modal_img[2] = "https://www.atpress.ne.jp/releases/302051/img_302051_2.jpg"; modal_img[3] = "https://www.atpress.ne.jp/releases/302051/img_302051_3.jpg"; modal_img[4] = "https://www.atpress.ne.jp/releases/302051/img_302051_4.jpg";
$(".photo").click(function () { for (i = 1; i <= 20; i++) { if (modal_img[i]) { $('.modal_img' + i).prop('src', modal_img[i]); } } }); // ASAGAKEのhight //$(window).on('message', function(e){ // var dataset = e.originalEvent.data; // if (dataset['h'] > 0) { // $('.asagake_frame').css({'height': dataset['h'] + 'px'}); // } // // ボタンを表示する処理 // if (dataset['show_btn'] != undefined && dataset['show_btn']) { // // ここで丸いボタンを表示して、https://asagake.com/offer/ + code にリンクする // code_url="https://asagake.com/c/" + dataset['keycode']; // btn_html = dataset['btn_html'].replace(/"/g,'"') // .replace(/'/g,"'") // .replace(/</g,"<") // .replace(/>/g,">") // .replace(/&/g,"&"); // var button_html="'; // $('.news_detail_main').after(button_html); // } //}); // facebook (function(d, s, id) { var js, fjs = d.getElementsByTagName(s)[0]; if (d.getElementById(id)) return; js = d.createElement(s); js.id = id; // js.src="https://connect.facebook.net/ja_JP/sdk.js#xfbml=1&version=v2.11&appId=1323731851019247"; js.src="https://connect.facebook.net/ja_JP/sdk.js#xfbml=1&version=v2.11&appId="; js.async=true; fjs.parentNode.insertBefore(js, fjs); }(document, 'script', 'facebook-jssdk'));
// get Associated PR let associatedPRTemplate = (function () {/*
*/}).toString().match(//*([^]*)*//)[1]; $(function() { $.ajax({ url: "/API/AssociatedPr/", type: "GET", dataType: 'json', data: { pr_id: 302051 } }).done(function (data, status, xhr) { $.each(data, function(i, item) { if (data.length > 0) { $('#associated_pr_list').show(); } item.pr_publisher_name_encoded = encodeURIComponent(item.pr_publisher_name); let embedTemplate = embedObjectParametersToString(item, associatedPRTemplate); $('#associated_pr_list').append(embedTemplate); $('#associated_pr_list').css('margin', '10% 8%'); }); }) })
function embedObjectParametersToString(object, str) { Replacer = function(b,a){if(typeof a!="object"){a=Array.prototype.slice.call(arguments,1)}return b.replace(/{{(.+?)}}/g,function(d,e){return(a[e]!=null)?a[e]:d})}; return Replacer(str, object); }


Source link