Sports
Why do we work on "#life-connecting action" | Sports for Social
In 2011, Naoki Matsuda, a former Japanese national football team, died of sudden cardiac arrest. At the European Football Championship (EURO2020) in 2021, the Danish national team players were in cardiac arrest during the match. He survived with the swift response of athletes and staff, but these accidents are not gone in the sports world.
At Yokohama F. Marinos, where Naoki Matsuda has been enrolled for a long time, since 2019, we have begun full-scale educational activities for sudden cardiac death during sports as "#Life-Connecting Action". In August 2021, 10 years after Naoki Matsuda passed away, the # 3 uniform, Players T-shirt, which is a permanent absence of Marinos with Naoki Matsuda's number to cover the activity cost of this action. We also worked on sales of.
We interviewed Shingo Otani (hereinafter Otani) and Takashi Makinouchi (hereinafter Makinouchi), who are working mainly on "#Life-Connecting Action" at Yokohama F. Marinos.
I want to eliminate sudden cardiac death during sports
–What kind of activity is "#life-connecting action" in the first place?
Makinouchi)#The purpose of life-saving action is "I want to eliminate sudden cardiac death during sports." Naoki Matsuda, who had been enrolled in F. Marinos for a long time, died in 2011."To increase the number of lives that can be saved. How to save as many people as possible "We are working with the message.
Sharen! Since its launch in 2018, the club is also working to disseminate it to society under the name "#Life-Connecting Action".
–Specifically, what kind of activities are you working on?
Makinouchi)In 2019, we held seminars for club members and employees, and played a declaration video to send out to fans and supporters. After that, it was difficult to move due to the Korona-ka, so the next big move was in 2021, but since it has been 10 years since Naoki Matsuda passed away, the club reiterated its intention. I felt I needed to go.
Along with various enlightenment activities, we created and sold # 3 uniforms and player's T-shirts, and used the profits to enlighten AEDs and CPR (cardiopulmonary resuscitation).
In addition, from the home game in August 2021, we started enlightening with a video "If you see a fallen person" with a large-scale vision, and we are playing a video in every home game game.
I want you to know about "Naoki Matsuda"
–How was your activity last year as "#Life-Connecting Action"?
Makinouchi)At the same time, it is important for us to "eliminate sudden death in sports" as well.It is also very important to firmly convey the fact that "a great player named Naoki Matsuda was in Marinos".I feel that.
Next to the CPR experience booth, I exhibited the number 3 uniform, which is a permanent retirement number. Then, many fans of Naoki Matsuda came, but most of them had already experienced AED training.
At the same time, of course, there are supporters who do not know about Naoki Matsuda after 10 years. I want those people to know not only about "#Life-Connecting Action" but also about Naoki Matsuda.
-It's amazing that many fans have already experienced training! I feel the influence of Mr. Matsuda.
Makinouchi)I agree. I feel that this activity will be better if we spread from us to supporters and from that supporter to another supporter.
Eventually, it is natural for fans and supporters to knowI would be happy if you could be in a situation like that.
Both wheels of "#Life-connecting action" and "Naoki Matsuda"
–What kind of feelings does Mr. Otani have about this "#life-connecting action"? I think you had a deep relationship with Naoki Matsuda.
Otani)I think Naoki Matsuda was a rare player who was memorable and memorable. First of all, I have a big desire to continue to convey his achievements as a player as a club to which he once belonged.
People from the generation onwards who watched the 2002 Japan-Korea World Cup in real time, of course, do not know Naoki Matsuda. Even if I talk about my pre-real-time players, it doesn't really touch my heart. However, if you can tell it, it will be a chance to know.
Before he becomes a forgotten player, I want to keep his achievements as a club.It goes without saying that you will know "#Life-Connecting Action" from Mr. Naoki Matsuda, but as a sports club with social existence value, you will get to know Mr. Naoki Matsuda as a result of "#Life-Connecting Action". I want to move it firmlyI think.
–You can see the size of the existence of Mr. Naoki Matsuda.
Otani)In 2021, Yuzo Kurihara (Yokohama F. Marinos Clubship Captain), who played with us, said, "Every time I see the news that AED saved my life in the news," Matsu-san. I think you did it again. " In that sense, I think his existence will continue to exist.
To the next "# Action to connect life"
–What are your thoughts on the next step in "#Life-Connecting Action"?
Makinouchi)First of all, I am thinking of making the AED environment of the stadium perfect. We have also installed an AED at Nissan Stadium, but we have created an environment where everyone can watch the game more safely and securely in the event of a sudden cardiac arrest, which is said to reduce the survival rate by 10% in just one minute. I think
In addition, we are actively working to provide educational programs to children in their hometowns in the event of cardiac arrest.
–It's an education for "children"!
Makinouchi)Of course, both adults and children should know, so I would like to take action on both. In the past, there was a case in which a child who had taken a course for elementary school students from the fire department of Yokosuka City was able to properly deal with his father's sudden cardiac arrest and saved his life.It is very important to be able to create a mindset that "I can act immediately!" Even for children and in such situations.It makes me feel that.
-It's true that whether you know it or not, it depends on whether you can act immediately and whether you can save your life.
Makinouchi)Regarding "AED", there are announcements from the machine as long as you know the location and can bring it. but,You have to know "how it works when you find a fallen person"But I feel that someone has to teach me.
As with disaster prevention, we have to be able to be aware of it on a daily basis."Where is the AED in the office building?"I want you to start from what you can do.
Because Marinos had Naoki Matsuda
–In last year's #Life-Connecting Action, there were reactions from other clubs such as Cerezo Osaka and Consadole Sapporo.
Makinouchi)I hear that people closely related to Naoki Matsuda, such as President Hiroaki Morishima of Cerezo Osaka and Ryuji Kawai of Consadole Sapporo, took the lead in the activities. Marinos wants to lead this #life-saving action as the club's "responsibility".
Otani)I think we have finally taken a step forward last year. The number of uniforms sold last year made me realize that "Naoki Matsuda's influence is huge even after 10 years." The profits entrusted there will be used for "#life-connecting action".I would like to work steadily so that there is a life saved by this activity.
–Thank you!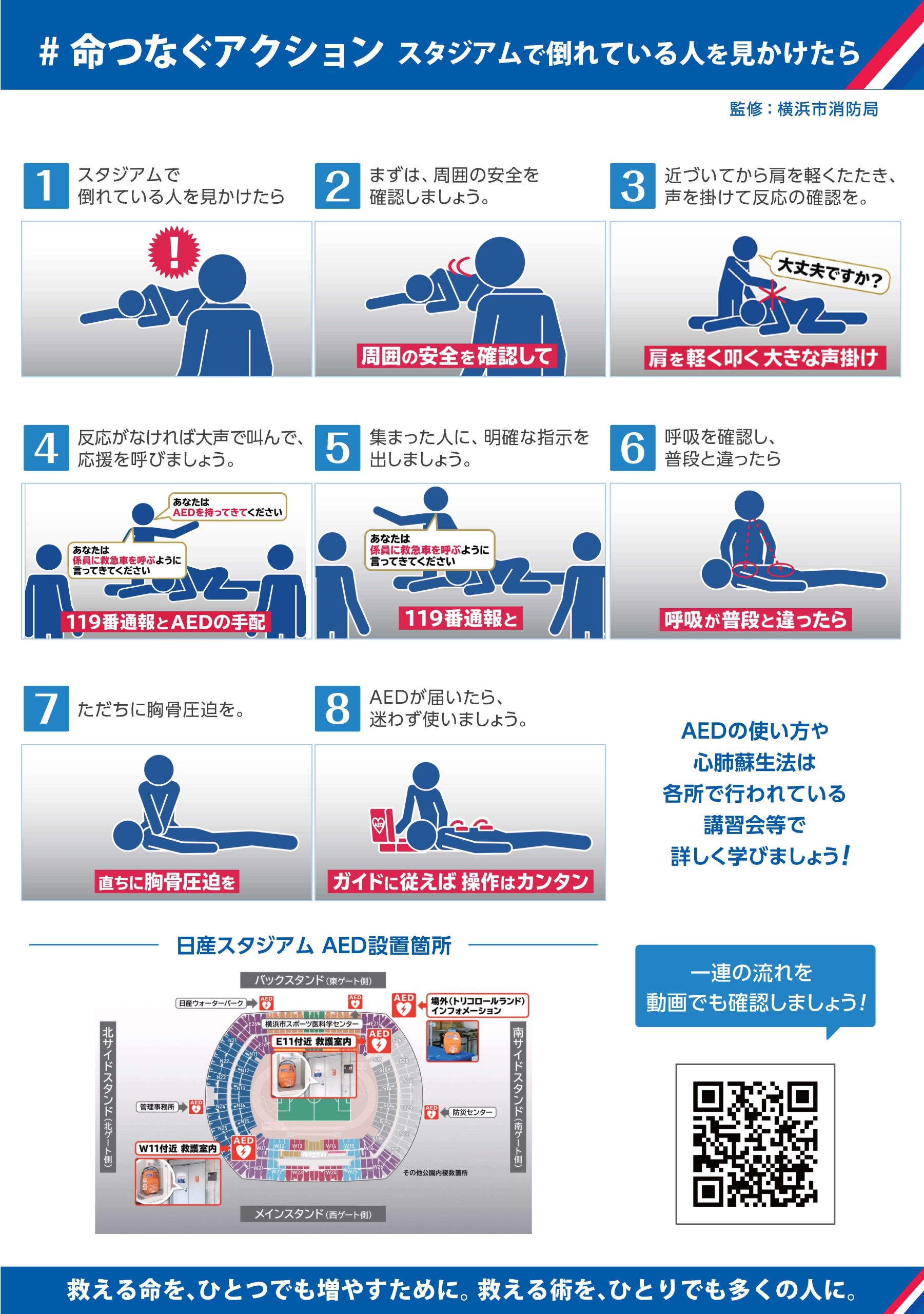 Source link