Travel
Regent Taipei and Lion Travel launch Taiwan's first 5-star gourmet tour "The Kitchen –An Extraordinary Feast" | Regent Taipei Press Release
AsiaNet 94997
[Taipei March 21, 2022 PR Newswire]After a year of detailed planning, the latest train cafeteria "The Future" on the Taiwan Railway was officially released in early March this year. Inspired by luxury rail tours around the world, Lion Travel and Regent Taipei have jointly worked on "The Future" and announced Taiwan's first gourmet rail tour, "The Kitchen –An Extraordinary Feast." On this tour, passengers can enjoy the beautiful railroad scenery of Taiwan while enjoying a luxurious 5-star meal.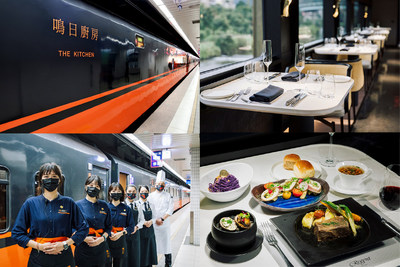 Regent Taipei and Lion Travel jointly launch Taiwan's first 5-star gourmet tour "The Kitchen –An Extraordinary Feast" (PRNewsfoto / Regent Taipei)

The Taiwan Railways train dining room "The Future" has a dining car, business class, living room, bar, and cooking room vehicles. .. The specially designed train was carefully assembled after lengthy inspections and adjustments. "The Future" is not only unprecedented in Taiwan, but also a commemorative step towards an international high society. "The Future" aims to provide guests and travelers with Taiwan's most unique and memorable dining tours.
Having succeeded in bringing five-star food and services to a variety of transportation options, Regent Taipei has partnered with Lion Travel to embark on its first luxury dining tour at the Taiwan Railways train dining room, The Future. The menu during the rail tour features seasonal delicacies and local products from different destinations, each carefully crafted by Regent Taipei's prestigious cooking team, with the ingenuity of Regent's original specialties to heights. Being guided.
Reservations can be made on the official website of Regent Taipei, www.regenttaiwan.com or Lion Travel,
See www.liontravel.com.
▽ About Silks Group
Founded in 1990, Silks Hotel Group (formerly FIH Regent Group) is one of Asia's leading hotel management companies and one of the largest and most profitable hotel groups listed on the Taiwan Stock Exchange. be. The group currently owns and operates the international luxury hotel Regent Taipei and five diverse hotel brands. Hotel brands include Silks Place, a cultural luxury lifestyle hotel brand, Wellspring by Silks, a hot spring resort, Silks Club, a boutique hotel focused on art and design, and Kakine. There is Silks X, a city resort beyond, and Just Sleep, a stylish midscale hotel chain. In addition to the hotel business, Silks Hotel Group operates restaurants at the National Palace Museum and other well-known tourist attractions, and is expanding into the food and beverage industry and the fast food industry.
Image attachment link:
Link: http://asianetnews.net/view-attachment?attach-id=417165
(Japanese release: provided by client)