Entertainment
"BOYS AUDITION 4" sponsored by FNC ENTERTAINMENT JAPAN will be held!Entry starts today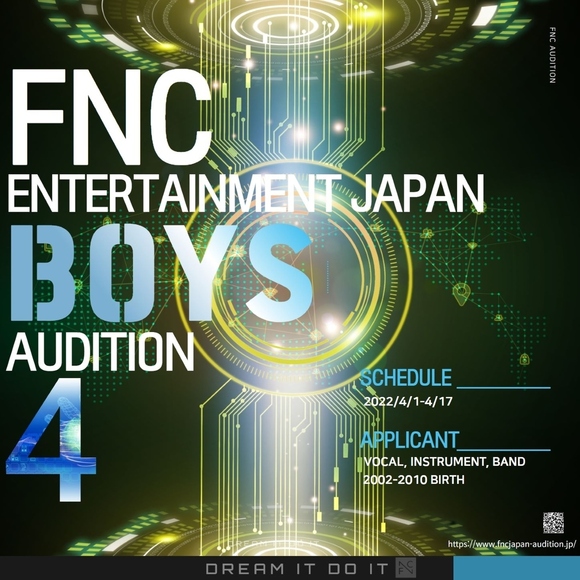 As a pioneer in the Korean rock band world, FNC continues to produce top artists such as AOA, N.Flying, SF9, Cherry Bullet, and P1 Harmony, led by FTISLAND and CNBLUE, who have expanded into Japan and other countries around the world and pioneered the way. ENTERTAINMENT will hold a boys audition unique to Japan at FNC JAPAN!
We announced that we will start accepting applications from today (1st). Speaking of FNC JAPAN, PRIKIL (scheduled to debut in May 2022), a 5-member girl group born from the survival program "Who is Princess?" All the members of PRIKIL became trainees after auditioning for FNC JAPAN, and they had a dream of making their debut on a sunny day.
In this audition to search for new rough stones following PRIKIL, a band department was established in addition to the vocal department and musical instrument department for men born between 2002 and 2010. The purpose is to discover new boy band members and artists following the boy bands such as FTISLAND, CNBLUE, and N.Flying who are active in the world.
Successful applicants belong to FNC JAPAN as trainees, train at our facility using Korea's top-class training system, and go to the stages in Japan and around the world. Aiming for a spectacular debut.
Participants will apply in the dedicated form during the application period from April 1, 2022 (Friday) to April 17, 2022 (Sunday), and for those who have passed the document screening, practical skills and interview screening will be conducted. implement. "I want to stand on the stage of the world! I want to stand in the same place as the artist I admire!"
■ Audition information
"BOYS AUDITION 4" sponsored by FNC ENTERTAINMENT JAPAN

·vocal
・ Musical instruments (guitar, bass, keyboard, drums, etc.)
・ Band (group)

Born 2002-2010
* Regardless of nationality
* Those who do not have a contract with an entertainment agency or record company
* Minors need parental consent

1st screening: Document screening (recruited at Exam)
Second screening: Practical skill / interview selection

April 1st (Friday) -April 17th (Sunday), 2022
■ Related links
Audition special site: http://fncjapan-audition.jp