Fashion
THAT'S FASHION WEEKEND SPRING EXHIBITION 2022 will hold a launch event. Models such as Ami Komuro and Keio University students will be on stage. Collaboration with The Weeknd is also available.
[Banksy Co., Ltd.]
"THAT'S FASHION WEEKEND", which held a talk event and a joint family sale where popular brands gathered in the past under the theme of "Energizing Japan with fashion", will hold an exhibition launch event.
THAT'S FASHION WEEKEND Executive Committee (Headquarters: Shibuya-ku, Tokyo, Representative: Mitsuru Kanno) will make "THAT'S FASHION WEEKEND SPRING EXHIBITION 2022" to Estnation Central from April 5th (Monday) to April 18th (Monday), 2022. Is being held.
Along with that, a launch event was held on April 5th (Sunday). In addition to the talk show where celebrities and university students who exhibited at the event took the stage, an upcycling award ceremony was held for the exhibited works of university students.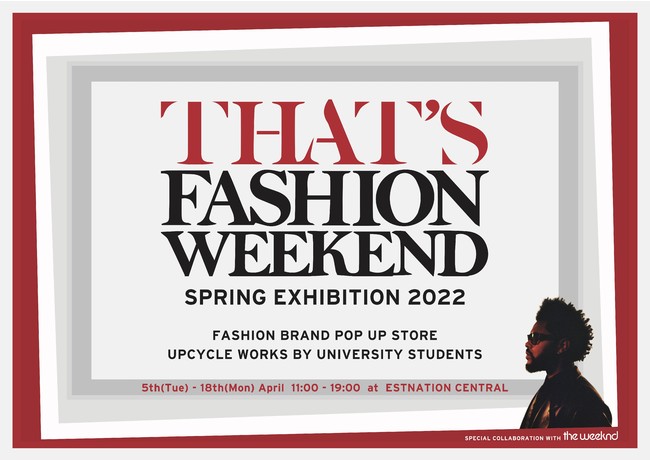 ■ "THAT'S FASHION WEEKEND SPRING EXHIBITION 2022" Launch Event Report
[Sustainable fashion that Generation Z thinks]The event starts with a talk show by Editor-in-Chief Kaname Murakami of WWD JAPAN and four university students (Yui Nagase / Keio University, Hiyori Iwase / Keio University, Ayaka Sakai / Bunka Gakuen University, Tamari Shinoda / Sugino Fashion College). The students reported that SDGs are becoming more commonplace, such as "Awareness of SDGs is commonplace in our generation" and "It is also an issue for classes." He also said that when he buys clothes, he is conscious of "consideration for nature," "working environment," and "sustainability."
Finally, Editor-in-Chief Murakami talked about the current situation where major fashion makers, who are said to be burdened with the environment, are more concerned about environmental issues, and it became a place for students to make new discoveries.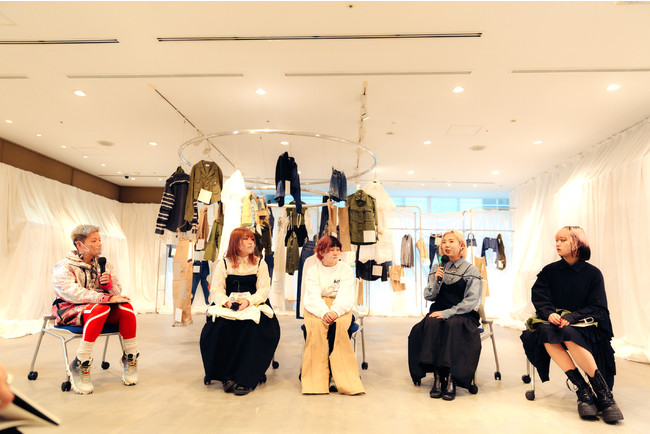 [Fashion and SDGs]
In the second part, Kanna Fujii, women's director and Naoko Inoue, deputy editor-in-chief of Sotokoto, talked about "fashion and SDGs" from the Estnation provided at the exhibition. Mr. Fujii introduced the reuse and recycling of plastics that Estnation is working on. A good relationship between fashion and SDGs by continuing trial and error toward the realization of a circular economy through alliances between a wide variety of companies, and by sharing efforts throughout the industry in the future. The goal was to increase the number of people.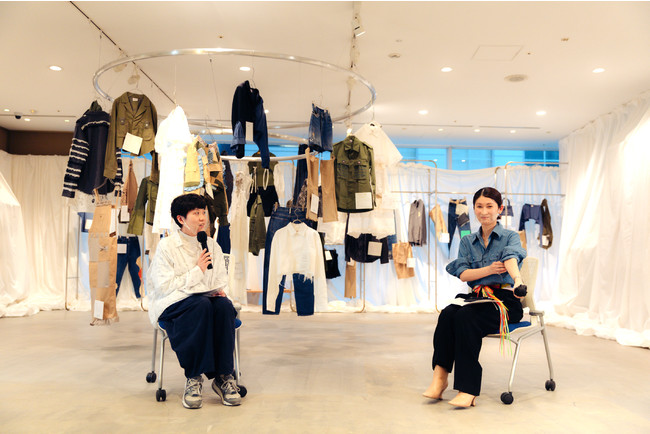 [Fashion and music]
In the third part, Masaya Iguchi, executive officer of Universal Music Japan, took the stage at the talk show to commemorate the collaboration with The Weeknd. Regarding Universal Music, the world's largest music company, he gave his views on the background of the collaboration between THAT'S FASHION WEEKEND and The Weeknd, and the relationship between music and fashion. Mr. Iguchi, who has done a lot of gimmicks in Japan such as Lady Gaga and Billie Eilish. The venue was showing excitement on a theme that I couldn't usually hear.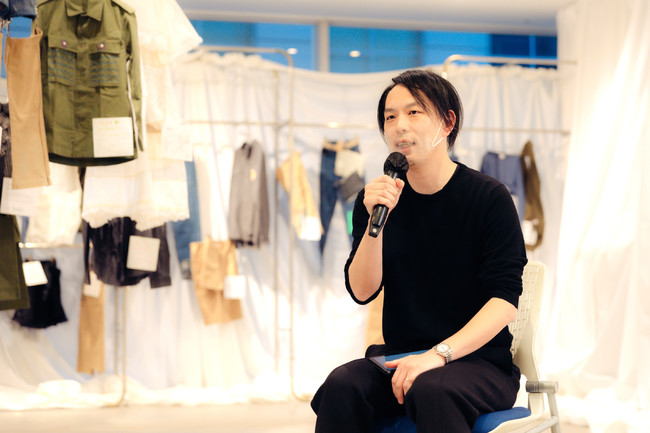 [Why launched a fashion brand]
In the 4th part, Ami Komuro, the director of fashion brand "cLa'm", appears.
Explains the reasons for appearing in the media from the beginning, the reasons for starting a fashion brand, and the thoughts that can be put into the brand. The students seemed to be inspired by Mr. Komuro, who works only on what he likes, such as models, fashion brands, and cosmetics brands, and lives a lifestyle that everyone longs for.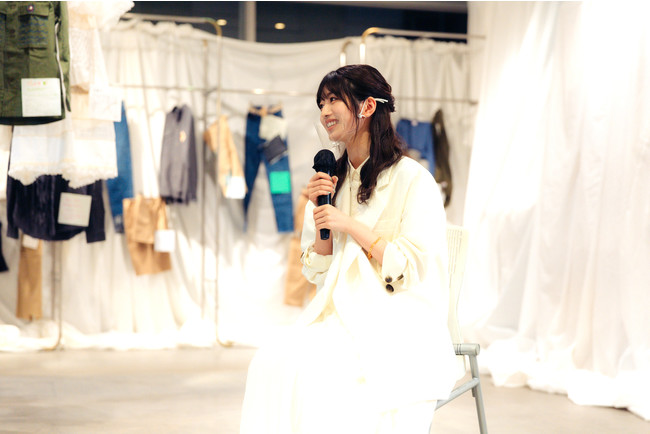 [Upcycling Award Ceremony]
A project in which university students who study fashion using popular brand products as work production materials upcycle and display and sell. 79 university students from 31 schools participated.
Corporate awards from five event partner companies were awarded for the works of university students.

・ Corporate award winner
"Tokyu Plaza Shibuya Award" Bunka Gakuen University Maya Nishimura
"Mynavi Student Window Award" Bunka Gakuen University Mr. Koto Nakamura
"Sotokoto Award" Sugino Fashion College Anna Naganuma
"Estonation Award" Keio University Yui Nagase
"THAT'S FASHION WEEKEND Award" Bunka Gakuen University Drops Tsuruta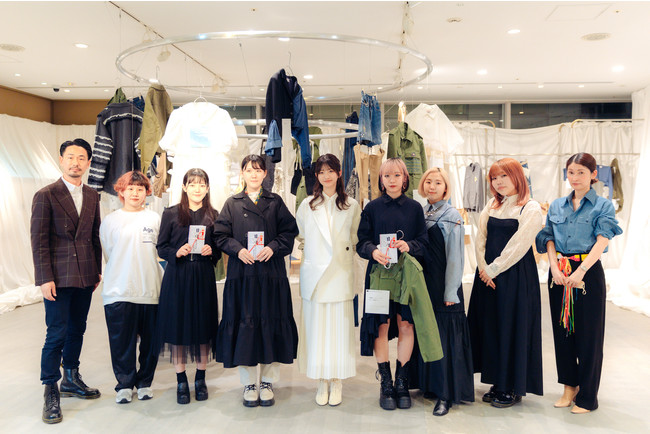 ■ "THAT'S FASHION WEEKEND SPRING EXHIBITION 2022" Event Overview
[UPCY CLE WORKS BY UNIVERSITY STUDENTS]
University students who study fashion using products provided by popular brands as work production materials are upcycling. Works produced by 79 students from 31 universities will be exhibited and sold.

Aoyama Gakuin University / Atomi Gakuen University / Otsuma Women's University / Gakuin University / Kyoritsu Women's University / Kyoritsu Women's Junior College / Keio University / Industrial Efficiency University / Shibaura Institute of Technology / Showa Women's University / Women's Art University / Sugino Fashion University / Narujo University / Seijo Gakuen University / Sacred Heart Women's University / Specialized University / Chuo University / Tsuda Juku University / Teikyo University / Teikyo Heisei University / Tokyo University / Tokyo Foreign Language University / Toyo University / Metropolitan University / Nihon University / Japan Women's University / Bunka Gakuen University / Hosei University / Meikai University / Meiji Gakuin University / Yokohama National University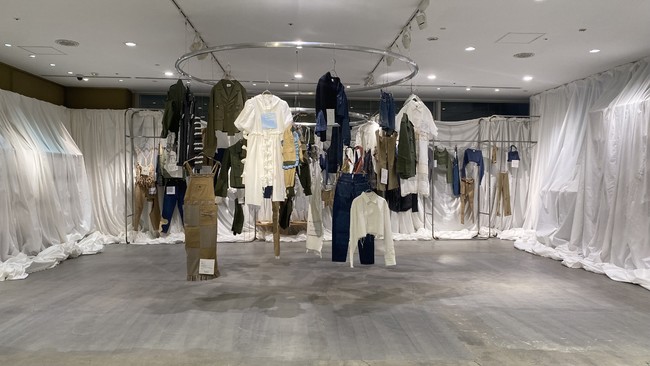 [FASHION BRAND POP UP STORE]
Held a joint pop-up of popular brands

ESSEN .LAUTREAMONT / cLa'm / hitoiki / Petit & Grande / WAWW and more

▪ cLa'm
cLa'm is a fashion brand that puts Ami Komuro's personality, which is not naturally decorated in a natural way, into all the clothes, so that the person who picks it up can be the natural person himself.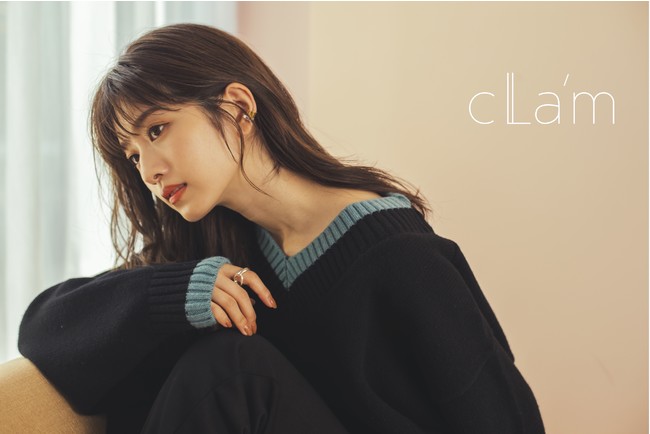 [SPECIAL COLLABORATION with The Weeknd]
"Sacrifice" from The Weeknd's latest album "Dawn FM" has been selected as the official theme song for THAT'S FASHION WEEKEND!
The first collaboration will be the Weeknd booth at the venue. Furthermore, a window display using neon tubes is available on the first floor of the venue.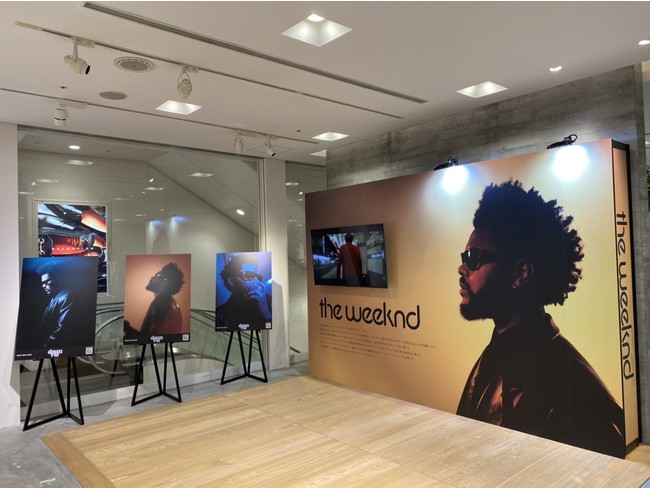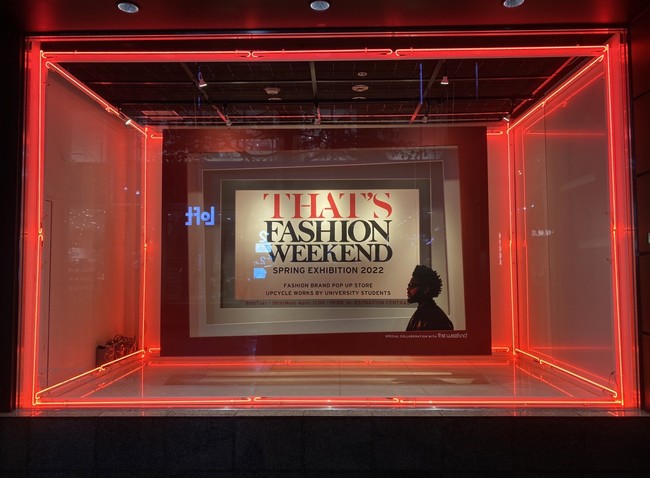 ▪ The Weeknd Profile
A singer-songwriter from Canada.
In 2010, he uploaded a demo sound source to YouTube and started his career. In 2011, when he released three free mixtapes "House of Balloons", "Thirdsday", and "Echoes of Silence", he was selected as the best album of the year by the music media "Pitchfork", and a remarkable young man. Became one of the artists. Major debut in 2012. His compilation album "Trilogy" recorded the 4th place on the US chart (The Billboard 200) for the first time, and his 1st album "Kiss Land" (2013) recorded the 2nd place for the first appearance. In 2014, he participated in Ariana Grande's single "Love Me Harder" and became famous. After that, her single "Can't Feel My Face" (2015) became her first US No. 1 single (3 weeks in a row), and the following "The Hills" also kept No. 1 for 6 weeks in a row. Her 2nd album "Beauty Behind the Madness" won the 1st place in the US and made a complete break. Released the 3rd album "Star Boy" in 2016. In 2018, he made a surprise release of the EP "My Deer Melancholia," and won first place in the United States. In December of the same year, he performed the long-awaited first performance in Japan and co-starred with Kenshi Yonezu. The 4th album "After Hours" was released in March 2020, and it became a big hit that recorded the number one in the United States for four consecutive weeks. Also, the spectacular performance at the 55th NFL Super Bowl Halftime Show held in Tampa, Florida, USA on February 7, 2021 became a hot topic.
In the US Billboard "Hot 100" dated March 13, 2021, the blockbuster single "Blinding Lights" ranked in the TOP 10 for a total of 52 weeks, and in the history of the chart that started on August 4, 1958. So, it was the first song to be ranked in the top 10 for a year, and it was the first feat in the history of the Billboard chart. Furthermore, from the album "After Hours", three singles won the first place on the US Billboard song chart "Hot 100" for three consecutive years, becoming the second artist in history to achieve this feat.
He won the International Male Solo Artis category at the 2021 Brit Awards, was nominated for a maximum of 16 categories at the Billboard Music Awards, and won 10 categories.
Then, in January 2022, he released his fifth album "Dawn FM" for the first time in about two years.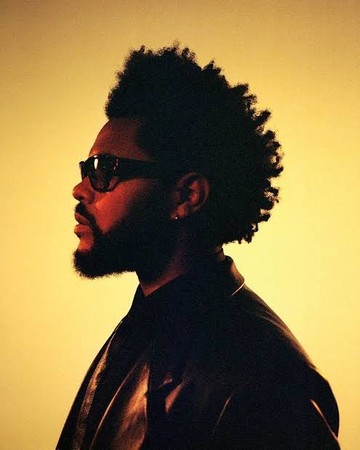 ■ Event details
Date and time: April 5th (Monday) to April 18th (Monday) 11: 00-19: 00
Venue: Estnation Central 3rd floor
Address: 2-3-6 Ginza, Chuo-ku, Tokyo Ginza Namiki-dori Building 3rd floor
Admission: Free
* Open until 17:00 on April 18th (Monday).
Official site: http://thatsfashionweekend.com/exhibition
■ Operating organization
Organizer: THAT'S FASHION WEEKEND Executive Committee
PARTNER: ESTNATION / Tokyu Plaza / Mynavi Student Counter / Sotokoto / Friendship
Secretariat: Banksy Co., Ltd.
To details of corporate press release (2022 / 04 / 07-21: 47)
Source link