Travel
Started posting Letro on the travel site "TS CUBIC TRAVEL" provided by Toyota Finance: Jiji.com
[Allied Architects Association]
Aiming to further improve the user experience by designing and expanding content for each page and continuously "operating" content
Allied Architects Association (Shibuya-ku, Tokyo, CEO: Takehide Nakamura, Product Company President: Yamasato Muraoka, Securities Code: 6081), which supports corporate marketing DX with SaaS and digital human resources, is Toyota Finance Corporation. We have started to provide our operational UGC (* 1) solution "Letro" to the travel site "TS CUBIC TRAVEL" provided by (Nagoya City, Aichi Prefecture, President: Toshiyuki Nishi, hereinafter Toyota Finance). i will let you know.
Service details page: https://service.aainc.co.jp/product/letro/
* 1 "Operational UGC" is an operational model that maximizes the customer experience and leads to sales results by continuing the cycle of UGC generation and utilization for each appeal, SKU, and deployment channel.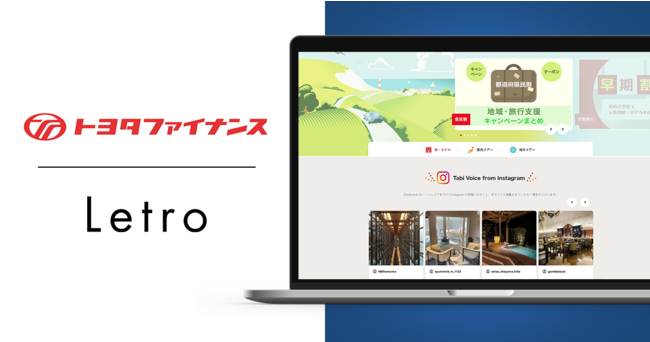 Toyota Finance, a major domestic financial company of the Toyota Group, develops businesses that utilize its strong financial base and funding capabilities, and has a network of approximately 280 companies and approximately 5,000 stores with vast Toyota dealers, and approximately 14 million people. We have a customer base such as cardholders. In September 2021, Toyota Finance's travel information site "TS CUBIC TRAVEL" was newly established. We have started disseminating information on accommodations, hotels, tours, etc. recommended by Toyota Finance.

Background of using Letro
At TS CUBIC TRAVEL, which opened in September 2021, there was an urgent need to expand the site content in order to realize a better customer experience. Therefore, we decided to use UGC on Instagram in order to convey the real voice of those who stayed at hotels and inns and to realize a better user experience. Furthermore, we expected the consulting ability of Letro to support the optimization of contents through the expansion of contents suitable for each page and data analysis, and led to the introduction of Letro.
Aiming to further improve the user experience by designing and expanding content for each page and continuously "operating" content
UGC posted on Instagram using Letro has started to be posted on the top page of TS CUBIC TRAVEL. By actually posting the real voices of those who stayed at hotels and inns through TS CUBIC TRAVEL, we were able to expand the content that can be used as a reference when choosing a hotel. In addition, by attaching a link to the posted UGC, it is designed to jump from UGC to the reservation site of the relevant facility.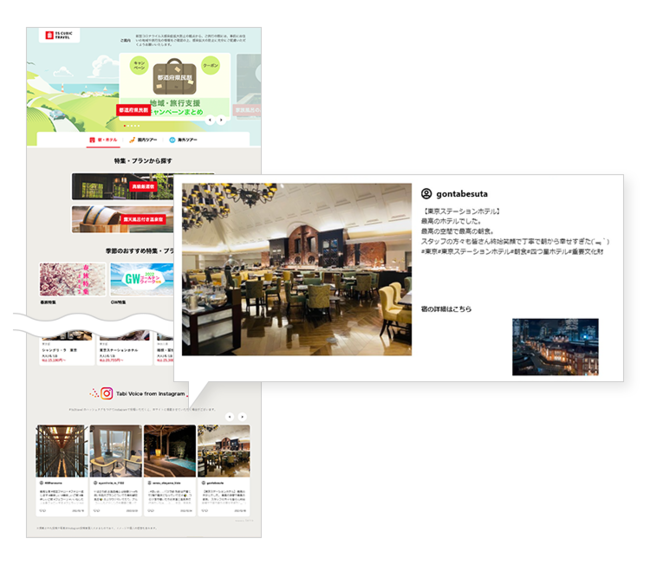 In the future, we plan to expand UGC not only to the top page but also to the entire site including the original reservation site for members. Since the user's purpose of use and design taste differ depending on the page, we will work with Letro's dedicated staff to design and expand content that is conscious of the user's mind and world view for each page. In addition, we plan to optimize the content by performing "operation" that continuously replaces the content based on the user's behavior data.
Furthermore, UGC collected by Letro is expected to be used not only for posting on the TS CUBIC TRAVEL site, but also for a wide range of marketing measures such as e-mail newsletters and advertising creatives for existing members.
"Letro" will continue to strive to develop and expand functions to realize "user-first" creative in all marketing measures, and contribute to improving the marketing results of companies.
[What is the operational UGC utilization solution "Letro"]
Letro is a UGC utilization tool that leads to improved sales results by supporting the realization of "operational UGC" in corporate direct marketing measures. Many companies, including D2C for food and cosmetics and major mail-order manufacturers, have achieved a track record of improving sales results, and have won the No. 1 (* 2) number of brands that have introduced the "UGC utilization tool" in the mail-order industry. Has a high reputation.
* 2 Survey by Shopper's Eye Co., Ltd. (January 7, 2022 to February 1, 2022) Comparison target company: UGC utilization tool service provider (only those with website posting function)


Allied Architects Group is a marketing DX support company with seven bases in Japan, Asia, Europe and the United States. Utilizing the abundant achievements and knowledge gained through the support of more than 6,000 companies since its establishment in 2005, the company's marketing DX (* 3) by utilizing SaaS and SNS developed and provided in-house, digital human resources (* 3), etc. * 4) is supported.
* 3 Refers to human resources (SNS advertising operators, SNS account operators, engineers, WEB designers, creative directors, etc.) who are mainly familiar with digital technologies and methods such as SaaS and SNS and can execute measures and services that make use of them. increase.
* 4 Digital transformation in the marketing field. We define it as "transforming business processes and methods through digital technology and digital human resources * to enhance the relationship between people and companies."
* Company names and product / service names mentioned in this press release are trademarks or registered trademarks of each company.
To details of corporate press release (2022/04 / 21-16: 17)
Source link