Sports
Sharing Economy | Sports for Social
The "sharing economy" is a new form of economy in which individuals and companies own things, places, skills, etc., that are traded through the Internet such as SNS. It is also called the "sharing economy," and various things are exchanged mainly between individuals, whether tangible or intangible.
This time, I will explain in an easy-to-understand manner the "sharing economy," which is expected to attract more attention in the future.
What is the sharing economy?
The "sharing economy" is a new form of economy in which the goods, places, skills, etc. owned by individuals, companies, and organizations are traded through the Internet such as SNS.
Until a while ago, it was common to share something directly with each other regardless of whether it was tangible or intangible, but with the spread of the Internet, sharing on the Internet is increasing. I did.
In the "sharing economy," tangible and intangible things, places, skills, etc. can be shared on the Internet, and because it is a business that can be established by sharing things."Sharing economy"Also called.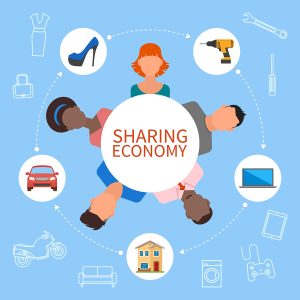 Five areas of the sharing economy
There are several areas in the "sharing economy". The following five areas are defined by the "General Incorporated Association Sharing Economy Association".
Goods
ex) Flea market (Flea market), rental, etc.

Space
ex) Parking lot, share house, conference room, etc.

Skill
ex) Knowledge of each field, housework, childcare, long-term care, etc.

Mobility
ex) Car share, ride share, share cycle, etc.

Money
ex) Crowdfunding, etc.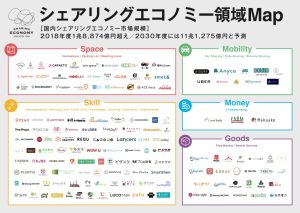 Source: General Incorporated Association Sharing Economy Association "The latest sharing economy area map has been released! (March 2020)"
I told you earliermono・Space (place)・skillapart fromMove・moneyThere is a sharing economy formed in these five areas.
If you look at the names of services, you probably know a lot of them.
Sharing economy case
Here, we will explain the "car sharing", which has been attracting attention in recent years, as an example of what is actually being done in the sharing economy.
One of the industries that is likely to be most affected by the spread of the sharing economy is the "automobile industry."The automobile industry, which has supported Japan's period of high economic growth and has maintained the top share of Japanese industry for many years, is about to undergo a major transformation through the sharing economy.
As a representative sharing economy in the automobile industry"Car sharing"When"Ride sharing "There are two.
Car sharing
First of all, "car sharing"It is a service to share a car between registered members.Since you can rent a car cheaper than a rental car for a short time, you can easily use it for a little errand or a change of pace.
In addition, the fact that it can be used cheaply has become widespread among young people, and the use of car sharing is increasing, especially among them.
Flow of using car sharing
Register as a member in advance (to a company that manages and provides automobiles)
Make a reservation
Go to the designated station and unlock with your smartphone or membership card
drive
Refuel and wash the car as needed
Return to the original station
Payment of charges
Ride sharing
"Ride sharing" isIt means carpooling.Ride sharing is a more detailed version of "hitchhiking." Take advantage of the vacant seats in the car and ride one car with others. By doing this, there is an advantage that transportation costs can be saved, such as sharing the cost of gasoline among the people who share the carpool. Ride sharing is used by many in Europe and the United States as a cheap and affordable means of transportation.
As with car sharing, you start by registering with a company that offers a "ride sharing" service. There are two types of registration, one is for the driver to register and the other is for the user. The service provider company acts as an intermediary and is shared between the driver and the user.
Sharing economy market size
Now that we've talked about the "sharing economy," let's take a quick look at its real market.
In the "Fact-finding Survey on the Sharing Economy (March 27, 2020)" released by the Ministry of Economy, Trade and Industry in 2020,The annual transaction value of the "Sharing Economy" as of 2018 is 1,5222.6 billion yen to 1,600.8 billion yen.It has become.
And for comparison, in the "Sharing Economy Related Survey 2020 Survey Results" released by the "Sharing Economy Association" in 2020 of the same year,The economic scale of the domestic sharing economy in 2030 is expected to rise to 14,152.6 billion yen.Has been done.
From now on, the economic scale of more than 10 trillion yen is expected from now to 2030, so you can see that growth is expected.
Advantages and disadvantages of the sharing economy
You can see that there are many benefits to using the "sharing economy". On the other hand, there are also disadvantages. Here, we will tell you about the advantages and disadvantages of using the "sharing economy".
merit
There are two main merits.

Low cost, available when you need it
The "sharing economy" service (sharing service) basically does not require an intermediary fee. You can use the sharing service only when you need it.

Easy to settle
Most of the payment methods for "sharing services" are cashless, such as credit cards, if they are via platforms. Therefore, if you have a credit card, you can easily use the "sharing economy" online.
Demerit
The disadvantages can be broadly divided into two.

The system is not in place
As it is a new form of service, the system is not yet in place at present. Although legal development is gradually being promoted, at present, there are businesses and services that are judged to be in the gray zone, so it is an issue to create a solid system including insurance and compensation system. I am.
Risk of getting into trouble on the net
Problems such as SNS that have become a problem with the spread of the Internet. It seems that the form of trouble prevention is still in the process of being formed in Japanese society. Since there are many transactions between individuals in the "sharing economy," problems are currently being prevented by incorporating a mutual evaluation system between users and providers.
The future of the sharing economy
The "sharing economy" is expected to continue to attract more attention, and people are thinking about it.From the idea of ​​"having things" to "sharing things"It is changing to such an idea.
While we are expecting what kind of effect the "sharing economy" will have on the Japanese economy, it is a fact that many issues remain. We will solve those problems one by one,AhnCreating a safe and convenient "sharing economy"Is important.
Source link