Fashion
Large size and summer mood Adult border, Basque shirt | NIKKEI STYLE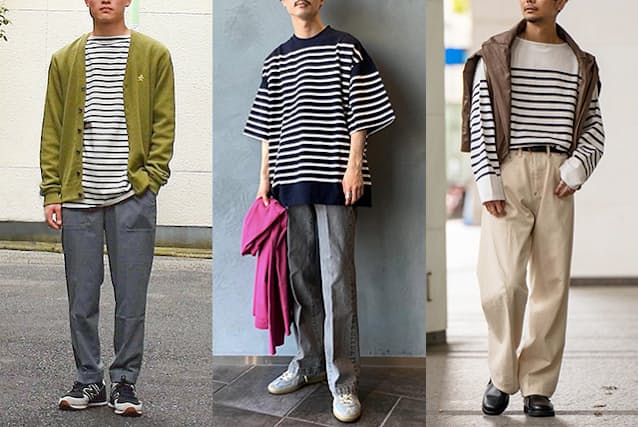 Border T-shirts that show various expressions depending on the thickness and size of the stripes
"FACY MEN" is a web media that collects information on apparel shops nationwide. The provider's fashion venture, Styler (Shibuya, Tokyo) analyzes the browsing information of more than 1 million users a month and interprets the next trend.
Analyzing the number of articles viewed by FACY MEN, the most articles on "shirts / T-shirts" were read after "shoes", and the interest in T-shirts was particularly high.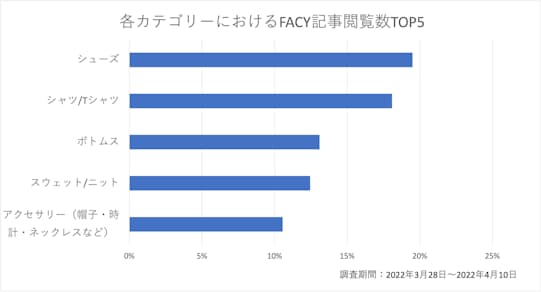 An analysis of articles in the "shirt / T-shirt" category revealed words such as "oversize," "white," and "standard." It seems that many users want to wear a basic cut-and-sew with a relaxed size.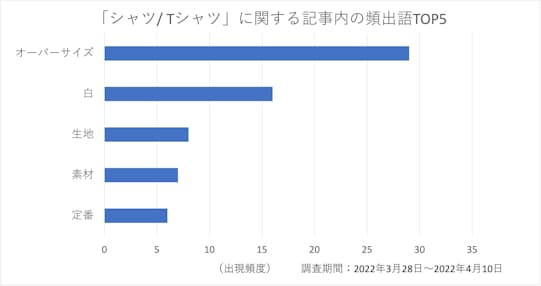 A striped Basque shirt is a classic cut-and-sew that will make you feel like early summer. Basque shirts, which have their roots in the work clothes of fishermen in the Basque Country, which straddles France and Spain, are loved by all ages and genders. So, if an adult buys a border shirt now, what should he choose based on, such as size and pattern? I asked each store registered in FACY.
Synonymous with tough Basque shirts For layered accents
"The striped Basque shirt is a perfect item when you say,'I'm not satisfied with the plain.' I have the same shape for both the plain and the border, and I use them properly depending on the coordination."
That's what Rintaro Shiraki of "SEPTIS" in Sangenjaya, Setagaya-ku, Tokyo says. He recommended wearing SAINT JAMES, the brand that comes to mind first when he hears it as a Basque shirt.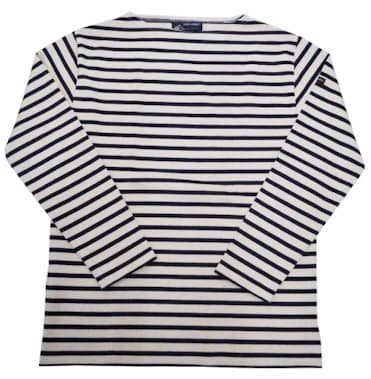 Saint James was founded in 1889 in the Normandy region of France. The Basque shirt "OUESSANT", which is still produced in France, is a signboard item that represents the brand. Practical details such as a boat neck that is easy to put on and take off and thick fabric with clogged eyes. SAINT JAMES / OUESSANT 11,664 yen
"I tend to look at the borders, but the most distinctive feature is the toughness of the fabric. The general image of cut-and-sew is that it is a consumable item, but the appeal of Wesson is that the taste comes out as you wear it. In the sense that it is a cut-and-sew that can be used habitually for many years, it is the first item that has been loved in our shop for a long time. "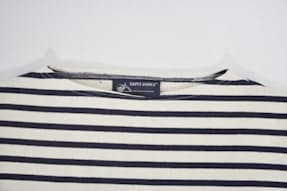 The collar of the boat neck that opens sideways for easy attachment and detachment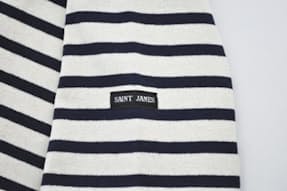 The name tag on the left sleeve is also a little accent
Mr. Shiraki says that because it is a basic item, if you want to get it this year, please change the size selection.
"It is recommended to increase the size from what you usually wear. I think that you will feel that you understand the current trend if you wear it with a little space. Wesson is also characterized by its nine-quarter sleeve length, but washing Considering the amount of shrinkage later, I think it's a good idea to choose a sleeve length that will make you have long sleeves when you try it on. "