Lifestyle
A new generation of surfers who are attracting attention in California now, "Surfing Ichidaiki" vol.39 Passion for the sea that I got because I am from the inland! Andrew Mack Lady | Lifestyle | Safari Online
2022.05.19 NEW
Passion for the sea that I got because I am from the inland!Andrew Mack
While playing an active part as a rider of LA's attention surfboard brand, Andrew who is sought after as a silk screen artist. He is a soul surfer who lives honestly and flexibly with his own interests according to his environment and times. Born in California, growing up in a remote area of ​​the ocean, his childhood experience of a longing for surfing seems to have led to his current passion.
---
This month's surfer


Andrew Mack


[ANDREW MACCREADY]



---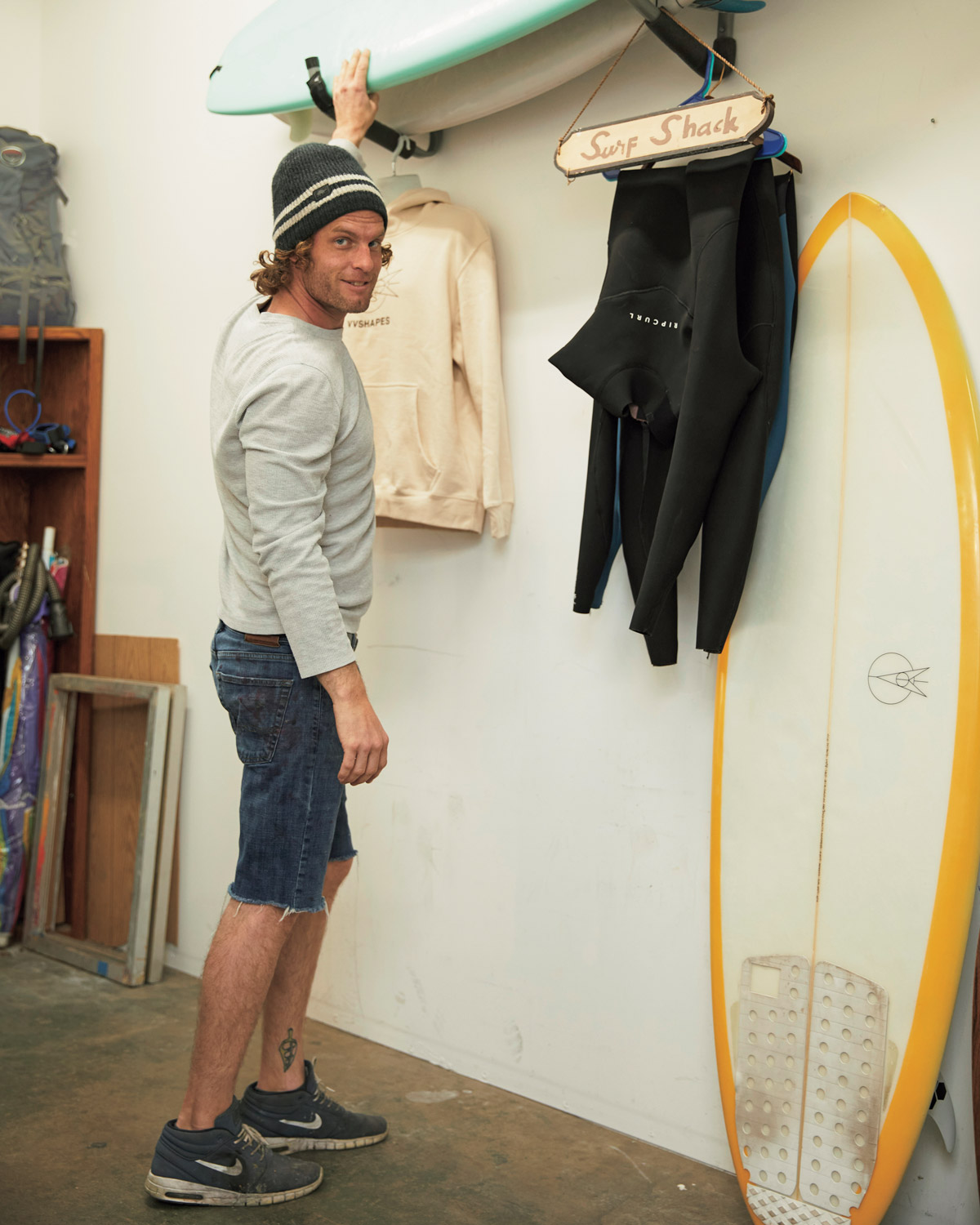 Youth when you want to get closer to the sea
Andrew, who is introduced this time, grew up in the suburbs of Central California. Surrounded by wild nature, his parents' house was an hour's drive to the sea, which was not a suitable location for surfing. Nevertheless, his parents, who love the outdoors, often took their children to beach camps.
"I enjoy camping by the sea in Northern California every year. I can't forget the memories of that time, and I think my longing for the sea became stronger."
The time spent in the sea is an irreplaceable memory for him. Even with his eyes closed, the sun reflected on the waves began to float, and he was only enthusiastic about the beach. When he was given a skateboard for Christmas in first grade, he imagined the road on the waves and hone his skills. One year, he experiences his long-cherished first surf while staying at his grandfather's house in Santa Cruz.
"I didn't have a guide, but I finally went offshore with an awkward paddle. I happened to be able to ride it after trying several times."
Even though I just got on the soup after the break, when I slid the surface of the wave smoothly, I heard that I felt a mysterious uplifting feeling. The feeling of exhilaration made him a captive of surfing. As soon as he entered high school, Andrew got a lifeguard part-time job and bought a pickup truck. He went to the beach for an hour. Let him go further on weekends to Santa Cruz and enjoy surfing in earnest. After a while, the number of friends chasing the waves increased. I heard that he had been in the sea for 6 hours without a break.
Although I was in high school when I lived such a life and improved my skills, the university I went to was in a place that took four hours from the sea. Having been unable to surf for a while, he decided to concentrate on snowboarding in the nearby snowy mountains. This was also his strategy to remember the feeling of surfing that will resume someday.
In retrospect, even before I started surfing in earnest, I started swimming, perusing surf magazines, and preparing to surf as much as I could away from the ocean. Because she continued such a life, she has more joy in entering the sea. When I entered the sea, it became one with the waves, just like a fish that got water.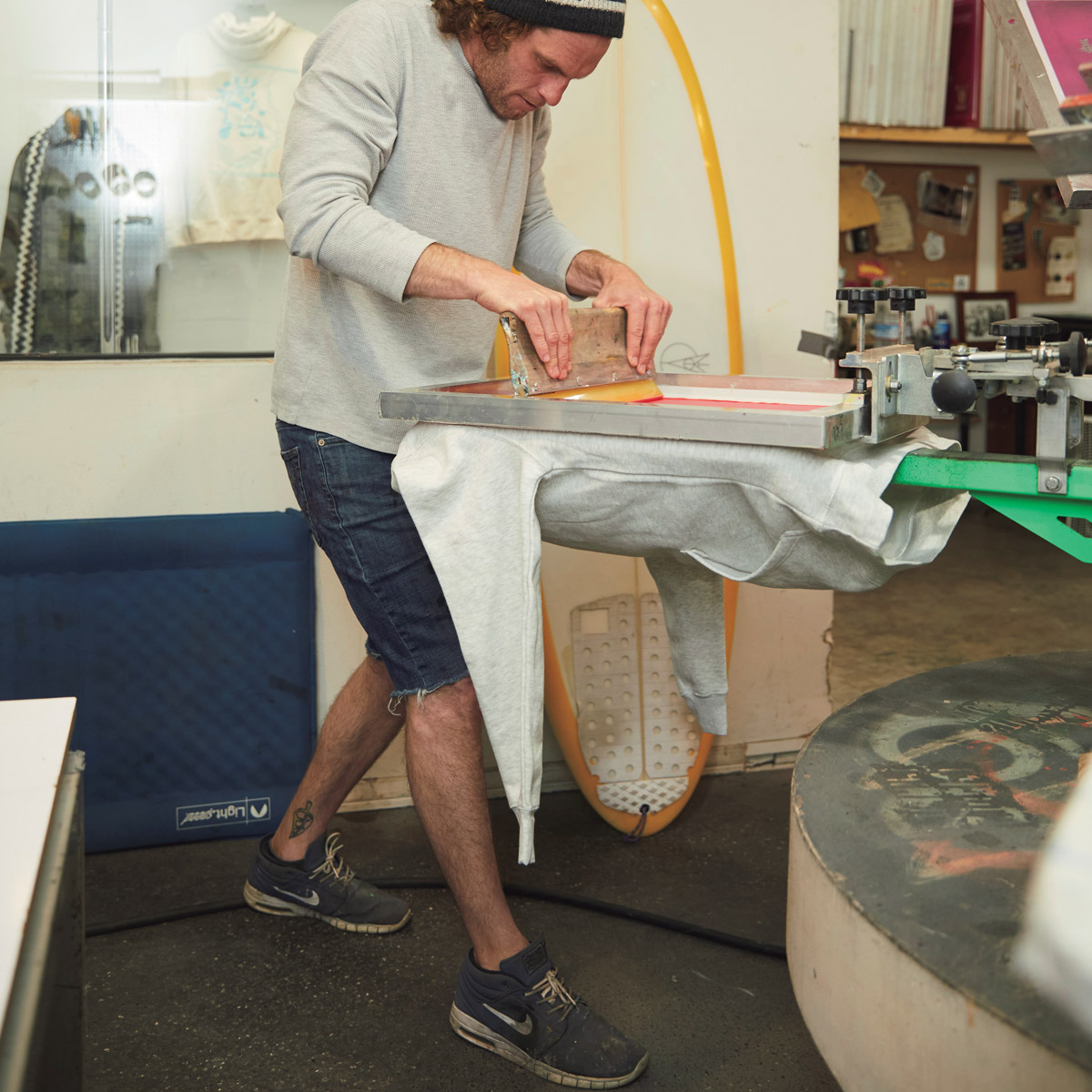 Printing with ink on silk screen. The trick is to apply pressure on average to smooth out the ink.Carefully selected special sneakers as it also puts a lot of effort on your feet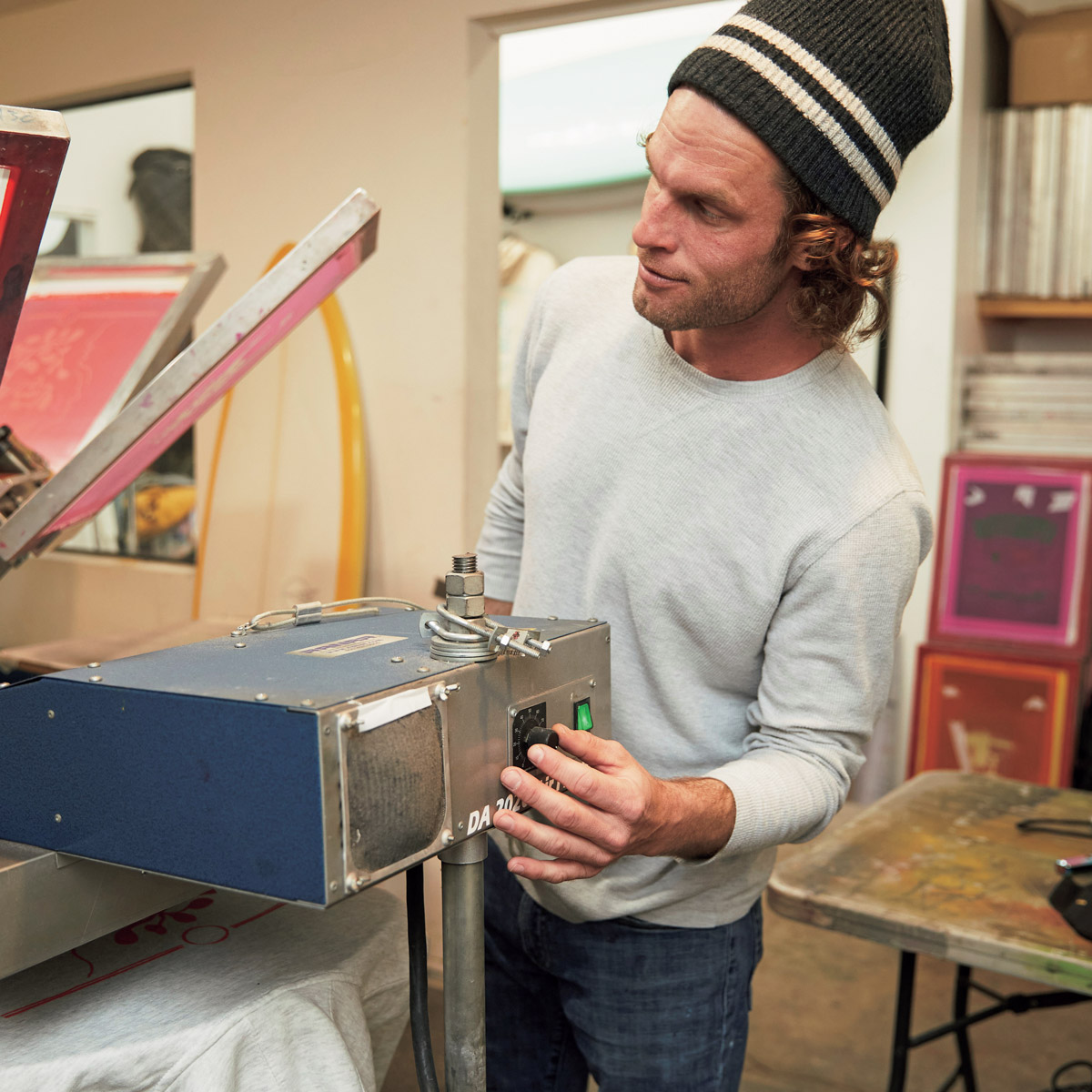 Fine-tune the ink temperature.Experience matters
Silkscreen and beach life
After graduating from college, Andrew returns to his hometown and concentrates on skateboarding. Of course, this was also a plan to resume surfing someday. Replacing concrete with waves and sliding in the imagination was no longer the norm for him.
Meanwhile, my brother was enjoying skateboarding together. Eventually, the two began to want to do something creative on their own and decided to set up a skate brand with their brothers. So I decided to print my own T-shirt for sale and bought a silkscreen machine for the first time. To challenge the print. Perhaps he was talented, it didn't take long for Andrew to get used to working with machines.
Be addicted to the charm of design and actively learn graphics. Taking advantage of that experience, he established his own company to pursue a business specializing in silk screen printing. Moved to LA in 2013. Yes, Andrew experiences beach life for the first time here.
It took time and energy to get the business on track, but surfing for a break is a reward for yourself. The more good the waves, the more vitality he has for his work. As Andrew rides the wave of life and work, many brands request prints such as T-shirts, hoodies, and bandanas.
The Mexican mezcal (distilled liquor consisting of more than 50 types of agave) brand has also started. The surfing companion who heard the rumor introduced Max, the owner of LA surfboard brand , to take on the print of brand T.
Even better, Andrew was also hired as a rider for this board brand. As a rider of a notable brand that is praised by legends, Skip Frye, etc., Andrew has become a presence that many surfers can call out at the sea. As socialization at sea deepens, more surfers request silk screen printing. Furthermore, word-of-mouth popularity has spread.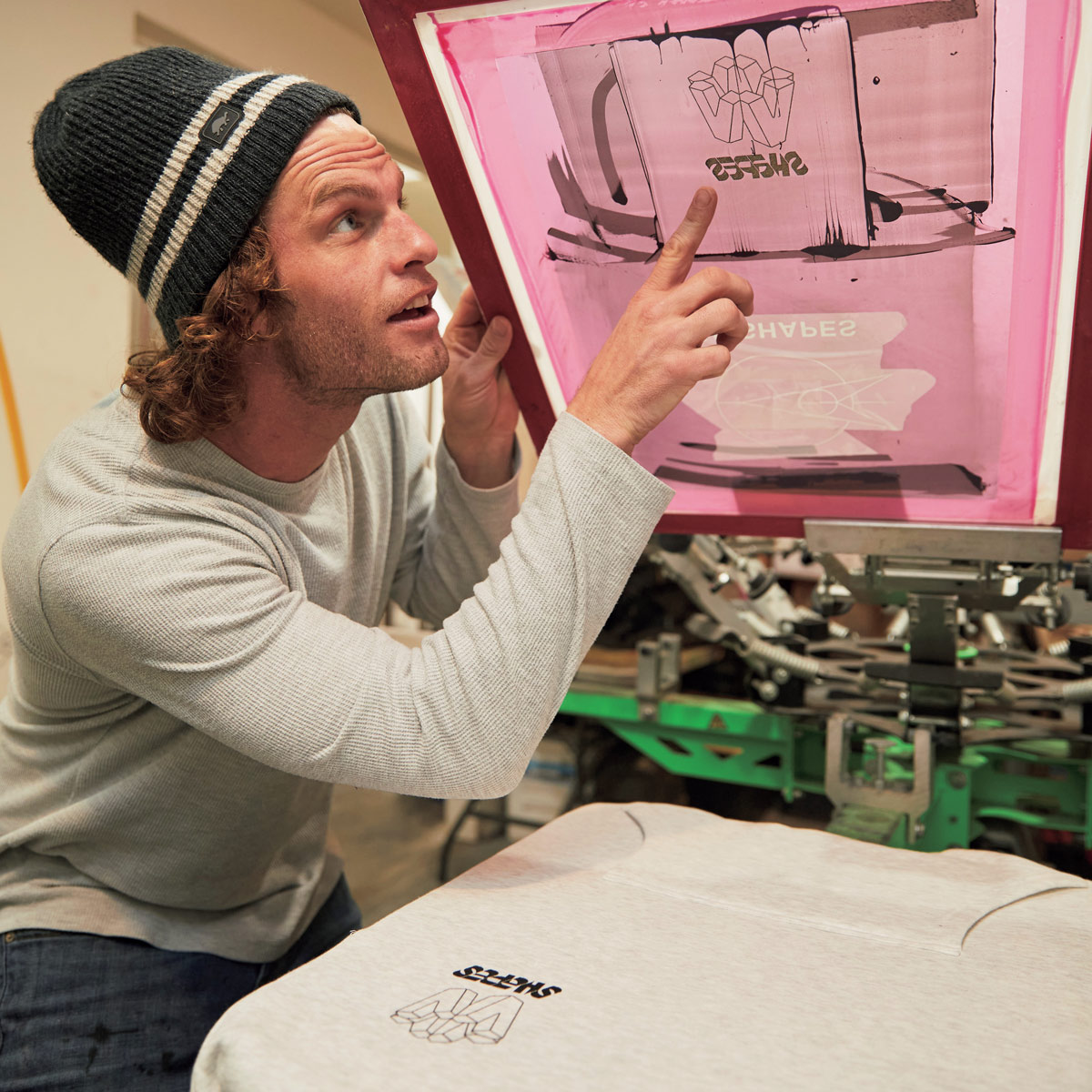 The design of , in which he acts as a rider.It seems that simple design is important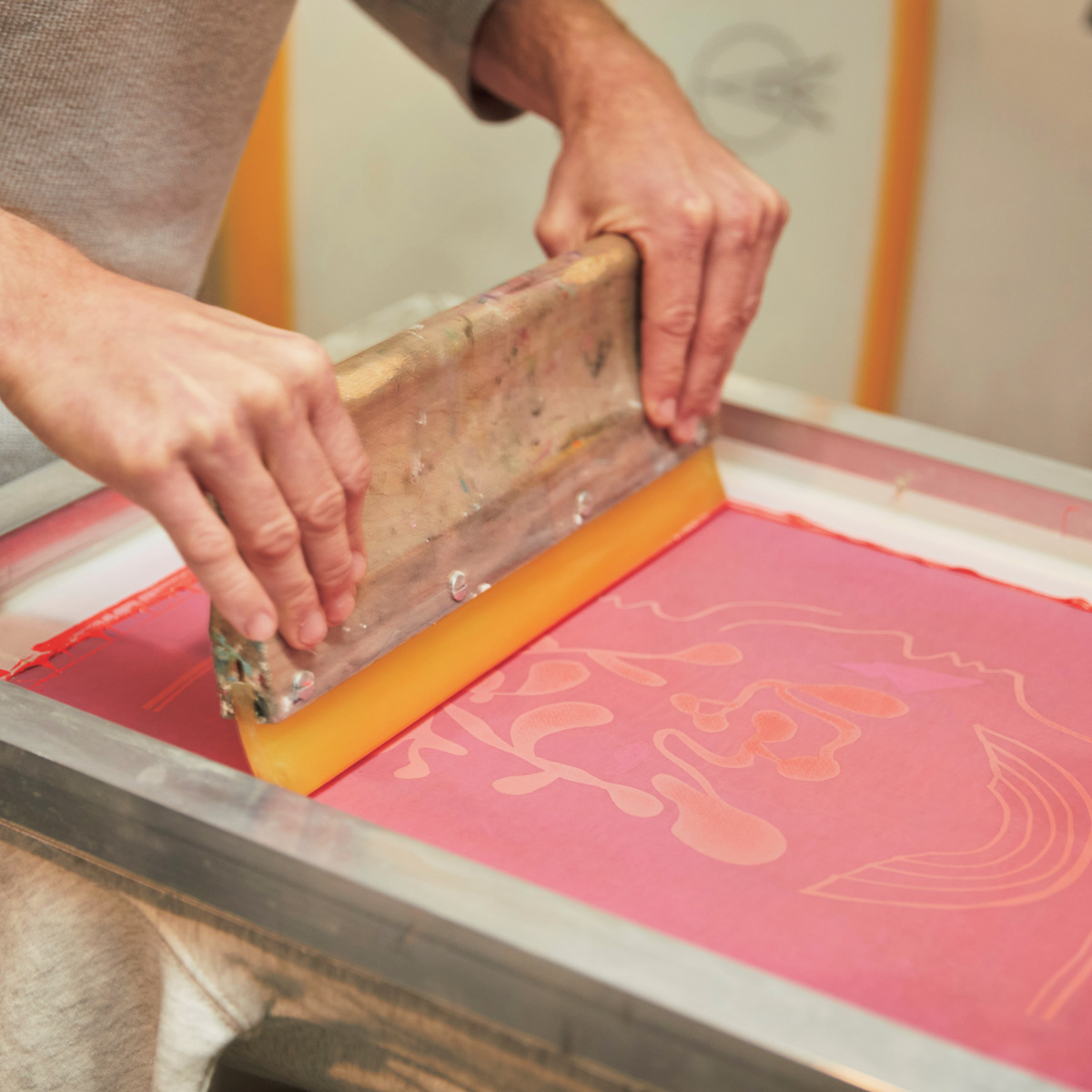 The moment when the ink is leveled is the most concentrated.The rubber spatula is checked every time for damage.
Devise your own way of life
The office of Andrew's print company in downtown is close to the Arts District, making it a hip spot where many fashion people come and go. With print orders rushing in and the business doing well, the influence of Corona led to an unexpected stagnation period.
At that time, he gracefully let go of the apartment he had rented and started a van life. He changed from the large van he originally owned to a small Ford van with a small turn, and did DIY with his own hands. The rear seats have been converted into a comfortable living / bedroom and kitchenette. To share the story, he set up a YouTube channel "" DUDE DOES WORLD "and started uploading videos.
Besides that, when I went to Mexico for a surf trip by van, I energetically posted videos such as relaying the scenery and sharing the contents of my silk screen print. Then, the response began to appear gradually, and now he has grown to the point where he can ask for advice from beginners as a master of van life.
Andrew seems to be flexibly enjoying life and growth according to the times and his own situation. Behind the scenes, the wit and positivity that I learned while training for surfing on skateboards and snowboards in an era when I couldn't go to the sea must have influenced me. Next, he is planning to repair a used sailboat by himself and switch to a boat life. His adventure is likely to continue.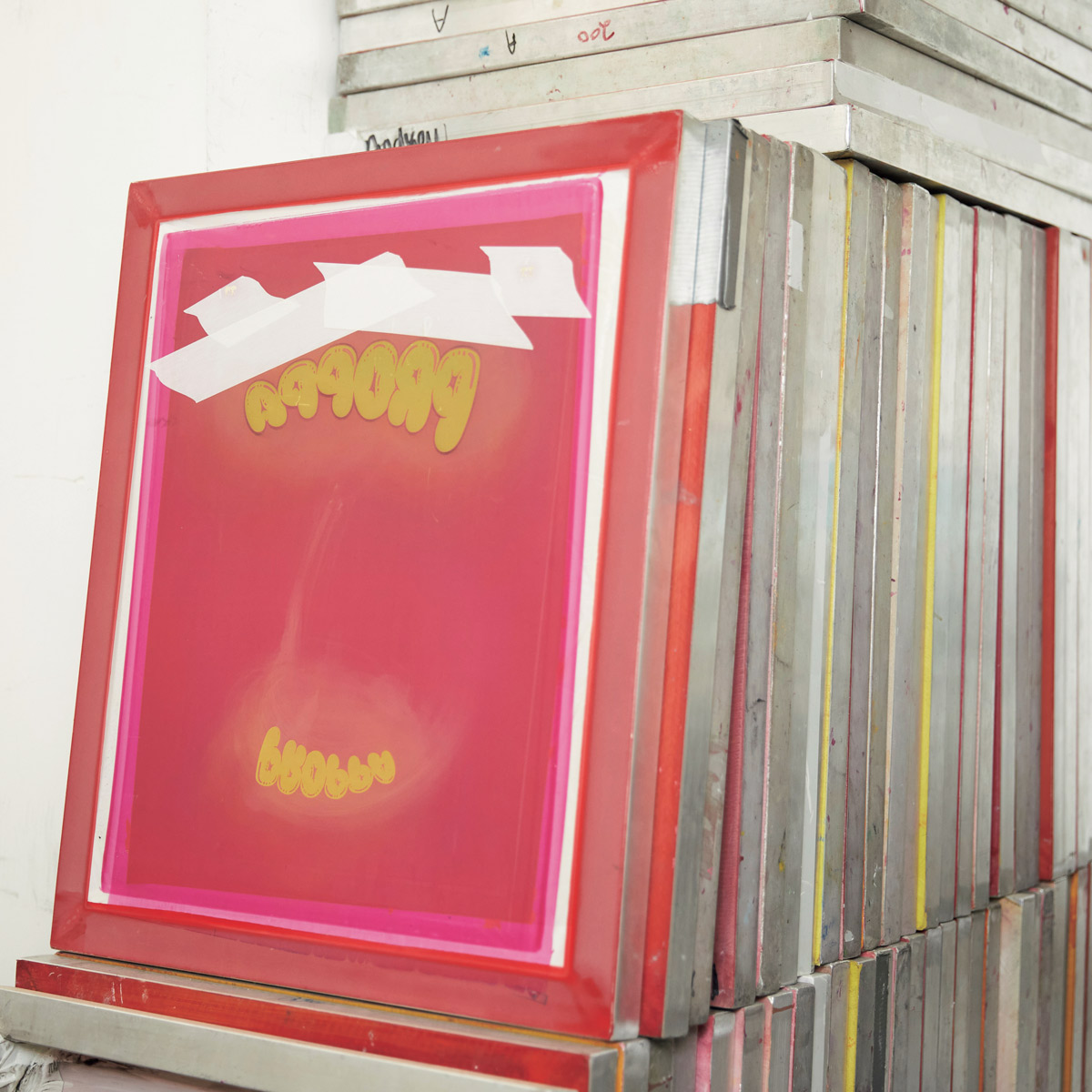 Save all screen images used for printing!Also useful when consulting with clients as a sample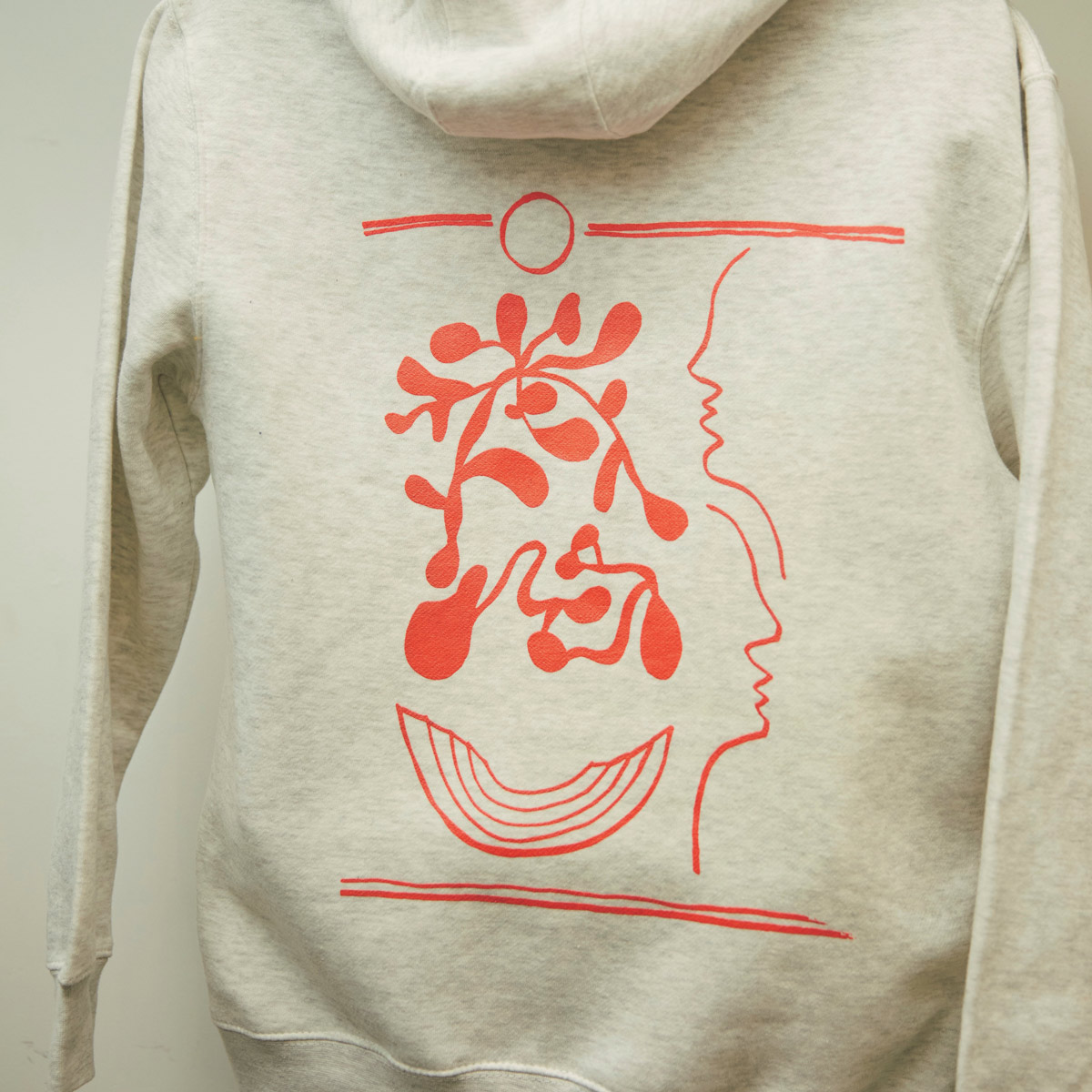 Print completed! This is also for .Do not miss the double check whether it is the same as the original picture drawn by the artist
● The home point is here!
SAN ONOFRE[SAN ONOFRE]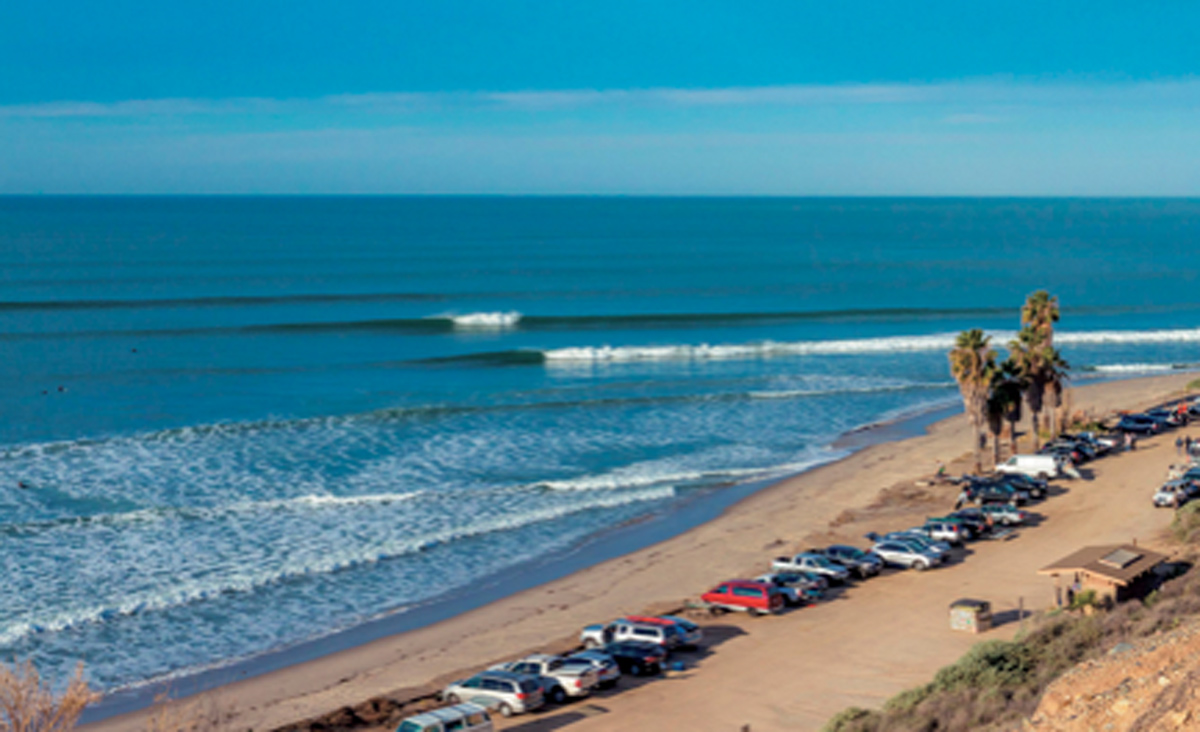 Located in northern San Diego, on the border with Orange County. It is said to be a sacred place for loggers (longboard enthusiasts) because you can enjoy long rides on the reef break. There are many legends who visit with vintage cars, and the waves are stable all year round.
Click here for recommended articles about California (West Coast)!
◆ Chris Peppler selects songs!Songs you want to listen to at Sunset Beach
◆ California's "Car"
◆ West Coast Living & Interior!
◆ Celebrities and West Coast Car Life
◆ West Coast Happy Room!
◆ West Coast & Celebrity Time Travel!
◆ Because it is a local shop that everyone in the know knows, stick to your own! Immerse yourself in a travel mood with a souvenir T on the west coast!
Photo: Yoshimasa Miyazaki photo: Yoshimasa Miyazaki (Seven Bros. Pictures) text: Momo Takahashi (Volition & Hope)
Follow Us
Get the latest information on Safari Online.
Source link