Sports
Japan Sports Agency Web PR Magazine|Regional Version SOIP Demo Day Award Winning Part 2 ~ "Renofa Yamaguchi x CarePro" Supporting an Environment Where Anyone Can Enjoy Watching Games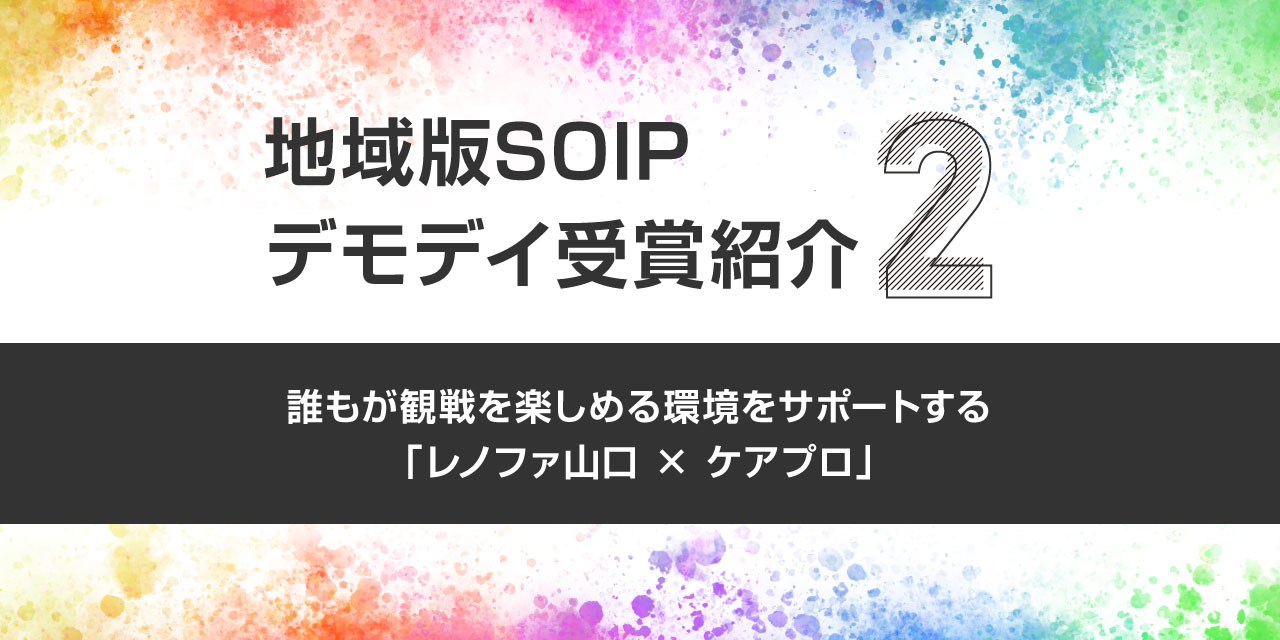 The Japan Sports Agency is promoting the "regional version of SOIP," which aims to build a regional sports open innovation platform, commonly known as SOIP, in order to realize regional revitalization centered on sports. We support the creation of new businesses through collaboration between local sports teams and organizations and other industries. Last year, we recruited partner companies to create a new future for the sports industry together with sports teams and organizations based in the four regions of Hokkaido, Kansai, Chugoku, and Okinawa. A total of 11 companies and 12 projects (PJT) were selected, and business ideas were refined through the acceleration program "INNOVATION LEAGUE SPORTS BUSINESS BUILD".
In February 2022, a regional version of SOIP results presentation (demo day) will be held. At the pitch (presentation) held at the demo day, the professional soccer club "Renofa Yamaguchi", whose hometown is all 19 municipalities in Yamaguchi Prefecture, which won the special judges' prize from among the 12 PJTs, and projects related to preventive medicine and nursing. We will introduce the efforts by "Carepro Co., Ltd.", which is developing.
At a stadium where everyone gathers
This project is a joint project between Renofa Yamaguchi and Carepro Co., Ltd. to encourage a wide range of people, including the disabled and the elderly, to visit the stadium with the catchphrase, "A stadium where everyone gathers." Renofa Yamaguchi has the highest percentage of spectators who visit the stadium with their families (67.1%), while the percentage of spectators over the age of 60 is below the J League average (13.4%)
. It seems that there are more than a few seniors who feel hurdles in carrying a mobile phone.
* J-League "Stadium Spectator Survey 2019" Summary Report Survey (https://www.jleague.jp/docs/aboutj/funsurvey-2019.pdf)
In Yamaguchi Prefecture, which ranks 3rd in the national aging rate ranking, the population aged 65 and over is about 466,000, accounting for 34.3% of the total, and the proportion of people aged 75 and over is 18.1%. In the future, the aging rate will increase not only in Yamaguchi Prefecture but also nationwide. Launched PJT.
There is a service that everyone wants
Renofa Yamaguchi has partnered with Carepro Co., Ltd., which provides healthcare services. Together with the company, which provides support for people with disabilities and the elderly when they go out, relief at event venues, and support for people with disabilities in transportation, we will consider what kind of assistance and support can be provided to people with disabilities and the elderly in the stadium. When we identified the problems with watching stadium games, we found that there were many common problems seen in the nursing business, such as the many stairs, the spectator seats being hard and difficult to sit in, the feet being slippery on rainy days, and the food and merchandise stores being far away. I was given an assignment. At PJT, we decided to assign staff to help people in need of support in the stadium so that they could enjoy watching the game.
Demonstration experiments will be held in February and March. In the demonstration experiment in February, we recruited elderly people and helped them with assistance in going up and down stairs, rental of legless chairs, and shopping for food and drinks. Those who have actually used the service have said that they were satisfied with the content of the service.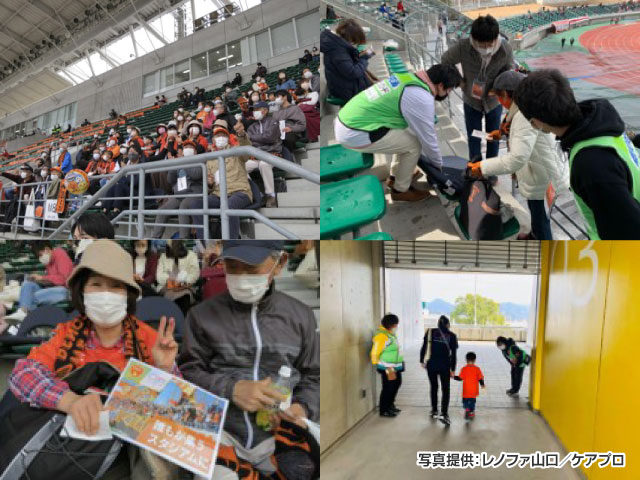 State of the demonstration experiment: image
State of the demonstration experiment
We interviewed Mr. Yuki Shibata, director of Renofa Yamaguchi FC's business management department, about the demonstration experiment.
"At first, we thought that the target audience would be the 'elderly', but as we conducted the demonstration experiment, we realized that there were people other than the disabled and the elderly who needed support at the stadium. Children. Families with children may have to use a stroller, or have trouble going to the bathroom without taking their eyes off their young children. I think it's important that we realized through the experiment that there are people who feel that watching stadium games is a high hurdle."
In the demonstration experiment in March, the target range was expanded to include not only elderly people but also parents with children and pregnant women, and more people participated in the experiment than in February.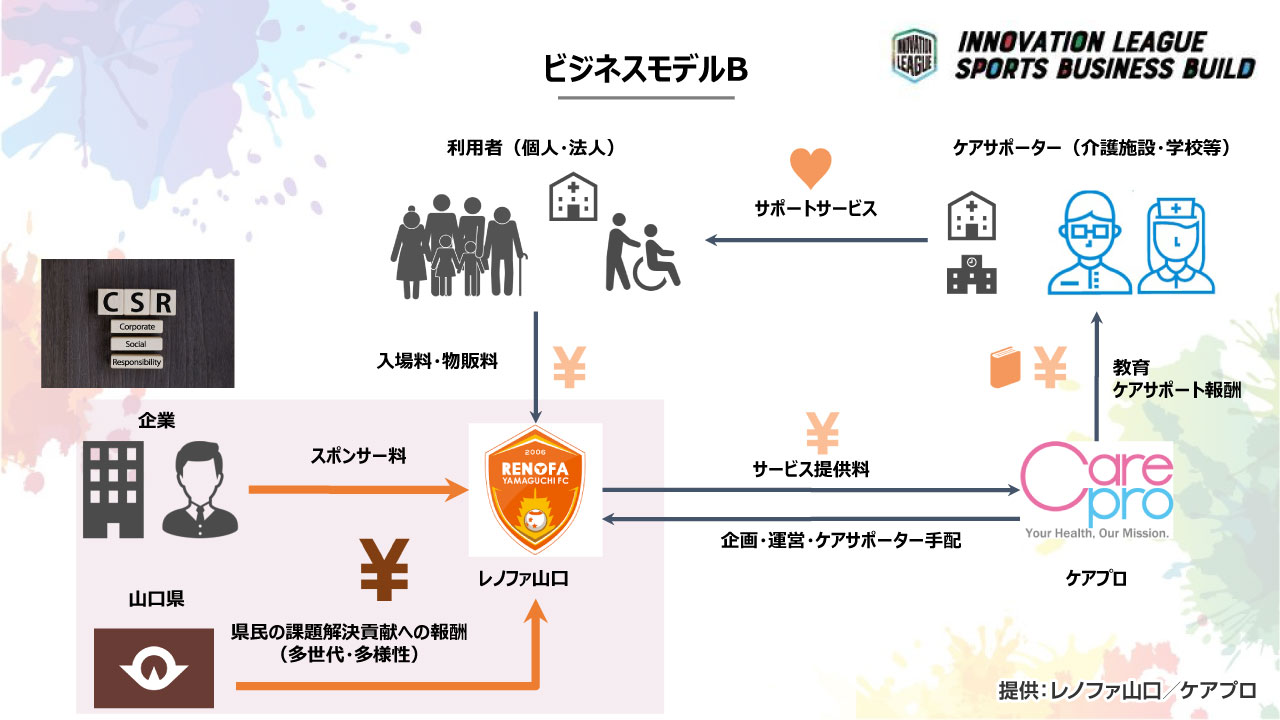 Co-creation business model diagram: image
Co-creation business model diagram
A new business idea that was different from what was expected was born
We also asked Carepro Co., Ltd., our co-creation partner, about this initiative.

"At the BUSINESS BUILD held in November 2021, we were greatly inspired by the opinions from Renofa Yamaguchi, our operating partners, and mentors from a perspective that we do not have. , I was excited to come up with a new business idea that was completely different from what I had originally envisioned.
During the limited demonstration period of about four months, we actually provided the service twice at the stadium. Thanks to the support of the people involved in the regional version of SOIP, we were able to deliver 'A stadium where everyone gathers' to our supporters with a sense of speed."

"In the demonstration experiment conducted in March 2022, 138 people applied for the 40 recruitment slots. Thank you for your kindness." On the other hand, I felt the need to spare no effort and risk from the perspective of "what should I do to get people to come to the venue?" The demonstration experiment will start at the end of March. has ended and the work has come to an end, but I still have regular discussions with Mr. Renofa Yamaguchi.
We are looking for partners to create a world in which everyone can enjoy sports by spreading the idea of ​​'a stadium where everyone gathers', which started with Renofa Yamaguchi, to the entire J-League and other sporting events."
I want to involve local people and continue regularly
Finally, we asked Ms. Shibata of Renofa Yamaguchi about her future outlook and impressions of the regional version of SOIP.
"It was great that we were able to come up with ideas that were different from ours through co-creation with other industries. There were also interesting examples of other teams participating in the regional version of SOIP. It was just us and Carepro, but in the future, if more people from the community are involved, such as sponsors, and if we hold regular events, the situation may change again."
summary
I think that the case of "Renofa Yamaguchi x CarePro" is not only a problem for Yamaguchi Prefecture, but also a problem for Japan as a whole, where the population is aging. Stadiums are becoming more barrier-free as hardware, but I believe that the enjoyment of watching sports will expand even further through "barrier-free minds," in which people support other people, as in this example.

Related article
Sports Agency Web Magazine Deportale "New Possibilities for Regional SOIP Sports Industry"
●This article refers to the following materials

Japan Sports Agency – Regarding the results of the selection of business partners for the 2021 Sports Industry Growth Promotion Project "Sports Open Innovation Promotion Project (Creation of Advanced Cases of Regional SOIP)" (2022-05-01

browsing)