Entertainment
PS5 / PS4 "Senken Kiden -Defense-", characters appearing in the game will be released

Game Source Entertainment is a title for PlayStation 5 / PlayStaion 4 being developed by Softstar Technology of China today (May 27, 2022)."Chinese Paladin -Protection-"New information has been released.
Set in a world centered on three races, "people," "gods," and "demons," the main characterYue Chin-shuThis work that unfolds an adventure."Love"When"chivalry"With the theme of, the story and the battle are seamlessly connected, and you can enjoy the real-time battle from the third person perspective."Unreal Engine 4"High-level graphics using the will also be a big attraction. For details on the world view, please check the article posted on May 23.
This time, the characters that appear in the game have been revealed.In addition to Kiyoshi Tsuki, she becomes her "symbiote."Shugo (Shu Wu), Adventure togetherBai Muochin, ,Kuwayu (San Yo).. Furthermore, it is unclear what role it will play in the story,KuiyuWhenChongroYou can also see the appearance of. For details of each, refer to the release statement below.
Related article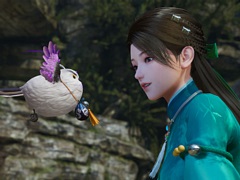 Game Source Entertainment is an action RPG for PS5 / PS4 with the theme of "Love and Wuxia" today."Chinese Paladin -Protection-"Japanese package version,August 4, 2022Announced that it will be released in.In line with this, of this workInformation on stories and world viewsIs open to the public.

[2022/05/23 13:21]

The characters appearing in the action RPG "Senken Kiden -Defense-" based on "Love" and "Wuxia" to be released on August 4, 2022 have been released!

Game Source Entertainment (Hong Kong, hereafter GSE) will release the Japanese package version of the action RPG "Senken Kitoden -Defense-" developed by Softstar Technology (Beijing) on ​​PlayStation 4 and PlayStation 5 on August 4, 2022. Will be released in. This time, we will introduce the characters that appear in this work.

Chinese Paladin -Defense- Main character
■ Yue Chin-shu

Moon Kiyoshi

Age: 18 years old
Height: 167 cm
Personality: Serious, meticulous and solid
Hobbies: Cooking, keeping a diary
Weapon: Light sword

A descendant of Tsukisairo, the grandfather of the Ming dynasty gate, he was raised by his grandfather, the palm gate of the Ming dynasty gate, from an early age. After the fall of his sect, he often descends mountains to exterminate youkai and maintain peace.

■ Shugo (Shu Wu)

Shugo

Age (estimated): 20 years old
Height: 186 cm
Personality: Cold, quiet and faithful to the job
Hobbies: Drinking alcohol
Weapon: Heavy sword

A sword guard of the Harushige sword with the fruit of a sacred tree. He is a mysterious swordfighter with great power and loyalty, and although he is reticent, he is a strong backer of the team. He was ordered to capture Kayo, but was injured by the Demon Respect Tower at the Flame Wave Fountain and descended into the human world.

■ Bai Muochin

Shiro Maharu

Age: 17 years old
Height: 158 cm
Personality: A well-loved and naive character
Hobbies: Reading, ore appraisal
Weapon: Spiritual sign

He is outstanding among the young disciples of the Senka school, and is extremely excellent in the fields of formation and five spirits, and is loved by everyone. They treat people very politely, but they become insensitive when faced with emotions.

■ San Yo

Kuwayu

Age: 18 years old
Height: 182 cm
Personality: Wise and mischievous.Outward and cheerful
Hobbies: Poison formulation
Weapon: Crossbow

Born in a remote Miao village, he has a quick mind. He is usually joking and playful, but in the event of an emergency he becomes serious like a different person.

Other characters
■ Kuiyu

Kaiyo

Age (estimated): 35 years old
Height: 175 cm
Personality: Thoughtful
Weapon: Board Mizuchi God Cloud Spear

Once active as a lord of the god world, he is known as the goddess of war who made a tremendous achievement in the Three Tribe Wars using the board god cloud spear. However, dissatisfied with the law of her deity, she betrayed her deity and became a witch, entering the demon world with her faithful followers, and she became known as the "Ten Witch." They lived in the Tenmagu Shrine on a huge fire rock, which looked like a cluster amaryllis on the top of a volcano, and formed the Tenma Kingdom, one of the Eight Legions of the Makai.

■ Chongro

Paris

Age (estimated): 30 years old
Height: 185 cm
Personality: arrogant, stubborn, cold
Hobbies: Obsession with power
Weapon: Flame Wave Blood Blade

An immortal demon ruler with unparalleled power. After the death of Izumi Mamoru, the only Shinno Kyusen in the demon world, he became the new Izumi Mamoru of "Flame Wave" due to various circumstances. And he happens to meet Shugo who came to "Flame Wave".

Click here to make a reservation
https://bit.ly/3Nn0EUf

■ Title: Chinese Paladin -Defense-
■ Compatible models: PlayStation 4, PlayStation 5
■ Release date: August 4, 2022
■ Price: 4,818 yen (tax included)
■ Genre: Action RPG
■ Number of players:1 person
■ Display compatible languages: Japanese / English / Chinese (Traditional / Simplified)
■ Release: Game Source Entertainment
■ Development: Softstar Technology (Beijing) Co., Ltd
■ CERO: Scheduled to be examined
■ Right notation: (C) 2022 Softstar Technology (Beijing) Co., Ltd .. All Rights Reserved. Licensed to and published by Game Source Entertainment.

■ About Game Source Entertainment
Game Source Entertainment is a Hong Kong-based distributor and distributor in Asia.

So far, we have distributed over 100 titles of packaged software translated into Chinese on PlayStation 4, Nintendo Switch, Xbox One and previous generation console platforms.

■ Click here for more information on Game Source Entertainment and products
GSE Official HP: https://gamesource-ent.jp/
Twitter:https://twitter.com/gamesource_ent
YouTube GSE Channel: https://www.youtube.com/channel/UCfY5cUEakN7tw9gXd9lywFA
GSE User Support: support@gamesource-ent.jp