I want to spend the rainy season comfortably and stylishly! We asked four fashion professionals from Tokyo to show us their styling on a rainy day in a self-portrait snap. From outerwear to shoes, choosing and coordinating your favorite items will surely be a reference for the coming season!

Elegantly dressed in a water-repellent hoodie
Stylist Shizuka Yamazaki(@Shizuka_yamazaki_)
"On rainy days, I want to raise my mood with bright colors and high-impact items!" Says Yamazaki. With gorgeous skirts and pearl necklaces, the rain hoodie is elegantly incorporated. "I try to squeeze the waist and open the upper and lower zips a little so that the hoodie doesn't look too casual." At your feet, wear sneakers with a sense of mode. Clear rain measures and fashion!
The water-repellent hoodie has a cotton-like moist texture, so it doesn't become too sporty and is easy to get used to in everyday styling. "The fishtail at the hem accents the back style. I'm happy that it's light and compact so that it can be easily carried around not only on rainy days but also in outdoor scenes and travel," says Yamazaki.
Put orange on the dark blue coat
Stylist Kaori Suzuki((@ KAORI_912)
"I rarely use raincoats and rain boots that are typical of rainy days, so I choose colors that don't stand out even when wet, and I choose shoes and pants made of rain-resistant materials," says Suzuki. This time, based on the navy coat, we used knits and shoes to add orange. "Even on a rainy day, just taking in bright colors will make you feel better. The Bottega Veneta shoes, which have an impact and give a trendy look when combined, are made of rubber and have a high heel, so when it rains a lot. Seems to come in handy. "
"The anthem A coat I got this season is based on a horse riding coat. It's paraffin-processed and has a removable rain shield, so it's a perfect item for the rainy season." Suzuki.
With a shiny raincoat as the leading role
Stylist Mari Tsujimura(@Mar_it)
Mr. Tsujimura who played the leading role in a vintage raincoat that he said was his favorite. The choice of a raincoat with a stylish mood, such as a glossy luster and a rope belt through the pigeons, is truly! Combining shiny materials with coats, pants and bags, enjoy edgy styling even on rainy days. "While using tech items, I am conscious of not being outdoors," says Tsujimura.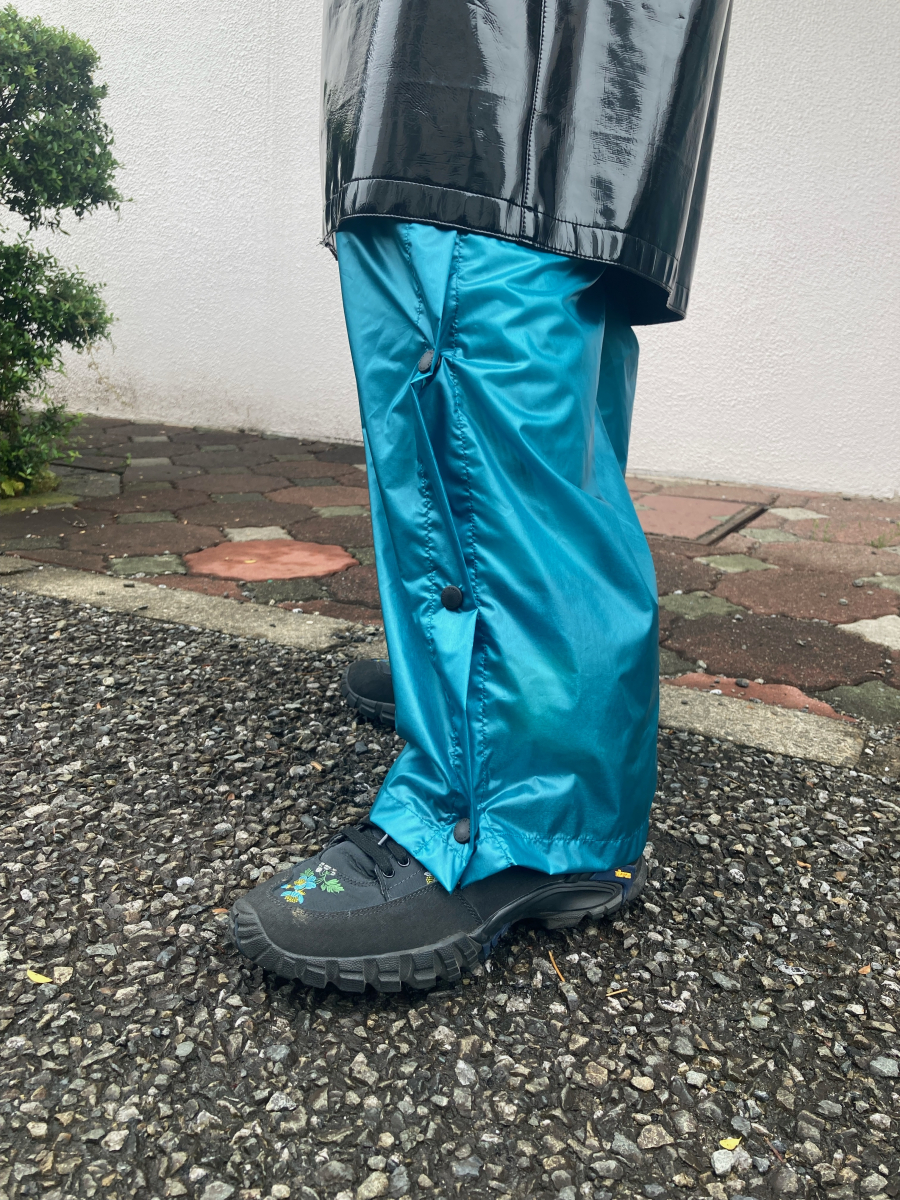 The brightly colored pants are from Haiku. The material is lightweight and ultra-thin Pertex, perfect for rainy days. The snap buttons on the side are also accented. With botanical embroidery sneakers, the feet are casually down.
Raise your mood with a lime green anorak hoodie
BEAMS Press Sakiko Fujii(@Yuzusakko)
Mr. Fujii chose a lime green anorak hoodie that would make you feel fresh just by wearing it. "Going out on a rainy day can be depressing, but I try to choose brightly colored items that are highly functional so that I can feel a little better." The tent line and drop shoulders that spread toward the hem are cute. Combine with the shining rubber boots of multi-colored glitter, and do not pull out to your feet. The checkered bag is also a styling accent.
The Marmot Parka is a bespoke item from Ray Beams. Not only is the oversized design highly designed, but it is also a reassuring presence with outstanding functionality due to the full seam sealing process that prevents rain from entering. "In addition, it comes with a sacoche made of the same material, which makes it convenient to carry in case of sudden rain!" Says Mr. Fujii.
text: Chiharu Itagaki