Sports
Tokyo Olympic medalist also participates! "YOKOHAMA URBAN SPORTS FESTIVAL 2022" Event Report
text by Ryoma Sato / photograph by Jason Halayko, Yoshio Yoshida, Ayato Nakamura, Kazuki Murata
The "YOKOHAMA URBAN SPORTS FESTIVAL" (YUSF), a festival of urban sports and street culture that is becoming more popular due to the influence of the Tokyo Olympics, was held for the first time on the 4th and 5th at the Yokohama Red Brick Warehouse. Organized by the YUSF2022 Executive Committee.
The event was blessed with good weather on both days and was crowded with many visitors. On the special stage set up in the plaza, in addition to skateboarding that became popular due to the success of Japanese athletes in the summer of 2021, breakin (breakdance) and parkour, which are currently attracting attention, BMX Flatland, Double Dutch, Kids Chase All 6 types of urban sports competitions of Tag were held.
In addition, the "Sports x Street Culture" festival, which was held for two days with free admission to all areas, including content for kids, marketplaces, workshops and music live, ended with great success.
Medalists Nishiya and Nakayama also participated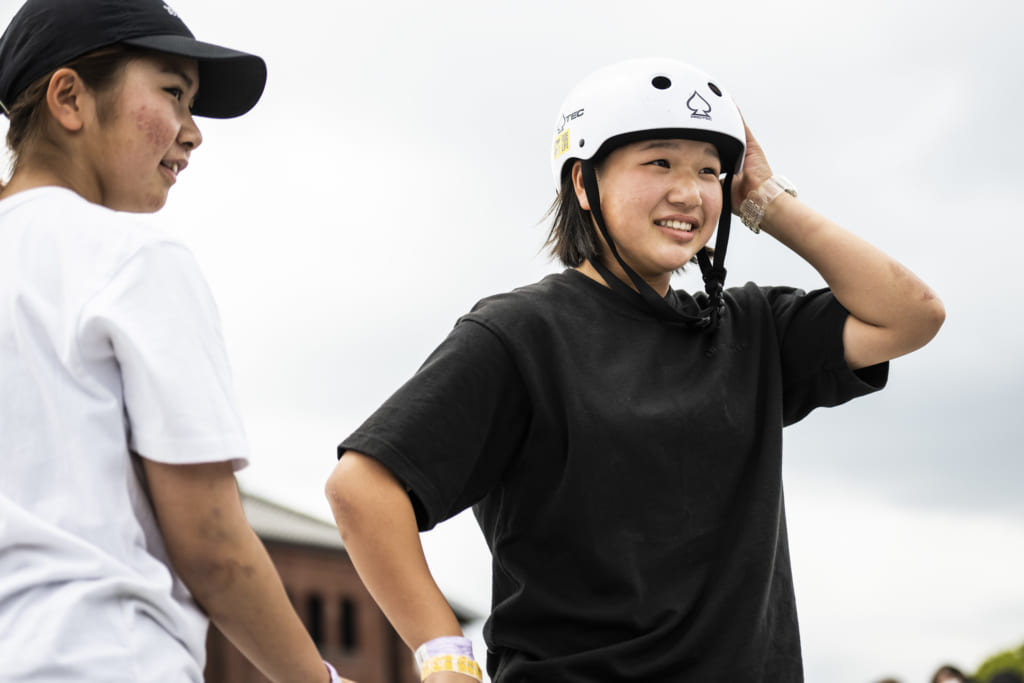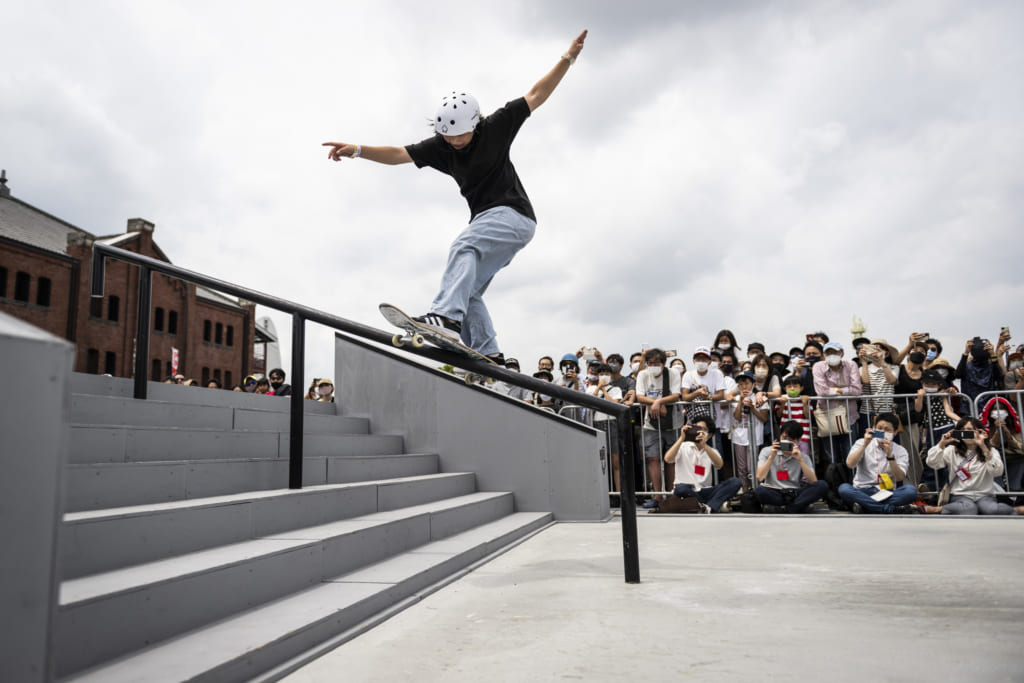 Young skateboarders gather on the stage set up in the back of the venue. They skated vigorously on iron railings (handrails) attached to the stairs and boxes, and competed for the score.
Two people, Momiji Nishiya and Funa Nakayama, who won medals at the Tokyo Olympics, also entered the tournament. He entered the final on the 5th with a stable slide, but unfortunately he could not reach the podium.
Chihiro Shigeoka (5), who came from Saitama prefecture for this day, became a fan of Nishiya after watching the TV broadcast of the Olympic Games. I brought a handmade Uchiwa with Nishiya's name to the venue and cheered on the skater I longed for.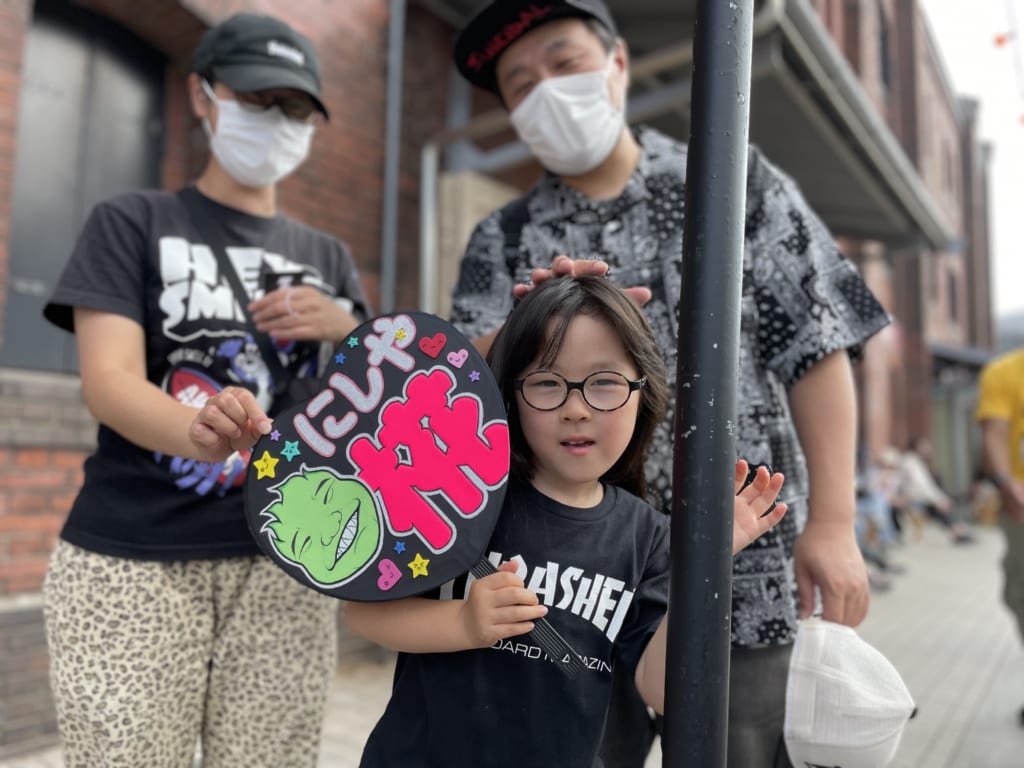 The winner of the women's skating category is Yumeka Oda, who won second place at the 2020 Florida Games. On this day, she made the girl's first big move "Front Flip Front Fable" and hit 7.7pt.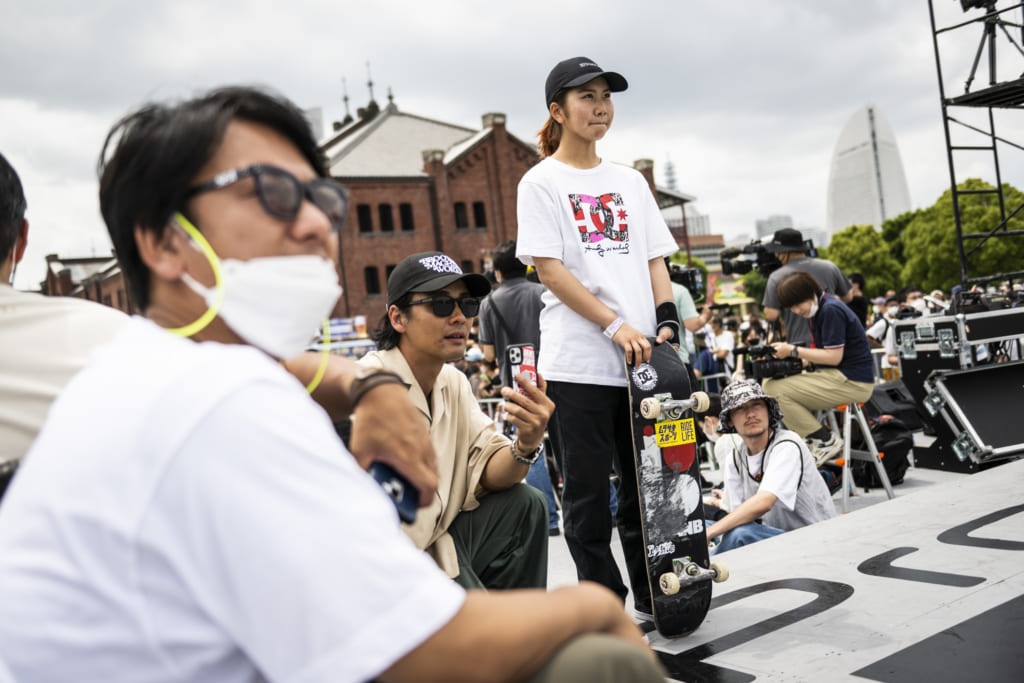 Cheers to parkour contestants
Parkour is an extreme sport that is known as the next Olympic sport, which challenges the limits of physical function by focusing on running, jumping, and climbing.
Divided into four categories: "speed run" to compete for time, "freestyle" to compete for free acting scores, "skill" to compete for basic movement skills, and "tag" to compete for time to touch the opponent like "tag". Be done. A freestyle competition was held at this competition.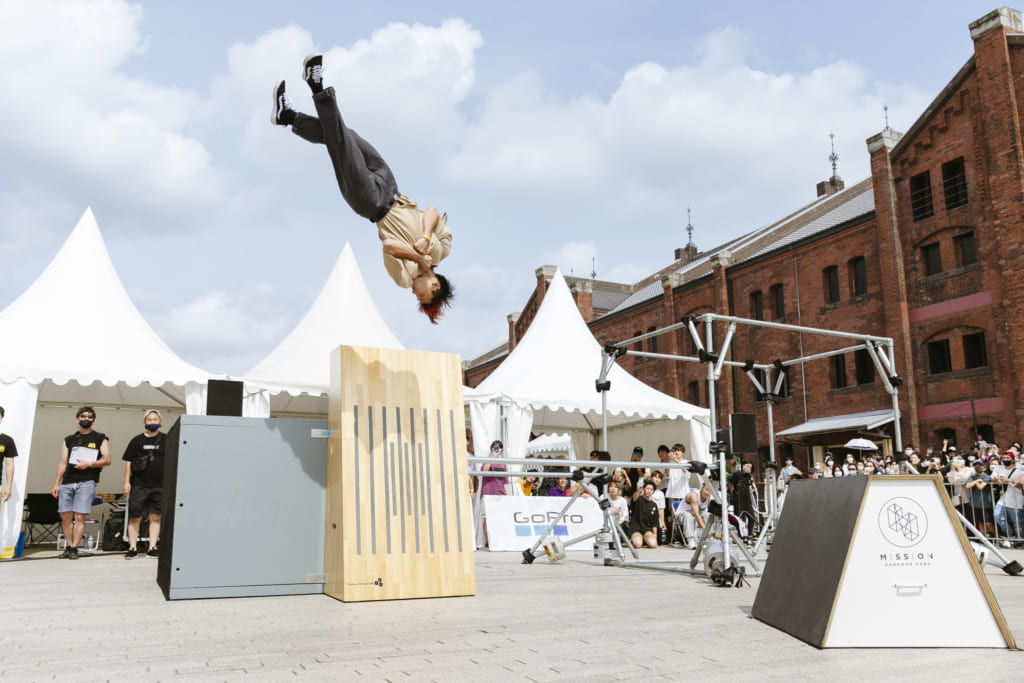 Tracers (parkour players) from all over the country gathered at the parkour special venue where square iron pipes and trapezoidal boxes were lined up on the 5th. Using the sections (obstacles), they competed for the difficulty and perfection of the technique with acrobatic movements such as flying, bouncing, and rotating.
Among the 34 tracers in all, the prosperous first champion was Masahito Seki, who performed aerial techniques such as "punch back" and "layout in back out". "I was physically tough, but I'm glad I was able to finish it safely," he stroked his chest.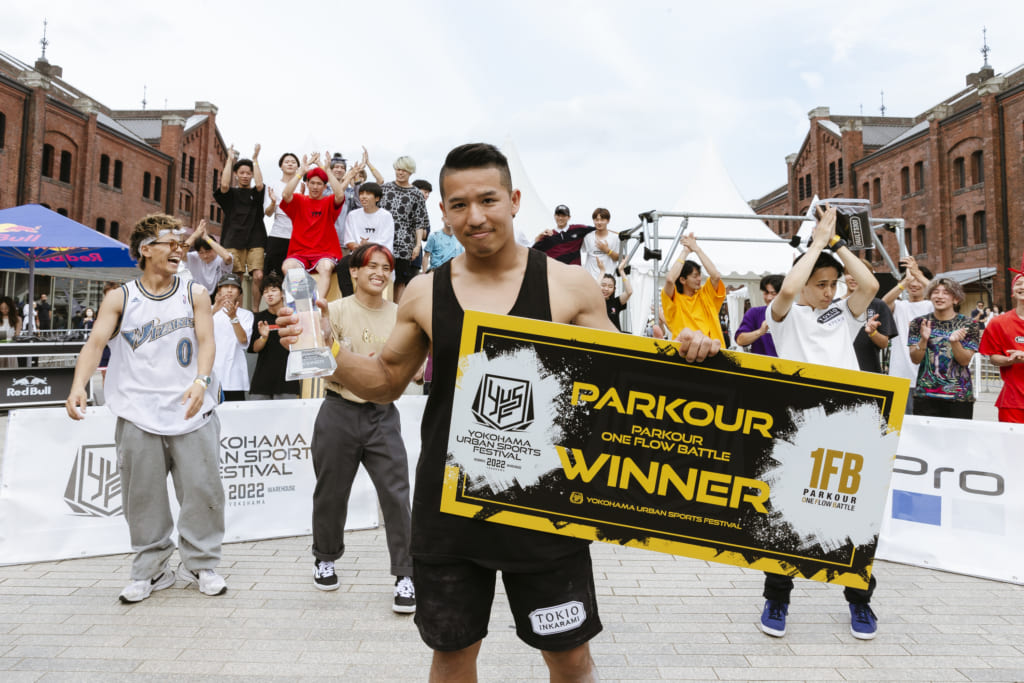 Asuki Ihara (16), a school student who rushed to support Seki on that day, commented, "I was overwhelmed by the powerful technique. I am happy that the teacher won the championship." Celebrated her master, White Star.
Kids chase tag
Next to the parkour venue, a kids chase tag was held in an area with obstacles. A chase tag is a "foot race" that is a competition of the "play" that everyone experiences. Within the time limit of 20 seconds, become a "demon" and catch the opponent, and conversely, for the next 20 seconds, escape from the "demon". It's a unique sport like playing tag.
This time, the participants were limited to children, and the winners were decided by dividing them into U-9 (1st to 3rd grades of elementary school) and U-12 (4th to 6th grades of elementary school).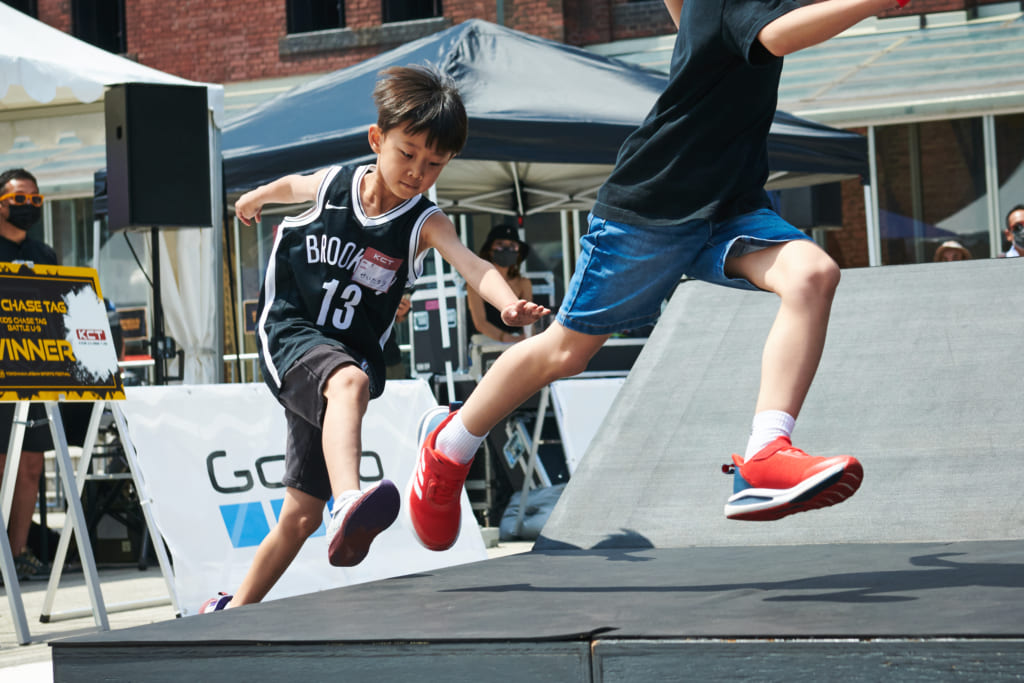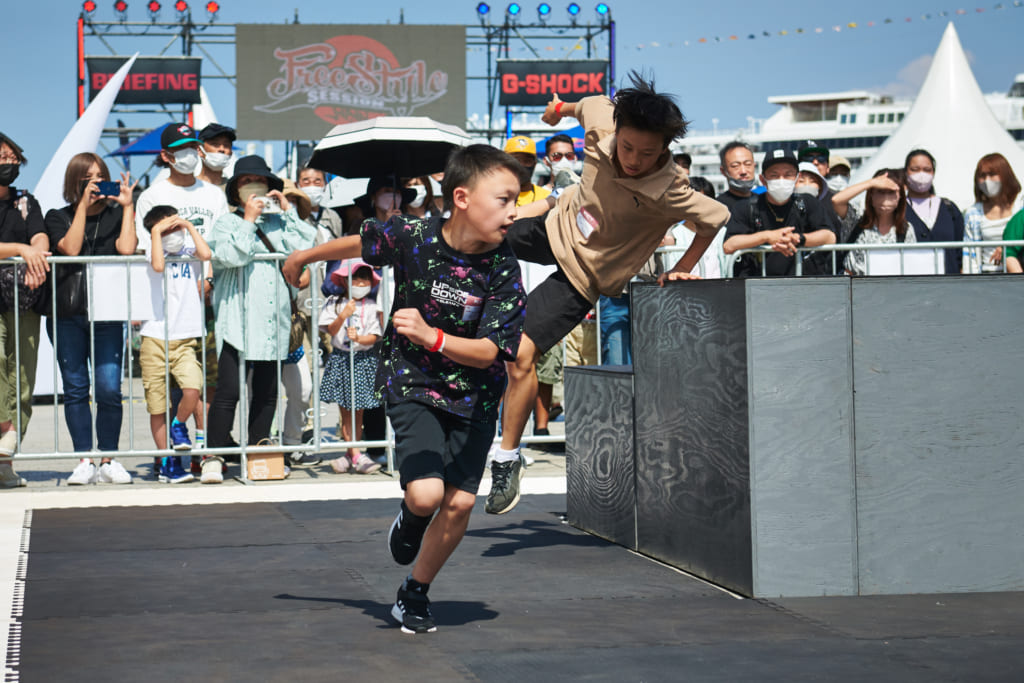 The ultimate "tag" was won by Masataro Samata, 7 years old in U-9, and Yoshio Takeyama, 10 years old in U-12. Both of them ran boldly and won the winning trophy.
Free live concerts by tofubeats and Chinza Dopeness
On the music stage, artists such as tofubeats, FNCY, and Dongurizu will perform live. The audience, immersed in the afterglow of urban sports, was now involved in the whirlpool of music.
After 2 days
YUSF2022 was so successful that it was hard to believe that it was held for the first time from the first year. It can be said that this is a barometer that shows the high level of interest in urban sports from the world. I would like to pay tribute to the athletes who push their limits by making full use of their imagination and keep an eye on their activities.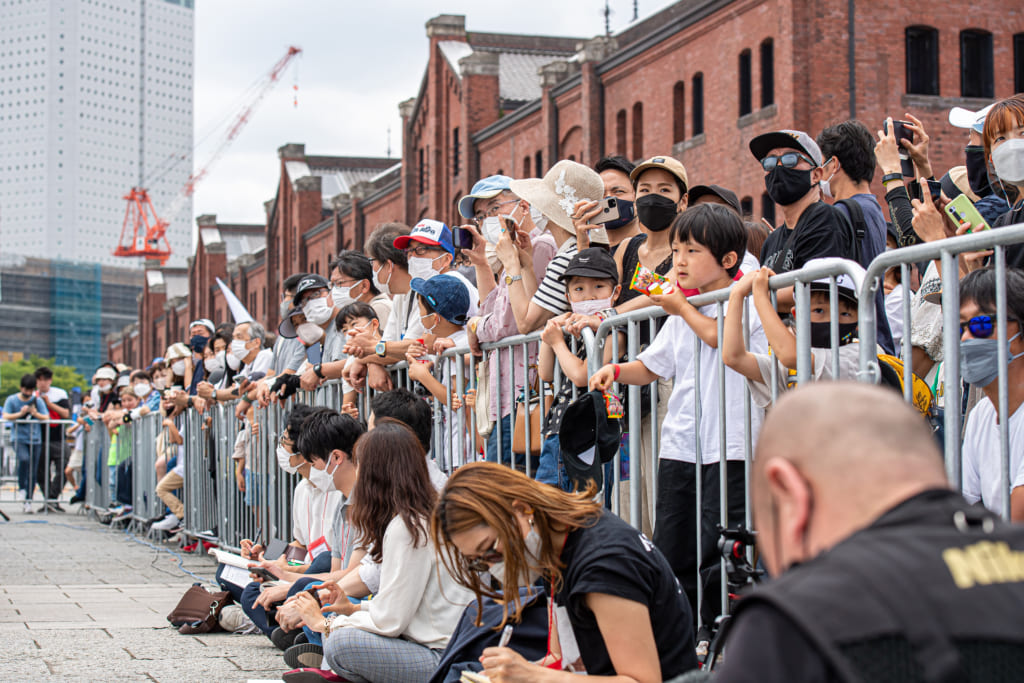 Outline of the event
Event name
YOKOHAMA URBAN SPORTS FESTIVAL 2022 (abbreviation: YUSF)
venue
Yokohama Red Brick Warehouse Event Plaza / Red Brick Park
(Address: 1-1 Shinko, Naka-ku, Yokohama City, Kanagawa Prefecture)
schedule
June 4th (Sat) and 5th (Sun) OPEN 10:00 CLOSE 21:00 on both days
Contents
SKATEBOARDING "SKATE ARK"
BMX FLATLAND "FLAT ARK"
BREAKING "FREE STYLE SESSION JAPAN 2022"
* Saturday, June 4th only * Workshop available
DOUBLE DUTCH "DOUBLE DUTCH ONE'S FINAL 2022"
* Only on June 5th (Sun)
PARKOUR "ONE FLOW BATTLE"
* Only on June 5th (Sun)
KIDS CHASE TAG
* There is a workshop

MUSIC LIVE produced by Spotify O-EAST
Saturday, June 4th
LIVE: JJJ / MONJU / SPARTA / STUTS DJ: Harashima "Donaka" Sorayoshi / doooo (CreativeDrugStore)
June 5th (Sun) LIVE: Dongurizu / FNCY / tofubeats / Lil'Leise But Gold DJ: KM / shakke-n-wardaa
MARKET AREA
FOOD AREA

Organizer
YOKOHAMA URBAN SPORTS FESTIVAL 2022 Executive Committee
Sponsorship
GoPro / Rokko Butter Co., Ltd./FIJI Water / Manhattan Portage / MUGENYOYO / ChargeSPOT / KIBACOWORKS / BRIEFING / Casio Computer Co., Ltd. / JOYSOUND / Hyundai Mobility Japan
Cooperation
General Incorporated Association ARK LEAGUE / OVER THUMPZ Co., Ltd. / I AM Co., Ltd. / PKM Co., Ltd. / FINEPLAY / BEAMS SPORTS / Fanatics Japan GK / XANA
Sponsorship
Yokohama City Citizens Bureau / J-WAVE 81.3FM
Planning and production
Yokohama Red Brick Warehouse Co., Ltd./Shibuya Television Co., Ltd./Lawson Entertainment Inc./Nomura Kogeisha Co., Ltd./Green Room Co., Ltd./ZETA Co., Ltd.