Business
Skyland Ventures collaborates with Aidemy, an investment destination that provides "Aidemy Business" to develop AI / DX / GX human resources, in providing content in the Web3 field: Jiji.com
[Skyland Ventures Co., Ltd.]
Skyland Ventures (Headquarters: Shibuya-ku, Tokyo, Partner / CEO: Yoshihiko Kinoshita, hereafter SV) is an investment destination and Aidemy Inc. (Headquarters: Chiyoda-ku, Tokyo, representative) that supports the digital transformation of the entire organization. We are pleased to announce that we will provide content to the Web3 field to "Aidemy Business", which develops AI / DX / GX human resources, in partnership with Akihiko Ishikawa, President and CEO, (hereinafter referred to as "Aidemy").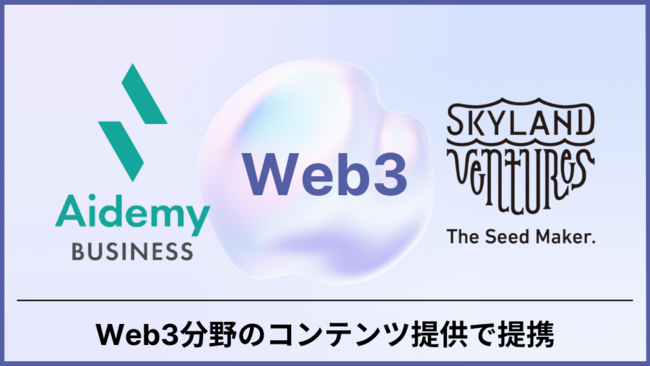 As the first step of this alliance, from 12:00 to 13:00 on Thursday, June 9, 2022, "After Web 3" will be offered to companies such as major manufacturing companies, financial institutions, and SIers, which are customers of Innovation. Skyland Ventures Partner & CEO Yoshihiko Kinoshita is giving a lecture on the theme of "Startup and Open Innovation".
Material at the time of the lecture: The world of startups after Web3 (Introduction / Ideamy collaboration) –Speaker Deck
◆ Comments on the alliance with Aidemy
Since the investment from the Skyland Ventures management fund in Idemy in June 2017, I have been discussing and getting involved in various management issues, but within about five years since then, Idemy has moved to Japan. We have provided services to major customers such as representative manufacturing industries, financial institutions, and SIers. In April 2022, SV announced a new fund to set Web3 as a central investment theme.
The potential of the blockchain field, which supports Web3 and its technology, is a theme that both Japanese startups and large companies should work on for the next 20-30 years, just as various companies were born and grew rapidly after the advent of the Internet. am thinking. In that respect, we believe that the opportunity for negotiations with large companies like this was a very valuable opportunity for discussion, and we have reached this alliance. We would like to continue to strengthen our cooperation with Aidemy.
Skyland Ventures Partner / CEO Yoshihiko Kinoshita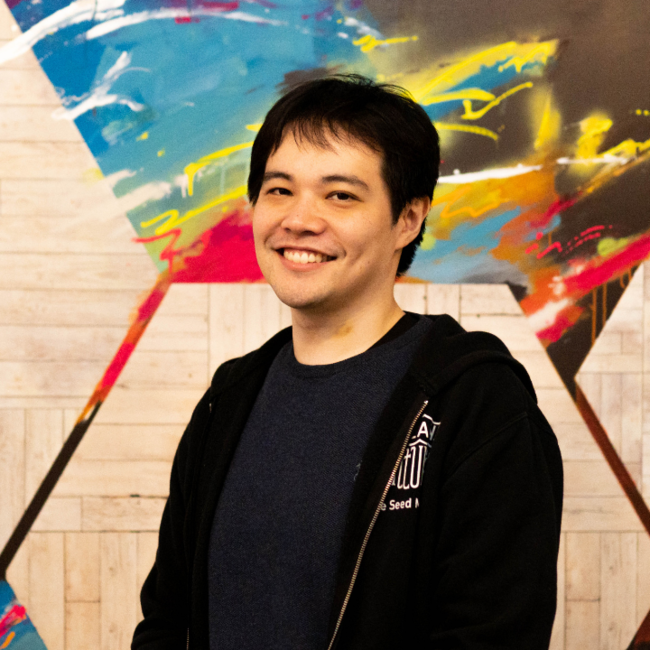 ◆ A concept movie by the core members of Aidemy is released
For this alliance, Aidemy and Skyland Ventures have jointly created and released a concept movie that introduces members and culture centered on the core members of Aidemy. Please see here as well.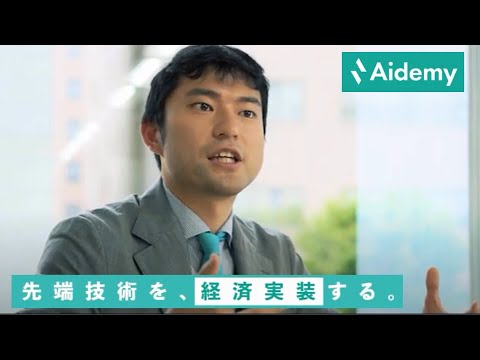 ◆ Overview of Aidemy Business
Aidemy Business is a digital human resources development platform where you can learn cutting-edge knowledge that will be essential for future organizations and business people. We are reskilling our human resources to DX / GX human resources with cutting-edge knowledge (redevelopment of vocational ability) and supporting the creation of a strong organization that can respond to any environment.
・ Abundant learning content
We have a wealth of content that will be needed in the future business scene, such as cutting-edge technologies such as AI / DX, carbon neutrality, and environmental knowledge for GX (green transformation).
・ Curriculum by position
In order to obtain the maximum learning effect, we have prepared the optimal learning curriculum for planning, management, technical, etc. according to the position.
・ Support system to maximize results
Full of functions to promote learning, such as visualization of learning progress, comprehension check test, and data output. In addition, dedicated customer success strongly supports learning.
● About Aidemy Inc.
Aidemy Inc. is developing businesses such as Aidemy Free, an AI programming learning service that starts in 10 seconds, with the corporate philosophy of "implementing advanced technology economically."
・ Company name: Aidemy Inc.
・ Established: June 2014
・ Headquarters: 1-1, Kanda Ogawamachi, Chiyoda-ku, Tokyo Yamajin Building 3F
・ Representative: Toshihiko Ishikawa, Representative Director, Executive Officer and CEO
・ WEB: https://aidemy.co.jp
◆ About Skyland Ventures
Skyland Ventures (SV) is a venture capital (VC) fund that mainly invests in seed startups. With the mission of "The Seed Maker. & Unlearning.", We are investing in equity and tokens to provide seed money to startups that have a great impact on the technology industry. So far, we have invested in more than 120 companies, mainly startups in Japan. Since 2022, it has focused on investing in Web3 (Crypto, NFT, Blockchain) startups.
URL: https://skyland.vc
To details of corporate press release (2022/06 / 16-18: 47)
Source link