Business
[TORI HADA | TikTok for Business]Webinar "Ask the creators! "Non-slip" TikTok operation utilizing CGC will be held on June 28th (Tuesday)! : Current affairs dot com
[TORIHADA Co., Ltd.]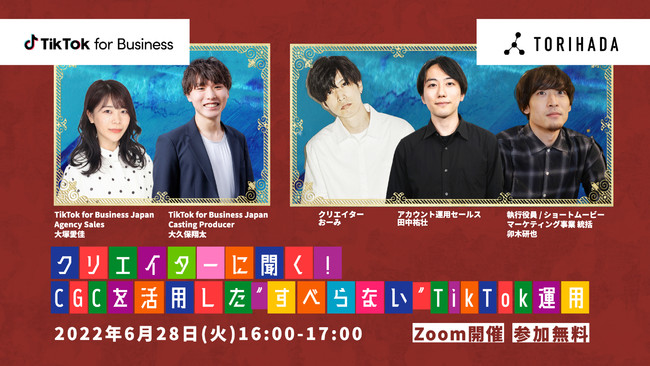 TORIHADA Co., Ltd. (Location: Shibuya-ku, Tokyo, Representative Director: Takeshi Taisha) will hold a Webinar on TikTok operation utilizing CGC (Creator Generated Contents) on June 28, 2022 (Tuesday). On the day of the event, Mr. Shota Okubo and Mr. Aika Otsuka from TikTok for Business Japan will also be on stage, and we are planning to receive opinions from the media side.
detail
Seminar name: Ask the creators! "Non-slip" TikTok operation utilizing CGC
Speaker: TikTok for Business Japan Casting Producer Shota Okubo
TikTok for Business Japan-Agency Sales Aika Otsuka
TORIHADA Creator Omi Co., Ltd.
TORIHADA Market Growth Div. CGC Lab Account Planner Yusuke Tanaka
TORIHADA Co., Ltd. Executive Officer Kenya Uki
Date and time: Tuesday, June 28, 2022 16: 00-17: 00
Holding method: Held at Zoom Webinar
Contents:
Session 1: Seen from the creator's perspective! Points to operate a "non-slip" corporate official account
Session 2: I want to secure both "effect" and "brand"!How to use "non-slip" TikTok ads to achieve both
Session 3: I asked the people inside! What is the "non-slip" business utilization method in TikTok?
Cost: Free
Application URL: https://go.torihada.co.jp/l/950562/2022-06-10/m4tj8l
* For those who have applied, we will send you a webinar event link by email by the day before.
Speakers
TikTok for Business Japan Casting Producer Shota Okubo
Launched an influencer marketing business at an advertising agency and engaged in direction for about 3 years.
Joined TikTok for Business in 2019. Leads the creator marketing section at the Global Business Marketing Headquarters. He promotes creator marketing in numerous projects, including "# BPM100 DANCE PROJECT", which won the first international advertising award as TikTok.
TikTok for Business Japan-Agency Sales Aika Otsuka
Participated in TikTok for Business from 2021. In his previous job, he has about 3 years of experience in domestic Internet media to expand sales of full funnel solutions such as listing advertisements and display advertisements, and to improve their performance. At TikTok for Business, we will work with our partner advertising agencies to provide cross-industry proposals and support for further market entry of TikTok for Business.
TORIHADA Creator Omi Co., Ltd.
Born in Osaka in 1992. After graduating from Osaka Gakuin University, he joined Daiichi Kosho Kinki. He has experience in operating four stores as the manager of the store division. After that, he joined TORIHADA Co., Ltd. in 2021 and engaged in planner and short movie creative production in the TikTok official account management team. As a creator, he started posting videos on the short movie app in 2014, then started activities on TikTok in 2018, and has more than 300,000 followers.
TORIHADA Market Growth Div. CGC Lab Co., Ltd. (Regular employee) Yuso Tanaka
Born in Tokyo in 1998. After graduating from Keio University, he joined TORIHADA Co., Ltd. as a new graduate.
Involved in the launch of the D2C business at PPP STUDIO, and experienced multiple launches of creator apparel brands. After that, he engaged in TikTok official account management and short movie creative production specializing in operational advertising at Market Growth Div., And managed a wide range of accounts such as major game companies, cosmetics makers, and securities companies. Engaged in many CPA improvements with creative hooks in operational advertising.
TORIHADA Co., Ltd. Executive Officer Kenya Uki
Born in Wajima City, Ishikawa Prefecture in 1990. While attending Waseda University, he experienced organizational management aiming to win the Hakone Ekiden and other university relay races as the chief of the race club, which is an athletic club. After graduating from college, he joined Samsung Electronics Japan. He is in charge of domestic market analysis / business strategy planning for the GALAXY brand in the business planning department. In 2014, he joined CyberAgent and was a sales manager for ad tech products. Engaged in new client development as Account Executive at App Annie (currently data.ai) from 2017, and joined TORIHADA in 2021. Currently, he is in charge of the short movie marketing division, leading promotion sales / planning specializing in short movies centered on TikTok.
Company Profile
TORIHADA Co., Ltd.
An advertising agency that conducts short movie marketing such as TikTok, and is developing a monetization platform "Fanme" for creators. In addition, PPP STUDIO Co., Ltd. (Headquarters: Meguro-ku, Tokyo, President: Eisuke Wakai), a subsidiary of the company, develops a management business for TikTok creators. PPP STUDIO supports the activities of individual creators with the vision of "Let's raise talent", and as part of that, we are working on the creator's own brand launch and sales of tie-up advertisements. The total number of followers of the creators who belong to it is over 100 million.
To details of corporate press release (2022/06 / 17-11: 47)
Source link