Business
Recruiting contestants for "MITANI Business Contest 2022"! : Current affairs dot com
[Mitani Sangyo Co., Ltd.]
-Call for business plans to solve "corporate issues" and "regional issues" until September 30 (Friday)-
Mitani Sangyo Co., Ltd. (Headquarters: Kanazawa City, Ishikawa Prefecture / President: Tadateru Mitani, hereinafter Mitani Sangyo) will hold "MITANI Business Contest 2022 (hereinafter MBC2022)" at Mitani Sangyo Kanazawa Headquarters on Friday, December 9th. To do.
  
MBC2022 is looking for an epoch-making business plan that contributes to the development of society by solving corporate issues and regional issues in the Hokuriku region. Specifically, cutting-edge technologies and ICT that solve "corporate issues" such as labor shortages, aging, and creation of new businesses, or "regional issues" such as tourism, food, education, and welfare. , We are looking for a business plan with an original design. Applications for this contest will be accepted on the special website (https://www.mitani.co.jp/mbc/) until September 30th (Friday).


The "MITANI Business Contest", which started in 2018, aims to support Hokuriku companies and societies to adapt to the accelerating social changes with the development of technology, and is a nationwide venture company that is at the forefront of change. This is a targeted business contest. Last year, we received a record 117 entries, and many people saw the contest through online distribution.
MBC2022 will determine the contestants for the final selection held at the "58th Mitani Information Fair" after the first screening by documents and the second screening by presentation. At the final selection, a 6-minute presentation will be given in front of the judges and visitors. As a result of strict examination, in addition to the highest award (prize money 1 million yen), the excellence award (prize money 100,000 yen), audience award (prize money 100,000 yen), and each sponsoring company award will be awarded.
Mitani Sangyo has held study sessions with companies, individuals, and supporting companies who have entered the "MITANI Business Contest" to deepen their knowledge of the solutions and industries introduced, as well as business matching with companies in the Hokuriku region. And provided a demonstration field. In addition, we have actively worked on collaboration and support to accelerate each other's business by utilizing our knowledge and network as a conglomerate with a wide range of business areas.
This time as well, we will support the excellent business plan to lead to business growth, and the final selection contestants will be the innovation magazine "Carbon" published by Mitani Sangyo, which conveys the value of collaboration and co-creation with venture companies. ) "Will be introduced. At the same time, Carbon Ventures Inc., which operates a venture fund in the Mitani Sangyo Group, will participate as an advisor in this MBC2022. Carbon Ventures Inc. provides investment in venture companies and management support, as well as support for business expansion by utilizing the resources and know-how of the Group.
Continuing from last year, we will also hold the "Chalaza Idea Contest" to solicit ideas for utilizing the FaaS integrator "Chalaza", which is an original solution of Mitani Sangyo and enables cooperation between cloud services. In this contest, we are looking for "ideas that can solve the dissatisfaction and inconvenience caused by not linking data" in your business and life scenes. Applications for the "Chalaza Idea Contest" will be accepted on the MBC2022 special website until September 30th (Friday).
■ "MITANI Business Contest 2022" special website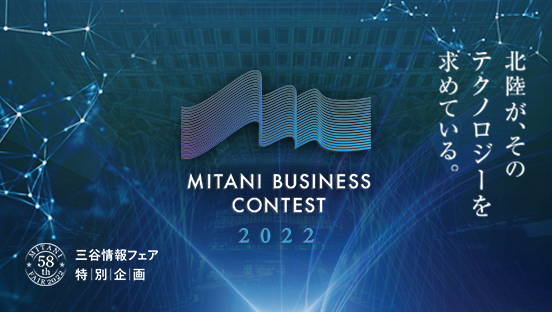 http://www.mitani.co.jp/mbc/
You can see the application guidelines, entries, and the results of the "MITANI Business Contest" so far from the above website.
* May be held online to prevent new coronavirus infection and spread.
(Supplementary information)
[About Mitani Sangyo Group]https://www.mitani.co.jp/
It is a complex trading company founded in Kanazawa City, Ishikawa Prefecture in 1994 and in Vietnam for 28 years. Based in Hokuriku, the Tokyo metropolitan area, and Vietnam, we are developing business in 6 segments: chemicals / information systems / resins / electronics / air conditioning equipment construction / housing equipment / energy. Despite being a trading company, sometimes as a manufacturer and sometimes as a consultant, we pursue the optimum for our customers and take on the challenge of further evolution as a "venture company that has been in business for over 90 years."
Fiscal year ending March 2022: Consolidated sales of 84,427 million yen / consolidated number of employees 3,805
■ Inquiries to MITANI Business Contest / Chalaza Idea Contest
MITANI Business Contest Secretariat, Information Systems Division, Mitani Sangyo Co., Ltd. Suganami / Koizumi
TEL: 076-233-8710 E-mail: mbc@mitani.co.jp
To details of corporate press release (2022/07 / 26-16: 17)
Source link