Fashion
Must-see for golfers! With , the appearance of the green is also very fashionable! | Fashion
2022.07.31 NEW
A must-see for golfers!



With , the green figure is by far the most stylish!

There are various rules for golf, but the rules regarding appearance are strict. The top has a collar and the hem is in the bottom. Even though it is becoming more casual, it cannot stand on the green with a rough appearance. Therefore, the golf figure will look like an uncle. But if we could renew that, we can't help but check it out!
It was that made it possible. The long-awaited golf series has been announced this year from the sporty line that enhances mobility and comfort. The feature is that all items are unified in monotone. The sporty feeling is modest, and the dress is modern. The partially used red and blue accents are a nice accent. In addition, the lineup is wide, and you can enjoy total coordination including golf goods!
[ルシアン ペラフィネ エルピーエフジー]
LUCIEN PELLAT-FINET LPFG
The surroundings turn around!?
◆Stylish monotone coordination! ◆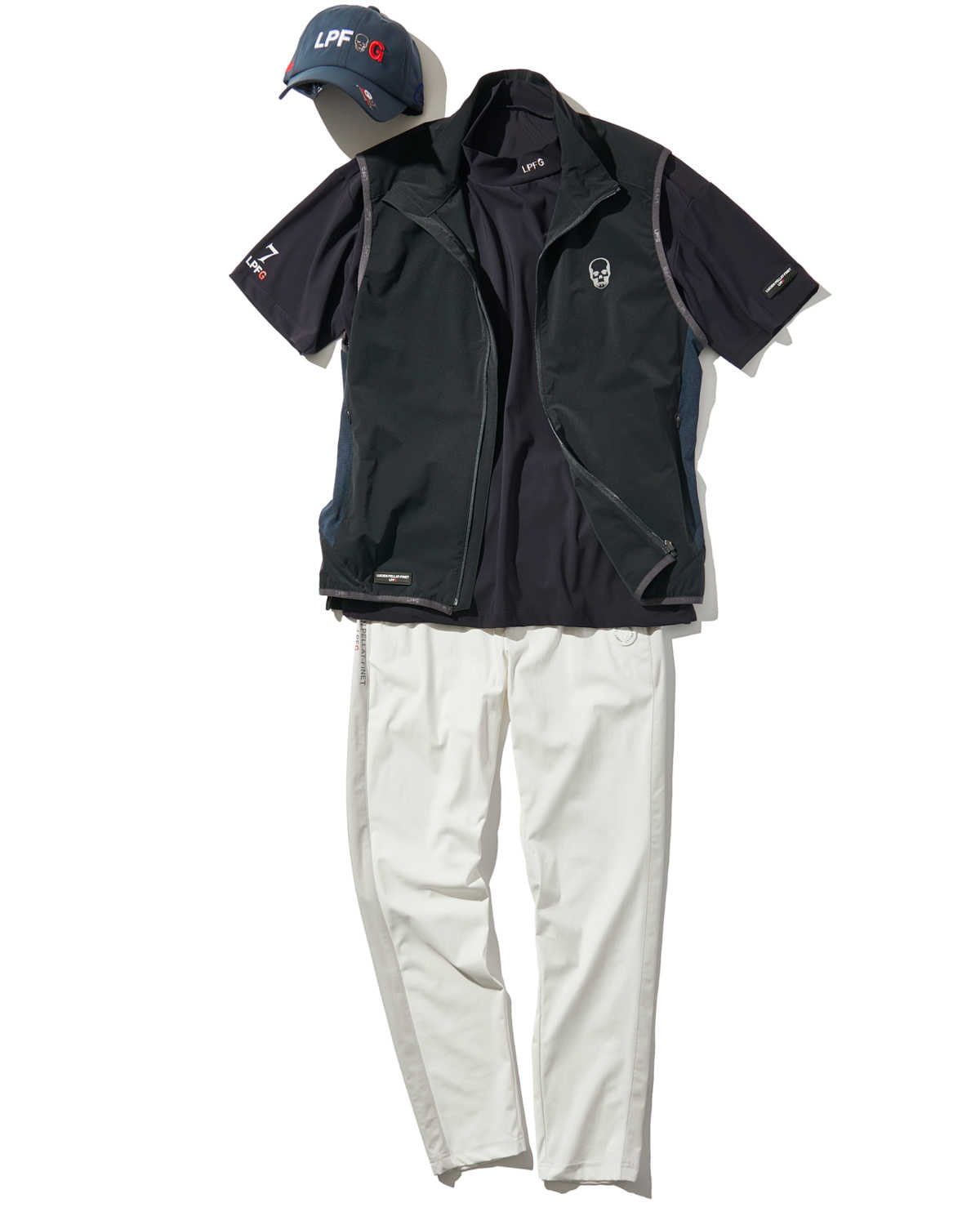 Best 56,100 yen, high neck T-shirt 33,000 yen, pants 53,900 yen, cap 19,800 yen (Lucian Perafine LPFG / Lucian Perafine Tokyo Midtown store)
The top styling is key to the technique of layering the neck. Although it is composed of casual items, the double mock neck makes the face look neat and gives an elegant impression. If you add freshness with white pants, you will not miss the summer feeling. The iconic skull embroidery is also effective, and you can make a moderate statement of individuality. I want you to give me a stylish stock not only on the golf score but also on the green!
Item 01
◆ Polo shirt ◆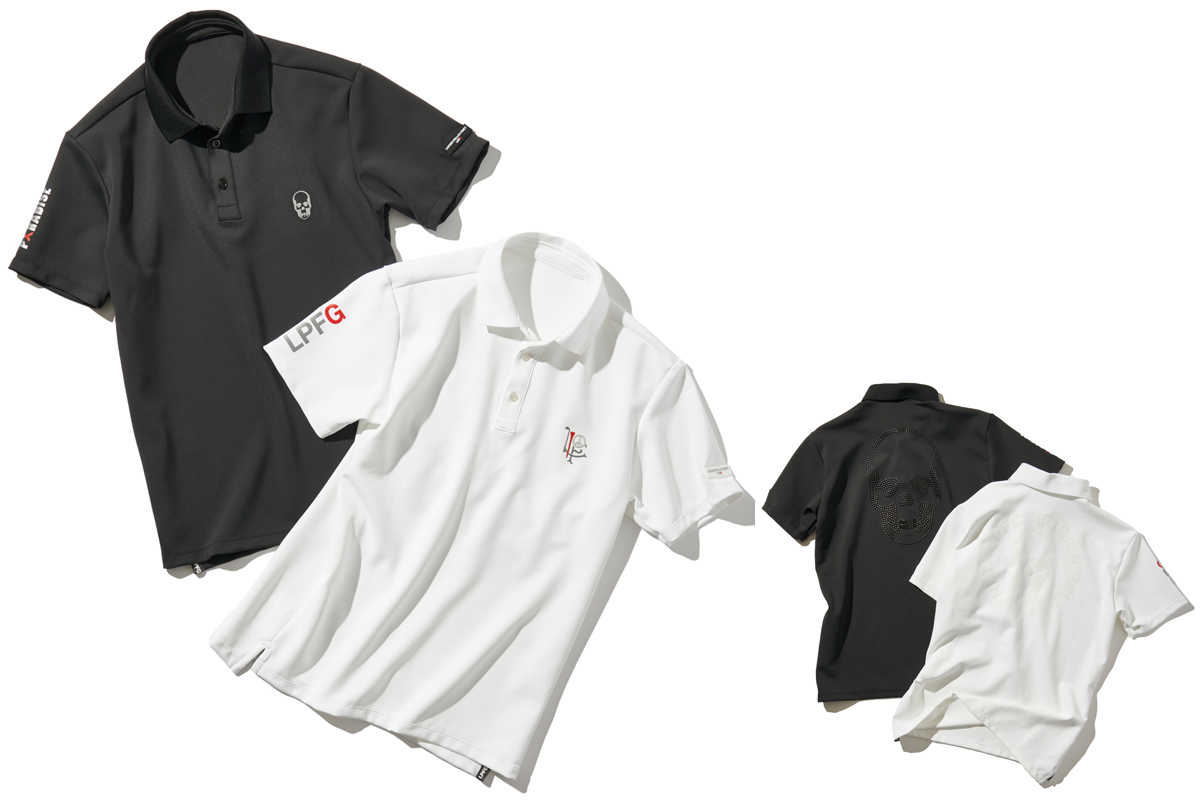 White 38,500 yen, Black 41,800 yen
Smooth and comfortable
It feels cool!
Polo shirts are undoubtedly the most regulated dress code in the golf industry. One piece from uses jersey material that feels cool to the touch and is perfect for summer. You can play comfortably with the feel of powder touch. The back is decorated with a skull expressed with studs, and the chest has a logo patch. The design that feels "likeness" is also spicy and cool.
◆ Light outerwear ◆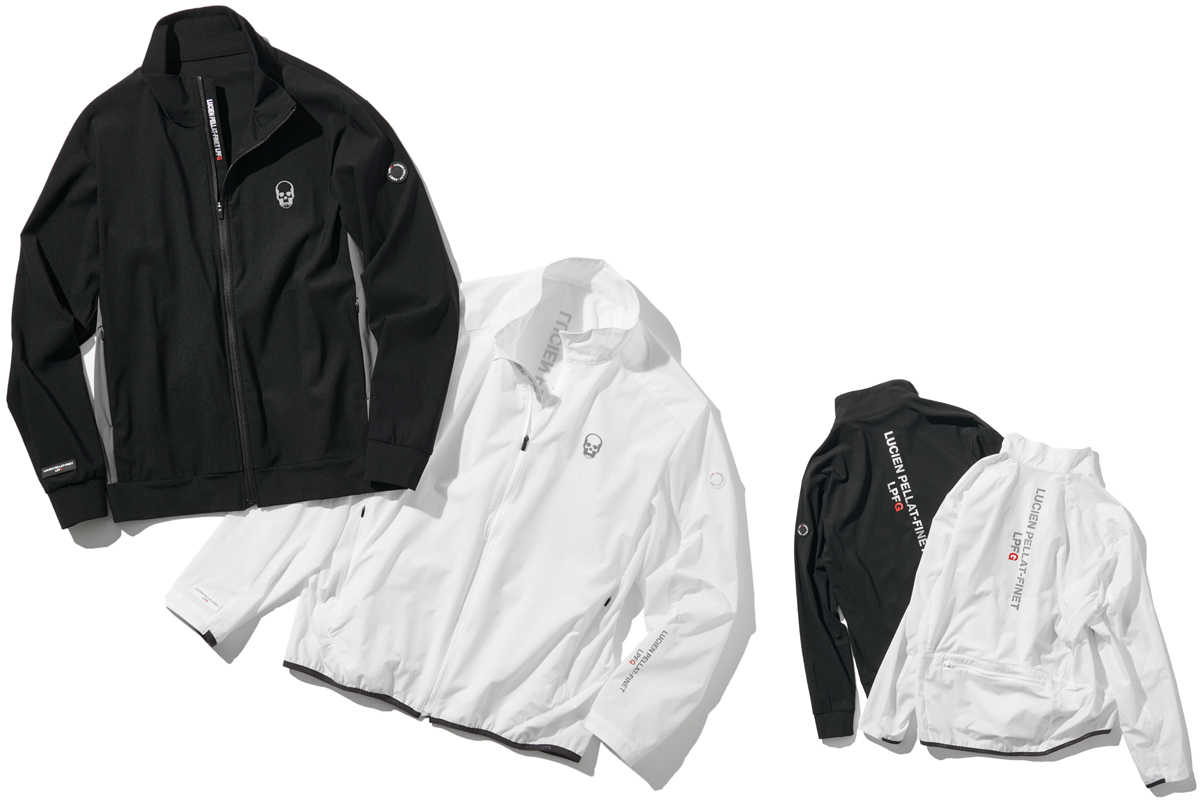 White 74,800 yen, Black 64,900 yen (Lucian Perafine LPFG / Lucian Perafine Tokyo Midtown store)
Do not disturb the swing
Outstanding stretch power
Active material is used for the outer. It has excellent stretchability and is smooth to the touch. Thanks to that, it is comfortable to wear even with a classic silhouette. Needless to say, the golf course is exposed to the wind in an environment surrounded by nature. The wind hits the body directly, and it may get cold in early autumn. If you have this windbreaker, you can rest assured all season. The white one can be folded compactly and is highly portable.
◆Golf items◆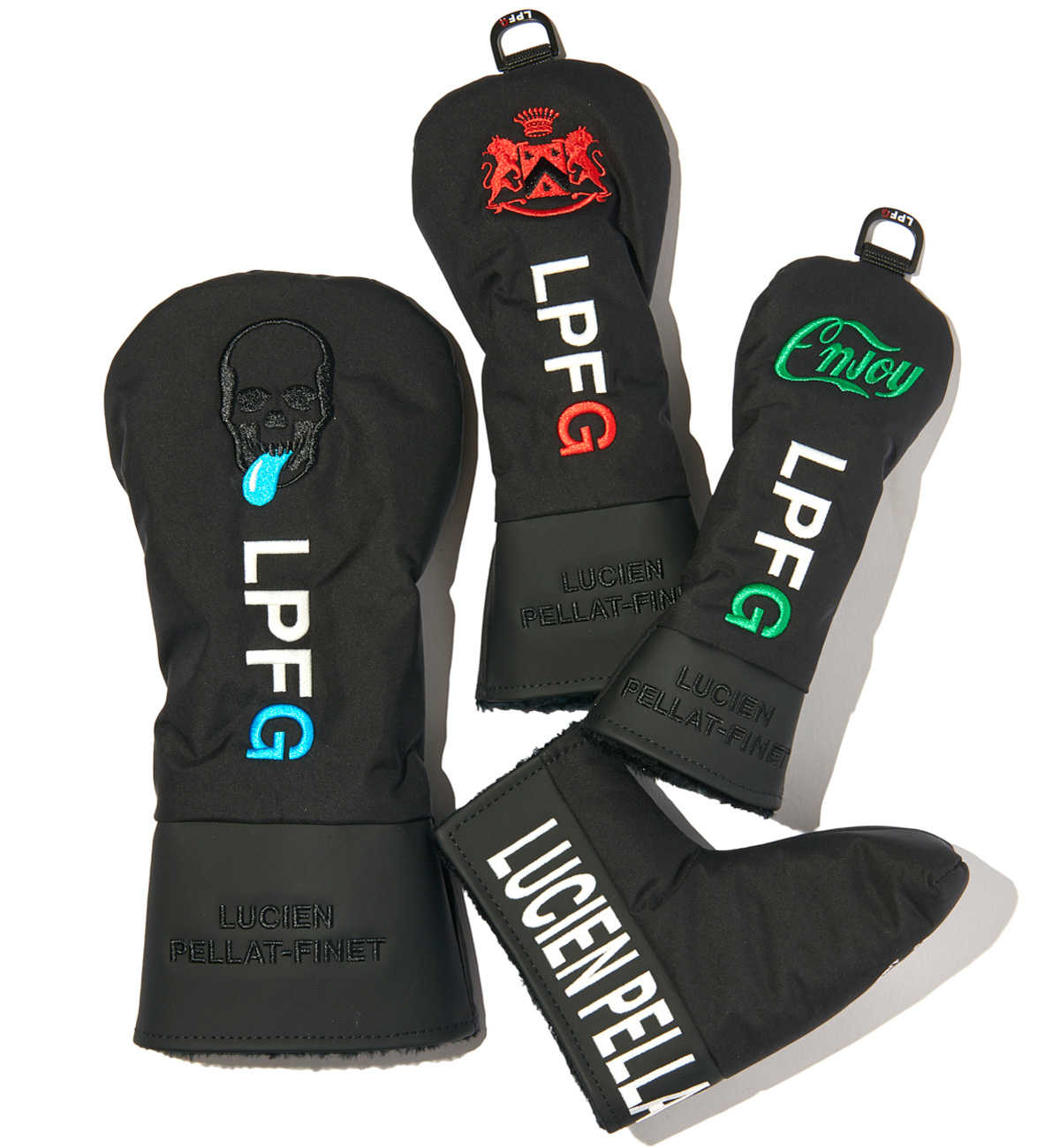 Putter 11,000 yen, large 16,500 yen, medium 13,200 yen, small 11,000 yen (Lucian Perafine LPFG / Lucian Perafine Tokyo Midtown store)
Graphics with an edge
Also on the head cover!
The club head cover also comes with original graphic embroidery. Both have a great impact, so it's perfect for getting a sense of fashion. It also has a high cushioning property to protect important grabs from impact. There are four types in all. Released for putters, utilities, fairway woods and drivers. Each comes with 4 count marks. Used by attaching to the carabiner at the tip.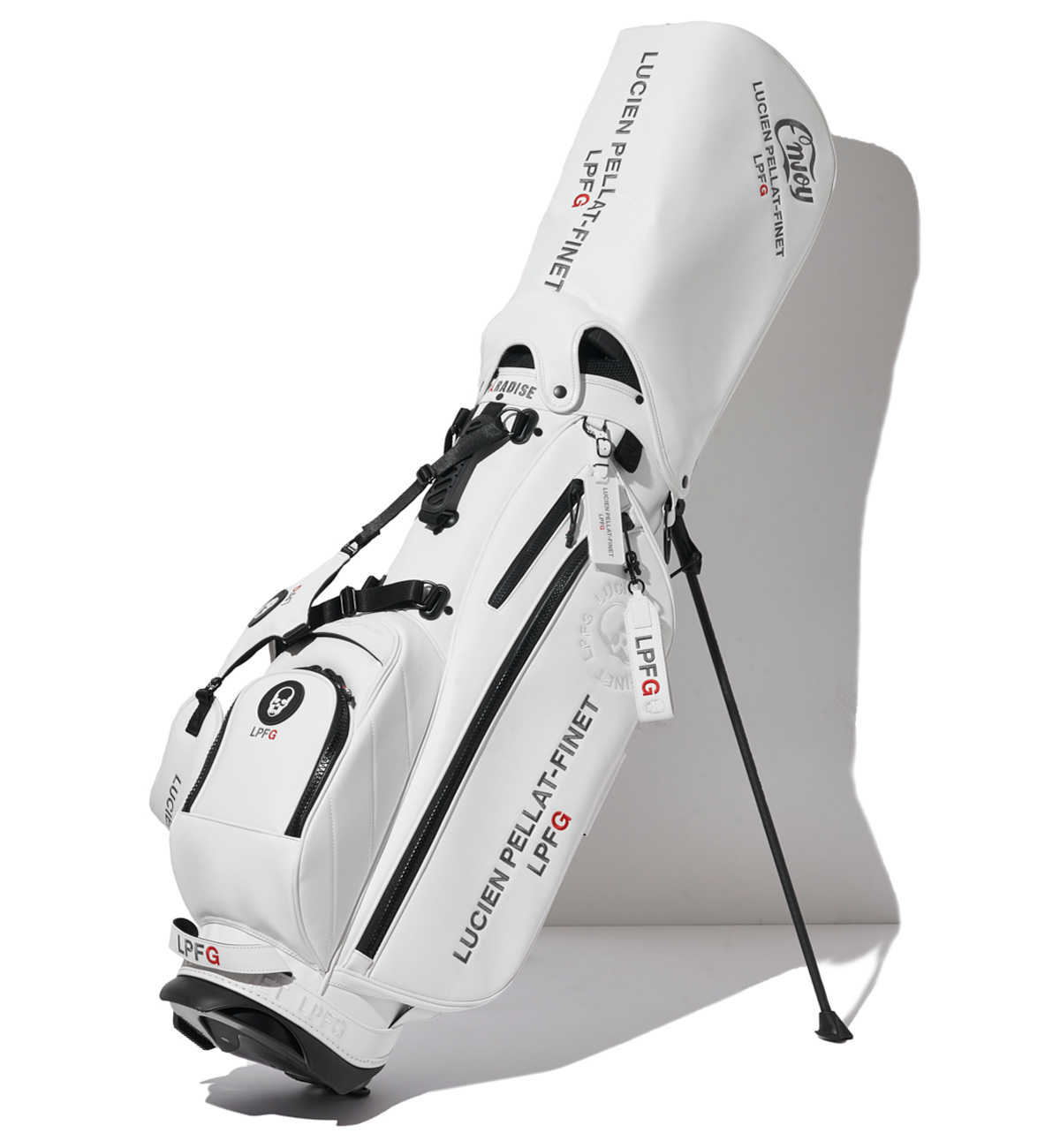 Caddy bag 132,000 yen (Lucien Pella-Fine LPG/Lucien Pella-Fine Tokyo Midtown)
Not just stylish
Practicality suitable for a partner
A type that is used by standing diagonally supported by two stands. It is lighter than a general cart type. The part that touches the body when carried is equipped with a cushion pad with a skull mark. In addition, the caliber is 9 type (about 23 cm), and the mouth frame is divided into 5 specifications. Plenty of pockets for storing golf shoes and raincoats. The ease of use is just as good as the design.
Information
● Lucien Pellat Fine Tokyo Midtown
TEL: 03-5647-8333
Photo by Kouki Marumasu Styling by Takumi Tagawa Text by Ryuto Senoo
photo: Kouki Marueki (BOIL) styling: Takumi Tagawa (remix) text: Ryuto Senoo

Follow Us
We will send you the latest information on Safari Online.
Source link