Lifestyle
Power performance of 500Nm & 400ps!Stimulate everyday life with the new Audi RS 3 | "Life is fun when work is fun" | GOETHE men's lifestyle magazine
Speaking of Audi with the name "RS", it is a top-of-the-line model that captivates car lovers with its high-spec performance and sharp driving performance. However, the new Audi RS 3 this time is interesting because it is perfect for everyday use in addition to its further evolved performance. In other words, you can use it without worrying about spending time with your partner, as well as going out for a short time. I would like to explore where the charm of the new Audi RS 3, which is suitable for such daily use, lies.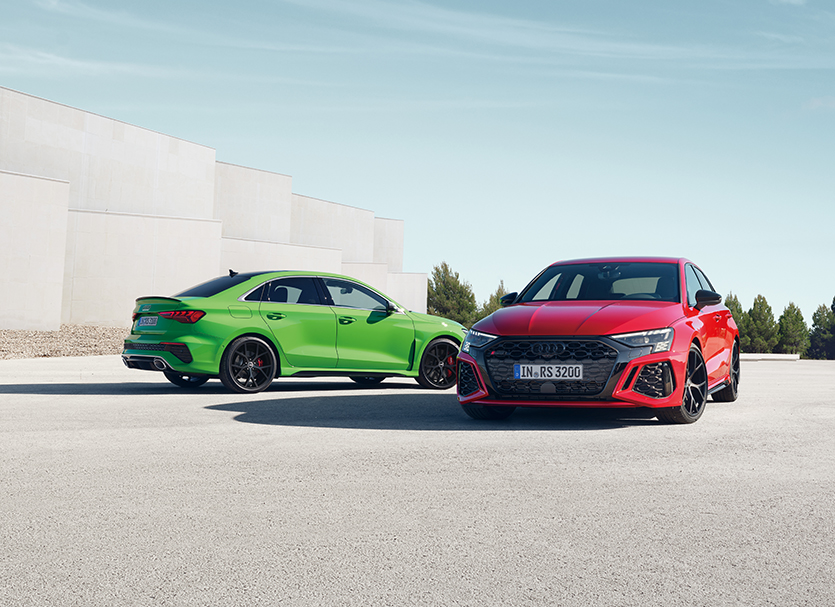 Urban design that makes you want to take it out every day
The sense of the city school is to seek "sophistication" and "stylishness" in their homes and personal items. Cars are no exception. If the car standing in your garage or garden has a design that you will fall in love with, it is only natural that you will want to drive it every day. What if it's the new RS 3, for example? Even a short trip to your neighborhood should make you feel like, "Let's have some fun."
Of course, such a high design is more than enough to shine in the city. In front of luxury boutiques and hotel valet parking, even the most compact "RS" is not inferior. Rather, it is no exaggeration to say that the sophisticated design creates the scenery of the place. Looking straight at the new RS 3 parked, I fell in love with it every time I approached it. Besides, when it comes to premium sports cars like the new RS 3, even the high-quality fashionable items you wear can look good. This is sure to make you feel good as an owner.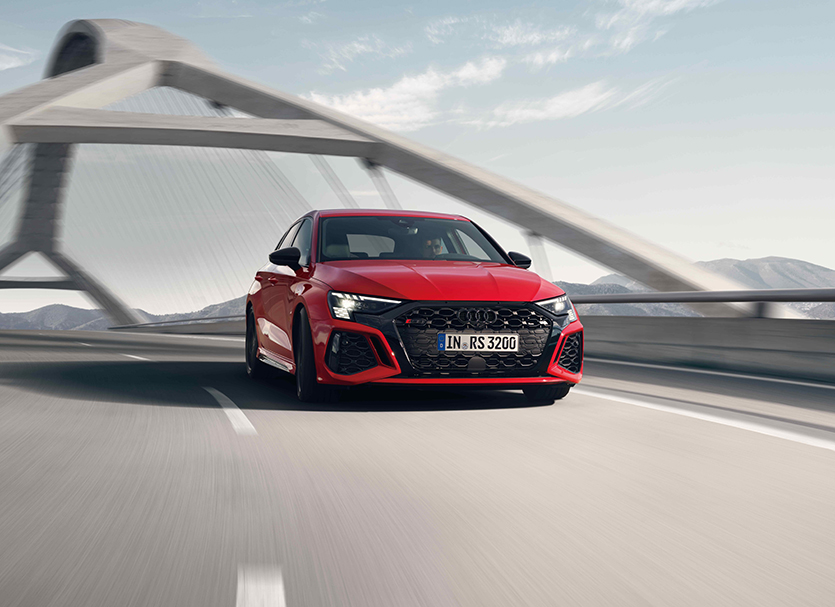 A smile beyond imagination!
And when you start running, a pleasure beyond imagination awaits. In town, the 2.5-liter 5-cylinder turbo engine, which delivers 500Nm of maximum torque from just 2250rpm, provides brisk acceleration and comfortable running even at low speeds. Its ability is such that it runs from 0 to 100km/h in just 3.8 seconds. This is especially useful in cities where there are many stop-and-gos. Even though you are just driving normally, you can really feel that you are riding a good car.
And the same is true for weekend trips. Backed by 294 kW (400 PS) of power on the highway, it goes without saying that it moves forward like an arrow. Even on winding roads leading to mountain lakes and hot springs, the well-developed four-wheel drive system (Quattro) and torque splitter that enables ideal torque distribution will assist you in cornering at a high level.
By the way, the new RS 3 has a distinctive engine sound. In Dynamic and RS Performance modes, for example, the exhaust system's variable flaps open earlier, creating an emotional sound. As you can imagine, those who know how pleasant the sound of the engine echoing in the trees is. In other words, when you ride the new RS 3, even if you are driving slowly at low speeds or stepping on the accelerator a little harder, an exciting drama awaits. If you get such a car, it's no wonder you want to go out every day.
Also, there are many people who are curious about the interior where they spend a long time. The fact that it is easy to get on and off normally is inherited from the A3. The seat position is never too low, so it has mobility even when shopping in the city. It will be a strong ally for everyday use. However, this car is RS. The interior is also equipped with many RS-specific components to emphasize its sportiness.
A racy cockpit with an uplifting feeling
First around the cockpit. The 12.3-inch display, which is equipped with the "Audi Virtual Cockpit Plus" standing in front of the driver as standard, not only displays the engine speed as a bar graph, but also can display the power and torque as a percentage. The exhilaration of facing a famous engine that has won the International Engine of the Year award for nine consecutive years is tremendous. In addition, the new optional "RS runway" design tachometer has a unique style reminiscent of a runway, and displays engine speed in the opposite direction (highest value in front, lowest value in back).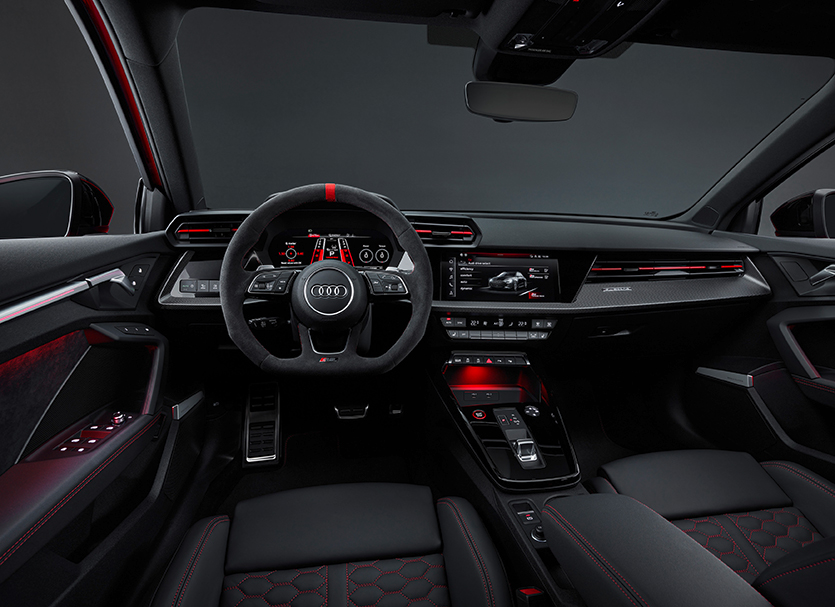 And when you start running, further performances are waiting. The RS-specific shift indicator (operated in manual mode) flashes like a racing car, changing colors from green to yellow to red. Since it informs the driver of the ideal shift up timing, is it exactly like a racer? The RS 3 also features a shift light indicator and head-up display for the first time. It tells you the information of your favorite car with a perfect performance.
The carbon fiber instrument panel and RS sports seats with RS embossing add even more excitement. Contrast stitching in anthracite also contributes to the atmosphere of a racing car. Every time I get in the car, it makes me feel like I'm flipping a switch.
Ride RS to boost performance!
The new RS 3 seems to be quite enjoyable for everyday use, but when you are alone, you will want to enjoy the unique driving experience of the "RS". In that respect, nothing can replace the thrilling driving that comes from the A3 size compact body.
After all, the new RS 3 is a car that boasts the best figures in its class in terms of acceleration performance and maximum speed. Maximum torque is 20Nm higher than the previous generation. The maximum output of 400PS has expanded the generation rotation range, and the performance has been further improved.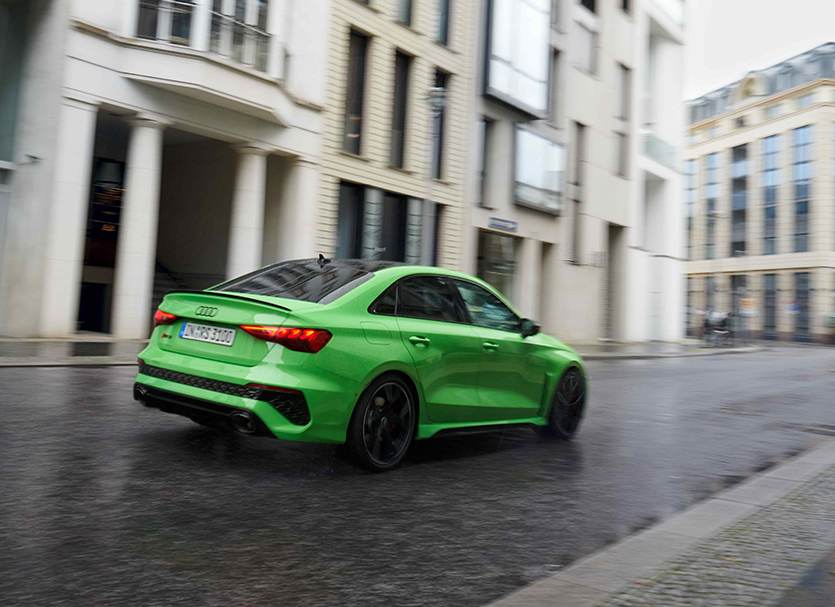 In the midst of all this, the most striking evolution of the new RS 3 is its increased agility. What made it possible was the torque splitter and RS drive mode, which were standard equipment for the first time in an Audi model. Simply put, a torque splitter intelligently distributes the torque applied to the wheels according to the situation. When cornering, it increases the torque applied to the outside wheels to reduce understeer, contributing to more agile driving. Along with that, a mode called "RS Torque Rear" dedicated to drifting is also installed. In this mode, the torque distribution of the torque splitter switches to a dedicated setup, which makes it possible to drift on the circuit, so it's irresistible for those who are confident in their skills.
A sedan and a sportsback that you can choose according to your taste
The 3rd generation Audi RS 3 Sportback and the 2nd generation Audi RS 3 sedan, which have undergone a full model change for the first time in four years, offer thrilling driving as premium sports cars suitable for everyday use. no doubt. Not only is it suitable for urban lifestyles, but if you feel like it, you can enjoy unrivaled sports performance. Isn't it exactly this kind of car that "you can see the good taste"?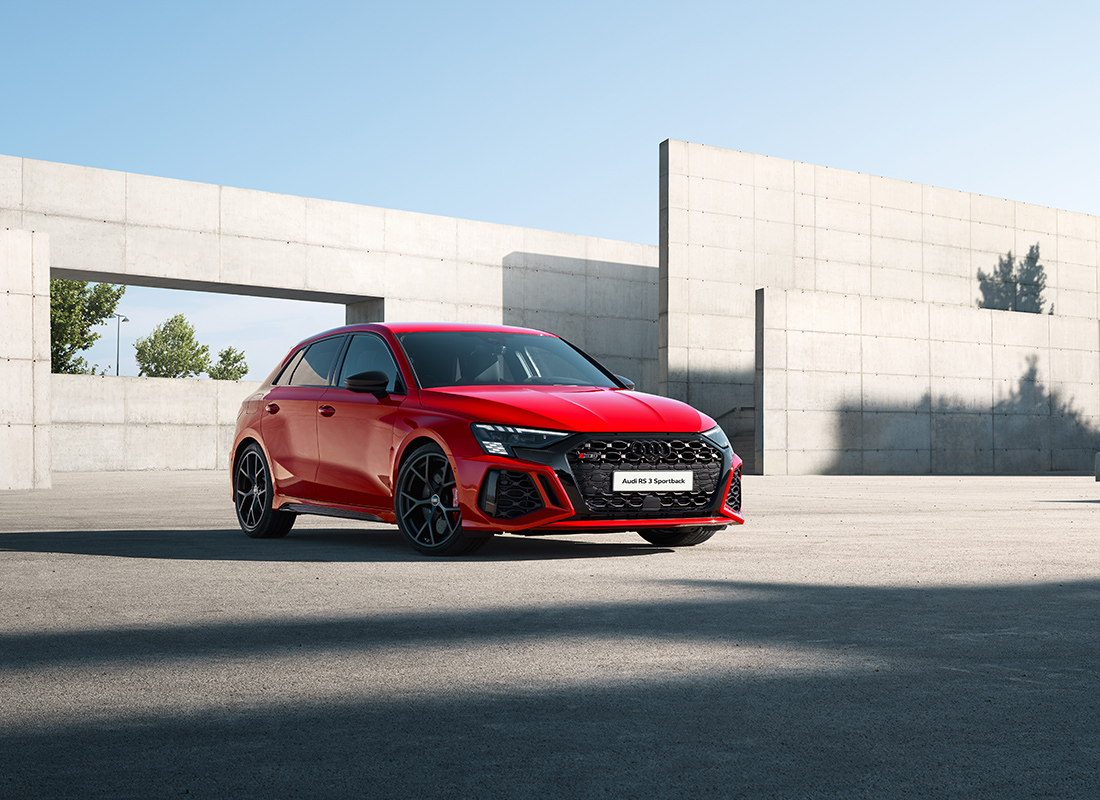 Audi New RS 3 Sportback
Body size: Length 4390 x Width 1850 x Height 1435mm
Wheelbase: 2630mm
Engine: 2.5ℓ in-line 5-cylinder DOHC turbo with intercooler
Displacement: 2480cc
Maximum output: 294kW (400PS) / 5600-7000rpm
Maximum torque: 500Nm (51kgm) / 2250-5600rpm
Transmission: 7-speed S tronic
Drive system: Quattro (four-wheel drive)
Vehicle price: ¥7,990,000
Check the official website for more information!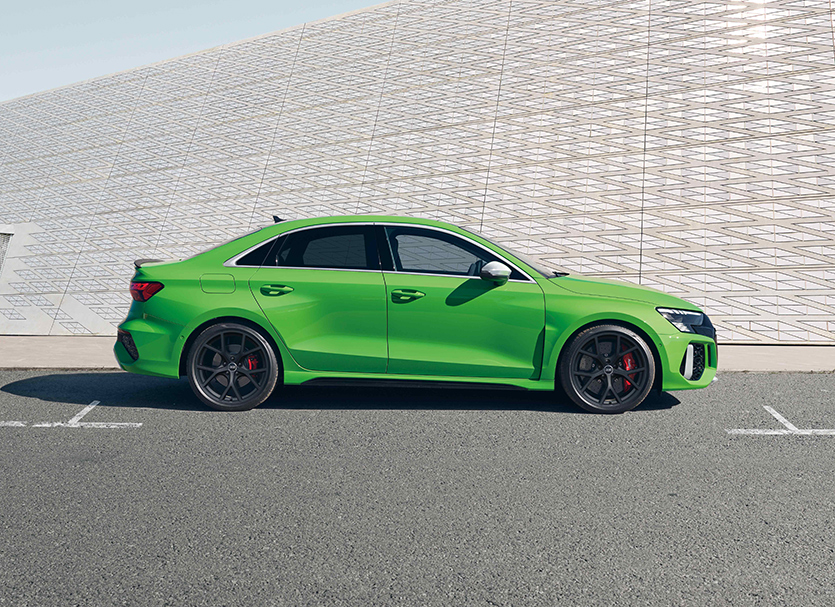 Audi New RS 3 Sedan
Body size: Length 4540 x Width 1850 x Height 1410mm
Wheelbase: 2630mm
Engine: 2.5ℓ in-line 5-cylinder DOHC turbo with intercooler
Displacement: 2480cc
Maximum output: 294kW (400PS) / 5600-7000rpm
Maximum torque: 500Nm (51kgm) / 2250-5600rpm
Transmission: 7-speed S tronic
Drive system: Quattro (four-wheel drive)
Vehicle price: ¥8,180,000
Check the official website for more information!
inquiry
Audi Communication Center TEL: 0120-598-106
Source link