Business
Started offering a new form of compliance training "BUSINESS LAWYERS COMPLIANCE-For factories-Compliance learned through manga" – Japan NEWS
[Bengo4.com, Inc.]

Bengo4.com Co., Ltd. (Minato-ku, Tokyo, President: Taichiro Motoei, hereinafter referred to as "our company") has launched a corporate compliance training service that utilizes manga, "BUSINESS LAWYERS COMPLIANCE – For Factories – Learning through Manga." We are pleased to inform you that we have started offering "Compliance for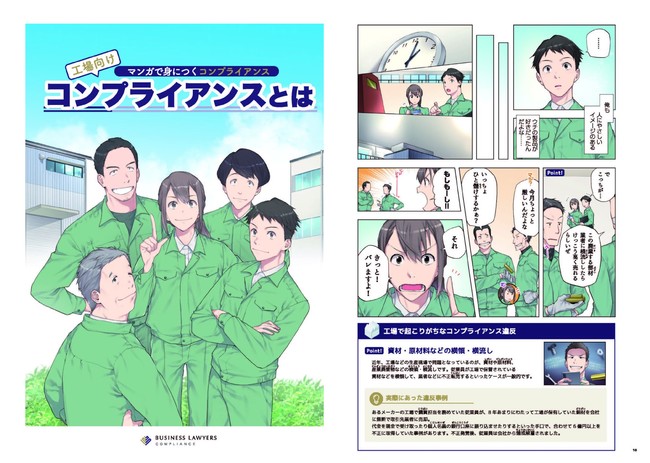 BUSINESS LAWYERS COMPLIANCE: https://www.businesslawyers.jp/static/blcomp
■ Background of provision
BUSINESS LAWYERS COMPLIANCE was launched in 2020 as 9 short drama-style training contents that correspond to real and digital, against the backdrop of the recent increase in corporate compliance training needs and the spread of remote work due to the spread of new coronavirus infections. did. Currently, 18 contents including "power harassment" and "sexual harassment" are being developed. All content is supervised by lawyers.
In response to the voices of companies facing challenges in implementing compliance training at their production sites, this manga-style training material was created as a training material in the form of a manga specifically for factories.
The story is set in a fictitious manufacturer's factory, and the characters workers face compliance issues in the factory. I'm here. In addition, by combining it with the confirmation test included in the appendix, you can expect to further improve the training effect.
■ Service overview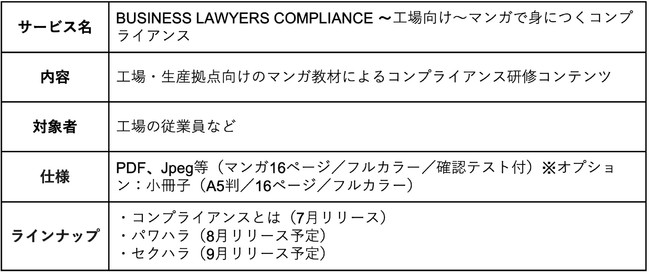 ◆ About BUSINESS LAWYERS https://www.businesslawyers.jp/
BUSINESS LAWYERS is Japan's largest portal site for corporate legal affairs, with approximately 690,000 monthly visitors. 939 experienced corporate legal staff and lawyers comment on the latest legal revisions and judicial precedents. Currently, more than 2,000 pieces of content are posted. We also offer a subscription service "BUSINESS LAWYERS LIBRARY" where you can browse Japan's largest legal books and magazines, and a corporate compliance training service "BUSINESS LAWYERS COMPLIANCE".
About Bengo4.com Co., Ltd. https://www.bengo4.com/corporate/
Headquarters Kurosaki Building, 4-1-4 Roppongi, Minato-ku, Tokyo
Established July 4, 2005
Capital 439 million yen (as of March 2022)
Representative: Taichiro Motoei, President and Representative Director
Listed Market Tokyo Stock Exchange Growth Market
Business content In order to create a society where people all over the world can use "wisdom to live = intellectual information" more freely, and to create a society where people can live happily, with the philosophy of "making experts closer" We provide portal sites that connect experts, "Lawyer.com," "Tax Attorney.com," "BUSINESS LAWYERS," and a web-based cloud contract service, "Cloud Sign."
Company press release details (2022/08/01-18:47)
Source link