Fashion
Summer coordination is exceptionally adult! Beige one tone for any occasion! | Fashion | Safari Online
2022.08.02 NEW


Summer coordination is exceptionally adult! Beige one tone for any occasion!
When it comes to colors that aim to make you look more mature, stylish black is the best!? If so, try beige instead. In addition to being a color that makes you feel the gentleness of adults, it is attractive that the impression is refreshing even in summer. Furthermore, if you use this color in one tone, it will make you look more mature. What's more, you can keep this impression in any scene, so it's worth trying!
Scene01
◆ date ◆
Set up neatly and gently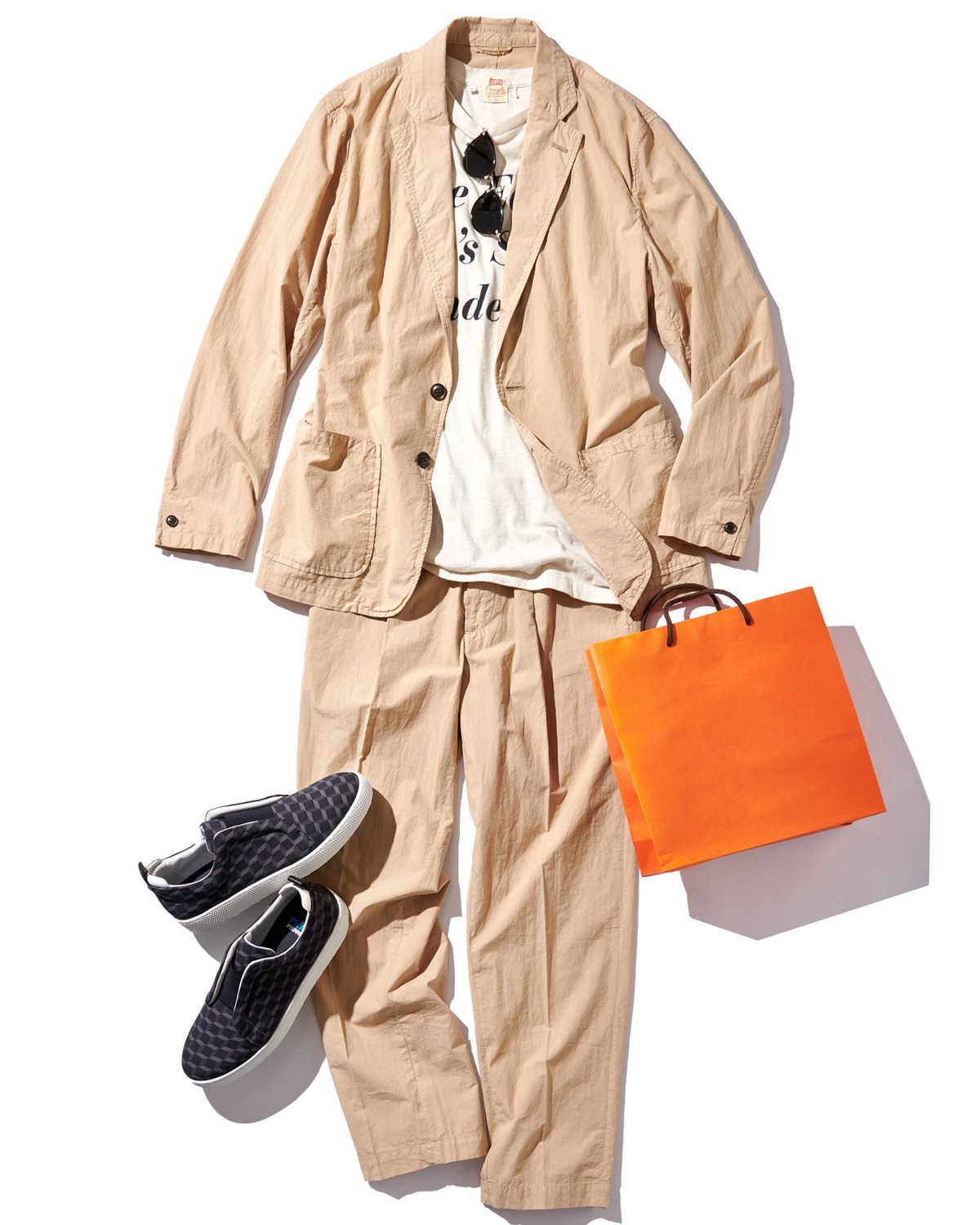 Easy setup
Excellent quality!
The easiest way to create a beige one tone is to use a setup. You don't have to think about the compatibility of the top and bottom, and yet you can make the most of the elegance of the beige color and give the impression of being dressed in a gentle and mature way. White is not bad for the innerwear, but if the beige color system is the same as the generated color, it will not be as crisp as white, and you can create a sense of nuke in the V zone with just the right amount of seasoning. It can be used for both dating and business!
Jacket 48,400 yen, set-up pants 30,800 yen (Three Dots/Three Dots Aoyama), T-shirt 14,300 yen (Levi's Vintage Clothing/Levi Strauss Japan), sunglasses 41,800 yen (Ivan/Ivan Tokyo Gallery) , Sneakers 84,700 yen (Pierre Hardy/Pierre Hardy Tokyo)
Scene02
◆Sea◆
The shorts that smell like American casual are also mature chic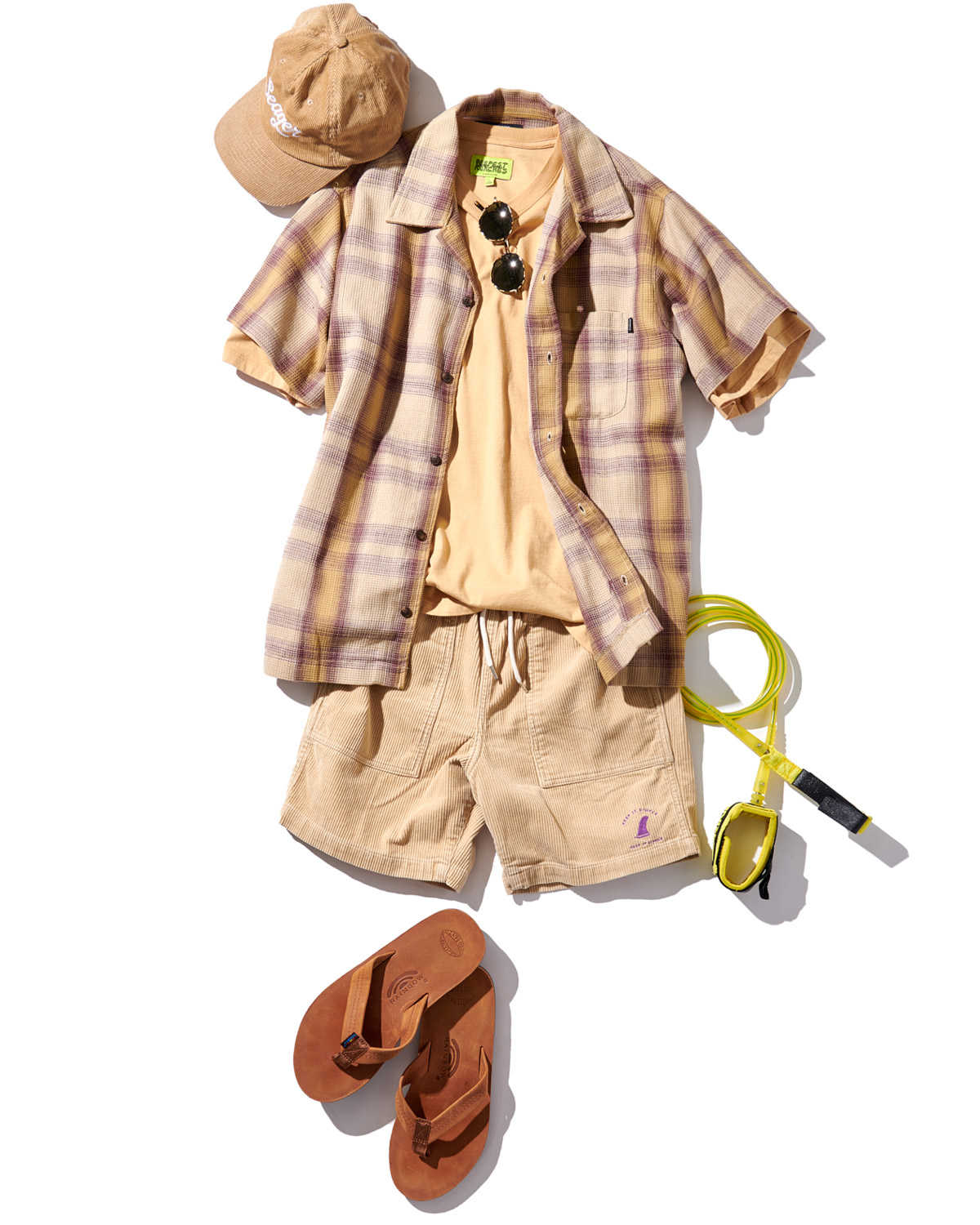 There is also a sea American casual that is easy to see
If you are dyed in beige, you are an adult!
When it comes to classic American casual in the summer surf scene, a checkered shirt and corduroy shorts. If you match this with beige, it will instantly look like an adult. If the plaid shirt is multicolored and the inner T-shirt is pre-T, it tends to make you feel like a young surfer, but with this color scheme, you don't have to worry about that. If you use the same color for your cap and sandals, it will be easier to convey that you are doing one tone, and you should look like a stylish adult even at the beach!
Checked shirt 8,800 yen (Misfit Shapes/Jack of All Trades Pressroom), T-shirt 6,600 yen (Bucks Journal/Jungle Jam), Corduroy shorts 16,500 yen (Almond/Tryon), Cap 5,720 yen (Seager/ Hand In Tree Showroom), sunglasses 42,900 yen (Ivan/Ivan Tokyo Gallery), sandals 15,400 yen (Rainbow Sandals x California General Store/California General Store)
Scene03
◆friends◆
A tough impression is also finished like an adult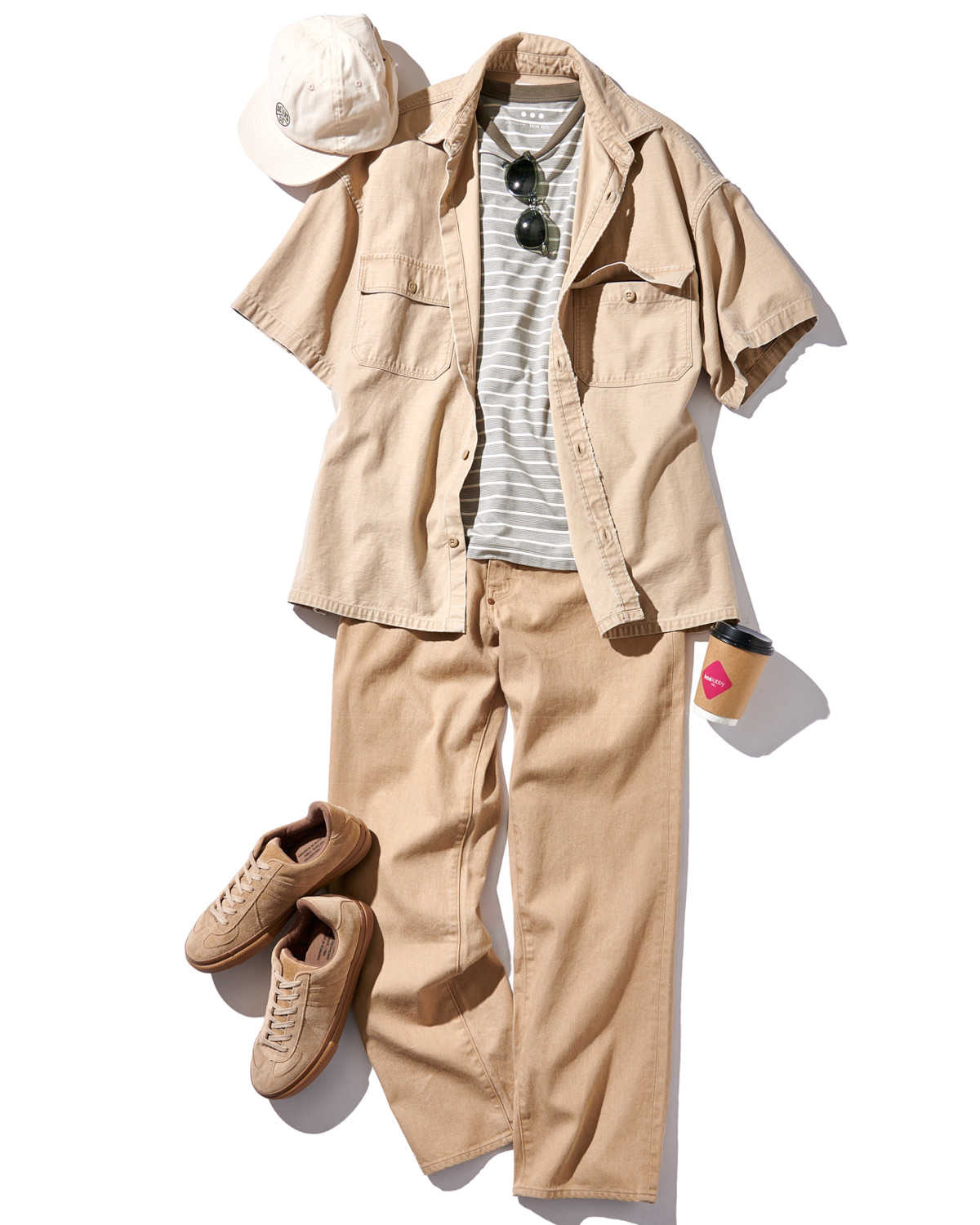 Unassuming handsome American casual
Casually shift to adult!
A double-pocketed shirt with denim is a masculine look perfect for chilling out with friends at your favorite bar. At times like this, the shirt is olive and the denim is black! What happens if you only use beige? Beige is also an earthy color, so you can create a masculine look. Still, it gives the impression of being more mature than usual. The good thing about beige is that it doesn't look ostentatious and masculine. This casual masculinity might be just right for adults!
Short-sleeved shirt 36,300 yen (RHC/RHC Ron Herman), striped T-shirt 19,800 yen (Three Dots/Three Dots Aoyama), denim pants 14,300 yen (Levi's/Levi Strauss Japan), cap 4,400 yen (Deus Ex) Makina/Jack of All Trades Press Room), Sunglasses ¥39,600 (Moscot/Moscot Tokyo), Sneakers ¥21,780 (Reproduction of Found/I Found)
Photo by Kouki Marumasu Styling by Takumi Tagawa Text by Takumi Endo
photo: Kouki Marueki (BOIL) styling: Takumi Tagawa (remix) text: Takumi Endo

Follow us
Get the latest information on Safari Online.
Source link