Food
The number of animal hospitals handling Buddy FOOD has exceeded 100! : current affairs dot com
[Buddycare Co., Ltd.]
Buddy food made from the idea of ​​​​"food suitable for families" for your dog. We have finally reached over 100 hospitals nationwide!
"Buddycare Co., Ltd.", a pet tech startup that aims to provide "the ultimate personalized healthcare for your dog" (Buddycare, Headquarters: Kagoshima City, Kagoshima Prefecture, CEO: Kazutoshi Harada, COO: Seiji Nagai, hereinafter Buddycare ) has exceeded 100 hospitals nationwide!
What is Buddy FOOD?
In recent years, lifestyle-related diseases such as cancer, heart disease, and renal failure are said to be the leading causes of death for dogs. In order for such dogs to live longer and healthier, it is important to have a healthy lifestyle, just like humans. Among lifestyle habits, diet in particular directly affects the body of living things.
Until now, the main treatment for the disease of a pet dog was symptomatic treatment (treating according to the symptoms of the disease). However, in order to avoid lifestyle-related diseases, dogs also need causal therapy (live a life that prevents them from getting sick) rather than symptomatic therapy. At Buddycare, we believe it's important to feed your dog's future while they're healthy, not when they're sick.
Our ideal rice "Buddy Food" is a comprehensive nourishing fresh food for dogs cooked in Kagoshima Prefecture, mainly using ingredients from Kyushu, mainly Kagoshima Prefecture.
* What is Comprehensive Nutrition Fresh Food? : Unlike conventional dry food, wet food, retort food, etc., it refers to rice that maximizes the original flavor and nutrients of ingredients as much as possible by limiting heating and processing to the minimum necessary while meeting the standards of comprehensive nutritional food. increase.
In making buddy food, we are thoroughly investigating "what is really good for your dog" in our own way. Our rice is based on scientific evidence and is jointly developed with veterinarians who specialize in nutrition, and complies with international AAFCO nutritional standards. Unusually for fresh food, it is age-appropriate and has a nutritional design exclusively for adult dogs (maintenance period) including senior dogs. In July of this year, we launched a new functional brand, Buddy FOOD healthcare+.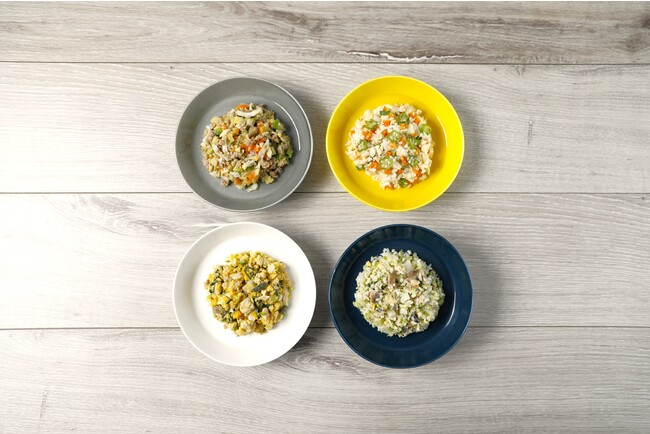 Cooperation with animal hospitals
Buddycare believes that the cooperation of veterinary hospitals is essential to convey the new food culture of "comprehensive nutritional fresh food" to owners. Therefore, from November 2021, we have started introducing them to veterinary hospitals, which is rare for fresh food.
Until now, there were not many veterinary hospitals that introduced comprehensive nutritional fresh food like Buddy Food.
While discussing with many veterinary hospitals, Buddy Food has gained the trust of veterinary hospitals by thoroughly considering the concerns of veterinary hospitals, such as nutritional value and transparency. It leads to expansion of handling.
The number of hospitals handling Buddy Food has finally exceeded 100, and we plan to expand to 1,000 hospitals by the end of this fiscal year.
About Buddycare ( https://buddycare.co.jp/ )
Buddycare is a finalist in the Kagoshima Prefecture Business Plan Contest held in 2021 in order to realize a society where dogs around the world can live in good health for as long as one day by providing "the ultimate personalized healthcare for your dog". Established on April 1, 2021 by incorporating the listed businesses. In March 2022, it was selected as one of the 33 "J-Startup KYUSHU" companies selected by the Ministry of Economy, Trade and Industry and the Kyushu Bureau of Economy, Trade and Industry. We accumulate health data through our own health management platform, and cooperate with veterinarians such as Professor Naoki Miura of the Kagoshima University Joint Faculty of Veterinary Medicine and veterinarians such as Dr. Narita and Dr. Iwakiri of DC one dish, which provides consulting on handmade food. Originally, we aim to develop personalized healthcare solutions for dogs based on scientific evidence.
As the first personalized healthcare solution, with the goal of delivering "really safe food" to all dogs, we use ingredients from Kyushu, freeze freshly cooked food and deliver it to your home. We offer "Buddy FOOD", a domestically produced pet dog meal. Developed jointly with a veterinarian who specializes in nutrition, fresh ingredients are used and cooked without excessive processing. In principle, we publish all information on our website, including the types of ingredients, suppliers, production areas, and manufacturing subcontractors.
● Click here for details:
https://buddyfood.jp
company overview
Trade name: Buddycare Inc. (English notation: Buddycare Inc.)
Location: Headquarters: 9-15 Meizancho, Kagoshima City, Kagoshima Prefecture markMEIZAN
Representative name: Kazutoshi Harada, Representative Director and CEO, Seiji Nagai, Representative Director and COO
Business: Pet health management platform development and operation business, food design, manufacturing and sales business, subscription business for other health solutions
Established: April 1, 2021
Capital: 6 million yen
URL: http://www.buddycare.co.jp
Company press release details (2022/08/18-19:47)
Source link