Travel
Navitime to provide "NAVITIME Travel Platform" | LIGARE People, Towns, Mobility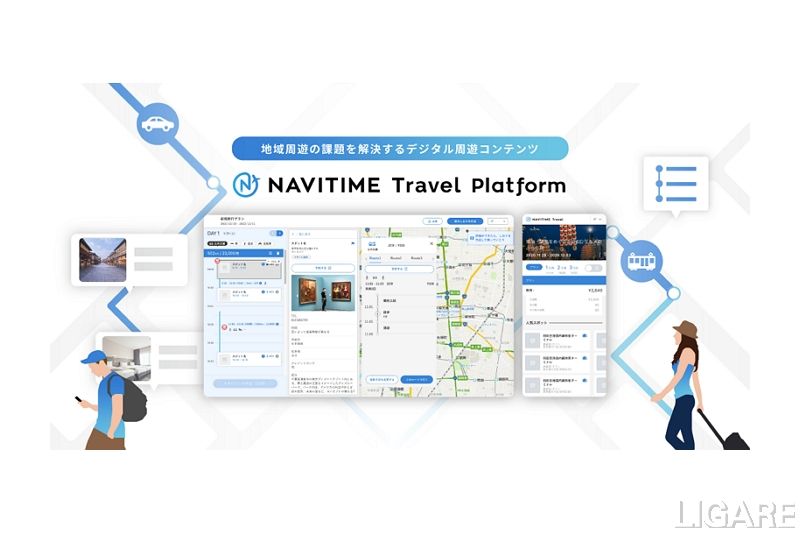 Navitime Japan Co., Ltd. will start offering the "NAVITIME Travel Platform", which provides tourist information content and itinerary creation functions. This was announced in a press release dated August 16th.
Since starting the travel business in 2016, the company has collaborated with local governments, DMOs (Destination Management Organizations), and private companies responsible for area management through various initiatives. During the collaboration, we were consulted about the problem that "we are not able to grasp how tourists are traveling around the area." In addition, "I want users to see travel information organized by the region", "I want to introduce contents that can make travel plans according to the planning and sales of excursion tickets", "I am thinking about a MaaS project, We also received requests such as "I want a process management function that allows the means to work together."
Based on these issues and requests, the platform aims to solve all kinds of issues related to excursion tourism. The main contents of the "NAVITIME Travel Platform" for business operators are expansion of tourism contents, promotion of wide-area excursions, marketing and analysis. It can provide one-stop service from provision of tourism content and travel information to analysis.
In terms of expansion of tourism content, we will utilize the tourism data "NAVITIME Travel Guide Data" to provide approximately 40,000 sightseeing spot data managed and operated by the company and a wealth of tourism article information in API format. Each information can be provided not only in Japanese but also in multiple languages.
To promote wide-area excursions, the planning package "NAVITIME Travel Planning" will be used. This makes it possible to create an itinerary by combining sightseeing spot information with route searches and maps that take into consideration various modes of transportation such as public transportation, car, walking, and bicycle.
It can also be linked with tourist information (articles, spot information, model courses, etc.) held by tourism operators, and it is also possible to add and edit spots by using management tools. You can also use the function to recommend spots you want to recommend.
For marketing and analysis, we will utilize the data analysis tool "NAVITIME Travel Insight" that will be provided in the future. This tool collects user search information and created itinerary data based on content provided by "NAVITIME Travel Planning," etc., and analyzes trends. Based on the ranking of popular spots that are often selected and correlation data between spots, it is possible to acquire marketing data such as traveler behavior that will serve as a reference for each business operator in formulating policies for tourism measures in the future. is.
In addition, the company will utilize the know-how that it has provided "NAVITIME Travel" for individuals to improve the quality of services while responding to changes in user's sightseeing behavior. Furthermore, by responding to the diverse needs of corporate users, the company aims to support problem solving for both travelers and tourism operators, as well as improve convenience and satisfaction.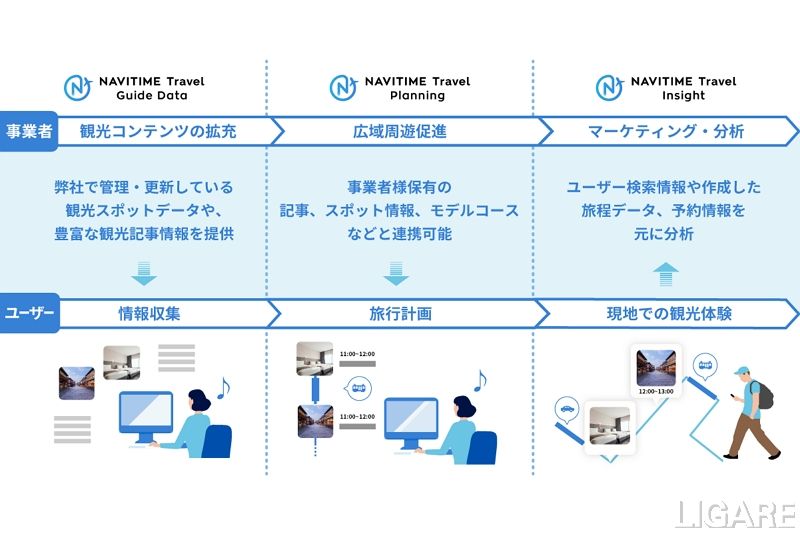 Aichi Steel to provide GMPS for autonomous driving service demonstration experiment in Shimanto City
JETRO publishes "Mobility Trends in the United States – Current Status and Challenges of CASE"