Sports
J SPORTS On Demand FIFA World Cup Japan National Team 1998-6 tournaments 21 games video distribution!
[September 02, 23:25] [Sports]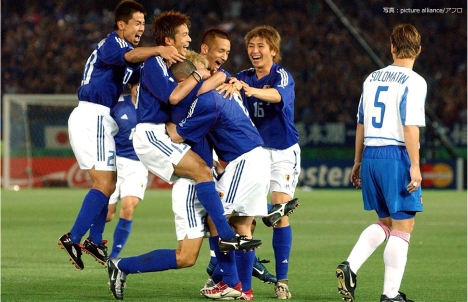 J SPORTS On Demand will play all 21 games from September to November, titled "FIFA World Cup Japan National Team Fierce Fighting Record", six games against Japan from the FIFA World Cup 1998 in France to the 2018 Russia Tournament. Do video distribution.
In September, the 1998 France tournament and the 2002 Japan/Korea tournament, a total of 7 games. The 1998 tournament, where he decided to participate for the first time after causing a miracle in Johor Bahru, took a step towards the future, recording his first goal while realizing the difference with the world after losing all three games. The 2002 tournament, which was held in their own country, showed us a new scene with points, victory, and progress to the group stage for the first time, and all of Japan was dyed in football. The TV audience rating for the second round against Russia recorded an astounding 66.1%.
October 2006 Germany tournament, 2010 South Africa tournament, 2014 Brazil tournament, all 10 games. As the number of players challenging overseas leagues has increased, the golden generation of the Japanese national team is reaching maturity. Zico Japan in 2006, which was called the strongest in history with Hidetoshi Nakata, Shunsuke Nakamura, Shinji Ono, etc., and Okada Japan in 2010, when a new generation such as Keisuke Honda, Shinji Okazaki, and Makoto Hasebe emerged. Shinji Kagawa and Maya Yoshida added Zak Japan in 2014 as a team, and we look back on the 10 games of 3 tournaments that tasted both joy and despair.
In November, the 2018 Russia tournament is still fresh in our minds, with four games. Nishino Japan, who started with a slapstick inauguration drama two months before the opening, avenged their defeat four years ago against Colombia in their first match and advanced to the final tournament with 1 win, 1 draw and 1 loss. In the round of 16, they played against Belgium, who was ranked 3rd in the FIFA ranking at the time. Japan took the lead of 2 points in the second half in a match that was regarded as an overwhelming disadvantage, but after that, they lost 3 goals and suffered a come-from-behind loss. The challenge in Russia came to an end with Belgium's perfect counterattack in the second half of injury time. Four years later, the "FIFA World Cup 2022 Qatar Tournament" will start on Sunday, November 20th.

1998 France Tournament Group H
September 3 (Sat) 23:30 Round 1 Japan vs Argentina
September 4 (Sun) 9:30 Round 2 Japan vs Croatia
September 11 (Sun) 22:00 Section 3 Japan vs Jamaica
2002 Group H, jointly hosted by Japan and Korea
Saturday, September 17 22:00 Round 1 Japan vs Belgium
September 18 (Sun) 22:00 Section 2 Japan vs Russia
Saturday, September 24th 22:00 Round 3 Japan vs Tunisia
Final Tournament Round 16
September 25 (Sun) 22:00 Japan vs Turkey
2006 German Games Group F
Saturday, October 1 22:00 Round 1 Japan vs Australia
Sunday, October 2 22:00 Round 2 Japan vs Croatia
Friday, October 7 22:00 Section 3 Japan vs Brazil
2010 South Africa Games Group E
Sunday, October 9 22:00 Round 1 Japan vs Cameroon
Saturday, October 15, 22:00 Round 2 Japan vs Netherlands
Sunday, October 16 22:00 Section 3 Japan vs Denmark
Final Tournament Round 16
Saturday, October 22, 16:30 Japan vs Paraguay
2014 Brazil Tournament Group C
October 23 (Sun) 22:00 Round 1 Japan vs Cote d'Ivoire
Saturday, October 29 22:00 Round 2 Japan vs Greece
Sunday, October 30 15:00 Section 3 Japan vs Colombia
2018 Russia Games Group H
To be decided in November 1st Round Japan vs Colombia
To be decided in November Section 2 Japan vs Senegal
To be decided in November Section 3 Japan vs Poland
Final Tournament Round 16
November undecided Japan vs Belgium
Showing 1 to 15 out of 74641.
<<

1

2
3
Four
Five
6
7
8
9
Ten
>>
Showing 1 to 15 out of 74641.
<<

1

2
3
Four
Five
6
7
8
9
Ten
>>