Food
Toppan Printing to exhibit for the first time at Fine Food Australia 2022, an Australian food exhibition – Japan NEWS
[Toppan Printing Co., Ltd.]
Exhibiting various cutting-edge sustainable packaging materials including GL BARRIER for end users in Australia
Toppan Printing Co., Ltd. (Headquarters: Bunkyo-ku, Tokyo, President: Hideharu Maro, hereinafter referred to as Toppan Printing) will hold a food exhibition in Melbourne, Australia from September 5th (Monday) to 8th (Thursday), 2022. We will exhibit for the first time at the "Fine Food Australia 2022" (venue: Melbourne Convention Exhibition Centre).
At this exhibition, Toppan Printing will exhibit various cutting-edge sustainable packaging materials, including the transparent barrier film GL BARRIER, for end users such as food manufacturers in Australia.
 
"Fine Food Australia 2022" is Australia's largest food exhibition, held twice a year in Sydney and Melbourne. Food, beverages, beverage sales equipment, bakery equipment and materials, health foods, dairy products, packaging, etc. will be on display. In 2019, more than 1,000 companies exhibited and more than 25,000 people visited.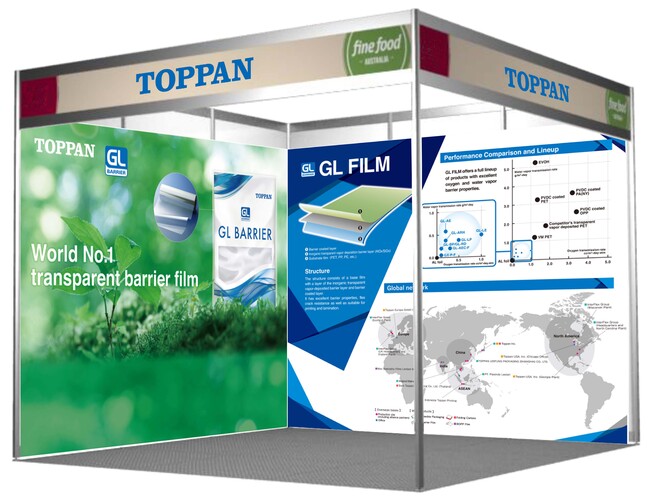 ■ Background and purpose of the exhibition
Toppan Printing has set "Digital & Sustainable Transformation" as a key concept in its medium-term management plan (April 2021 to March 2023) announced in May 2021. is accelerating the acquisition of sustainable demand and the construction of a system of local production for local consumption.
In addition, we have been promoting the packaging business in Asian areas such as Indonesia, Thailand, and China, and in April 2016, we started operation of the "TOPPAN USA Georgia Factory" and established a manufacturing and supply system for "GL BARRIER" for Europe and the United States. Did.
Last year, we acquired the InterFlex Group, a packaging manufacturer that operates in the United States and the United Kingdom. Most recently, we have made major Indian film manufacturers Max Specialty Films and Thai packaging manufacturer Majend Makcs into consolidated subsidiaries. , Central and South America, and Asia.
This time, through exhibiting at this exhibition, Toppan Printing will enter the Australian market, one of the leading markets in the Asia/Oceania region, in order to meet the global demand for sustainable packaging materials due to the recent rise in environmental awareness. We will work to expand the recognition of our globally expanding converting business and "GL BARRIER" and further expand our business.
■ Main exhibition contents
・"GL BARRIER" and related barrier packaging materials
"GL BARRIER" is a general term for the transparent barrier film independently developed by Toppan Printing. We possess the world's highest level of barrier performance through our proprietary vapor deposition processing technology and a wide range of product lineups for various applications. As a top brand of transparent barrier film, we have earned high acclaim not only in Japan but also in overseas markets such as Europe, the Americas, and Asia. increase.
At this exhibition, in addition to film products, we will exhibit related barrier packaging materials such as microwaveable packaging materials and paper composite containers.
URL: https://www.toppan.co.jp/living-industry/packaging/products/barrier_film/
・Mono-material barrier packaging
 Developed independently by Toppan Printing as a new lineup of "GL BARRIER", it achieves high barrier properties and various physical properties while being composed of a single material such as PP or PE without laminating multiple materials with different roles. It's a package. This package has been highly evaluated for recyclability by multiple recyclability evaluation organizations in Europe.
URL: https://www.toppan.co.jp/living-industry/packaging/topics/column/005/
■ About "Fine Food Australia 2022"
Name: Fine Food Australia 2022
Date: September 5th (Monday) to 8th (Thursday), 2022
Venue: Melbourne Convention & Exhibition Center
Organizer: Diversified Communications Australia
Official website: https://finefoodaustralia.com.au/ (English)
* Product and service names mentioned in this news release are trademarks or registered trademarks of their respective companies.
* The information contained in this news release is current as of the date of the announcement. Subject to change without notice.
that's all
Company press release details (2022/09/02-12:48)
Source link