Lifestyle
[Women's trip Ishigaki Island 3]In search of unforgettable tropical scenery | Reading of fashion magazine "Linen"
One of the real pleasures of traveling is the unforgettable scenery. As you pass through the subtropical forest, the transparent sea suddenly spreads in front of you. Such a movie-like scene will remain on the back of your eyelids even after you return from your trip. The charm of traveling is that it fills your heart with sights that you cannot see in the city. The third trip to Ishigaki Island will deliver such dramatic scenic spots.
table of contents
[Women's trip Ishigaki Island 3]In search of unforgettable tropical scenery
Go around the old seabed and go through a fantastic limestone cave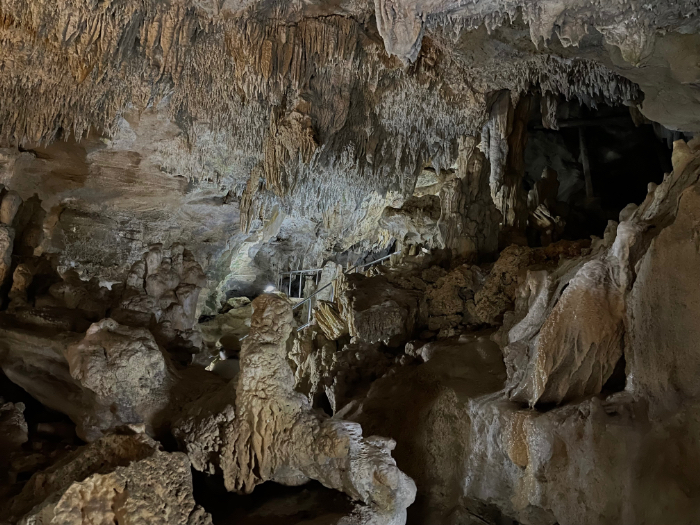 Ishigakijima Limestone Cave, the largest of the remote islands, is located about 10 minutes by car from Ishigaki Port. The natural beauty created by nature over 200,000 years is an underground space that overwhelms the viewer. At present, about 660m is open to the public at a total length of 3.2km. When you enter the limestone cave, the heat outside fades away and a cool world spreads out before you. The tour takes about 30 minutes, but let's surrender yourself to the fantastic cave for a while and walk where the seabed used to be.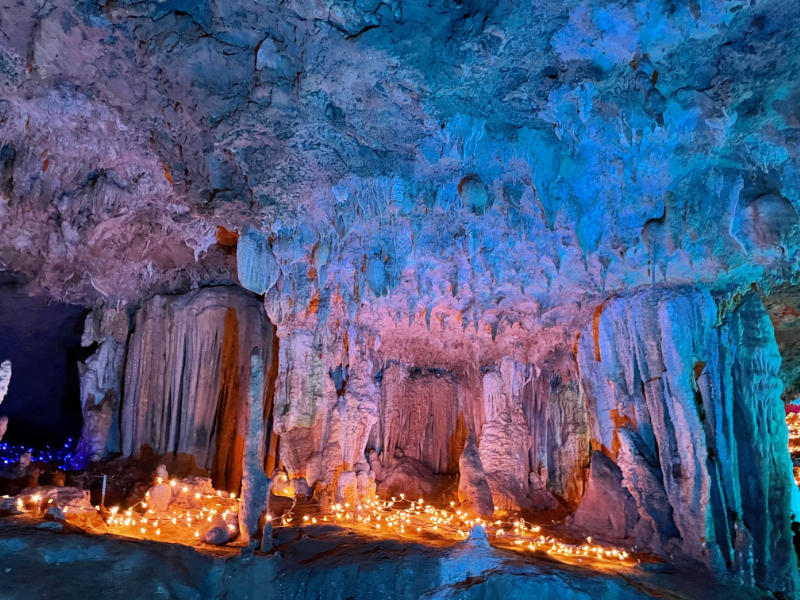 A fantastic space born from coral reefs
The stalactite "Senkyo no Hiroba" that emerges with the illumination is 50m deep x 15m wide. After many years of upheaval caused by crustal movements, it has taken on a fantastic appearance.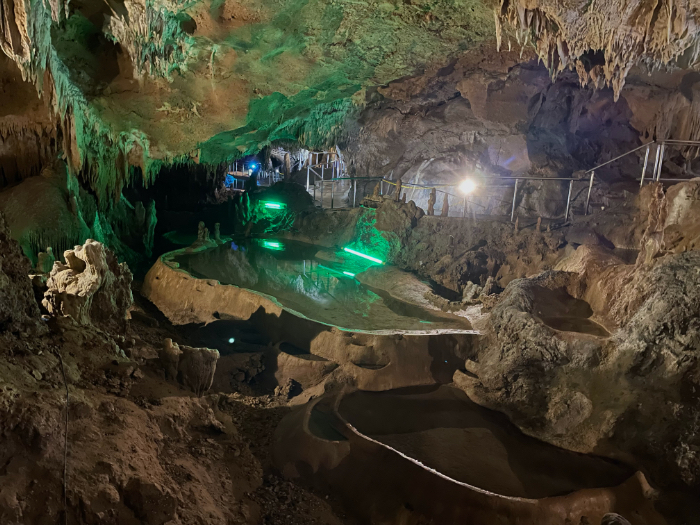 My heart flutters in the one and only world
A limestone cave spot called "Lake of Longevity" for its clear and beautiful spring. Fossils of shells tell us that there was a sea in ancient times. [Ishigaki Island Limestone Cave]1666 Ishigaki, Ishigaki City, Okinawa Prefecture
0980-83-1550
9:00-18:00 (reception hours) 18:30 (closed)
Adult 1200 yen Child 600 yen
https://www.ishigaki-cave.com
Let's go to Kabira Bay to see Kabira Blue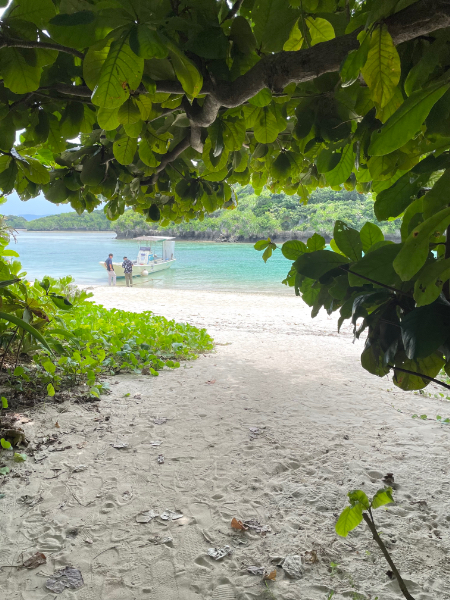 After passing through the tropical trees, the pure white sandy beach stretches out, and beyond that lies the highly transparent sea called "Kabila Blue." This is Kabira Bay, a scenic spot called Ishigaki Island's number one spot.
It is said that the color of the sea changes depending on the weather and the time of day, and you can gaze at it for a long time.
Swimming is prohibited due to the fast currents, but just taking a walk around the area while admiring the scenery is a lot of fun.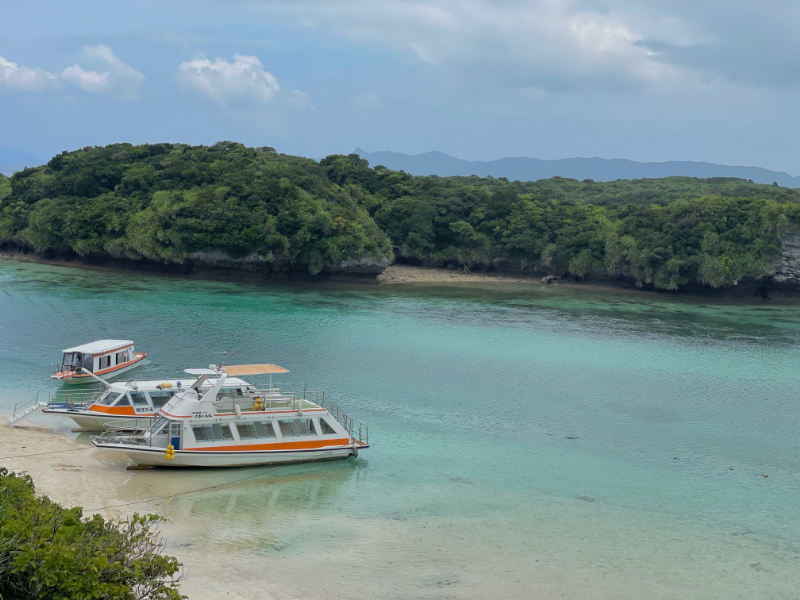 Let's take a look at the seabed on a glass boat!
One of the pleasures of Kabira Bay is to ride a glass-bottomed boat from the beach and cruise around the sea. The bottom of the boat is made of glass, so you can see the colorful tropical fish and corals swimming in the sea. [Kabira Bay]Kabira, Ishigaki City, Okinawa Prefecture
0980-82-1535 (Ishigaki City Tourism and Culture Division)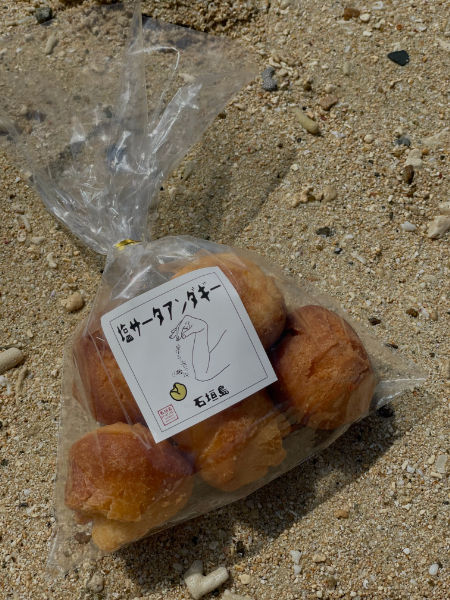 Snack is salty sata andagi
If you get hungry, try the Ishigakijima salt sata andagi sold near Kabira Bay. The slightly salty type is popular now. The outside is crunchy and the inside is soft, but the sweet and salty flavor is the best. [Tropical Cafe Mas]917-1 Kabira, Ishigaki City, Okinawa Prefecture
090-9587-5420
www.instagram.com/tropicalcafemas/
Memories of the trip along with souvenirs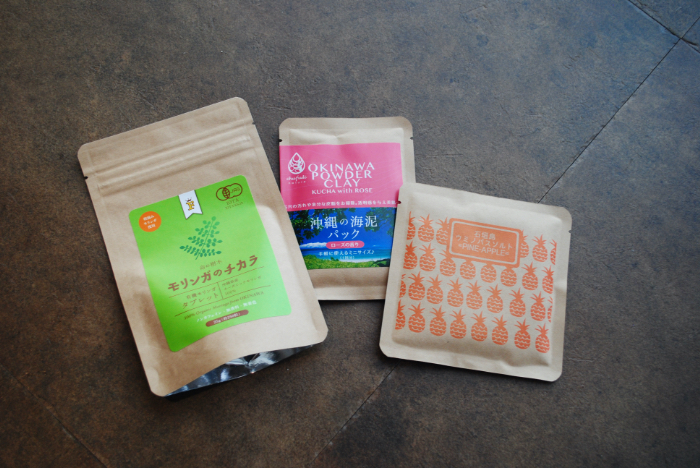 Care for a tired body from the inside and out
After playing a lot in the sun, relax at home and take care of your body. Take a leisurely bath and immerse yourself in the memories of your trip.
(right)
A bath salt with a sweet and gentle scent made from pine trees from Ishigaki Island. Uses salt from Okinawa and Ishigaki Island. Recommended for half-body bathing as you sweat a lot. Ishigaki Island Umino Bath Salt ¥385/Avance
(Center) Sea mud deposited on the ocean floor millions of years ago absorbs sebum and dirt in the pores.Okinawa Powder Clay Mini Kucha with Rose ¥385 / Chuhudi
(Left) Moringa is called "God's gift" around the world. The leaves are rich in zinc, iron, calcium, vitamins and polyphenols, and contain 19 kinds of amino acids. Aim for 10 capsules per day. 250 Organic Moringa Tablets ¥2,376/Free Our Soul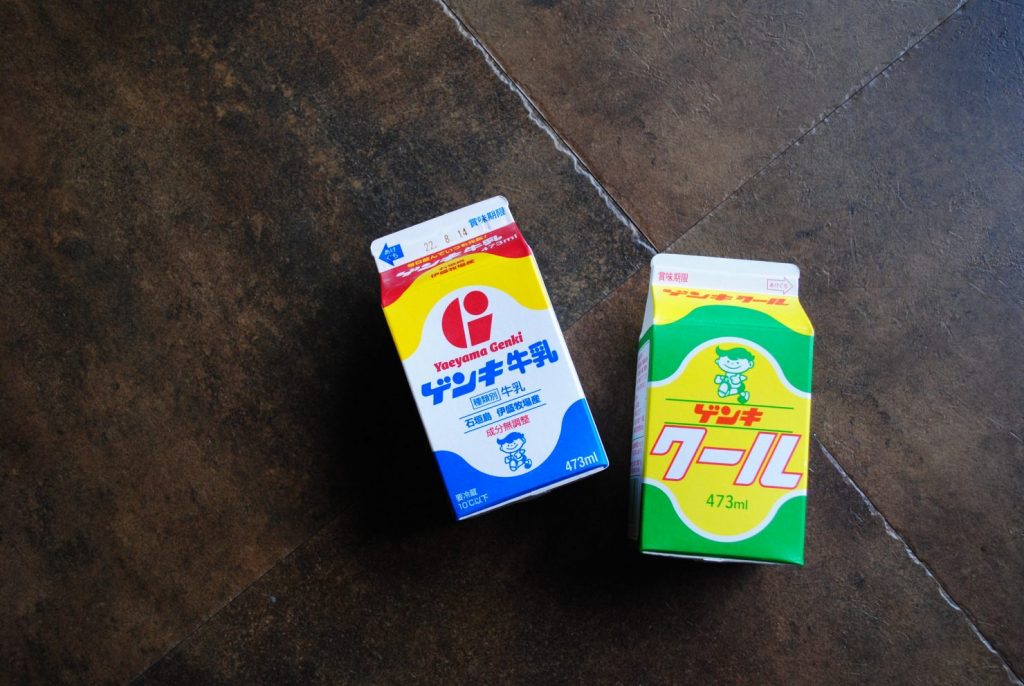 Local drinks only available on Ishigaki Island
Founded in 1957 on Ishigaki Island, milk and lactic acid beverages from a local dairy industry. A drink that can only be purchased in the Yaeyama Islands. Genki-kun, a local character, is a landmark. At the shop, you can find a wide variety of items such as Genki-kun's stationery and T-shirts. [Genki Ishigaki Sakai Store]9-1 Misakicho, Ishigaki City, Okinawa Prefecture
0980-82-8676
10:00-21:30
Avance
Chuhudi
Free Our Soul
at the end of the trip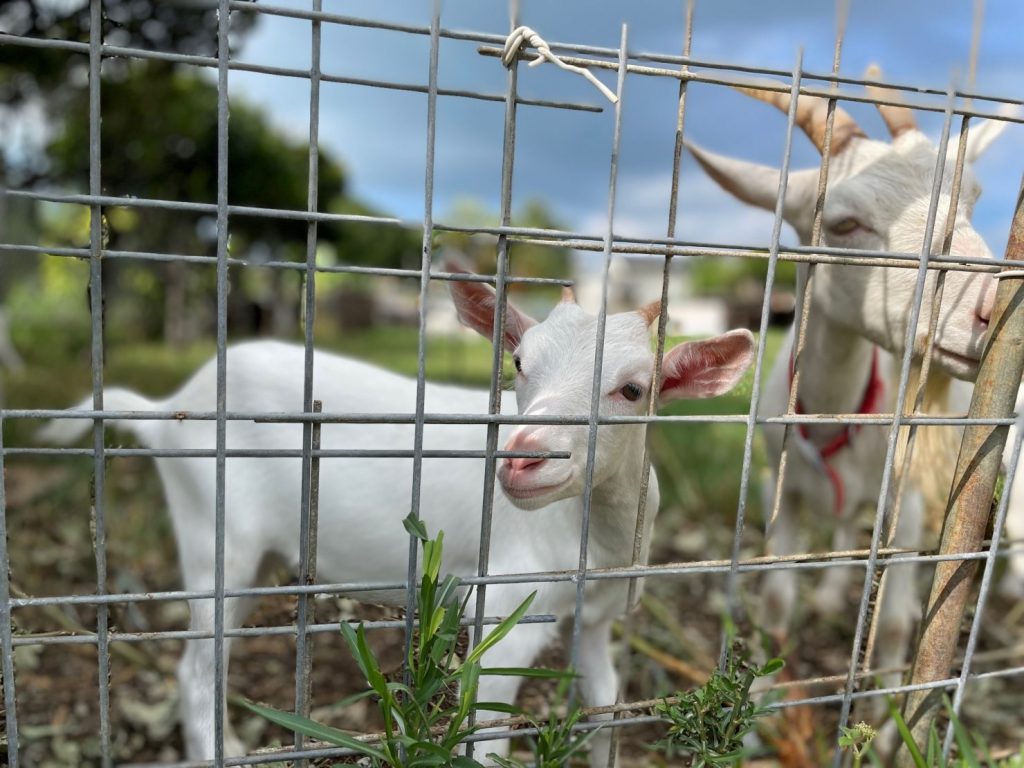 Ishigaki Island, which I visited for the first time in several years, was still a powerful place.
No matter which road you take, the energy of the earth and the sea spreads out. It is bright to the bottom.
Spending busy days in the city can be overwhelming until you get used to this indigenous atmosphere, but once you start to distance yourself from your smartphone and SNS, you can shake it off.
I didn't see many people outside the downtown area, so I immersed myself in nature, swam a lot, and ate delicious food.
Anyway, don't make it OK. Please spend your time on your own time axis.
<<[Women's Trip Ishigaki Island 1]Read "Travel like living in a rental house deigo"
<<[Women's Trip Ishigaki Island 2]Read ``Tour of tropical islands where you can enjoy the great nature of remote islands with all five senses''
PROFILE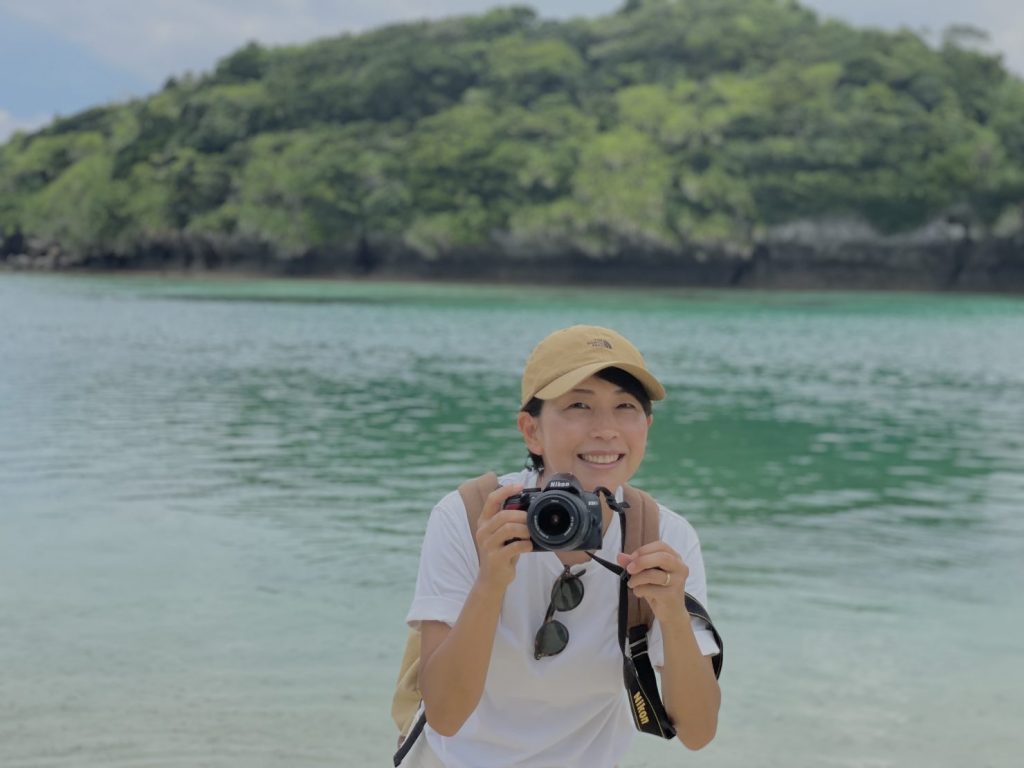 Nitta Tokiko
An editorial writer who writes about customs, traditional culture, and handicrafts that have been handed down in the region since ancient times. Recently, he often takes his own photographs and writes a column about his travels. He lives by the sea in Hayama with his family of four.
photograph & edit & text by Tokiko Nitta
*Please refrain from reprinting photos and text without permission.