Fashion
The nickname of LEO[BE:FIRST]comes from Belgium!? Interview by "SPRiNG" – FASHION BOX
BE:FIRST is making a comeback to "SPRiNG"!
About nine months after their major debut, BE:FIRST has become one of Japan's leading boy groups. With her first album "BE:1", she has returned to the October 2022 issue of the fashion magazine "SPRiNG"!
This time, we would like to introduce a solo interview with LEO!
Purchase the October 2022 issue of "SPRiNG" with BE:FIRST on the cover!
Telephone orders are also OK on Takarajimasha's official mail order site "Takarajima Channel"! For more information, click here
[TEL for telephone orders]0120-203-760
[Reception hours]9: 00-18: 00 (excluding weekends and holidays)
QUESTION to LEO!
Q1. How many nicknames have you had among the members over the past year?
increased!
Leo →Leonidas.
Q2. What do you want to do to commemorate one year since the group was formed?
theme park, or travel.
Q3. How have you grown in the past year?
various things.
It made me think about many things, including the world.
Q4. What is BESTY proud of?
A place that cares about all the members.
Q5. What has made you laugh the most recently?
I feel like I laughed at something about SOTA…
Q6. What happened recently that made you want to cry?
When I thought I had lost part of my eyewear collection and was looking around the house.
LEO【BE:FIRST】/Profile
Birthday: 9/8/1998
Birthplace: Tokyo
Blood type: O
Top image: Outer ¥ 159,500, Top ¥ 30,800 (both Diesel / Diesel Japan) Earrings right ¥ 11,550, left ¥ 22,000 (both Furika Jewelry / Showroom Charmel)
Seven people from "SPRiNG" will receive a polaroid photo signed by BE:FIRST!
Follow the SPRiNG official account on Twitter and retweet the designated post. We will present autographed polaroid photos to 7 people by lottery.
SPRiNG official Twitter account:
@spring_twjp
*We will contact you with the shipping address, so please be sure to follow us.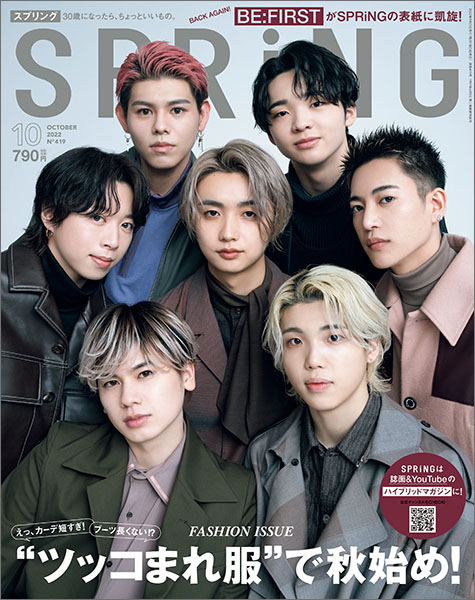 Purchase the October 2022 issue of "SPRiNG" with BE:FIRST on the cover!
Telephone orders are also OK on Takarajimasha's official mail order site "Takarajima Channel"! For more information, click here
[TEL for telephone orders]0120-203-760
[Reception hours]9: 00-18: 00 (excluding weekends and holidays)
[BE:FIRST]Click here for the group interview article
6 questions and 6 answers for SOTA[BE:FIRST]
RYOKI[BE:FIRST]6 questions and 6 answers
6 questions and 6 answers for MANATO[BE:FIRST]
6 questions and 6 answers for RYUHEI[BE:FIRST]
JUNON[BE:FIRST]6 questions and 6 answers
6 questions and 6 answers for SHUNTO[BE:FIRST]

photographs_KISSHOMARU SHIMAMURA[YAMANAKA management]
styling_YUJI YASUMOTO
hair & make-up_YUJI NISHIMURA[earch]YUMEKO OTA[earch]
interview_KANA YOSHIDA
*Please refrain from reprinting images and text without permission.
(SPRiNG October 2022 issue)
web edit_FASHION BOX