Fashion
What is the unexpected reason why the hot spicy queen, Ema Jasmine, became a lover of spicy food?[Takashi Kumagai series "Tokyo Fashion Tribe"]| Smart magazine official website | Takarajimasha
An extra edition of Takashi Kumagai's series "Tokyo Fashion Tribe" that has continued since the launch of smart. The second half of the conversation between model Jasmine Ema and Takashi Kumagai, who appeared as guests in the October issue of this magazine. We had a lot of fun talking about a wide range of things, from talking about "food" that we are interested in to training!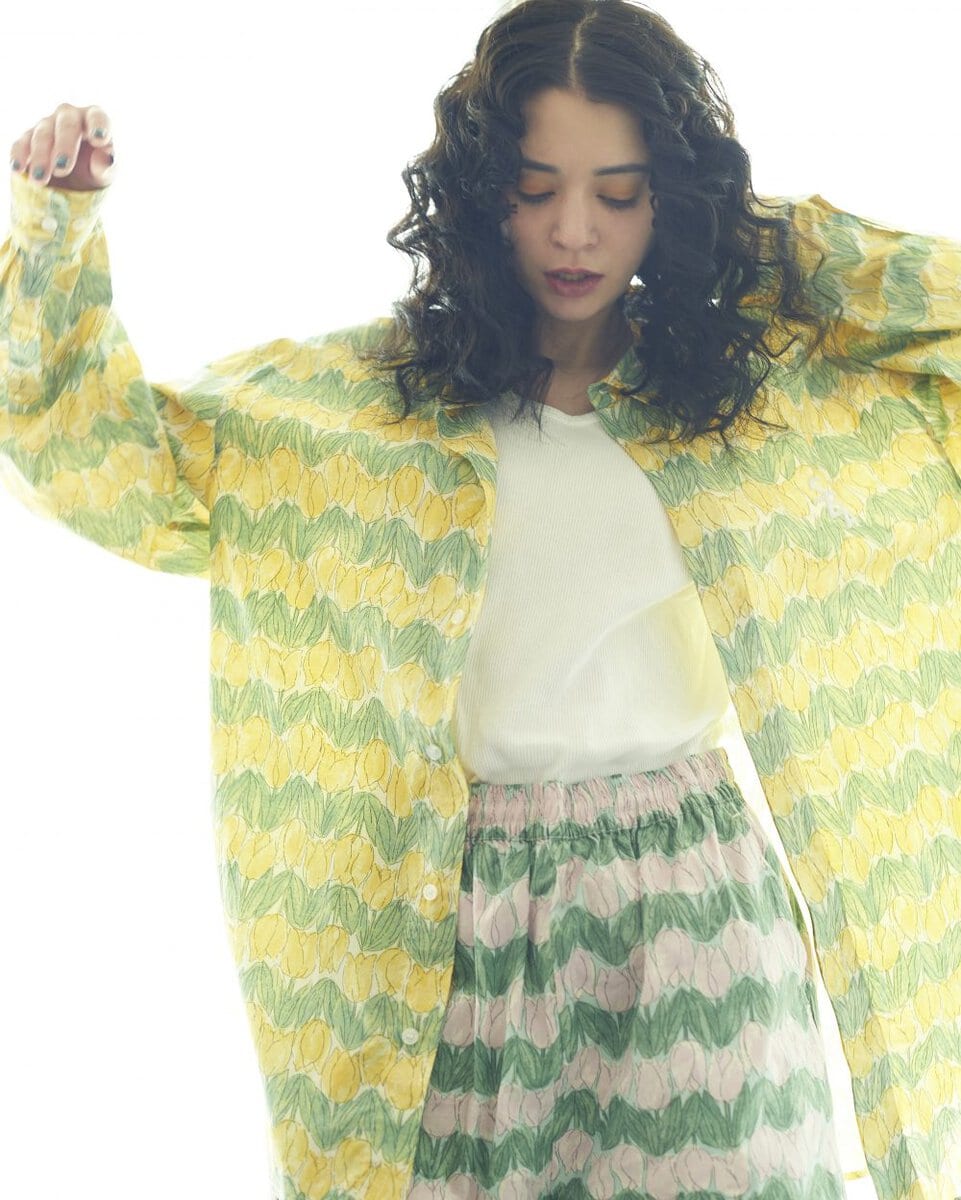 for a healthy body and mind
Good food is essential!
Takashi Kumagai (hereafter, Kumagai)"This time, it's a set-up outfit with a full pattern. I recommend it because you can enjoy a stylish look without having to think about the outfit.
Ema Jasmine (hereafter, Ema)"I had a strong impression of the WIND AND SEA logo, but it was refreshing to see items with all-over prints."
Kumagaya"It's a proposal that sometimes it would be nice to have an item like this (instead of a logo)."
Ema"The hair style (during the photo shoot) was curled, and it was fun to have a little old American feeling."
Kumagaya"I heard that cooking is one of your hobbies, but do you usually cook for yourself?"
Ema"I cook for myself. I'm also working on food events. The other day, I ran a donut shop for 3 days only, and it was very popular."
Kumagaya"You're pretty serious, aren't you?"
Ema"Even when I was on vacation in the United States (model work), I helped out at a Japanese restaurant I knew.At that time, I was making oden all the time near Sunset Boulevard in the United States. !"
Kumagaya"I heard you know a lot of delicious restaurants, too?"
Ema"Yes! From now on, I would like to collaborate with restaurants in various ways."
Kumagaya"What is your favorite shop?"
Ema"It's GAMI CURRY in Sangenjaya! It's a curry shop run by GAMI, but it's called @niwars_sgj, and it's only open during lunchtime. Even at events, it's so popular that it sells out immediately. Everything is handmade, but the concept is curry that you can eat even if you have a hangover, and I'm a big fan of it.
from a stubborn personality
I've climbed to the spicy queen!
Kumagaya"Isn't it popular as a hot spicy queen on TV programs?"
Ema"Currently, I have the title of No. 1 in the sense of performing arts."
Kumagaya"If you like super spicy, I recommend SANZOU TOKYO, a curry shop in Shimokitazawa."
Ema"I know about Magi Spa (Magic Spice), but I've never been there, so I'll go right away and report my impressions!!"
Kumagaya"By all means (laughs). What made you like spicy food?"
Ema"When I was little, I didn't like mentaiko, wasabi, or mustard. When I started eating, there was a time when I was addicted to eating things I didn't like.
Kumagaya"Are you bothering with something you don't like? Anything other than spicy?"
Ema"Other than that, I tried celery and natto. Since I started appearing on super spicy programs, it seems like it's frustrating to say 'spicy' (laughs).
Kumagaya"That spirit is amazing (laughs)."
balance in lifestyle
Taking is the most important thing to convey
Kumagaya"Now you are active as a model and talent, do you have any goals for the future?"
Ema"I have been doing entertainment since I was little, and now I really feel the importance of listening to my inner voice in my private life. , and how important it is to eat.And I hope to convey to everyone that it is important to have a well-balanced diet in our daily lives.I still have too many things I want to do. Well, I haven't been able to put it all together."
Kumagaya"It's important to have a balance in your lifestyle."
Ema"Now is the time when the coronavirus pandemic has lasted for a long time and people are tired of social media. "
Kumagaya"What's the trick to maintaining your figure while liking to eat?"
Ema"Basically, I train at home. Originally, I was addicted to the gym, and the normal gym was the default, and there was a time when I added gyms such as kickboxing, Brazilian Jiu-Jitsu, and aerial Pilates. (laughs)"
Kumagaya"It looks like my body is going to explode."
Ema"Yes.
Kumagaya"Have you always liked moving your body?"
Ema"No, I'm not good at it. I'm an indoor person, and I was only going back and forth to the work site. But I can't feel good unless I move my body, so I've been incorporating it into my lifestyle since I learned how good it feels."
Kumagaya"Knowing how to take your physical and mental health in a positive direction is very important from now on.
Profile/Ema Jasmine
Emma Jasumin Model talent. Born March 16, 1995, from Australia. She debuted in the entertainment world as a child actress, and since 2003 she has been a regular performer on NHK's "Tensai TV-kun MAX". After that, she worked as a model for fashion magazines, fashion shows, and advertisements. She likes super spicy food, and she is attracting attention on variety shows as the "Spicy Queen". Her official Instagram @ emmajasmine12345
Profile/Takashi Kumagai
Started working as a stylist in 1994. In 1998, she also started working as a photographer. While working in advertisements and magazines, she is active in a wide range of fields, including branding for various fashion brands, shop interior design, and planting direction. Official Instagram @ takashikumagai_official
Photo & Styling =Takashi Kumagai
hair makeup =Mai Ozawa[mod's hair]Interview & Text =Remi Sato
*This article is a re-edited version of the article published in the October 2022 issue of smart, and the information provided is current at that time.
Source link