Food
The first market to experience food and culture from around the world, "WORLD FOOD MARKET ~series AFRIKA~" September 17th (Sat) and 18th (Sun), 2022
This time, Hankyu Hanshin Real Estate Co., Ltd., a business agent of Hankyu Corporation, has created a space to support people who challenge themselves with "food" under the Hankyu Nakatsu overpass."OSAKA FOOD LAB"At (*1), a unique food event"WORLD FOOD MARKET"will be held for the first time on September 17th (Sat) and 18th (Sun), 2022.

The first theme is "Africa". The stalls and performers will challenge various things according to the theme of the event, such as offering African cuisine, which is still unfamiliar in Japan, fashion shows, live performances by folk instrument players, and gospel concerts.
Through this event, we will disseminate Osaka's food culture and create a place where we can experience various overseas food cultures. We aim to create exchanges and support each other to realize their ideas. Starting with this event,EXPO 2025 OSAKA, KANSAItowards theWhile inviting original food content from overseas, we will introduce food and culture from around the world.
At our company, on May 20 this year, the Hankyu Hanshin Holdings Group formulated and announced"Umeda Vision", a concept for improving the value of the "Osaka Umeda area"In order to realize (*2), we will implement this initiative as a unique value unique to Umeda, Osaka, which wins out in international competition among cities, as a mechanism to foster the urban culture and values ​​that make Umeda attractive.
(*1) Click here for details on "OSAKA FOOD LAB"
https://www.osakafoodlab.com/
(*2) Click here for the release on "Umeda Vision"
https://www.hankyu-hanshin.co.jp/docs/5a3dc356c73b5a393bd52202f6320606d60a6fe2.pdf
Overview of "WORLD FOOD MARKET ~series AFRIKA~"
■ Date and time
September 17th (Sat) and 18th (Sun), 2022 12:00-20:00
■ Location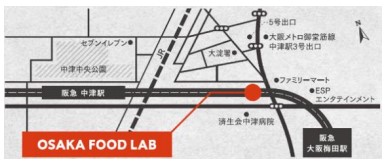 "OSAKA FOOD LAB" (1-1-36 Nakatsu, Kita-ku, Osaka)
・About 8 minutes on foot north from "Hankyu Osaka Umeda Station" (450m)
・About a 3-minute walk (180m) from Exit 5 of Nakatsu Station on the Subway Midosuji Line
■Admission fee
free
■ Cooperation
"AFRIKA meets KANSAI 2022"
■ Vendors





■Performers


*Event contents are subject to change.
This initiative aims to create a town based on basic policies 1, 2, 3, and 6 listed in the Umeda Vision.

Hankyu Hanshin Real Estate Co., Ltd. https://www.hhp.co.jp/
Release https://www.hankyu-hanshin.co.jp/release/docs/b49082a410722e16a8bd4fd2e802b44eceab1e4d.pdf
Publisher: Hankyu Hanshin Holdings
1-16-1 Shibata, Kita Ward, Osaka City
// モーダル画像の読み込み
var modal_img = []; modal_img[1] = "https://www.atpress.ne.jp/releases/325315/img_325315_1.jpg"; modal_img[2] = "https://www.atpress.ne.jp/releases/325315/img_325315_2.jpg"; modal_img[3] = "https://www.atpress.ne.jp/releases/325315/img_325315_3.jpg"; modal_img[4] = "https://www.atpress.ne.jp/releases/325315/img_325315_4.jpg"; modal_img[5] = "https://www.atpress.ne.jp/releases/325315/img_325315_5.jpg"; modal_img[6] = "https://www.atpress.ne.jp/releases/325315/img_325315_6.jpg"; modal_img[7] = "https://www.atpress.ne.jp/releases/325315/img_325315_7.jpg"; modal_img[8] = "https://www.atpress.ne.jp/releases/325315/img_325315_8.jpg"; modal_img[9] = "https://www.atpress.ne.jp/releases/325315/img_325315_9.jpg"; modal_img[10] = "https://www.atpress.ne.jp/releases/325315/img_325315_10.jpg";
$(".photo").click(function () { for (i = 1; i <= 20; i++) { if (modal_img[i]) { $('.modal_img' + i).prop('src', modal_img[i]); } } }); // ASAGAKEのhight //$(window).on('message', function(e){ // var dataset = e.originalEvent.data; // if (dataset['h'] > 0) { // $('.asagake_frame').css({'height': dataset['h'] + 'px'}); // } // // ボタンを表示する処理 // if (dataset['show_btn'] != undefined && dataset['show_btn']) { // // ここで丸いボタンを表示して、https://asagake.com/offer/ + code にリンクする // code_url="https://asagake.com/c/" + dataset['keycode']; // btn_html = dataset['btn_html'].replace(/"/g,'"') // .replace(/'/g,"'") // .replace(/</g,"<") // .replace(/>/g,">") // .replace(/&/g,"&"); // var button_html="'; // $('.news_detail_main').after(button_html); // } //}); // facebook (function(d, s, id) { var js, fjs = d.getElementsByTagName(s)[0]; if (d.getElementById(id)) return; js = d.createElement(s); js.id = id; // js.src="https://connect.facebook.net/ja_JP/sdk.js#xfbml=1&version=v2.11&appId=1323731851019247"; js.src="https://connect.facebook.net/ja_JP/sdk.js#xfbml=1&version=v2.11&appId="; js.async=true; fjs.parentNode.insertBefore(js, fjs); }(document, 'script', 'facebook-jssdk'));
// get Associated PR let associatedPRTemplate = (function () {/*
*/}).toString().match(//*([^]*)*//)[1]; $(function() { $.ajax({ url: "/API/AssociatedPr/", type: "GET", dataType: 'json', data: { pr_id: 325315 } }).done(function (data, status, xhr) { $.each(data, function(i, item) { if (data.length > 0) { $('#associated_pr_list').show(); } item.pr_publisher_name_encoded = encodeURIComponent(item.pr_publisher_name); let embedTemplate = embedObjectParametersToString(item, associatedPRTemplate); $('#associated_pr_list').append(embedTemplate); $('#associated_pr_list').css('margin', '10% 8%'); }); }) })
function embedObjectParametersToString(object, str) { Replacer = function(b,a){if(typeof a!="object"){a=Array.prototype.slice.call(arguments,1)}return b.replace(/{{(.+?)}}/g,function(d,e){return(a[e]!=null)?a[e]:d})}; return Replacer(str, object); }


Source link